Today I'm sharing 91 easy football party appetizers for your next game day celebration. If you're throwing a super bowl party, you're probably looking for a few delicious and quick appetizers. You'll find everything from wings to make-ahead dips on this list!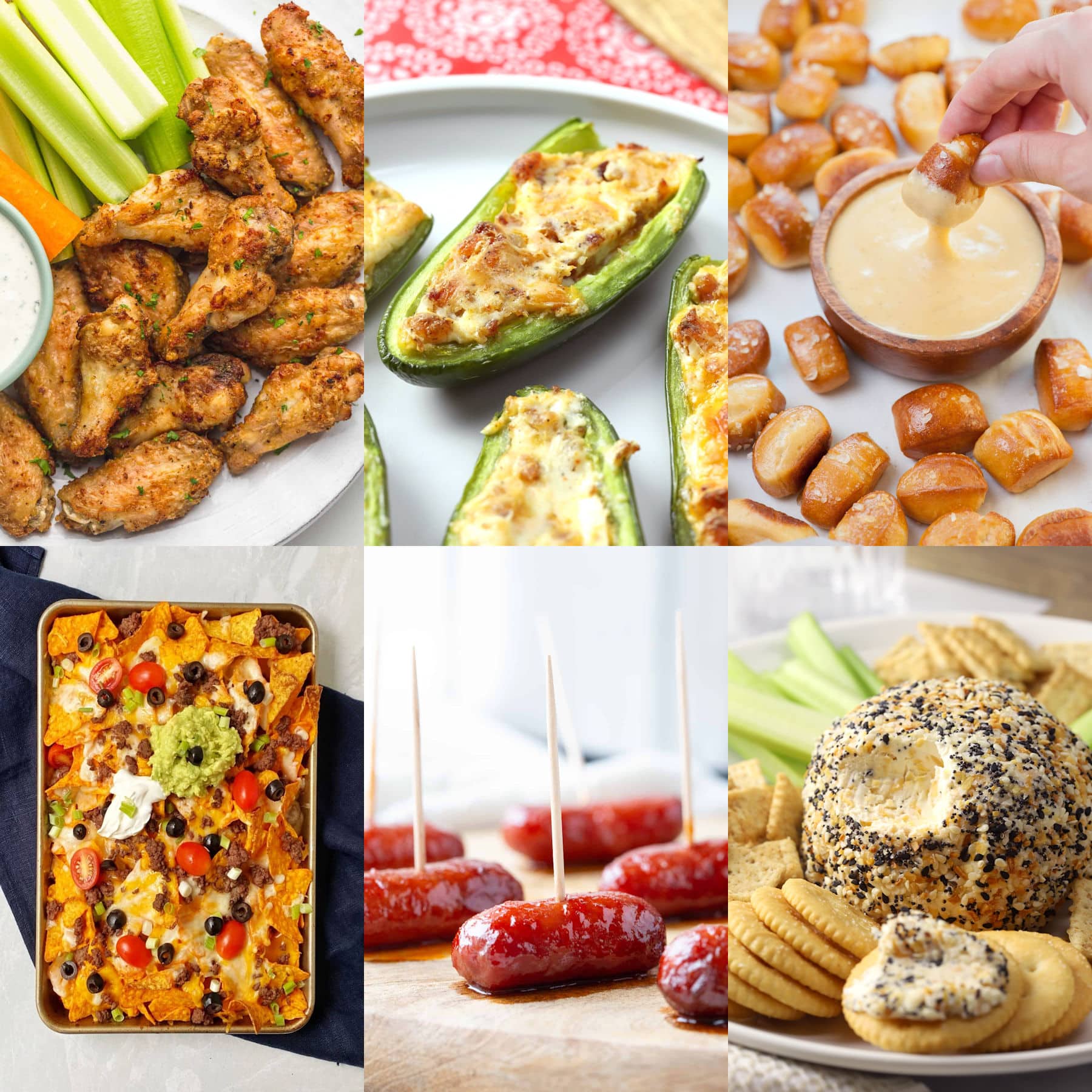 Every party needs a few tasty appetizers. Your next football party is no exception. That's why I'm sharing 91 easy football party appetizers to help make your next party a success!
Planning a New Year's Eve party? You may want to check out my list of 20 easy New Year's Eve appetizers.
Table of contents
Jump to:
How many appetizers do I need?
How do you estimate how many appetizers you'll need for your super bowl party?
If you're hosting a snacks only party, plan to serve about to 8-12 appetizers per person. If you're also serving a big main course, like burgers, barbecue, hot dogs, or pizza, you can decrease that amount slightly to 6 appetizers per person.
For more detailed information, check out this article: How Many Appetizers To Serve Per Person
Tips for a stress-free party
Write out a grocery list (or print the recipes and take them with you). Shop a few days ahead of time and stick to your list.
Offer a variety of appetizers to suit the dietary needs of your guests. Include gluten-free and vegan options if needed.
Don't make all the appetizers yourself. A mix of homemade and store-bought appetizers takes some stress off the host. Pre-made cheese trays, vegetables, and mixed nuts are great store-bought options.
Make some appetizers the day before. Cheese balls, cold dips, and deviled eggs can be prepared ahead and refrigerated until ready to serve.
Wings
Did you know that wings are the most popular football party snack? That's why we've dedicated an entire section to them! Air fryer wings, baked wings, and deep fried wings - you'll find a little bit of everything here.
Hot dips and spreads
Hot dips and spreads are popular party appetizers. Served warm, they're best made (or warmed up) as your guests arrive. You'll find nachos, queso, artichoke dip, and more in this section!
Cold dips and spreads
Cold dips and spreads are easy appetizers to make ahead of time, especially if travel is a part of your day. You'll find cheese balls, hummus, guacamole, and salsa in this section.
Hot finger food appetizers
Hot finger food appetizers are popular for football parties, and can even replace a main course. Jalapeno poppers, pigs in a blanket, and sliders are popular hot football party appetizers.
Cold finger food appetizers
Cold finger food appetizers are easy to make ahead and take with you to a football party away from home. Deviled eggs, mini sandwiches (like pinwheels), and veggie pizza are a few popular cold appetizers.
Dessert appetizers
Want to add something sweet to your appetizer table? Look no further! Here you'll find tasty dips and small bites that are sure to satisfy that sweet tooth.