Snickerdoodle Puppy Chow Snack Mix is a quick, easy-to-make crowd favorite. Chex cereal is coated in white chocolate and tossed in cinnamon sugar.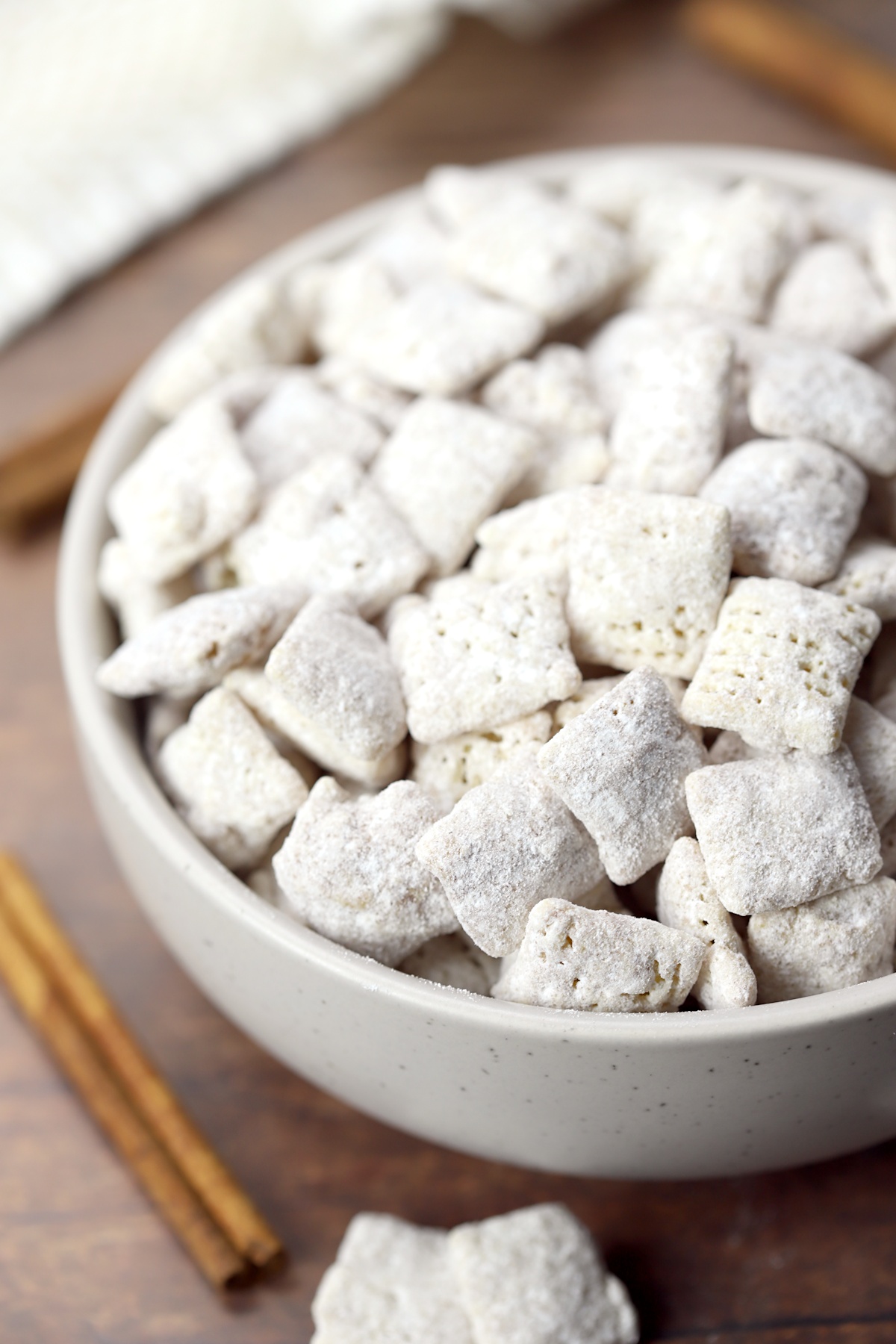 I can't get enough cinnamon this time of year. That's what makes this Snickerdoodle Puppy Chow the perfect snack for the fall season. Chex cereal is coated in melted white chocolate, then tossed in two types of sugar and cinnamon.
Puppy chow is a great snack for several reasons. One, you don't need to turn on the oven. Two, you can make a lot at a time, which will feed a crowd. Three, you only need a few simple ingredients to make this addictive snack.
It should go without saying, but – snickerdoodle puppy chow is not meant for humans only, not dogs! This popular American snack was named "puppy chow" due to its similar look to the dog food with the same name.
Puppy chow without peanut butter
Traditional puppy chow, or muddy buddies, contains peanut butter. If you're not familiar, here is a fantastic recipe for a classic puppy chow.
I'm a big fan of peanut butter, so I always enjoy a classic puppy chow recipe!
However, I know that nut allergies can be an issue, especially with kids, school parties, and birthdays.
My snickerdoodle puppy chow contains NO peanut butter, making it the perfect snack mix for your next Halloween party, event at school, or to add to birthday party grab bags.
Ingredients
Making puppy chow is incredibly easy and fun – even the kids can help. First, gather your ingredients, including a spatula and an optional gallon sized plastic bag.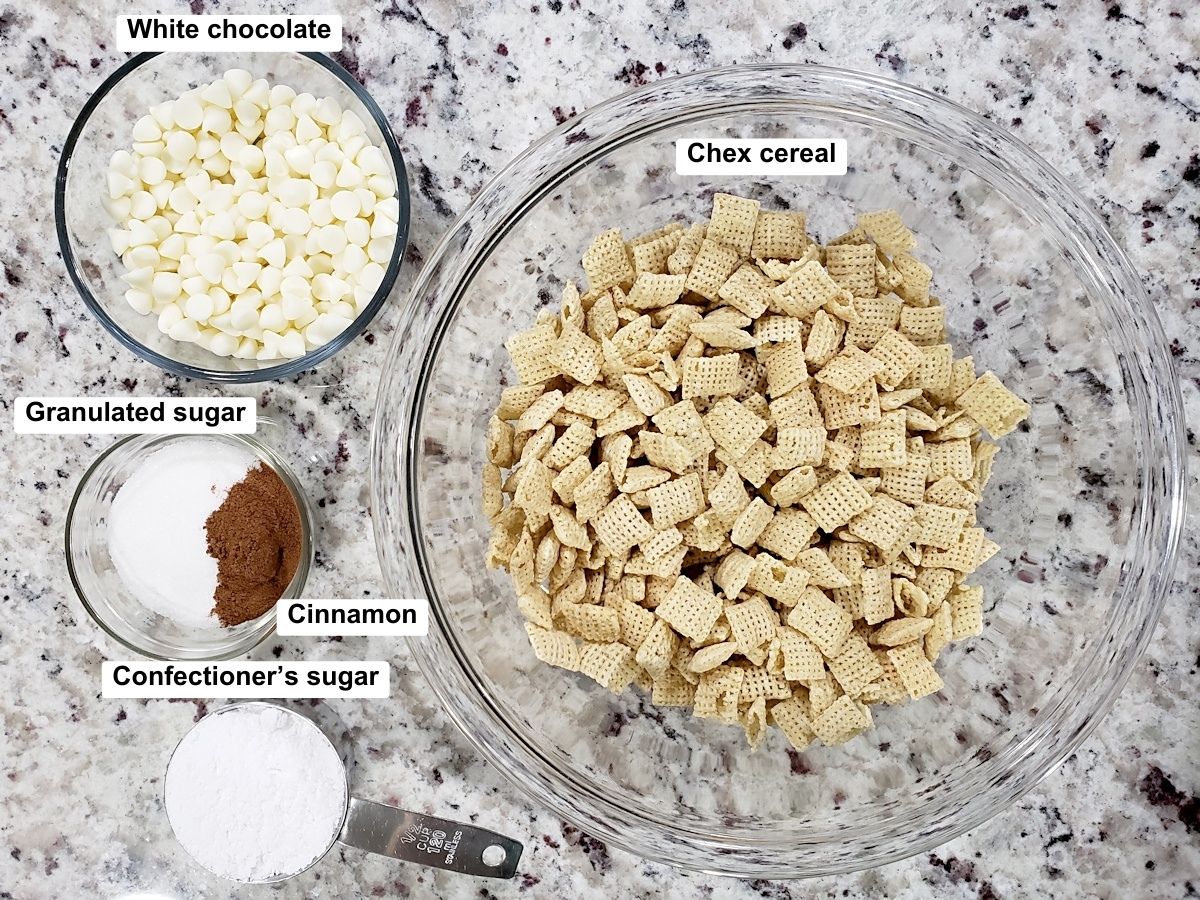 For this recipe, you'll need white chocolate chips, granulated sugar and cinnamon, powdered sugar, and chex cereal.
Any plain chex cereal will work for this recipe, but my favorites are corn chex and rice chex.
Mixing your puppy chow
First, melt your white chocolate chips in 30 second increments in the microwave. Stir until they are completely melted, with no lumps remaining. Then, pour your melted chocolate over the chex cereal.
Gently toss to coat with a spoon or spatula, making sure not to crush your cereal.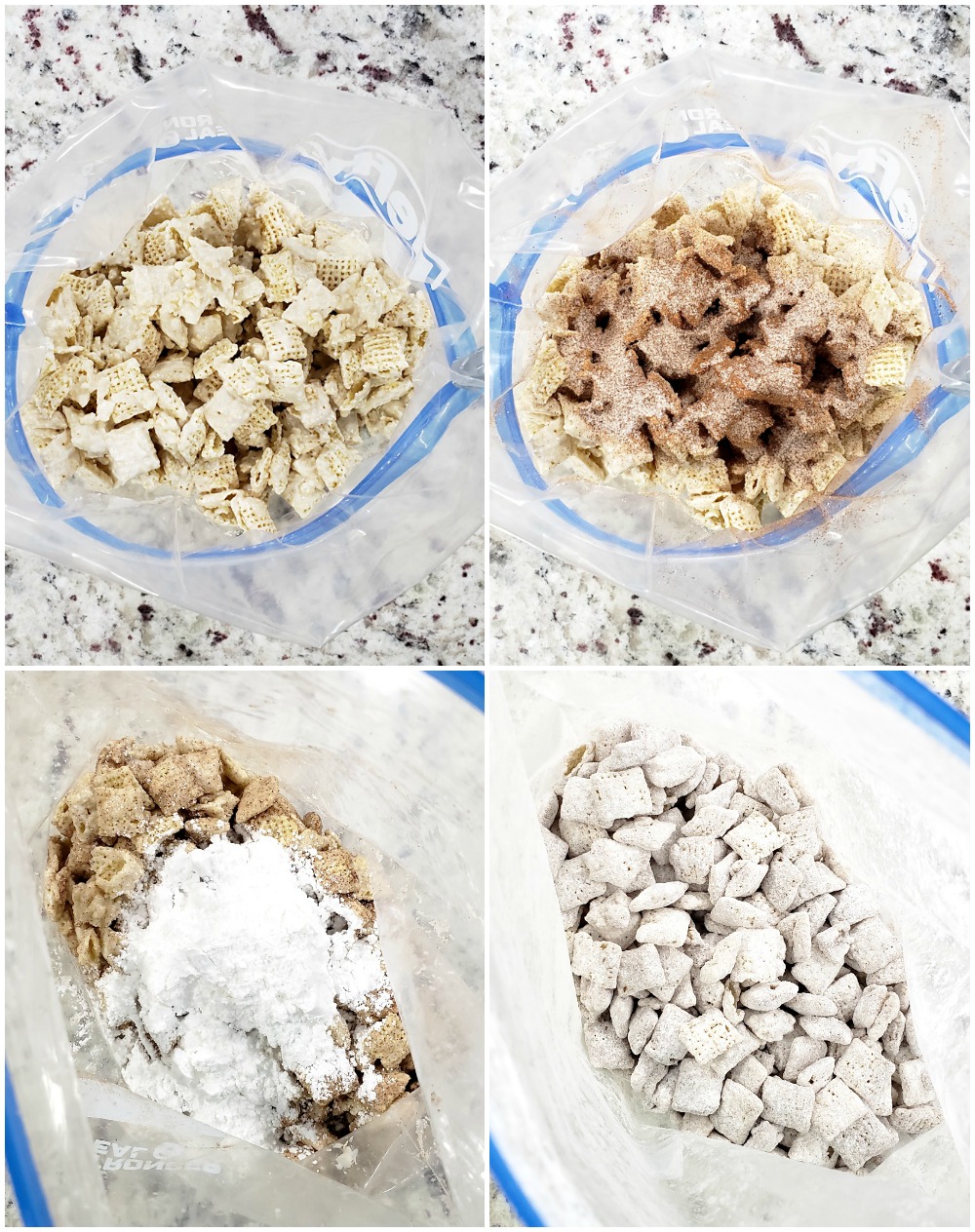 Next, toss your chocolate coated cereal into a gallon sized plastic bag. This is optional – you can toss your cereal to coat in the original bowl you were using, or in a paper bag.
Mixing in a bowl will be a bit messier, so I suggest using an apron and a large bowl in case the powdered sugar goes flying!
Add your cinnamon and granulated sugar, tossing to coat. I like to toss the cereal in the cinnamon mixture first, to ensure all of the cinnamon flavor sticks to the cereal. A portion of the powdered sugar won't make it onto your cereal and will be left inside the bag.
Last, add your powdered sugar, seal the bag with some air left inside, and gently toss to coat.
Your puppy chow will need a few minutes for the melted chocolate to dry. For the quickest results, I spread my puppy chow onto a parchment lined baking sheet and refrigerate for 15 minutes.
Once solidified, your snickerdoodle puppy chow can be kept in a sealed container at room temperature for up to a week. After a week, your snack mix will still be edible but the cereal will lose its crunchiness.
Puppy Chow Mix-ins
This recipe, as shown, makes about eight half cup servings. If making for a party, I'd suggest doubling or tripling your recipe for a large crowd.
You can also add mix-ins to your puppy chow before serving. How about a handful of pretzels, or a bag of M&M's candies – try the classic Milk Chocolate or candy corn flavor for fall.
If no one has an aversion to nuts, you can also add peanuts, pistachios, cashews, or almonds to your snack mix.
I'd suggest adding about 1 cup of mix-ins for every 4 cups of chex cereal used.
Keeping with the cinnamon theme, try adding mini marshmallows and graham cracker pieces for a s'mores theme.
Or to make it festive for a sporting event or big game, add sprinkles with the powdered sugar in your team's colors. Add 1 tablespoon of sprinkles at a time – a little goes a long way.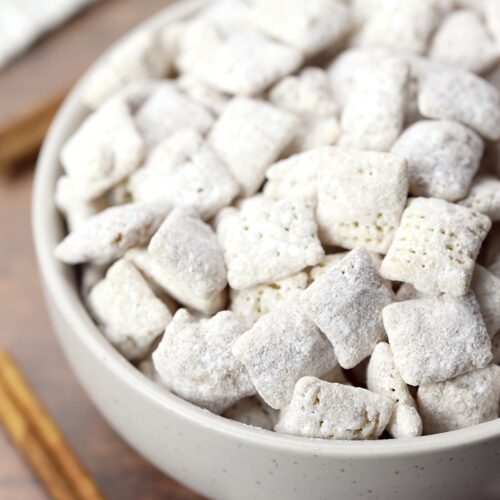 Print Recipe
Snickerdoodle Puppy Chow
Puppy Chow made with white chocolate and cinnamon flavors, reminiscent of the classic Snickerdoodle cookie.
Ingredients
4

cups

chex cereal

1

cup

white chocolate chips

1 1/2

teaspoons

cinnamon

3

tablespoons

granulated sugar

1/3

cup

powdered sugar
Instructions
In a large bowl, add cereal. Set aside.

In a small bowl, microwave white chocolate chips for 30 seconds, stir. Microwave for additional 30 second increments until chips are melted and smooth. Pour chocolate over cereal and stir carefully to fully cover but not break the cereal. Pour cereal mixture into a large gallon size plastic bag.

In a small bowl, combine cinnamon and granulated sugar. Pour over cereal mixture, close bag, and shake to cover. Add powdered sugar to bag, close bag, and shake to evenly coat cereal.

Line a baking sheet with parchment or wax paper and pour cereal mixture into a single layer. Refrigerate for 10-15 minutes (or until chocolate has hardened). Store in an airtight container until ready to serve.
Notes
Using a plastic bag is optional, you can toss your cereal to coat in the original bowl you were using, or in a paper bag.
Mixing in a bowl will be a bit messier, so I suggest using an apron and a large bowl in case the powdered sugar goes flying!
Optional mix-ins. Try adding 1 cup of mix-ins for every 4 cups of cereal used: pretzels, m&m's candies, nuts, cookie pieces, mini marshmallows, or graham cracker pieces.
For a large party, try doubling or tripling this recipe.
Nutrition
Serving:
0
g
|
Calories:
276
kcal
|
Carbohydrates:
51
g
|
Protein:
4
g
|
Fat:
8
g
|
Saturated Fat:
4
g
|
Cholesterol:
5
mg
|
Sodium:
197
mg
|
Potassium:
179
mg
|
Fiber:
4
g
|
Sugar:
28
g
|
Vitamin A:
337
IU
|
Vitamin C:
4
mg
|
Calcium:
115
mg
|
Iron:
10
mg
More snack recipes
Cinnamon Sugar Salted Caramel Pretzels