Honey Mustard Bacon Wrapped Chicken Bites are an easy to assemble, four-ingredient appetizer that's perfect for parties, snacking, and Sunday football. These flavorful chicken bites make a fantastic finger food snack!
Bacon makes everything better, right? If you're a bacon lover like me, you need to make these honey mustard bacon wrapped chicken bites the next time you need a party appetizer.
Small chicken pieces are lightly seasoned, then wrapped up in honey mustard and bacon strips. They can be served with more honey mustard, barbecue sauce, or alone.
The best part is that this recipe is incredibly simple – you only need four ingredients to make this recipe. You may already have the ingredients in your kitchen!
How many appetizers should I make?
Hosting a party? Sometimes it can be hard to estimate how many appetizers or finger foods you'll need for an upcoming event.
For a dinner party, you'll want to offer about 6 bite-sized appetizers per person. If you're hosting a finger-food only party, up that number to 8-12 per person.
For more detailed information, check out this article: How Many Appetizers To Serve Per Person
Ingredients to make chicken bites
For this recipe, you'll need only four ingredients – a large chicken breast, pepper, honey mustard, and bacon. You'll also need a baking sheet, foil, an oven-safe cooling rack, and toothpicks to hold your bites together.
I used an 8 ounce boneless, skinless chicken breast. Then, I cubed it into bite size pieces, around an inch or so – slightly smaller than the width of my bacon. This gave me 21 pieces, however this may vary slightly.
I recommend cubing your chicken, counting your pieces, then cutting as much bacon as you need to cover them all.
It is also important not to make your chicken pieces too large, because they'll need longer to cook, and 1/3 piece of bacon may not fit around the chicken.
They're also more difficult to eat as a finger food if your chicken is too big. You're looking to make a single bite size appetizer.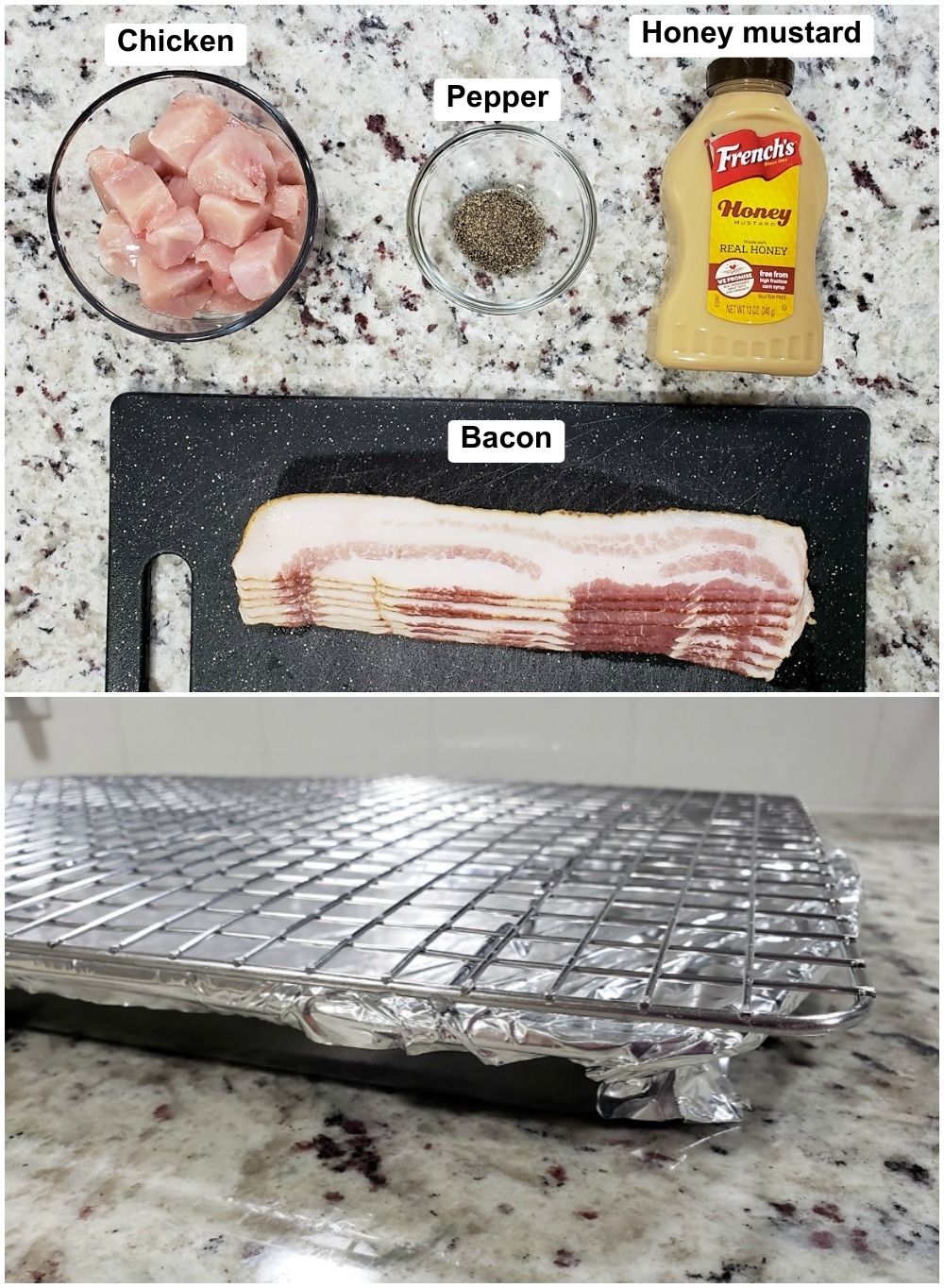 For this recipe, you'll need a baking sheet covered in foil, with an oven-safe cooling rack placed on top. This part is important – your bacon bites will drip lots of grease off while they're baking. This method will keep your bites crispy and a lot less greasy!
While you technically can make this recipe on a regular baking sheet without the cooling rack, your bites will be sitting in a lot of grease by the time they're done baking, and your bacon will not get crispy on the bottoms.
Take a look at my photos further down, and you'll see just how much grease accumulates underneath your bacon bites as they cook.
Wrapping your chicken bites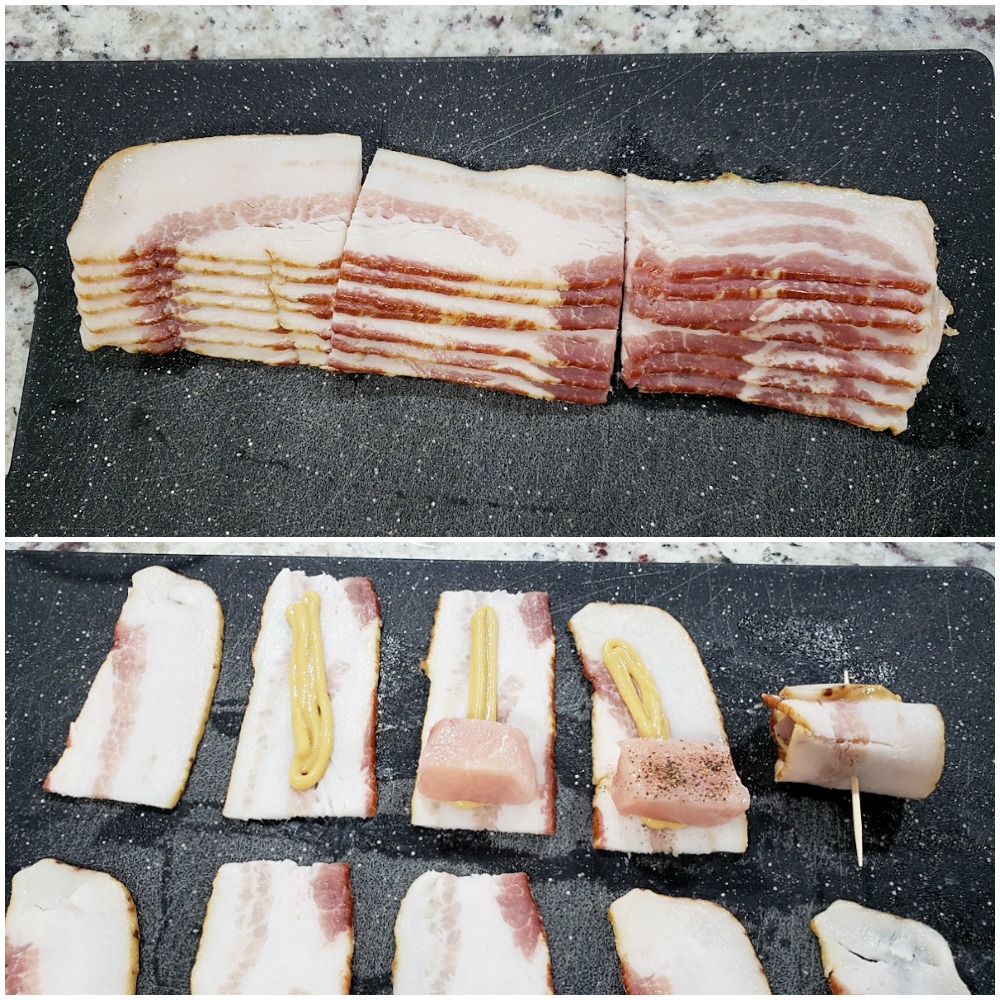 Slice your bacon into thirds. I recommend slicing one piece to make sure it will wrap around completely. If your bacon is not as long (for example, center cut bacon), you may need to use a half piece per bite.
Next, lay out your bacon, add honey mustard to the middle of each bacon slice, then add your chicken to one end. Season with pepper, then roll your chicken up in the bacon and secure with a toothpick.
Lay your chicken bites onto your prepared cooling rack with baking sheet underneath.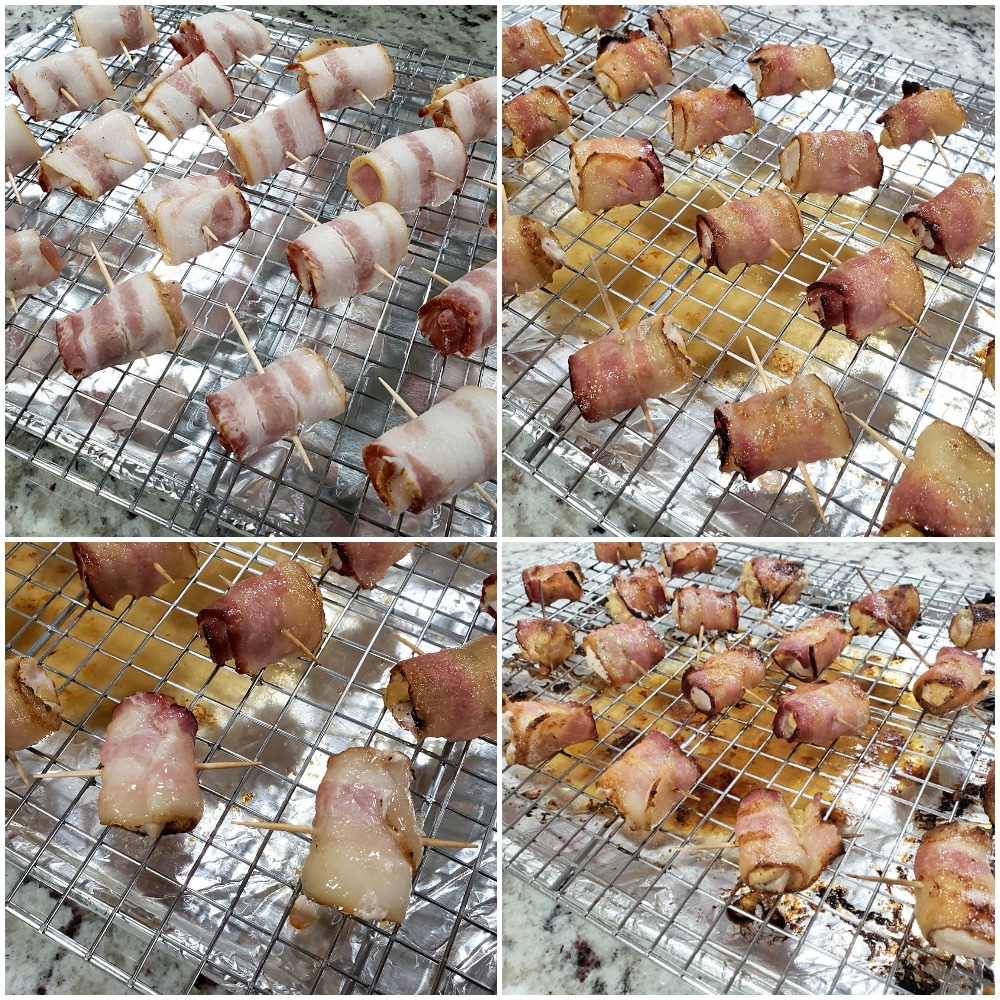 Bake your chicken bites. If you're not sure, I recommend using a meat thermometer to check your chicken for doneness. Or, find the largest bite and slice it in half to ensure your chicken is cooked through.
Then, turn off the oven and turn on the broiler for 1-2 minutes to crisp up the tops of your bites.
Keep a close eye on your bites – the broiling step is more about how crispy and cooked through your bacon looks, and less about the amount of time needed. If your bacon is already crispy – feel free to skip this step.
Remove your pan from the oven and carefully flip each bite over. See the bottom left photo above? That is the bottom of your chicken bite – your bacon is not yet crispy on all sides!
Next, return your pan to the oven and broil for another 1-2 minutes, or until your bites look crispy and cooked through on top.
Recipe variations
I've made this recipe with yellow mustard, dijon mustard, and honey mustard. They are all fantastic choices, but honey mustard was my personal favorite. For a low-carb version, I recommend using dijon mustard.
Or, try this recipe with barbecue sauce! The options are endless. Your chicken bites can also be made bacon and chicken only, and served with several types of dipping sauces.
More appetizer recipes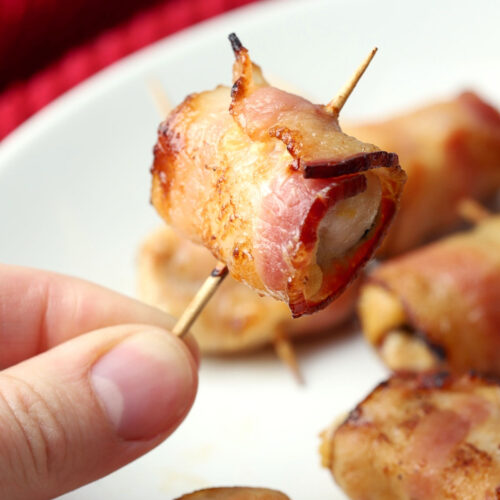 Print Recipe
Honey Mustard Bacon Wrapped Chicken Bites
Ingredients
8

ounces

boneless skinless chicken breast

7

slices

bacon

5

teaspoons

honey mustard

1/2

teaspoon

pepper
Instructions
Preheat oven to 400 degrees. Line a baking sheet with foil and place an oven-safe cooling rack on top. This helps drain and catch grease from your bites as they bake. Set aside.

Slice chicken into bite size cubes, about 1" in size. Slice bacon into thirds.

Add honey mustard down the middle of each bacon slice, then lay a chicken cube at one end of the bacon. Lightly season chicken with pepper, then wrap your chicken in the bacon, securing with a toothpick. Place bites onto prepared baking sheet with cooling rack.

Bake for about 17-18 minutes, or until chicken is cooked through (your bacon will not look crispy yet). I suggest testing with a meat thermometer, or finding your largest chicken bite and slicing open to ensure they are cooked through.

Turn off the oven and turn on the broiler. Broil for 1-2 minutes, or until tops of bites are crispy and lightly browned.

Remove from oven and carefully turn each bite over. Return to the oven and broil for another 1-2 minutes, or until second side is lightly browned and crispy.

Remove from oven and serve warm. Optionally, serve with more honey mustard as a dipping sauce.
Notes
Honey mustard can be substituted with yellow or dijon mustard, or omitted entirely.
Broiling steps are based on how crunchy and cooked your bacon looks. If your bacon is already cooked through and crunchy, broiling step can be omitted.
If you're concerned about toothpicks burning in the oven, soak them in water for 20 minutes before assembling your bites. The added moisture helps prevent the wood from burning in the oven.
Nutrition
Calories:
45
kcal
|
Carbohydrates:
1
g
|
Protein:
3
g
|
Fat:
3
g
|
Saturated Fat:
1
g
|
Cholesterol:
12
mg
|
Sodium:
67
mg
|
Potassium:
54
mg
|
Fiber:
1
g
|
Sugar:
1
g
|
Vitamin A:
6
IU
|
Vitamin C:
1
mg
|
Calcium:
1
mg
|
Iron:
1
mg