Roasted garlic hummus is an easy appetizer dip that's creamy, flavorful, and perfect for snacking. Gluten-free, dairy-free, and vegan, this hummus is perfect for serving a crowd.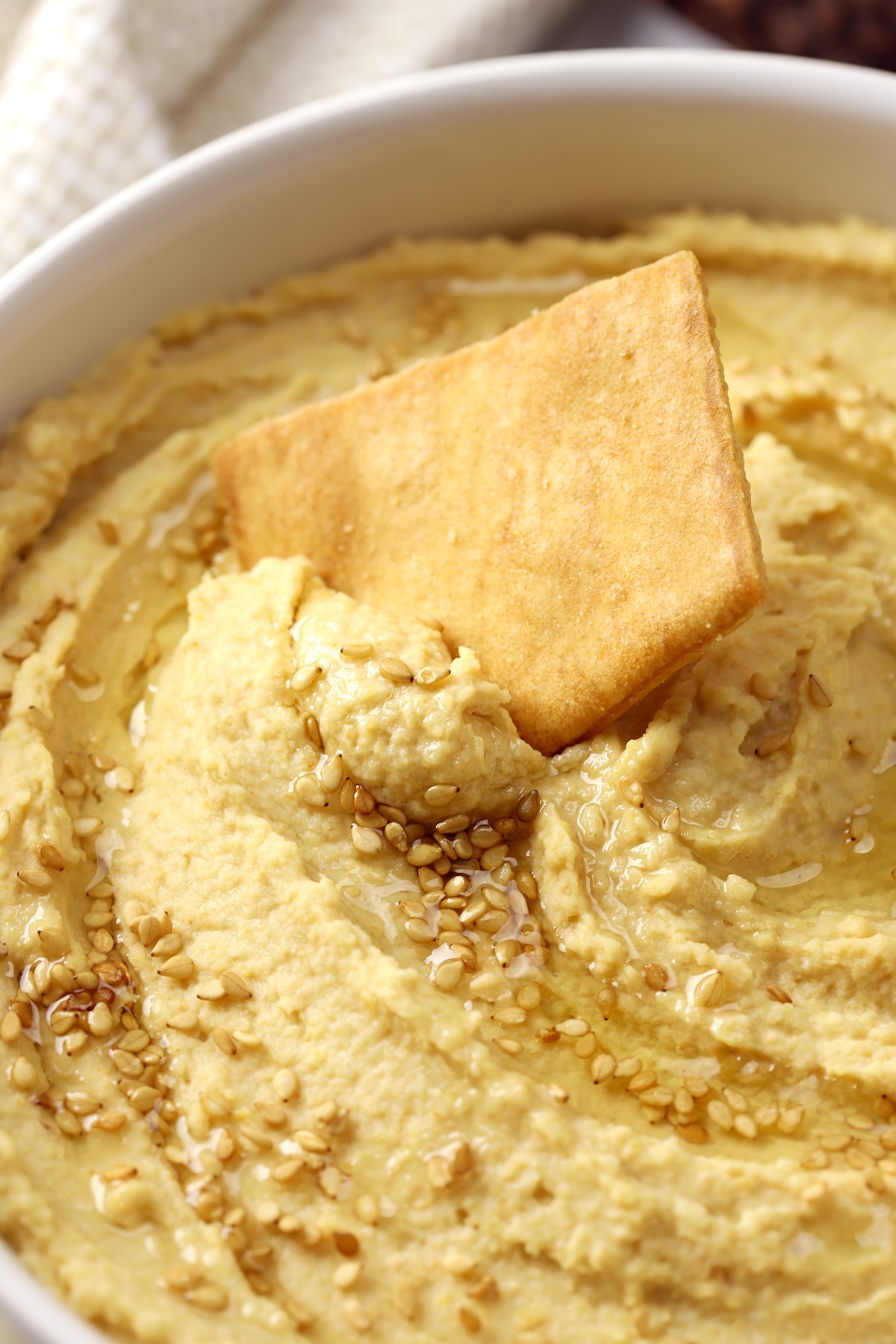 This roasted garlic hummus is simple to make from scratch - it comes together in minutes in a food processor. The only prep work involves roasting your garlic in the oven beforehand!
Plus, this recipe is gluten-free, dairy-free, and vegan friendly, so it's a great choice to please a variety of diets (just like my spicy roasted red pepper hummus!).

Hummus makes a great homemade snack or appetizer. Serve a bowl of hummus with pita chips, pretzels, and fresh veggies. You can also use hummus as a condiment - spread onto your next sandwich instead of using mayonnaise.
Or, fill a pita with hummus, sliced tomatoes, lettuce, and cucumbers for an easy vegan meal. You can even use hummus as a pasta sauce, like in my roasted red pepper hummus pasta (it's easy to substitute with any flavor of hummus you have on hand).
Ingredients and substitutions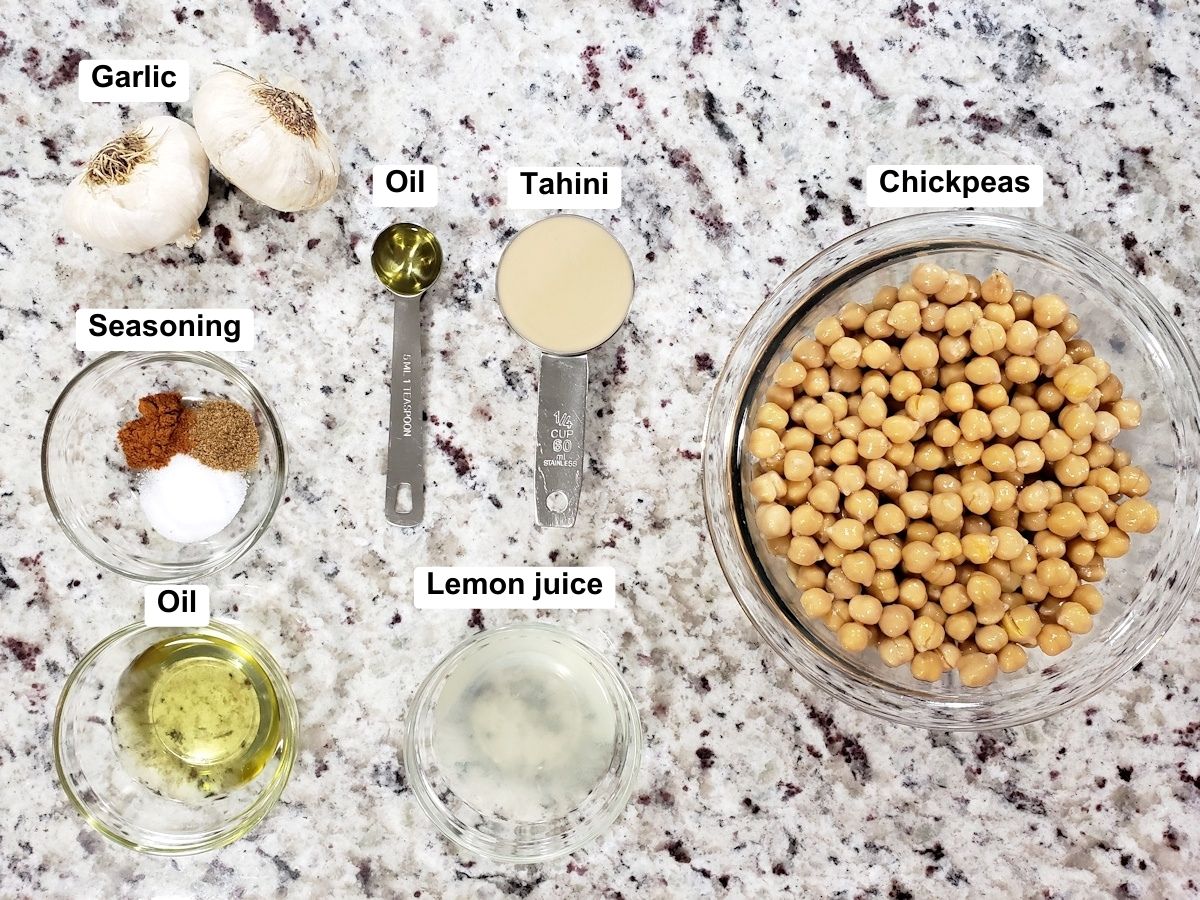 Garlic - You'll need two heads of garlic for this recipe. It may seem like a lot, but roasting garlic mellows the flavor dramatically, adding a caramelized, almost sweet flavor.
Olive oil - Can be substituted with canola oil or avocado oil.
Canned chickpeas can be substituted with fresh, cooked chickpeas. Canned chickpeas are easier and quicker, but fresh chickpeas will give you a better flavor overall. Either will work in this recipe. If you have dried chickpeas on hand, follow this guide on how to cook chickpeas: Inspired Taste: How to cook dried chickpeas
Tahini is a common ingredient in hummus. If you can't find it, I'd recommend substituting with sun butter (sunflower seed butter) or cashew butter. Keep in mind that this will alter the taste of your hummus based on what type of nut or seed butter used.
Lemon juice - Adds a fresh, tangy, citrusy flavor. Fresh squeezed lemon juice adds the best flavor, but can be substituted with white vinegar or lime juice if needed.
Spices - salt, cumin, and cayenne pepper add flavor to your hummus. For a spicy hummus, feel free to add more cayenne pepper to taste.
What is tahini?
Tahini a smooth paste made from ground sesame seeds, similar to peanut butter. It is a common ingredient in dishes like hummus and baba ghanoush, and is widely used in Middle Eastern cooking.
It has a nutty, earthy flavor, and may taste slightly bitter when compared to a sweet nut butter, like peanut butter.
Where can you buy tahini? I find tahini at my local grocery store in the ethnic foods section. You can also buy tahini online: Amazon: Organic Sesame Tahini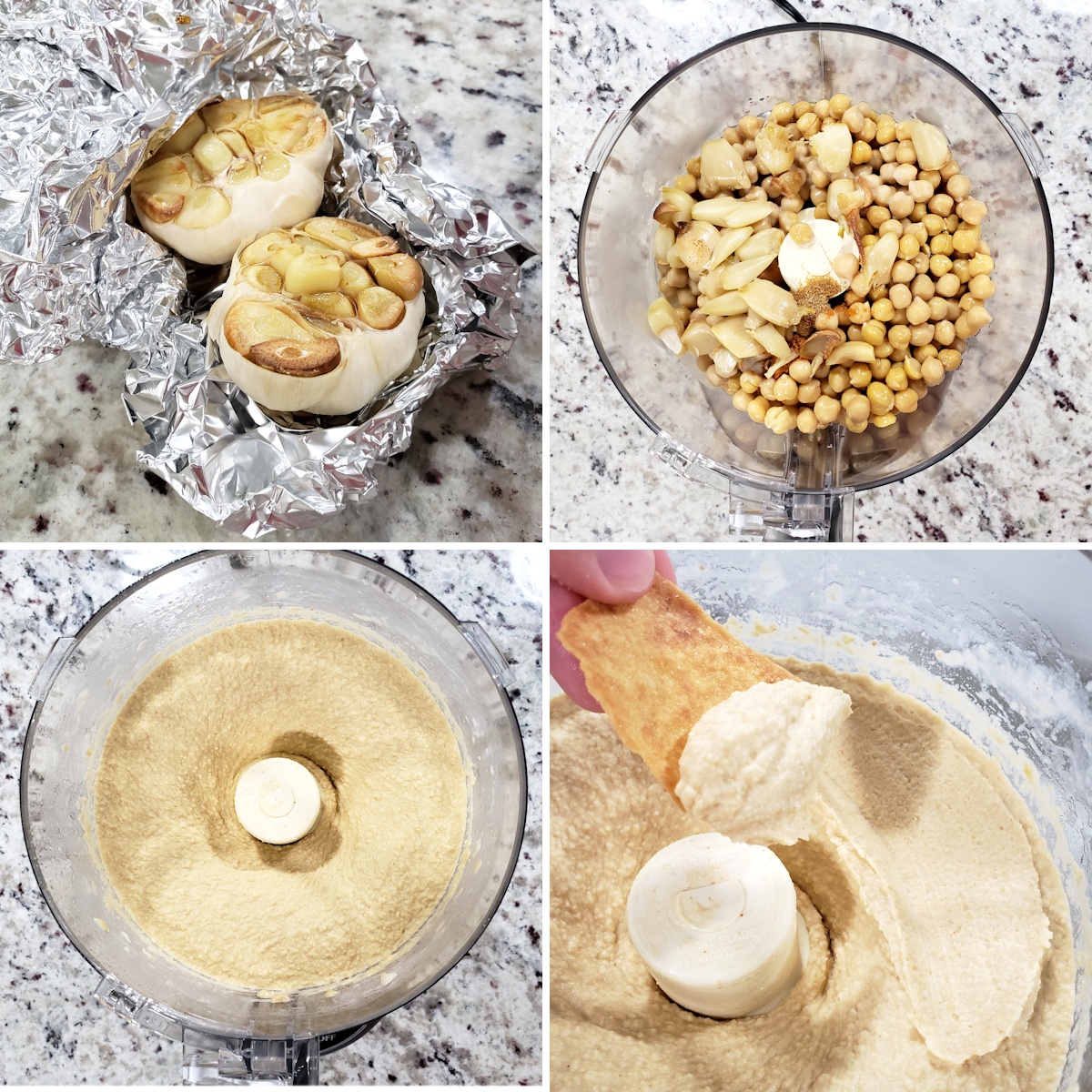 Do I need to peel my chickpeas?
If you want a smooth and creamy hummus, I recommend removing the skins from your chickpeas.
I know - peeling chickpeas can be very time consuming and tedious. However, removing the skins before blending your hummus will result in a smoother, creamier texture overall.
Ways to peel chickpeas
The easiest (but most time consuming) method is to pinch each chickpea gently between two fingers until the skin comes loose.
Or, try rubbing a handful of chickpeas between both hands until the skins come loose. You can also place a single layer of chickpeas between two tea towels on the counter top and rub lightly with your hands or a rolling pin.
I recommend skinning your chickpeas while your garlic is roasting in the oven. Turn on some music or a tv show to help pass the time while peeling.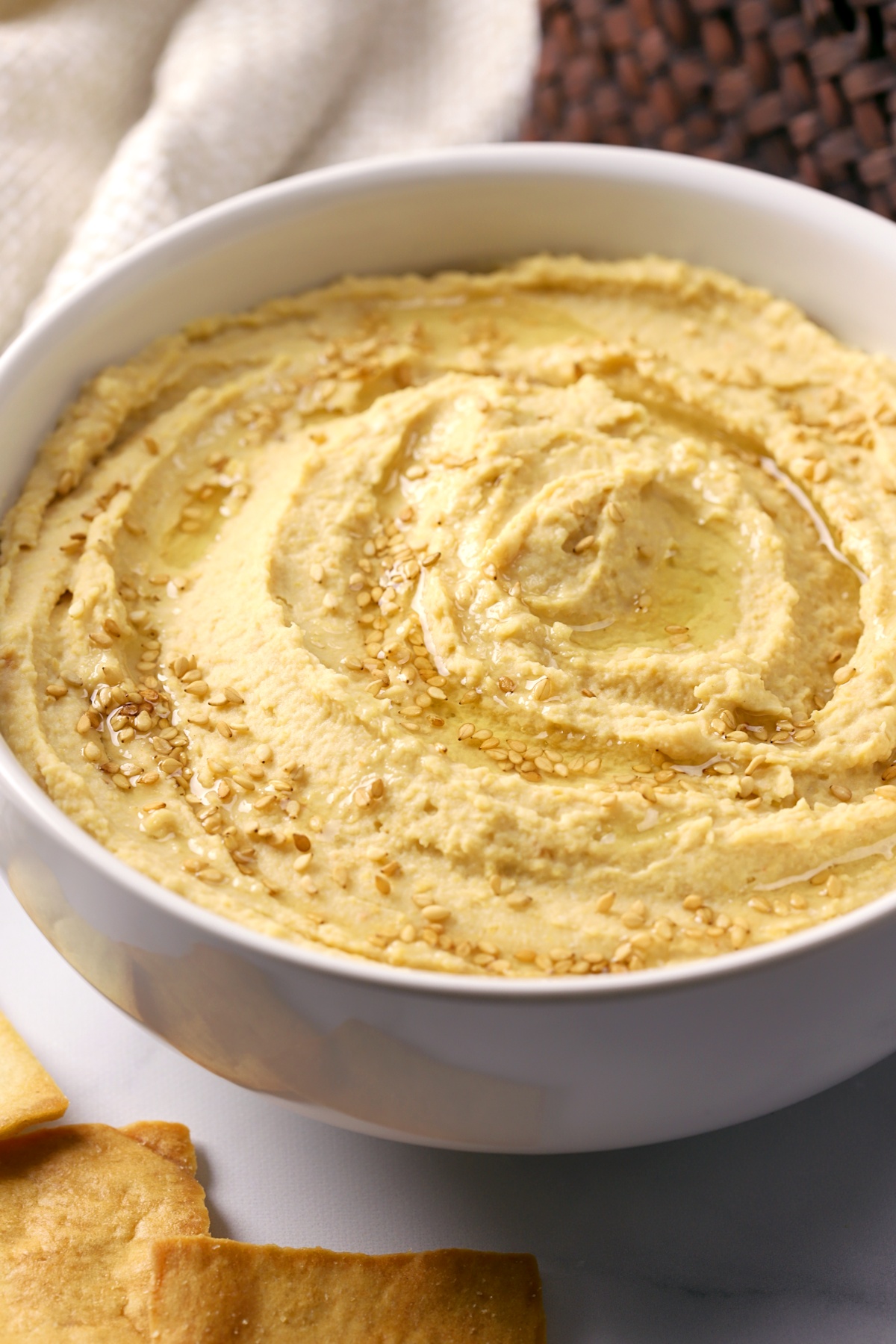 What to serve with hummus
Try serving hummus with pita chips, pretzel chips, pork rinds, crackers, or tortilla chips for an easy, crunchy snack.
Other great options include fresh veggies, like celery, carrots, or bell pepper slices.
Hummus can also be served as a condiment - spread onto your next sandwich or wrap instead of mayonnaise. Try adding a layer of hummus to your morning avocado toast for some added flavor and protein.
📖 Recipe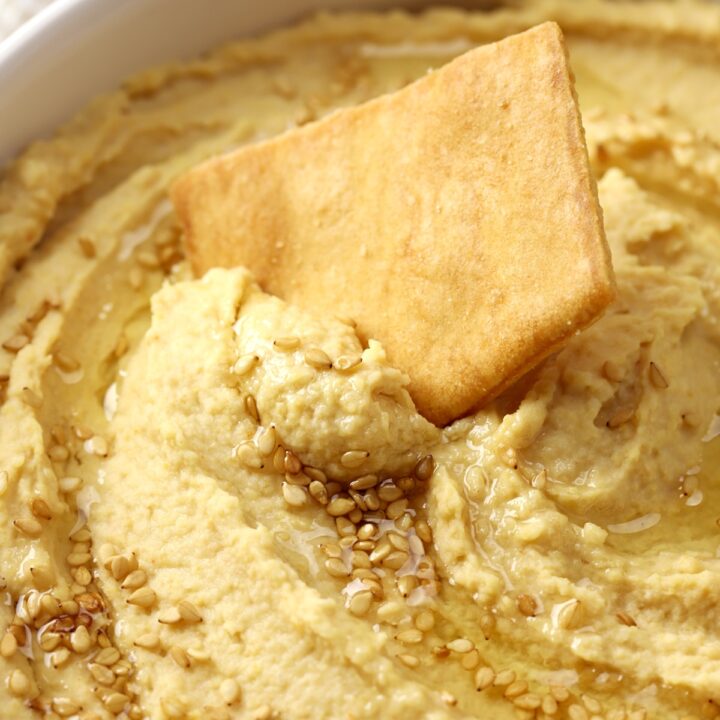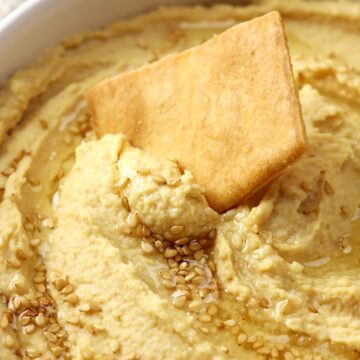 Print Recipe
Roasted Garlic Hummus
Roasted garlic hummus is an easy appetizer that's creamy, flavorful, and perfect for snacking. Gluten-free, dairy-free, and vegan, this hummus is perfect for serving a crowd.
Ingredients
Roasted Garlic
2

heads

garlic

1

teaspoon

olive oil
Hummus
30

ounces

canned chickpeas

,

drained, rinsed, skins removed

¼

cup

tahini

3

tablespoons

lemon juice

2

tablespoons

olive oil

½

teaspoon

salt

¼

teaspoon

cumin

¼

teaspoon

cayenne pepper

¼

cup

water
Instructions
Roasted Garlic
Preheat oven to 400 degrees.

Remove excess papers from outside of garlic heads. Slice off ¼" from the top of each head of garlic (the wide/root end) to expose cloves. Discard top portion. Make a little bowl of foil to set garlic in, which will help hold the garlic cloves together and upright. Drizzle the tops with olive oil, then cover completely with foil. Roast in the oven for 40-50 minutes, or until garlic is soft throughout and lightly browned. Remove from oven and allow to cool before handling.
Hummus
In a food processor, add roasted garlic cloves (discarding any papers), chickpeas, tahini, lemon juice, olive oil, salt, cumin, and cayenne pepper. Puree until smooth (up to 2 minutes), adding water as needed to reach desired consistency.

Optionally, serve topped with sesame seeds and a drizzle of olive oil.
Notes
Store leftover hummus in a sealed container in the refrigerator. Leftovers will keep for 4-5 days.
Nutrition Estimate
Calories:
124
kcal
|
Carbohydrates:
12
g
|
Protein:
5
g
|
Fat:
7
g
|
Saturated Fat:
1
g
|
Sodium:
297
mg
|
Potassium:
148
mg
|
Fiber:
3
g
|
Sugar:
1
g
|
Vitamin A:
28
IU
|
Vitamin C:
3
mg
|
Calcium:
40
mg
|
Iron:
1
mg
More recipes