Scotcheroos are a sweet dessert bar made with rice krispies cereal and peanut butter.
These easy, six-ingredient bars are topped with a rich butterscotch and chocolate topping.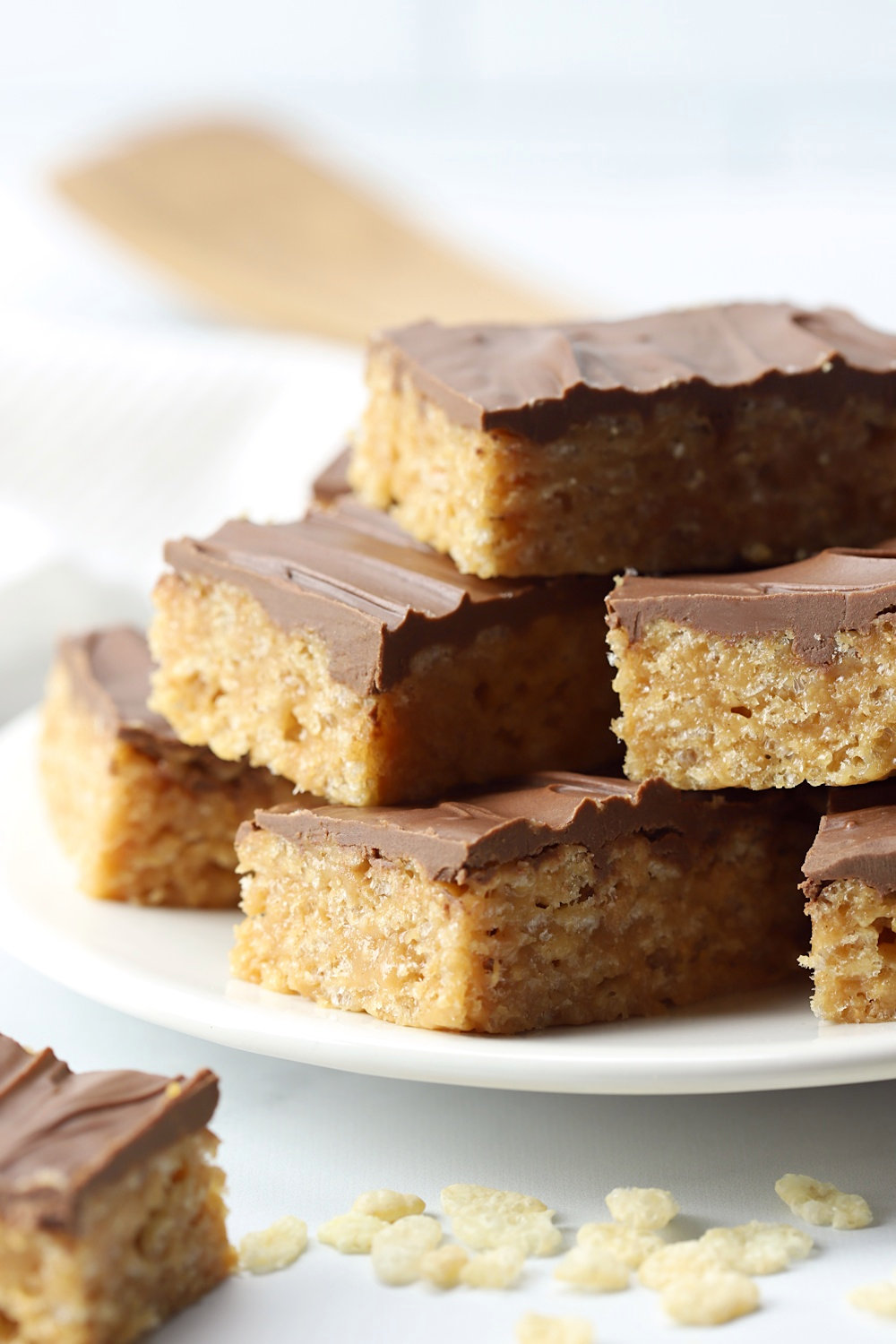 Scotcheroos are a crowd pleasing, easy to make dessert. These bars include favorite flavors like peanut butter, butterscotch, and chocolate.
Not only are they easy to make, but you'll only need six ingredients to make these scotcheroos. Plus, they're ready in less than 30 minutes.
The base of these bars is cooked on the stove top, then pressed into a 9x13 pan. Then, they're coated in a melted chocolate and butterscotch topping. That's it - no baking required!
Original scotcheroos recipe
Scotcheroos originated as a recipe on the side of a Rice Krispies box in the 1960s. While I grew up making and enjoying this recipe, I have since made some adjustments.
First, the original recipe is extremely sweet and rich. I have since cut the amount of granulated sugar in half. I've also reduced the amount of rice krispies by one cup to balance the coating to cereal ratio.
Last, instead of 6 ounces each of chocolate and butterscotch chips, I reduced each to 5 ounces. While not a large change, I found that the thinner chocolate coating made these bars less rich and overwhelming.
Ingredients and substitutions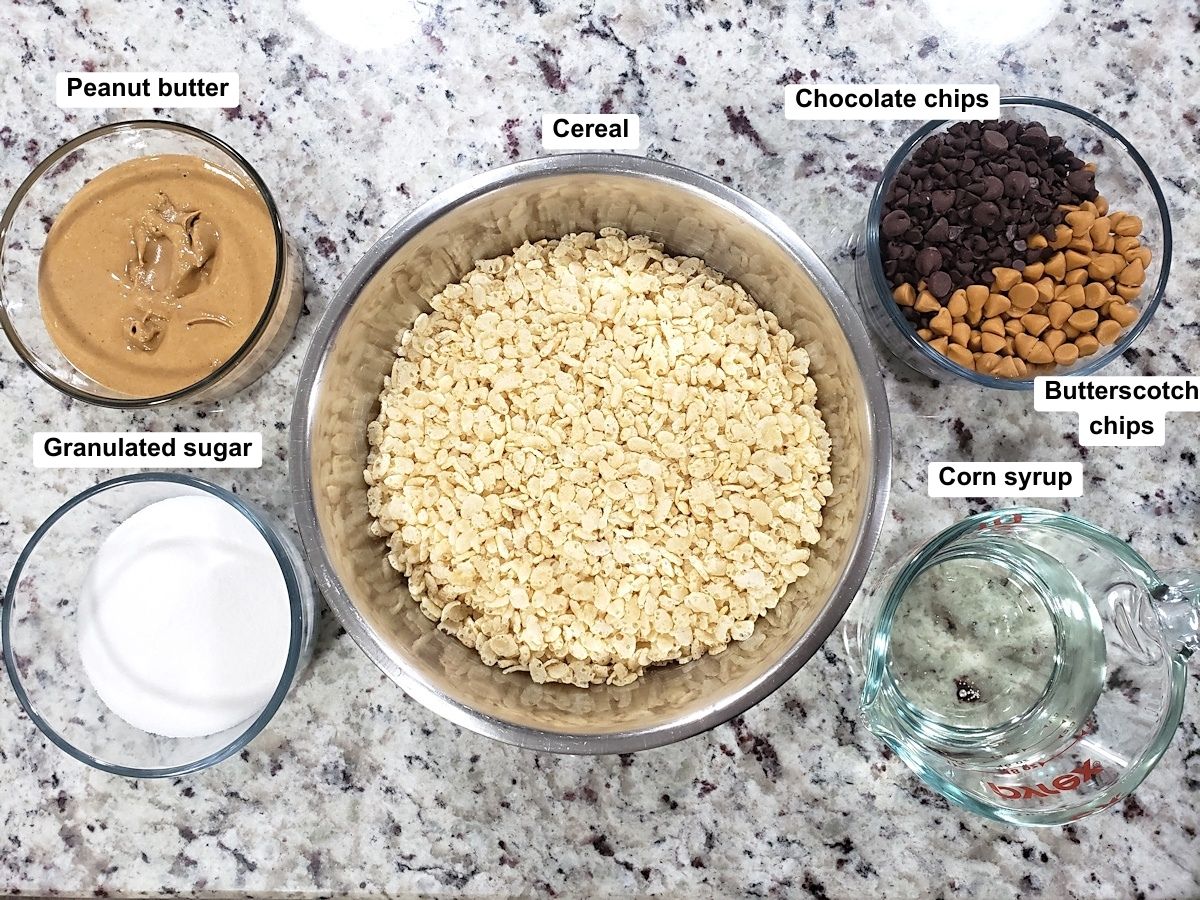 Creamy peanut butter can be substituted with crunchy peanut butter, or almond butter in case of a peanut allergy.
Corn syrup can be substituted with honey.
Rice krispies cereal can be substituted with Special K cereal (to make Special K bars), cornflakes, or chex cereal (I recommend rice chex).
How to store scotcheroos
While you do need to refrigerate them initially to harden the chocolate topping, your scotcheroos do not need to be stored in the refrigerator.
In fact, they are best stored at room temperature. Stored in a sealed container, your scotcheroos will stay fresh up to 3 days. After that, your bars will begin to harden and lose their chewy texture.
If you need to store your scotcheroos in the refrigerator due to the summer heat, I recommend letting the sit at room temperature for 30 minutes before serving. Otherwise, your bars will be hard and difficult to chew.

How to prevent hard scotcheroos
Have you ever made a batch of scotcheroos and your bars turned out hard? It's likely because your sugar mixture was boiled for too long.
Keep a close eye on your sugar mixture while it's on the stovetop. As soon as it comes to a boil, remove it from the heat and add your rice krispies cereal.
This ensures your bars will be chewy and soft - not hard!
And if you've just removed your scotcheroos bars from the refrigerator or freezer - give them up to 30 minutes to rest at room temperature. A cold scotcheroo will be hard and difficult to eat.
Freezing
Did you know that scotcheroos can be frozen? Yep! Allow your bars to cool completely. Cut into squares, place into a freezer safe container (or freezer bag), and freeze for up to 3 months.
Allow your bars to come completely to room temperature before enjoying.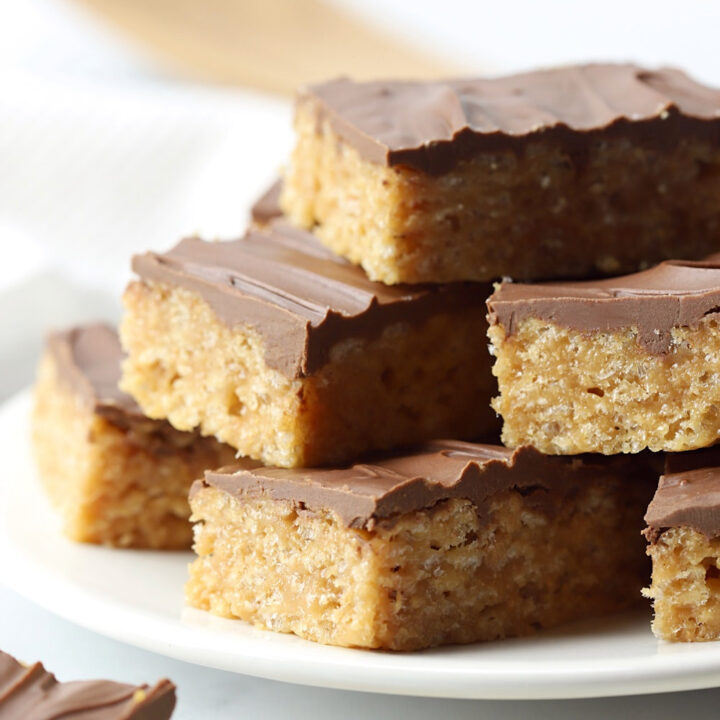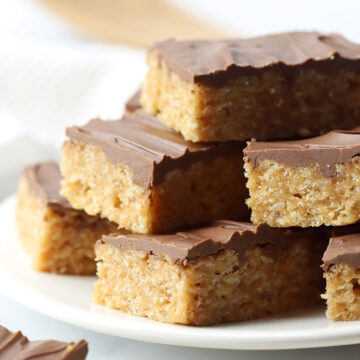 Print Recipe
Scotcheroos
Scotcheroos are a sweet dessert bar made with rice krispies cereal and peanut butter. These easy, six-ingredient bars are topped with a rich butterscotch and chocolate topping.
Adapted from Kellogg's Scotcheroos recipe.
Ingredients
1

cup

(

312

g

)

light corn syrup

½

cup

(

99

g

)

granulated sugar

1

cup

(

270

g

)

peanut butter

5

cups

(

140

g

)

rice krispies cereal

5

ounces

(

142

g

)

semi-sweet chocolate chips

5

ounces

(

142

g

)

butterscotch chips
Instructions
Line a 9x13 pan with parchment paper or grease bottom and sides and set aside.

In a saucepan over medium heat, add corn syrup and granulated sugar. Stir until sugar has dissolved. Once mixture comes to a boil, remove from heat immediately and stir in peanut butter. Then add rice krispies cereal and stir until evenly coated.

Press mixture evenly into prepared 9x13 pan.

In a microwave safe dish, warm chocolate chips and butterscotch chips in 30 second increments, stirring until melted.

Pour chocolate mixture over bars and spread with a knife to the edges. Refrigerate bars for 15 minutes, or until chocolate coating has solidified.

Remove from refrigerator, slice into bars, and serve.
Notes
Scotcheroos will keep for 3 days stored in a sealed container at room temperature.
Optionally, melt chocolate chips in a double boiler over low heat on the stove top instead of the microwave.
Nutrition Estimate
Calories:
132.71
kcal
|
Carbohydrates:
20.38
g
|
Protein:
2.3
g
|
Fat:
5.35
g
|
Saturated Fat:
1.72
g
|
Cholesterol:
0.59
mg
|
Sodium:
75.08
mg
|
Potassium:
73.7
mg
|
Fiber:
0.76
g
|
Sugar:
15.7
g
|
Vitamin A:
264.6
IU
|
Vitamin C:
2.46
mg
|
Calcium:
6.75
mg
|
Iron:
1.57
mg
More recipes