Homemade vanilla cupcakes are tender, moist, and made entirely from scratch. These yellow cupcakes are topped with a sweet and velvety American buttercream frosting.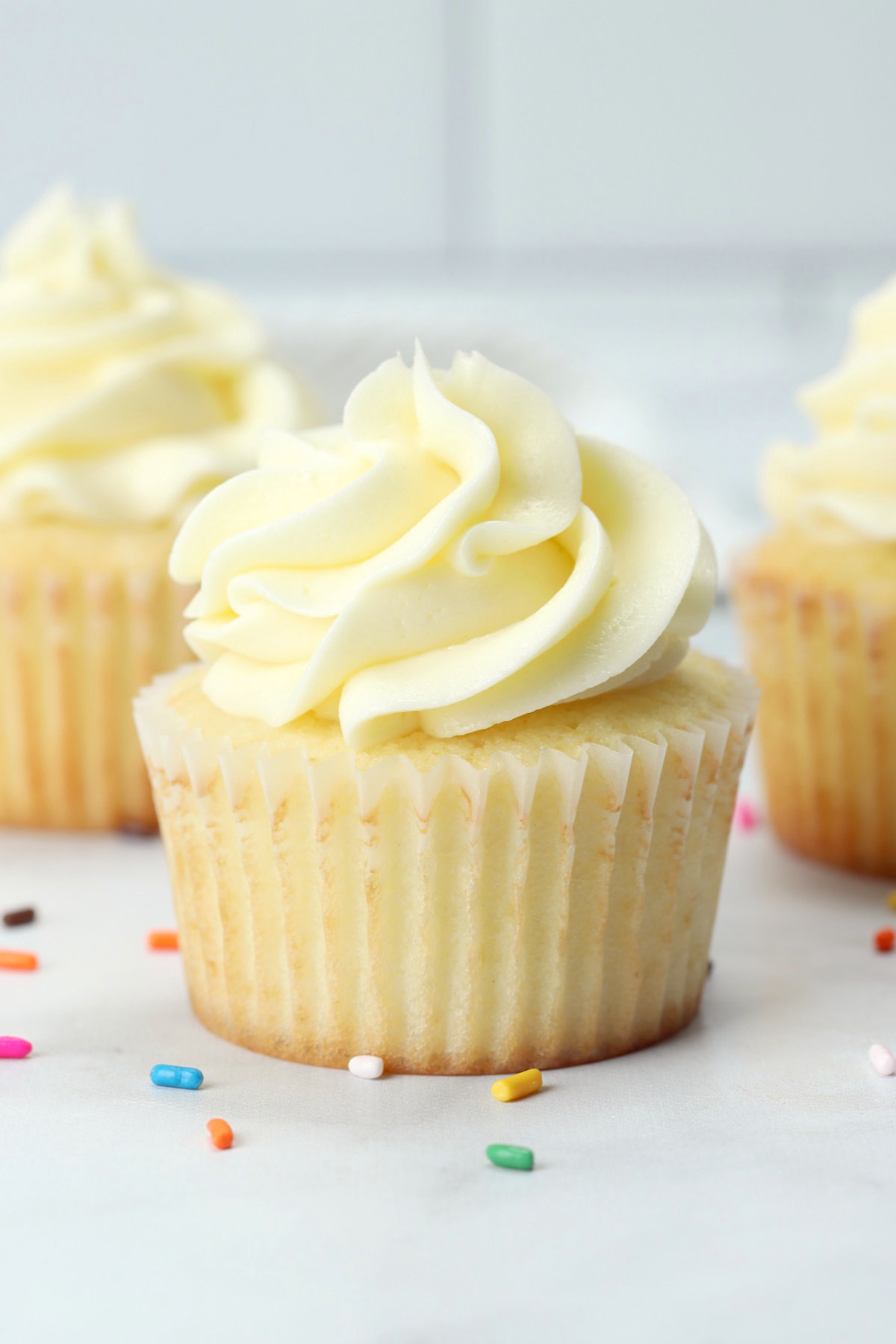 This recipe for vanilla homemade cupcakes makes the perfect birthday cupcake. Made with simple, easy to find ingredients, these cupcakes turn out perfect every time.
They're incredibly moist, tender, and soft - the perfect homemade cupcake recipe. And after many reader requests, I've even made this recipe into a sheet cake - you can find the recipe here: vanilla sheet cake (with directions for 3 pan sizes!).
I've topped these cupcakes with an American buttercream frosting. Another great option is my chocolate buttercream frosting. Buttercream frosting is very sweet, like a bakery frosting. If you'd like a less sweet option, try making a homemade whipped cream for topping your cupcakes instead.
Ingredients and substitutions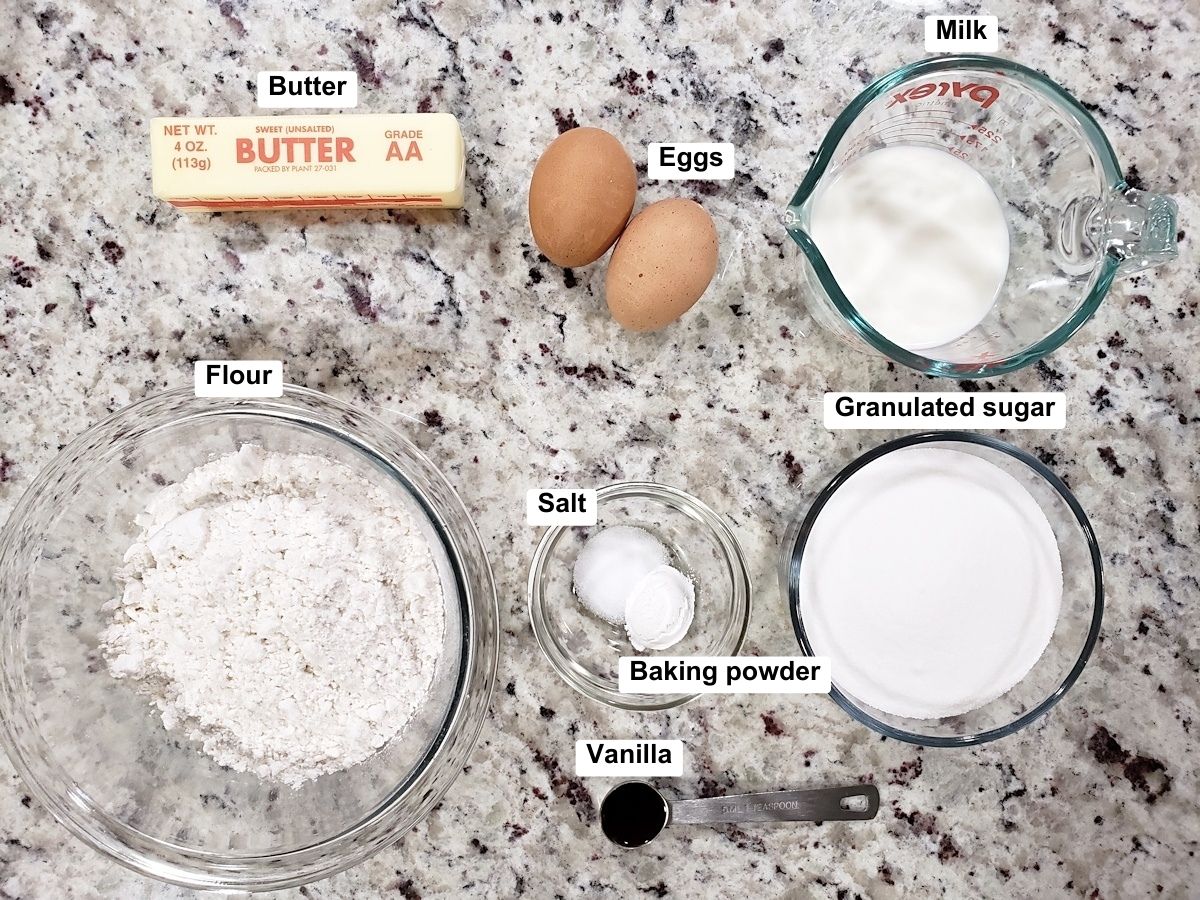 Baking is an exact science, and each ingredient serves a purpose in the recipe. I don't have many substitutions to offer because swapping ingredients can change the texture, moisture, and rise of your cupcakes. If you don't have the listed ingredients on hand, I highly suggest searching Google for an exact recipe that fits your needs without substitutions.
Unsalted butter - Adds moisture and buttery flavor to your cupcake batter. Unsalted butter (and the listed salt) can be substituted with salted butter if desired.
Eggs - Add stability and moisture to your cupcake batter.
Whole milk - Adds moisture to your cupcakes. For best success, I suggest using whole milk, not skim or 1% milk. Your cupcakes will turn out, but may potentially be less moist (or may dry out faster) than if using whole milk.
Cake flour - Cake flour has a lower protein content than other flours, like all-purpose or bread flour, giving your cupcakes a smaller, more tender crumb. I highly recommend using cake flour rather than all-purpose flour. When readers have substituted with all-purpose flour, they frequently complain of a 'cornbread' type texture.
Baking powder - Cannot be substituted with baking soda, the two are not interchangeable.
Salt - Enhances the flavor of your cupcakes without making them "salty".
Vanilla extract - Enhances the flavor of your cupcakes.
Granulated sugar - Sweetens your cupcakes and also helps your cupcakes retain moisture. I do not recommend using sugar-free substitutes in this recipe because I haven't tested these alternatives and can't guarantee how they'll turn out. I suggest doing a Google search for a recipe that fits the ingredients you have on hand.
Can I use all-purpose flour?
Yes, this recipe can be made with all-purpose flour. However, your cupcakes will turn out with a coarser texture when using all-purpose flour, which readers have described as 'cornbread-like'. This is why I recommend using cake flour.
Using cake flour makes your cupcakes tender and incredibly soft. Cake flour is made for baking cakes, so why not grab a box to keep on hand in your home?
I like to use Swans Down cake flour, because it's easy to find in all of my local grocery stores. One box is only a few dollars, and in my experience, makes a world of difference when baking cakes.
Mixing cupcake batter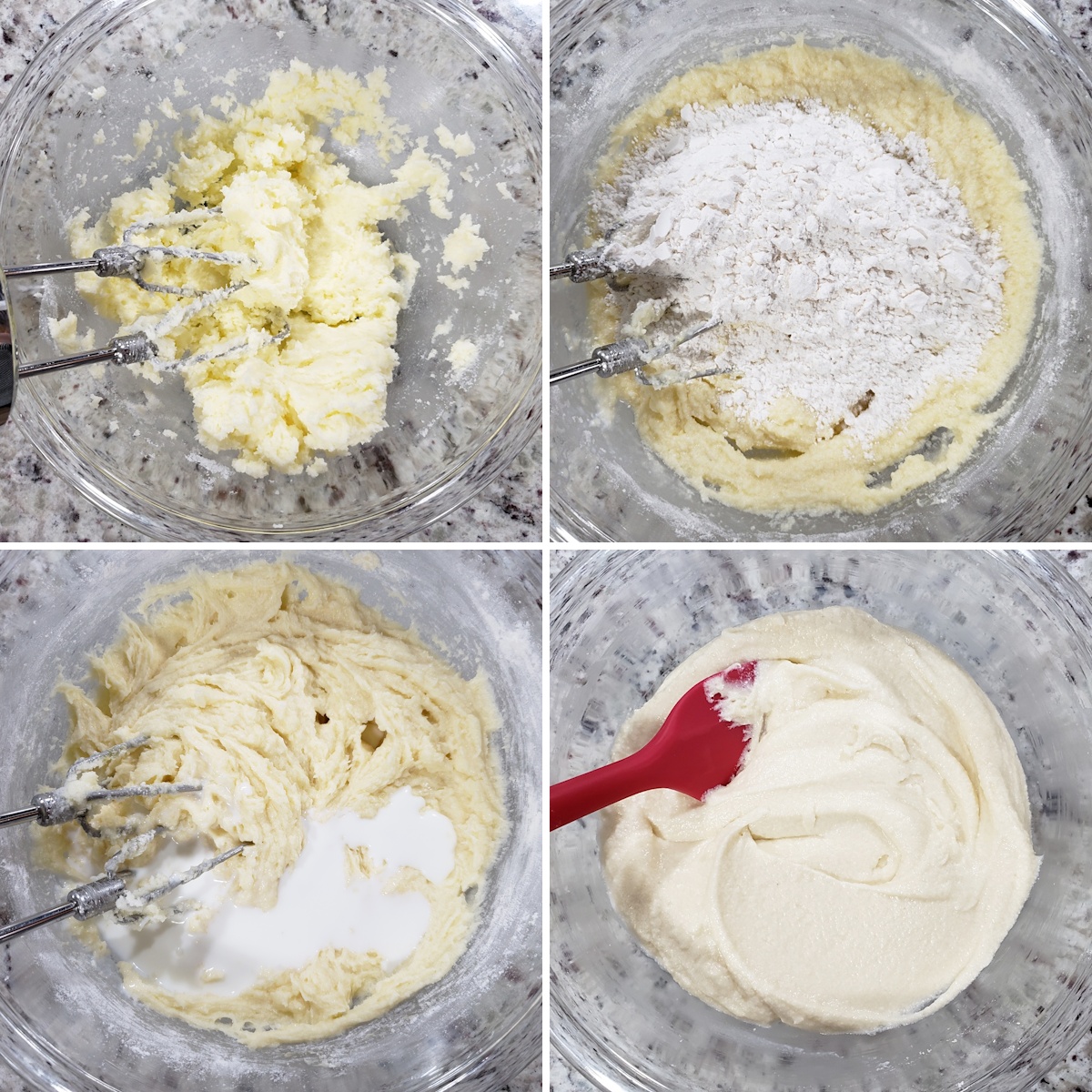 After creaming the wet ingredients together, be careful not to over-mix your batter. This adds extra (unstable) air. When your cupcakes bake, they will rise quickly, then sink in the middle due to that excess air releasing.
If using a hand mixer, mix in your dry ingredients using low speed only. Or, use a spoon and stop mixing as soon as you don't see any steaks of flour anymore.
Portioning cupcake batter
I use a large cookie scoop to make sure each cupcake is the same size. If you don't have one, it holds 3 tablespoons of batter.
This recipe will make enough batter for 15 cupcakes using my measuring method above. If you only have a 12 cupcake pan, do not distribute all of the batter between 12 cupcakes. The batter will spill over the edges when baking.
Instead, Evenly fill your 12 cupcake liners, bake, and discard the rest of the batter (or bake a second batch of 3). I like to keep a 24 cupcake pan on hand for these occasions.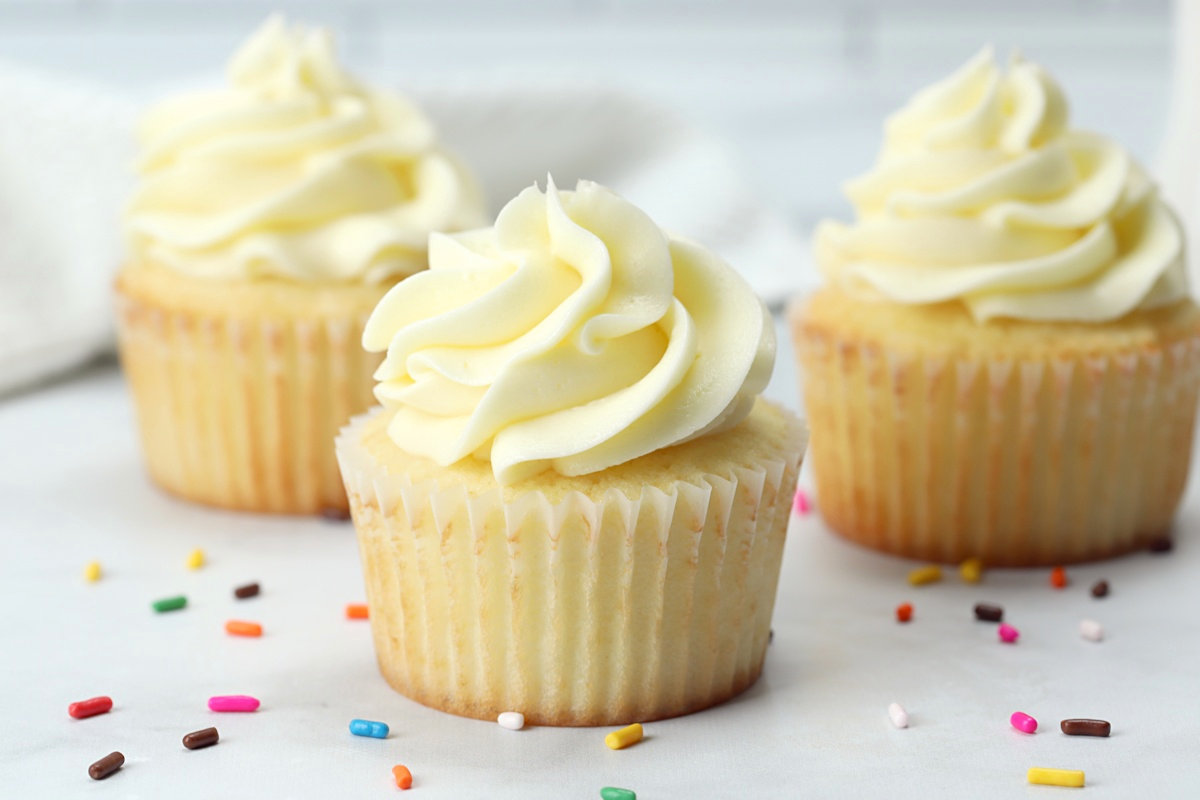 How to prevent dry cupcakes
No one wants to go through the steps of baking cupcakes only for them to turn out dry! These are my favorite tips for ensuring your cupcakes turn out moist and tender.
Do not substitute any ingredients. The fats and sugar (butter, whole milk, granulated sugar, and eggs) in this recipe help keep your cupcakes moist. Substituting those ingredients will change the texture and moisture in your cupcakes.
Properly measure your flour. Too much flour can cause your cupcakes to turn out dry. Either use a kitchen scale to weigh your flour (this is what I do and recommend), or spoon the flour into your measuring cup and level off with a knife. Scooping with the measuring cup directly from a bin of flour compacts it into the cup, adding up to 25% extra flour to the recipe.
Do not overbake your cupcakes. If you haven't substituted ingredients, the only other reason your cupcakes will turn out dry is from overbaking.
Watch your cupcakes, not the time. Ovens are inconsistent and can run hotter or colder than the next oven. The time that worked for me may not work for you. Start checking your cupcakes 1-2 minutes early for doneness.
If your oven bakes unevenly, rotate your cupcake pan halfway through baking.
Three easy ways to check for doneness: 1. Do the cupcakes jiggle a lot when you move the pan? They're not done yet. 2. Gently press on the top of a cupcake with your finger. If the cupcake pops back up immediately, it's done. If an indentation is left, your cupcakes needs more time. 3. Poke a toothpick into the center of a cupcake - if it comes out clean or with dry crumbs, they're done.
Allow your cupcakes to cool completely before unwrapping or slicing in half. Warm cupcakes are more likely to stick to the wrapper, and slicing into warm cake releases steam (moisture), causing them to turn out dry.
Frosting options
Buttercream frosting is great for piping and knife decorating - it's very easy to work with and doesn't require cooking or advanced techniques. Traditional buttercream frostings are also very sweet, so you could use less by cutting the recipe in half.
For years I've used this simple Wilton Cupcake Decorating Kit (Amazon) to decorate my cupcakes. It comes with four piping tips, bags, and easy to read instructions. I also purchased this additional coupler to make it easy to secure the piping tips and change out tips halfway through decorating.
Whipped cream is a much less sweet option and can simply be dolloped on top of each cupcake just before serving.
Recommended
📖 Recipe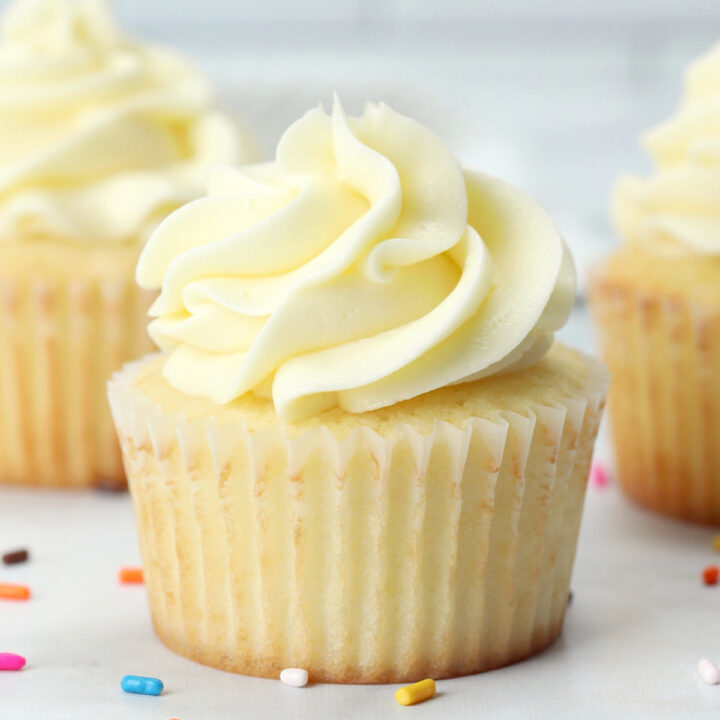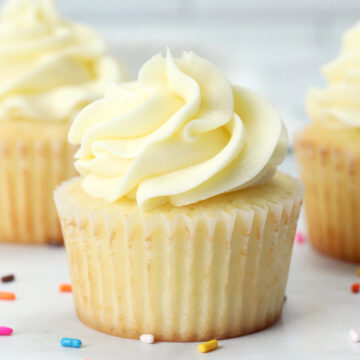 Print Recipe
Homemade Vanilla Cupcakes
Homemade vanilla cupcakes are tender and moist, and made entirely from scratch. These yellow cupcakes are topped with a sweet and velvety American buttercream frosting.
Ingredients
Vanilla cupcakes
1 ½

cups

(

168

g

)

cake flour

1 ½

teaspoons

(

4

g

)

baking powder

½

teaspoon

(

3

g

)

salt

½

cup

(

113

g

)

unsalted butter

,

room temperature

1

cup

(

247

g

)

granulated sugar

2

large

eggs

,

room temperature

½

cup

(

113

g

)

milk

,

room temperature

1

teaspoon

(

5

g

)

vanilla extract
American buttercream frosting
4

cups

(

454

g

)

confectioner's sugar

1

cup

(

226

g

)

unsalted butter

,

room temperature

3-4

tablespoons

(

42-57

g

)

heavy cream

1

teaspoon

(

5

g

)

vanilla extract
Instructions
Vanilla cupcakes
Preheat oven to 350 degrees Fahrenheit. Line a cupcake pan with liners, set aside.

In a bowl, sift or whisk together the dry ingredients: flour, baking powder, and salt. Set aside.


In a large bowl, add butter and sugar. Beat until creamed and fluffy.

Add eggs and vanilla extract. Mix until incorporated and smooth.

Add half of your dry ingredients to butter mixture. Stir until just combined. Add half of milk, again stirring until just combined. Repeat once more, adding remaining dry ingredients, and remaining milk, stirring until just incorporated.

Portion batter between 15 cupcake liners, filling about halfway full. Bake in preheated oven for about 18-20 minutes, or until a toothpick comes out with crumbs, not batter. Or, gently press a finger into the top of a cupcake. If the cupcake bounces back immediately, the cupcakes are done. If an indent is left, your cupcakes need more time.

Remove pan from oven and allow to cool for 5 minutes before transferring cupcakes to a wire rack to finish cooling.
American buttercream frosting
In a large bowl, add room temperature butter and beat until creamy, about 1 minute.

Add confectioner's sugar and slowly mix until ingredients are fully combined. Then, whip at high speed for 2-3 minutes, or until light and fluffy.

Add vanilla extract and heavy cream, then whip until fluffy, another 1 to 2 minutes.


Pipe or spread frosting with a knife onto cupcakes and serve.
Notes
Cupcakes are best served the same day of baking, but will remain moist for up to 48 hours when covered in a sealed container.
This recipe can be made with all-purpose flour instead of cake flour, but the texture will be coarser and cupcakes will not turn out as tender. I highly recommend using cake flour.
The frosting recipe will make enough to pipe tall, dramatic frosting onto each cupcake (like shown in the photos). If you'd like to make less frosting and spread on with a knife, cut the recipe in half.
I do not suggest substituting or omitting any of the ingredients that add moisture to this recipe, including eggs, butter, whole milk, and granulated sugar. Otherwise, cupcakes can turn out dry.
Be sure to check out my 10 tips for baking cake, based on reader comments and questions!
Nutrition
Serving:
1
cupcake
|
Calories:
477
kcal
|
Carbohydrates:
58
g
|
Protein:
3
g
|
Fat:
27
g
|
Saturated Fat:
17
g
|
Cholesterol:
98
mg
|
Sodium:
98
mg
|
Potassium:
67
mg
|
Fiber:
1
g
|
Sugar:
48
g
|
Vitamin A:
857
IU
|
Calcium:
37
mg
|
Iron:
1
mg