Strawberry filled cupcakes are soft, delicate white cupcakes with fresh strawberry filling and whipped buttercream frosting. A crowd-favorite cupcake recipe.
You're going to love my recipe for strawberry filled cupcakes. These cupcakes are soft and delicate, made with egg whites for a light texture and pale color.
The homemade fresh strawberry filling is easy to make and takes only a few ingredients.
I like to top these cupcakes with my reader favorite whipped buttercream frosting. A sweet buttercream frosting that's whipped until light and fluffy. These cupcakes would also be fantastic topped with a stabilized whipped cream.
Serve these strawberry filled cupcakes for Valentine's Day, a spring or summer picnic, or your next birthday party. Prefer a whole cake? I have a recipe for strawberry filled white cake too!
Ingredients and substitutions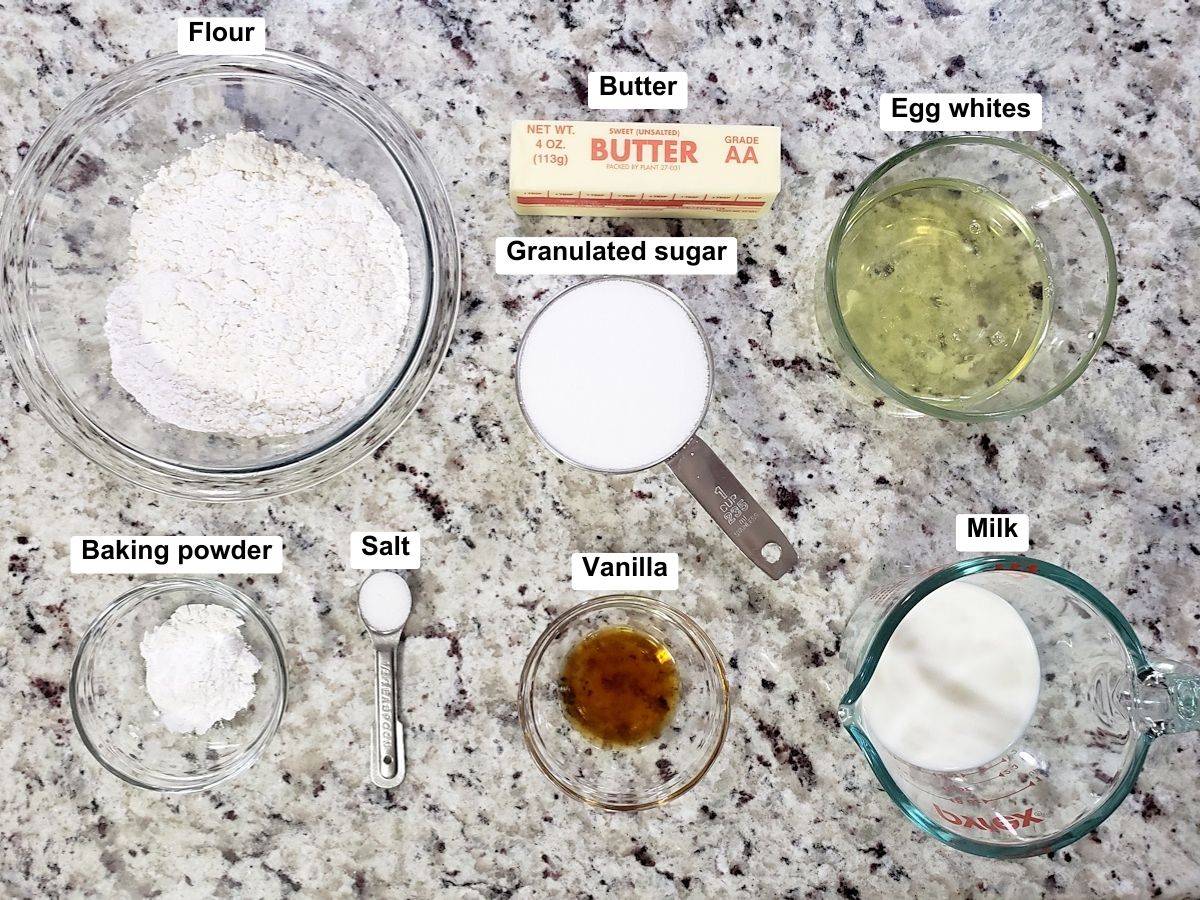 Cake flour - I do not recommend substituting the cake flour in this recipe. Cake flour gives your cupcakes their tender, small crumb. If you substitute with all-purpose flour, your cupcakes will, in comparison, have a coarser crumb that readers often describe as a 'cornbread' texture.
Baking powder - This cannot be substituted with baking soda - they are two different ingredients.
Unsalted butter - If you need to substitute with salted butter, reduce the amount of salt to ¼ teaspoon.
Granulated sugar
Vanilla extract
Egg whites - Egg whites can not be substituted with whole eggs. Using egg whites in this recipe makes your cupcakes light, fluffy, and white. If you want to use whole eggs (with the yolk) to make cupcakes, I suggest trying my vanilla homemade cupcakes recipe. It uses the same ingredients (in slightly different measurements), is written to use two whole eggs, and can be filled with strawberry filling.
Whole milk - This recipe will technically work with a lower fat milk, like 2%, 1%, or skim, but whole milk will help keep your cupcakes moist from the added fat. For best results, use whole milk.
Room temperature ingredients
For this recipe, you'll need some room temperature butter, egg whites, and milk. If possible, set out your ingredients ahead of time, about an hour before you begin baking.
To warm up butter quickly, try slicing it into smaller pieces, then setting it out on the counter for 30 minutes.
To warm up eggs, place in them in a bowl and cover them with warm water. Your eggs will come to room temperature in minutes.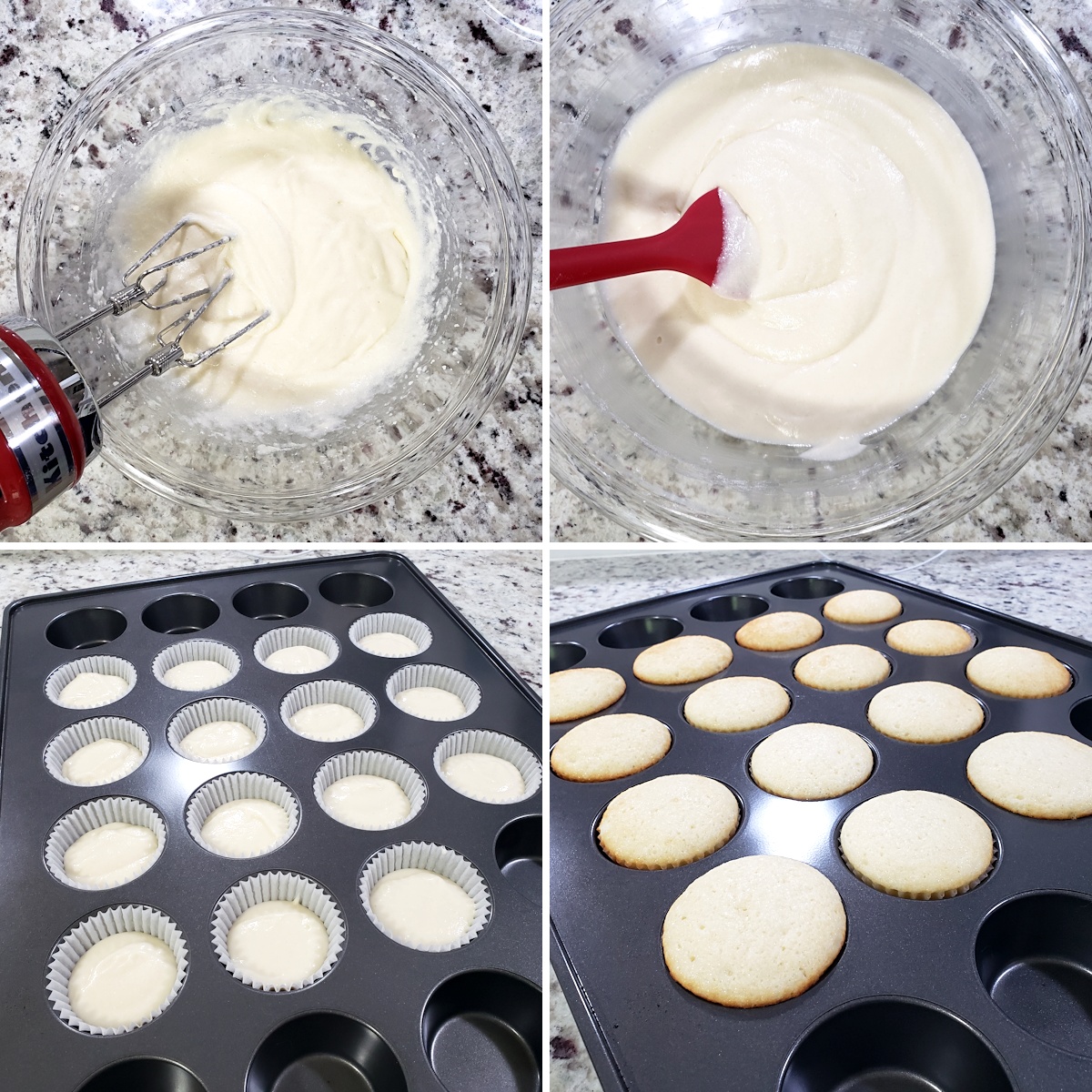 How to core and fill cupcakes
I use a cupcake corer to core my cupcakes, which makes the process a breeze. I found a kit that includes this exact corer as well as a different style from OXO.
This tool is entirely optional, and you can simply core your cupcakes with a knife instead. To do so, carefully cut a small circle in the center of your cupcakes and dig out the middle.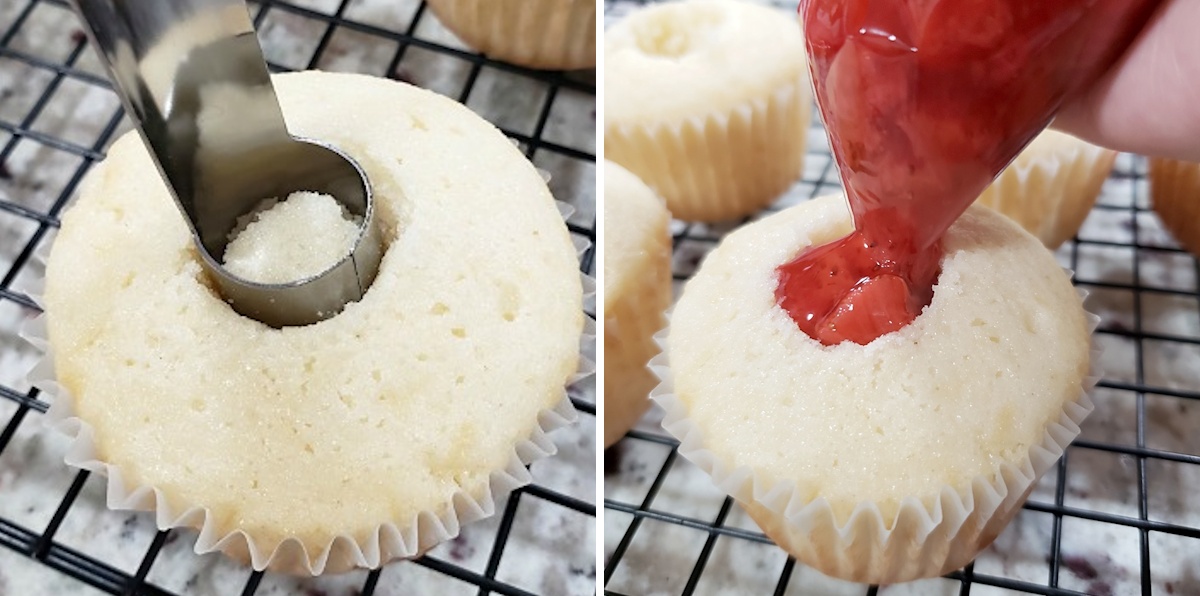 Make sure not to core your cupcakes all the way to the bottom. You'll want to leave a small base for your filling to sit on, so it doesn't fall out when unwrapped.
When filling your cupcakes, carefully spoon your filling to fill each cupcake. Or, fill a plastic baggie with your filling, cut off a corner, and carefully pipe your filling into each cupcake.
Cupcake frosting
To frost cupcakes, I suggest a Wilton Cupcake Decorating Kit. It comes with four piping tips as well as bags. I also purchased this additional coupler to make it easy to secure tips to your piping bag or change tips halfway through if desired.
I'd suggest one of these options to frost your cupcakes (listed from least to most sweet):
Cupcake tips and tricks
My favorite tips and tricks for making cupcakes. Taken from reader questions and reviews!
For this recipe, you'll need baking powder, not baking soda. They react differently with your ingredients and baking soda does not work for this recipe.
Mix your batter until your ingredients are just incorporated. Overmixing your batter can whip extra air in, causing your cupcakes to rise quickly and then fall in the center when they bake.
Do not unwrap cupcakes while they are warm. Cupcakes will stick to the liners until they are fully cooled throughout. Once cooled, your cupcakes will unwrap without sticking.
Are your cupcakes sticky on top? This can be caused by humidity in your home or storing cupcakes while they're still warm. This can't really be fixed, but can be covered with frosting.
Do not frost warm cupcakes! Buttercream is sensitive to heat and will melt between 90 to 95 degrees Fahrenheit.
How to prevent dry cupcakes
These are my favorite tips for ensuring your cupcakes bake up moist and tender.
Do not substitute ingredients. The fats and sugar (butter, whole milk, granulated sugar, and egg whites) in this recipe make your cake moist. Substituting ingredients changes the texture and moisture in your cupcakes.
Properly measure your flour. Too much flour can cause your cupcakes to turn out dry. Either use a kitchen scale to weigh your flour (this is what I do and recommend), or spoon the flour into your measuring cup and level off with a knife. Scooping with the measuring cup directly from a bin of flour compacts it into the cup, adding up to 25% extra flour to the recipe.
Do not overbake your cupcakes. If you haven't substituted ingredients, the only other reason your cupcakes will turn out dry is from overbaking.
Watch your cupcakes, not the time. Ovens are inconsistent and can run hotter or colder than the next oven. The time that worked for me may not work for you. If you've never made this recipe before, try checking your cupcakes 2 minutes early.
Three easy ways to check for doneness: 1. Do your cupcakes jiggle a lot when you move the pan? If so, they're not done yet. 2. Gently press on the top of a cupcake with your finger. If the cake pops back up immediately, it's done. If an indentation is left, they need more time. 3. Poke a toothpick into the center of a cupcake - if it comes out clean or with dry crumbs, they're done.
Recommended
📖 Recipe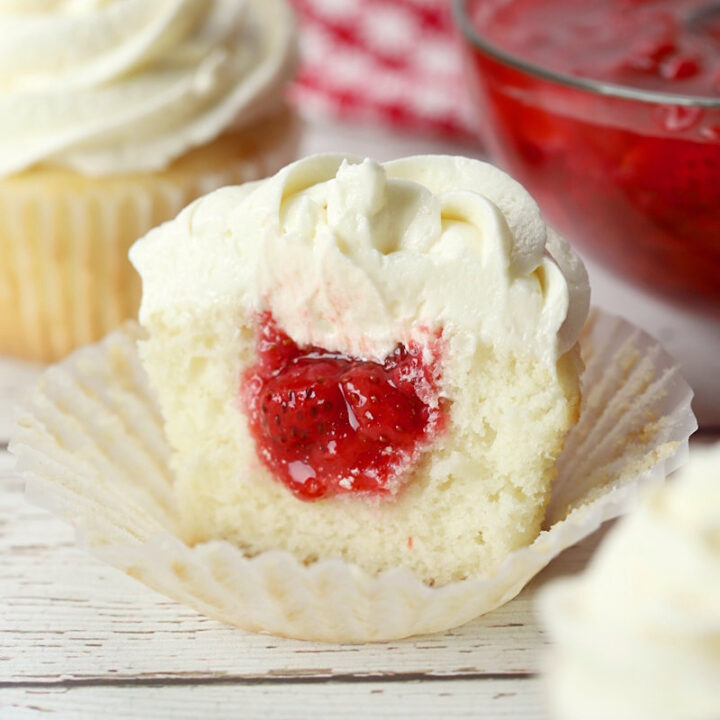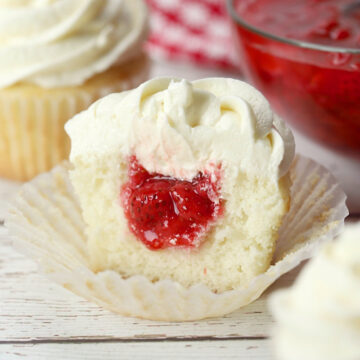 Print Recipe
Strawberry Filled Cupcakes
Strawberry Filled Cupcakes are soft, delicate white cupcakes with fresh strawberry filling and whipped buttercream frosting. A crowd-favorite cupcake recipe.
Ingredients
White Cupcakes
1 ½

cups

(

168

g

)

cake flour

2

teaspoons

baking powder

½

teaspoon

salt

½

cup

(

113

g

)

unsalted butter

,

room temperature

1

cup

(

198

g

)

granulated sugar

1 ½

teaspoons

vanilla

3

large

(

90

g

)

egg whites

½

cup

(

114

g

)

milk
Strawberry Filling
½

pound

(

226

g

)

strawberries

,

hulled and diced

2

tablespoons

(

25

g

)

granulated sugar

½

tablespoon

lemon juice

½

tablespoon

(

3.5

g

)

cornstarch
Whipped Buttercream Frosting
1

cup

(

226

g

)

unsalted butter

,

room temperature

4

cups

(

454

g

)

powdered sugar

2

teaspoons

vanilla extract

⅛

teaspoon

salt

⅓

cup

(

75

g

)

heavy cream
Instructions
White Cupcakes
Preheat oven to 350 degrees Fahrenheit and line a cupcake pan with liners. Set aside.

In a medium bowl, whisk (or sift) together the dry ingredients: cake flour, baking powder, and salt. Set aside.

In a large bowl, cream together butter and granulated sugar, about 1 minute. Add vanilla and beat until incorporated. Add egg whites and beat until light and fluffy, about 1 minute.

Add flour mixture to butter mixture in thirds, alternating with the milk, until all ingredients are just incorporated and batter is smooth. Do not overmix.

Pour batter into cupcake liners, filling each ⅔ full. Batter will fill 15 cupcake liners. Bake in preheated oven for about 16-18 minutes, or until a toothpick comes out clean.

Remove pan from oven and allow to cool for 5 minutes before transferring cupcakes to a wire rack to finish cooling.
Strawberry Filling
In a saucepan over medium heat, add strawberries, sugar, lemon juice, and cornstarch. Stir to combine.

Bring to a boil. Reduce heat to medium-low and cook for 4-5 minutes, or until mixture has thickened. Remove from heat and allow to cool.

Gently core the center of each cupcake (about a ¾" circle) and fill with cooled strawberry filling. Be careful not to core through the bottom of your cupcake. Leave about ½" on the bottom so your filling doesn't fall through when unwrapped.
Whipped Buttercream Frosting
In a large bowl, add room temperature butter, beat until creamy, about 1 minute.

Add confectioner's sugar and slowly mix until ingredients are fully combined. Then, whip at high speed for 2-3 minutes, or until light and fluffy.

Add vanilla extract. Then, add heavy cream and whip for an additional 3-4 minutes, or until light and fluffy. Add additional heavy cream as needed to reach desired consistency.

Pipe or spread frosting with a knife onto cupcakes and serve.
Notes
For best results, store in refrigerator until ready to serve. Let cupcakes set at room temperature for 30 minutes before serving. Cupcakes will keep for up to 3 days in refrigerator.
Frosting will make enough to frost about 16 cupcakes with high, dramatic piped frosting, or 24 cupcakes spread with a knife, a 9x13 sheet cake, or an 8-9 inch two layer cake.
Butter melts around 90 to 95 degrees, and so will your frosting. If your location is nearing this temperature, I'd recommend refrigerating your baked goods until an hour before you're ready to serve them. Refrigerating your frosted baked goods will not hurt them, but you will want to give them some time to come to room temperature before serving.
Be sure to check out my 10 tips for baking cake, based on reader comments and questions!
Nutrition
Serving:
1
cupcake
|
Calories:
423
kcal
|
Carbohydrates:
58
g
|
Protein:
3
g
|
Fat:
21
g
|
Saturated Fat:
13
g
|
Cholesterol:
56
mg
|
Sodium:
276
mg
|
Potassium:
120
mg
|
Fiber:
1
g
|
Sugar:
48
g
|
Vitamin A:
660
IU
|
Vitamin C:
9.1
mg
|
Calcium:
46
mg
|
Iron:
0.2
mg