Today I'm sharing with you my readers' top ten favorite dessert recipes. These are the most highly rated, reliable recipes with rave reviews from readers like you!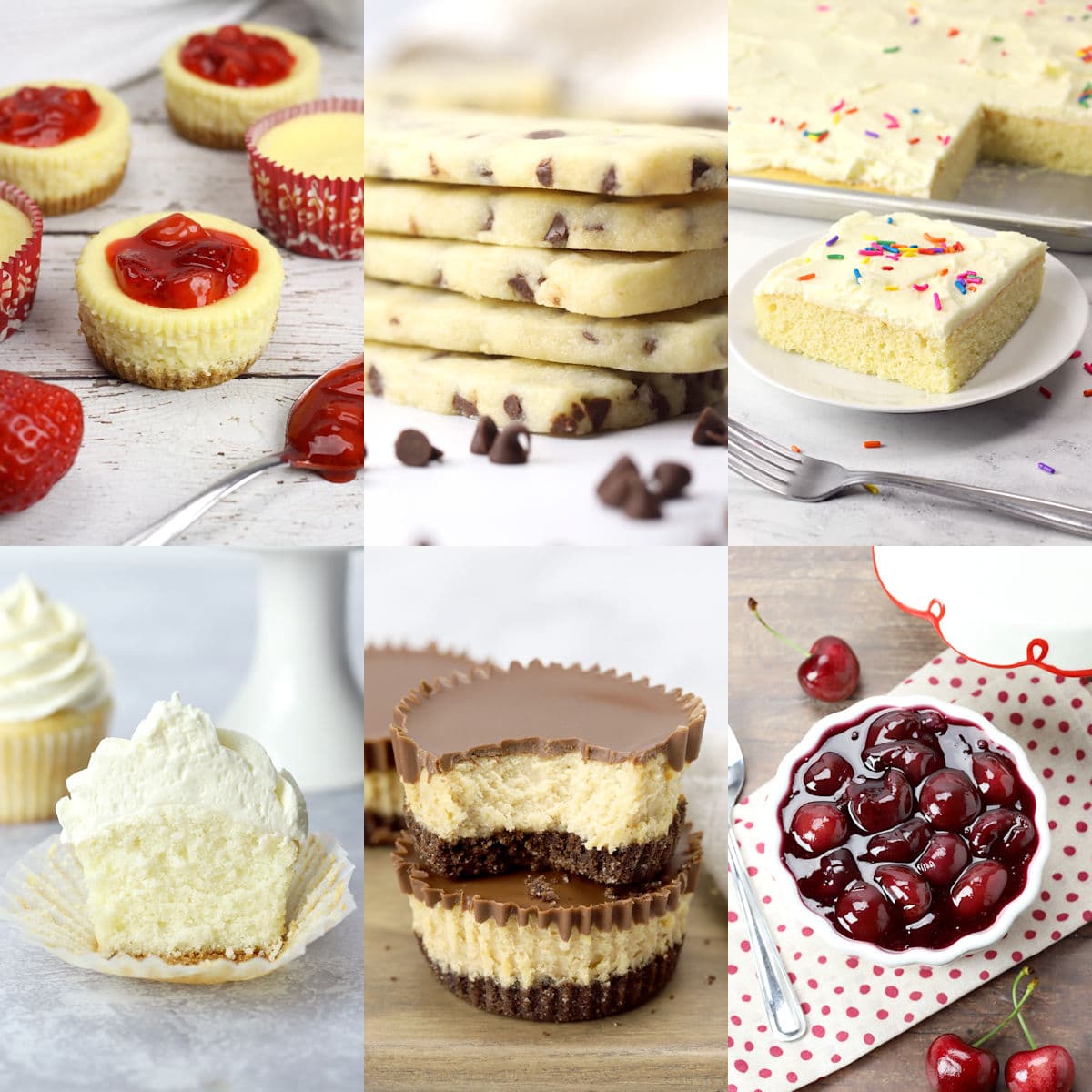 Looking for a new dessert recipe to try? Bored with your regular baking recipes? You're sure to find a new favorite on this list!
These are my top ten reader favorite dessert recipes. This list is based on pageviews, star reviews, and comments from readers like you. You'll find a little bit of everything on this list - like cookies, sheet cake, pie filling, and cupcakes.
All of these dessert recipes are made from scratch with simple ingredients. No cake mix shortcuts and no complicated ingredients. Just simple directions and tips to help you bake with confidence!
10. Chocolate Chip Shortbread Cookie Dippers
Shortbread cookies are buttery, dense, and tender - a nice change up from your everyday chocolate chip cookie! While shortbread can be tricky to master for the beginner baker, I think they're worth the extra effort.
9. Birthday Cake Cookies
This was one of the first few recipes posted on The Toasty Kitchen back in 2017. I was determined to make a birthday cake cookie that didn't use a cake mix as the base. They've been a reader favorite for years!
8. Vanilla Sheet Cake
After many reader requests, I finally made my vanilla cupcakes recipe (#5 on this list) into a cake. This recipe can be made into a 13x18 sheet cake (pictured), a 9x13 cake, or a 9-inch two layer cake.
7. Mini Peanut Butter Cup Cheesecakes
If you love cheesecake and peanut butter cups, these mini cheesecakes are the best of both worlds!
6. Gingerbread Loaf
Most popular during the holidays, this gingerbread loaf is reliable and easy to make! This recipe can also be made into gingerbread muffins.
5. Homemade Vanilla Cupcakes
A classic vanilla cupcake made with simple ingredients. Perfect for any occasion and easy to customize with sprinkles and colored frosting.
4. Strawberry Filled Cupcakes
For this recipe, I've taken my white cupcakes recipe and filled it with strawberry topping - two reader favorite recipes combined into one!
3. Cherry Pie Filling
Cherry pie filling is perfect for topping your next homemade cheesecake, turning into puff pastry cherry turnovers, or baking into a pie (instructions for making a pie are also included!).
2. White Cupcakes
This is my own go-to recipe for cupcakes. Readers love pairing this with whipped buttercream frosting (my most popular frosting recipe!).
1. Easy Mini Cheesecakes
These cheesecakes have long been a reader favorite since posted in 2019. Readers also love pairing these with strawberry topping and raspberry topping!
Honorable mentions
These desserts didn't quite make the cut for the top ten reader favorite dessert recipes, but have plenty of rave reviews! Check them out: