Soft sugar cookies are thick, tender cookies rolled in sugar to add a sweet, crunchy crust. The perfect cookie for year round, and a classic to add to your holiday cookie tray.
Make a batch of soft sugar cookies today - all you need are seven simple pantry baking staples to get started! These cookies are tender, extra thick, and rolled in a light layer of granulated sugar.
This recipe uses the dough of my soft frosted sugar cookies as a base. A few readers mentioned that the frosting was too sweet for them. So, I offered the solution of rolling the dough in granulated sugar instead of adding frosting. After trying it myself a few times, I decided these cookies needed a recipe of their own!
This soft sugar cookie is perfect for someone who's looking for a 'less sweet' cookie. These cookies are perfect for enjoying with a cup of coffee or tea, or adding to your holiday cookie tray around the holidays.
Ingredients and substitutions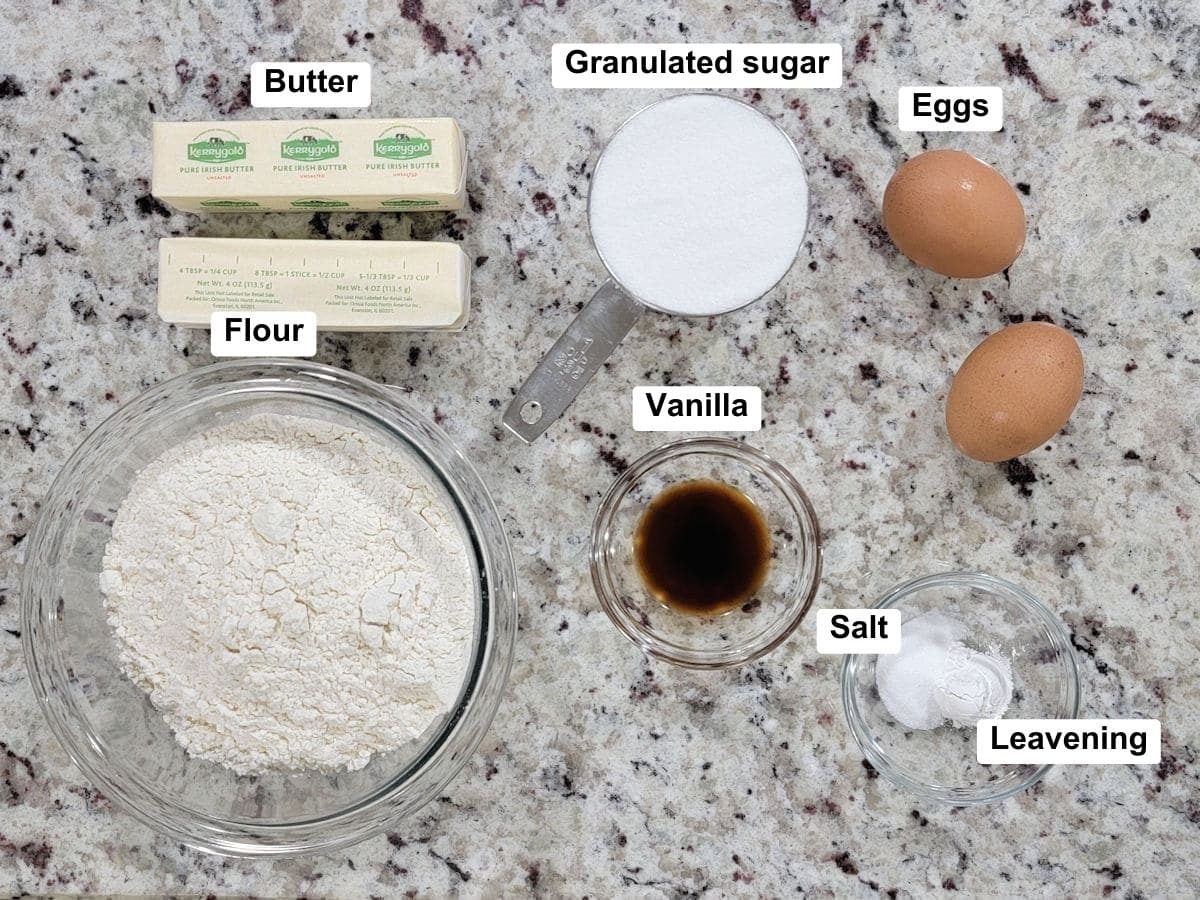 As with most baking recipes, there are not many substitutions to offer. Since baking is an exact science, all of the ingredients included are necessary and should not be substituted or omitted.
Unsalted butter - Can be substituted with salted butter (you'll want to omit the salt listed in the recipe). Your butter should be room temperature - not cold, not melted.
Granulated sugar - Adds sweetness and moisture to your dough. You'll also be rolling the dough balls in additional granulated sugar before baking.
Large eggs - Eggs should be room temperature. Set them on the counter 1 hour before baking, or place your whole eggs in a small bowl covered in warm tap water for 15 minutes.
Vanilla extract - Can be substituted with another extract, like lemon, maple, or peppermint, for a different cookie flavor. I recommend cutting other extract flavors in half - vanilla has a mild flavor in comparison to other extracts, like peppermint.
All-purpose flour - I have only tested this recipe with all-purpose flour. If you have a different flour on hand, I suggest searching for a recipe using your preferred type of flour. Many times it's not an easy 1:1 substitution, and a recipe written for a particular flour will turn out better.
Baking powder - Cannot be substituted with baking soda - these are two different ingredients that will react differently with the other ingredients listed. Check the expiration date before beginning - expired baking powder will result in a flat, dense cookie.
Salt - enhances the flavor of your cookie and balances the sweetness (does not make them "salty").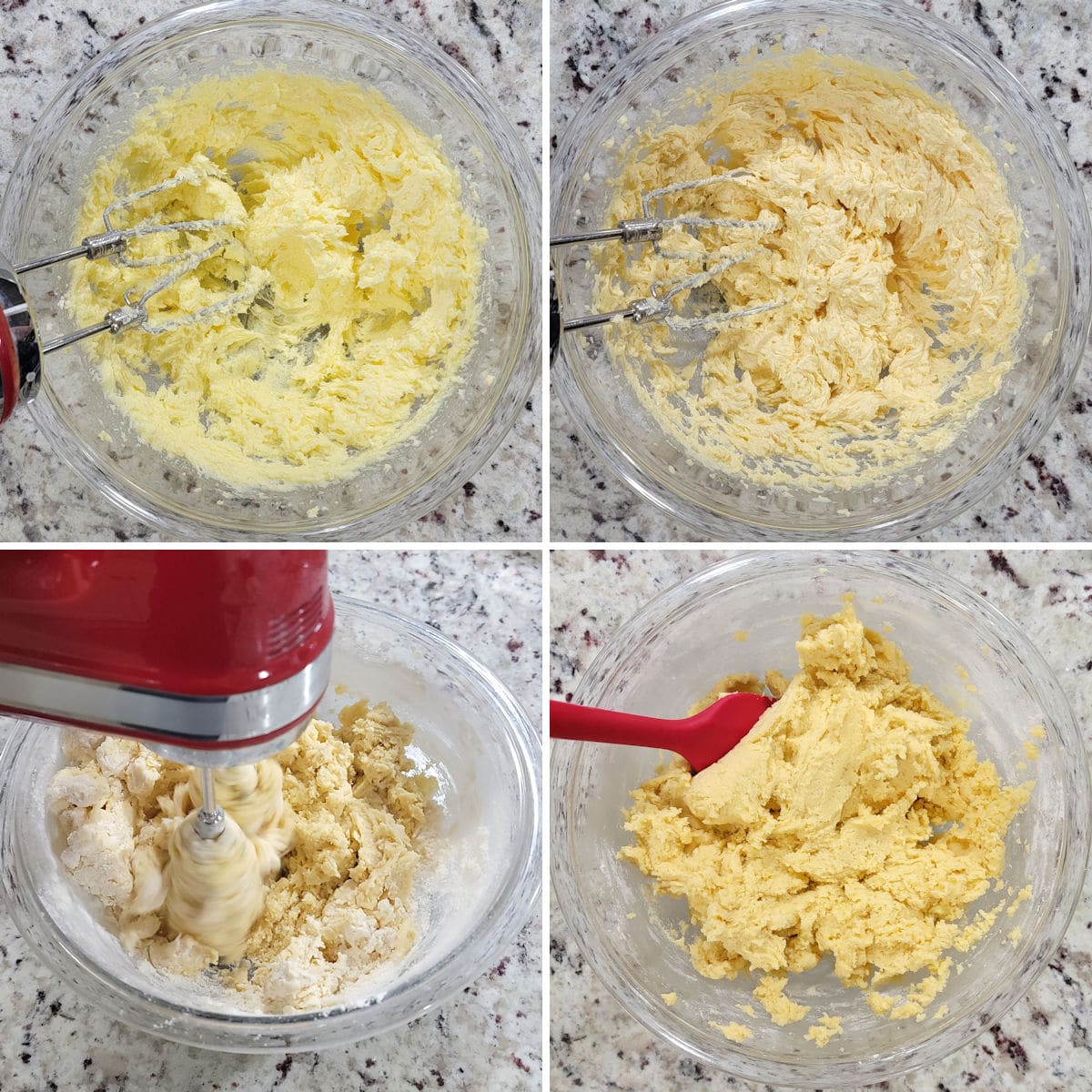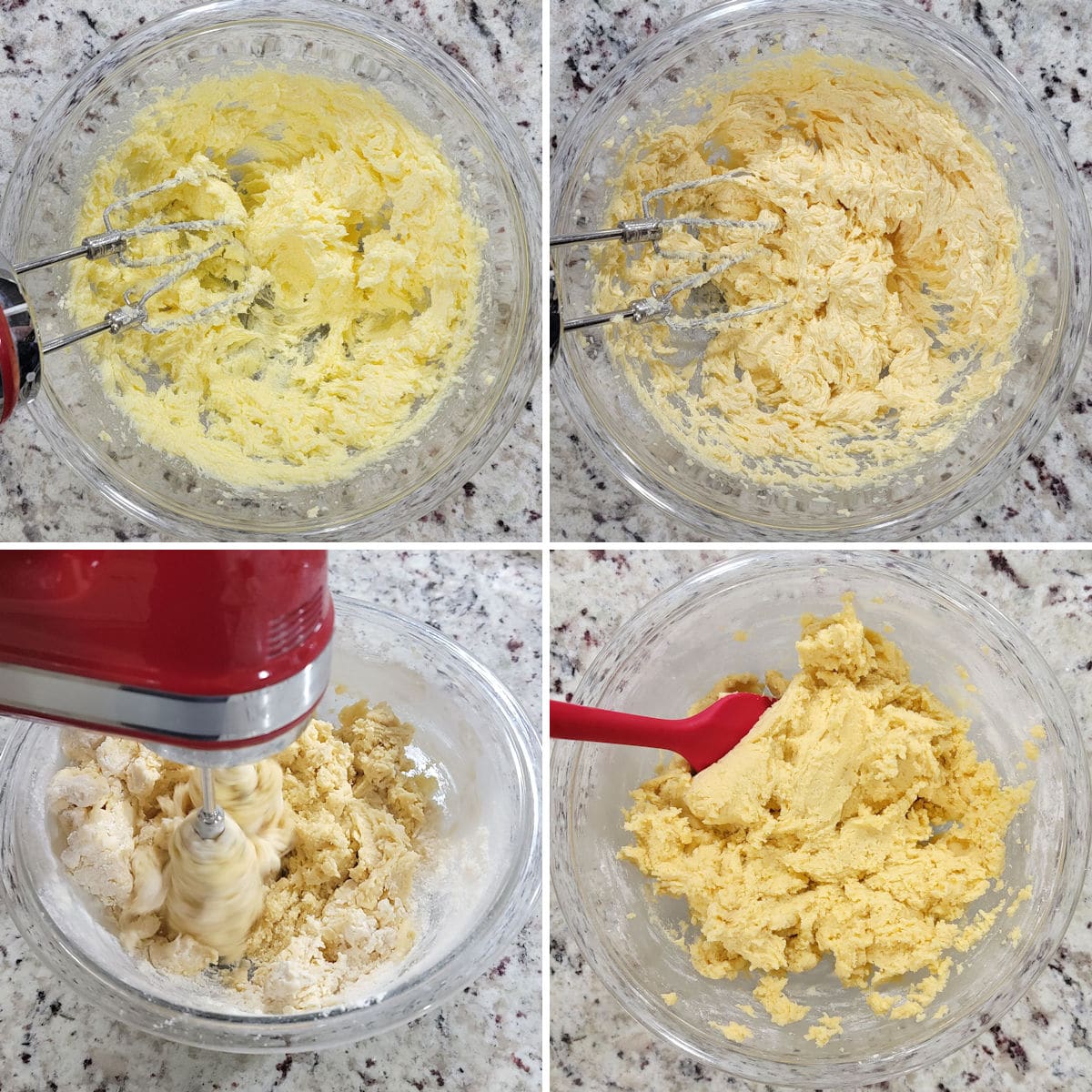 Room temperature ingredients
It's very important to use room temperature ingredients for a few reasons. Room temperature ingredients incorporate together seamlessly to create a smooth, even dough. An even dough (without flecks of butter or egg) helps create perfect cookies.
Also, you'll be creaming together the butter and sugar, which helps create lift in your cookies when they bake. Cold butter will not cream together properly - room temperature butter is a must.
To bring butter to room temperature quickly - Slice your butter into small pieces and lay out on the counter top. Small pieces warm up more quickly than a whole stick.
To bring eggs to room temperature quickly - Place your whole eggs into a bowl and cover with very warm tap water. Eggs surrounded by warm (not boiling) water warm up in about 10 to 15 minutes.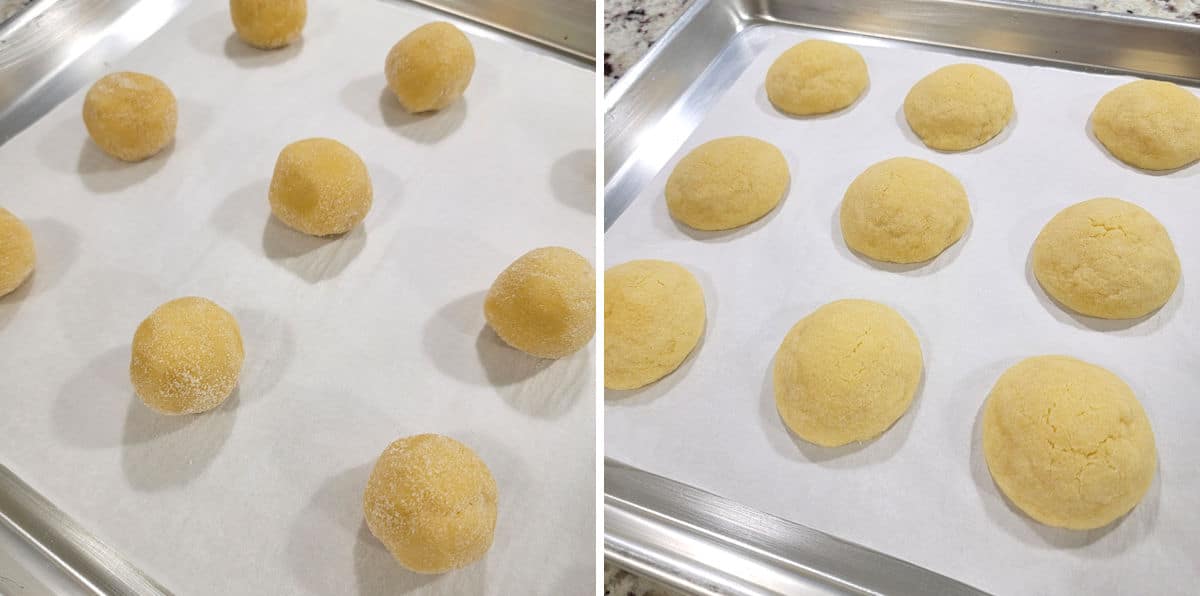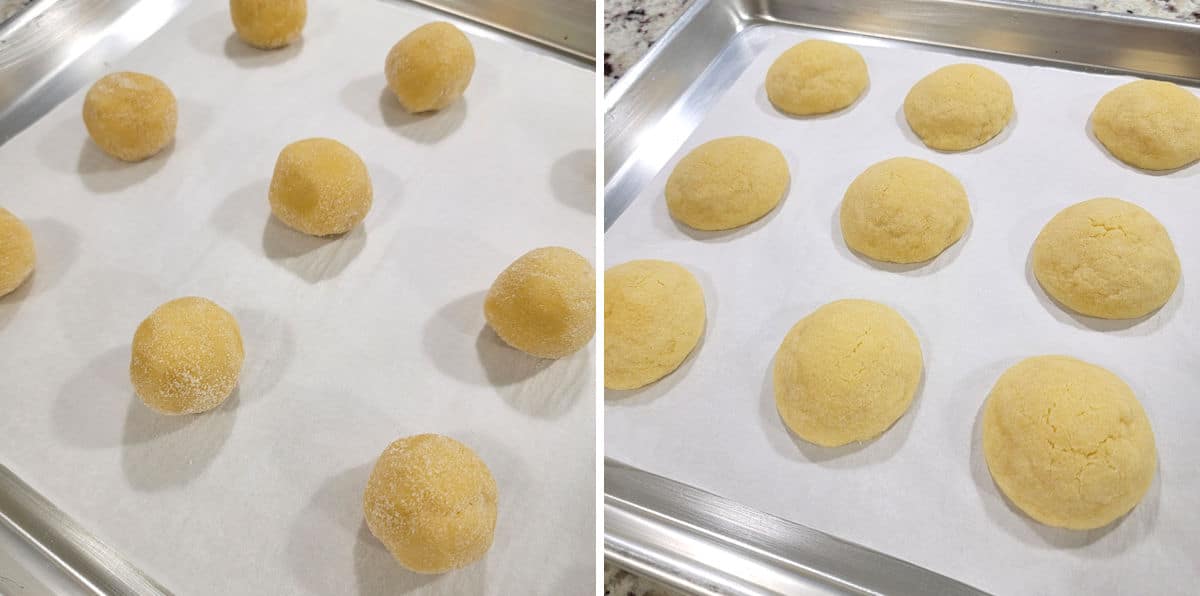 How to prevent dry cookies
No one wants to go through the work of making cookies to have them turn out dry! Here are my favorite tips for making moist, tender cookies.
Properly measured flour - This is the #1 most common issue I see in baking. Adding too much flour to any baking recipe will make your dough dry. Cookie dough needs the proper ratio of dry and wet ingredients to work together. To properly measure flour, I highly recommend weighing your flour. This ensures you're adding the exact amount of flour every time. If you don't have a kitchen scale, use a spoon to gently add flour into your measuring cup, then level off with a knife. Do not scoop flour directly from a bin. This compacts the flour into the cup and adds up to an extra 25% flour to your recipe.
Do not substitute ingredients. This recipe requires few ingredients, which means each ingredient is very important to the recipe's success. The eggs, butter, and granulated sugar all add moisture to your dough. Substituting or reducing these ingredients will change the texture of your cookies.
Watch your cookies in the oven, not the time. Yes, I do include a time frame in the recipe card. However, every oven runs slightly hotter or colder than the next oven, and the time that worked for me may not work for you. I highly suggest keeping an eye on your cookies. If they begin to brown around the edges or look puffy and set on top, it's time to remove them from the oven. Overbaking will make your cookies dry.
Dough spreading issues
Are your cookies not spreading in the oven? The dough may be coo told (maybe left in the refrigerator too long), or too much flour was added to the dough (see section above).
Leave your dough balls on the counter top to warm slightly before baking. Cold dough spreads less and warm dough spreads more.
Use your hands or the bottom of a flour-dusted glass to press down on the dough balls before baking. This helps your dough balls spread more and creates a flatter top (this is also described in step six of the recipe card).
If too much flour was added to your dough, you'll want to make sure your cookies aren't also overbaked - this combination results in a dry cookie.
Are your cookies spreading too much in the oven? This can happen when your dough is too warm or not enough flour was added to the dough to give it stability.
Make sure not to skip the step of refrigerating your dough. This not only helps the flavors meld, but also makes the dough easier to roll into balls and helps it spread less in the oven.
If your dough is still spreading in the oven, try refrigerating the dough balls (directly on the sheet pan if it will fit) for 10 minutes, then transfer directly into the oven.
Use parchment paper or a silicone baking mat. I do not recommend using a greased cookie sheet. A layer of grease/cooking spray makes cookies (of any kind) spread more in the oven.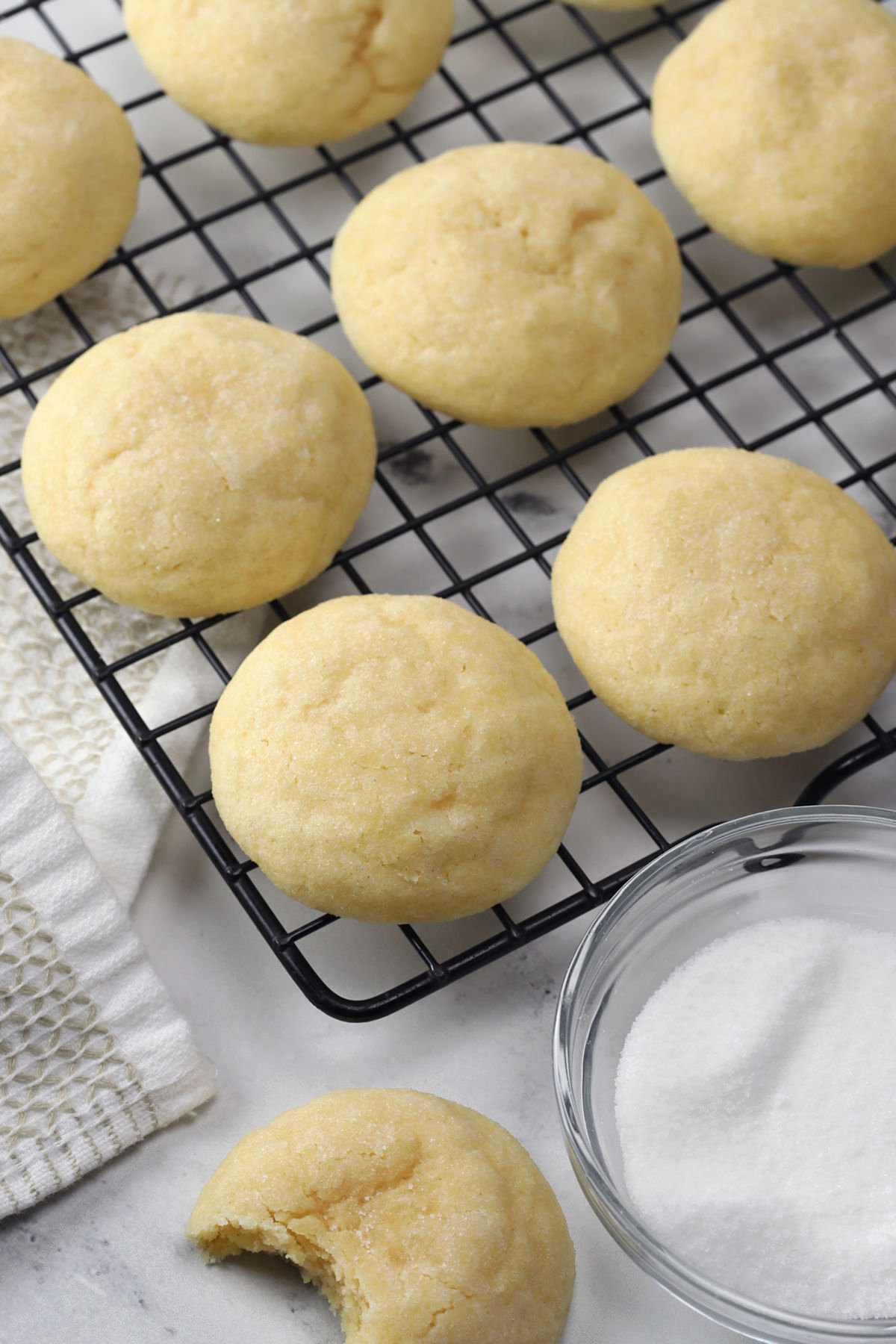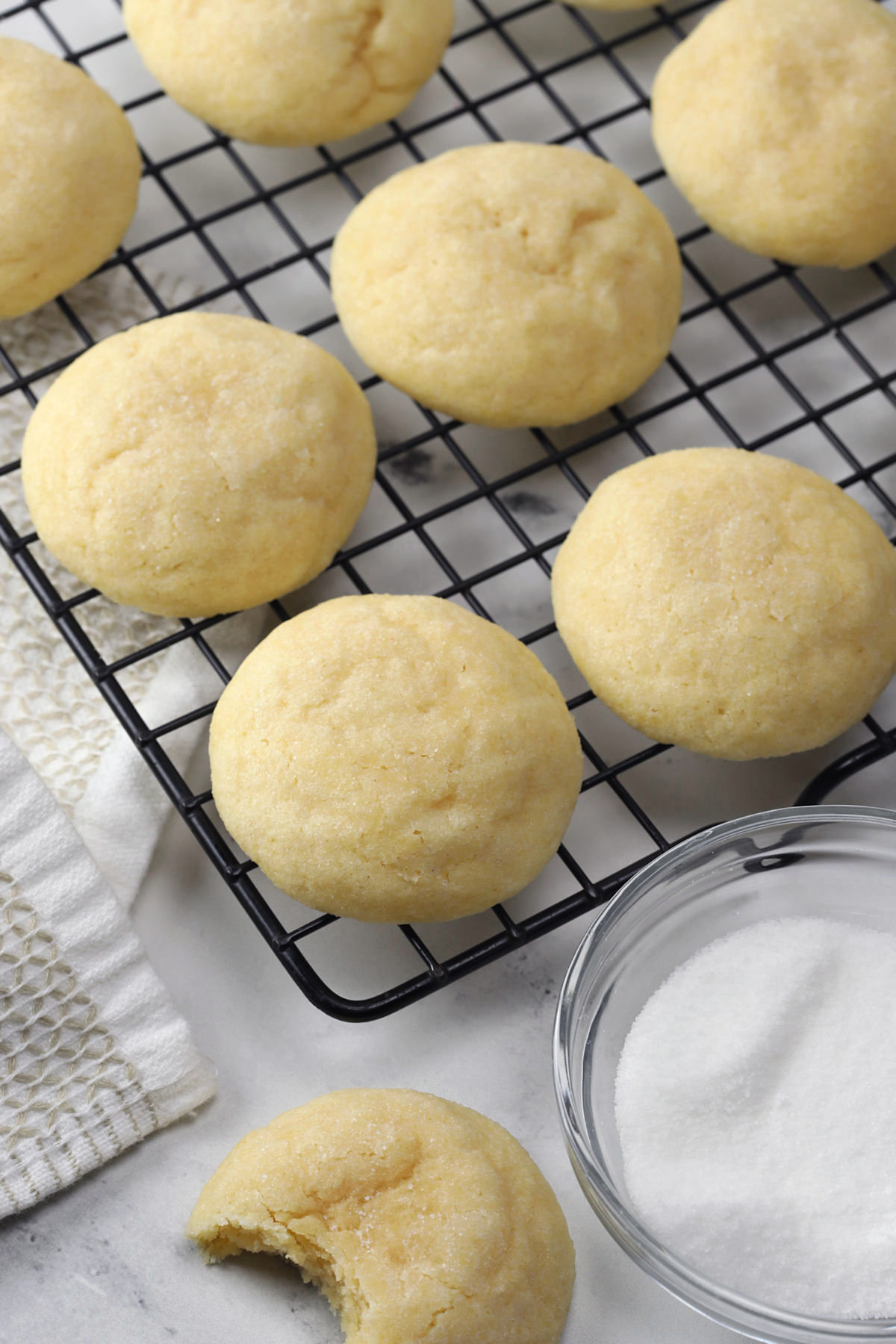 How to keep sugar cookies soft
Store your cookies in a tightly sealed container at room temperature. To help extend their shelf life, add a slice of bread to the container. The bread adds moisture to the container, drying out the bread instead of the cookies. I don't know exactly how it works, but it does! I recommend replacing the bread slice each day.
Serve your homemade cookies the same day of baking, if possible. Cookies are their softest on the day of baking, and will slowly lose moisture as time goes on. So, I highly suggest serving your cookies within 24 hours of baking. If not, using the bread trick above will help keep your cookies soft for a few days.
Cookies drying out? Here's a trick. Wrap a few cookies in a damp (but not too wet!) paper towel and microwave for 5 to 10 seconds. Warm cookies are soft cookies, and wrapping in a damp paper towel helps add moisture.
Can I frost these cookies?
Yes! My recipe for soft frosted Christmas cookies inspired this recipe when readers asked for a less sweet sugar cookie.
Simply omit the rolled sugar crust and frost your baked cookies with your favorite buttercream frosting. Or, follow my detailed recipe at the link above.
More recipes
📖 Recipe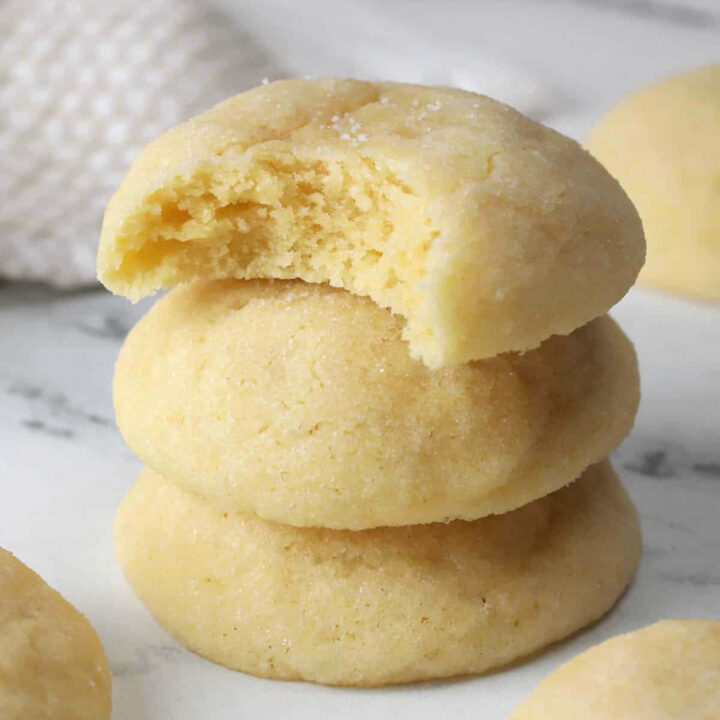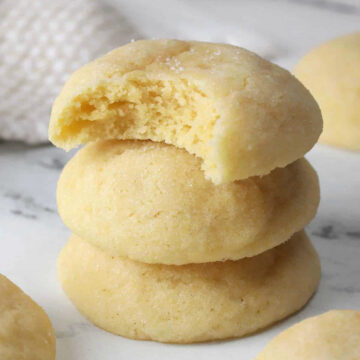 Print Recipe
Soft Sugar Cookies
Soft sugar cookies are thick, tender cookies rolled in sugar to add a sweet, crunchy crust. The perfect cookie for year round, and a classic to add to your holiday cookie tray.
Ingredients
Sugar cookies
1

cup

(

226

g

)

unsalted butter

,

room temperature

1

cup

(

198

g

)

granulated sugar

2

large

eggs

,

room temperature

2

teaspoons

vanilla extract

3

cups

(

360

g

)

all-purpose flour

1

teaspoon

baking powder

¾

teaspoon

salt

¼

cup

(

56

g

)

granulated sugar

,

for rolling
Instructions
In a large bowl, add room temperature butter and sugar. Using a hand mixer or stand mixer, beat until light and fluffy, about 1 to 2 minutes. Add eggs and vanilla extract and beat until fully incorporated and fluffy, about a minute.

In a separate bowl, sift together the flour, baking powder, and salt. Gradually stir dry ingredients into butter mixture (or use a mixer on low speed) until just combined.

Cover bowl and chill dough in the refrigerator for 30 minutes. Refrigerating allows time for flavors to meld and also creates a firmer dough that's easy to roll into balls.

Preheat oven to 350 degrees Fahrenheit and line a baking sheet with parchment paper. Set aside.

Remove dough from refrigerator. Scoop dough using a medium cookie scoop or shape by hand into 1.5 inch balls. Gently roll dough balls in granulated sugar.

Place cookie dough balls 2 inches apart onto prepared baking sheet. As is, dough balls bake into thick, rounded top cookies (as shown in photos). Optionally, flatten balls slightly using your hands or the bottom of a glass dusted with flour (to prevent sticking). This gives your cookies a flatter top and helps them spread more.

Bake for 10-12 minutes, or until tops look set and edges barely begin to brown. Allow to cool until for 2 to 3 minutes (or until tray is cool enough to handle) before removing to a wire rack to cool completely.
Notes
If you don't have a kitchen scale, use the spoon and level method when measuring flour. Gently spoon flour into the measuring cup, then level off with a knife. Scooping with a measuring cup compacts flour and adds up to 25% extra to your recipe, resulting in dry, thick cookies that don't spread.
Cookie dough will keep in refrigerator for 2-3 days, or up to 3 months in the freezer.
Cookies will keep for up to 5 days in a tightly sealed container at room temperature. Add a slice of bread to the cookie container to help keep cookies moist. Replace as needed (bread will dry out).
Be sure to check out my 10 tips for baking cookies, based on reader comments and questions!
Nutrition Estimate
Serving:
1
cookie
|
Calories:
115
kcal
|
Carbohydrates:
15
g
|
Protein:
1
g
|
Fat:
6
g
|
Saturated Fat:
3
g
|
Polyunsaturated Fat:
0.3
g
|
Monounsaturated Fat:
1
g
|
Trans Fat:
0.2
g
|
Cholesterol:
24
mg
|
Sodium:
53
mg
|
Potassium:
28
mg
|
Fiber:
0.3
g
|
Sugar:
7
g
|
Vitamin A:
173
IU
|
Calcium:
10
mg
|
Iron:
1
mg