Chocolate Chip Shortbread Cookie Dippers are the perfect companion for a warm cup of coffee or cold glass of milk. These shortbread cookies are buttery, tender, and filled with chocolate chips. Plus, you need only 5 ingredients for this quick and easy cookie recipe.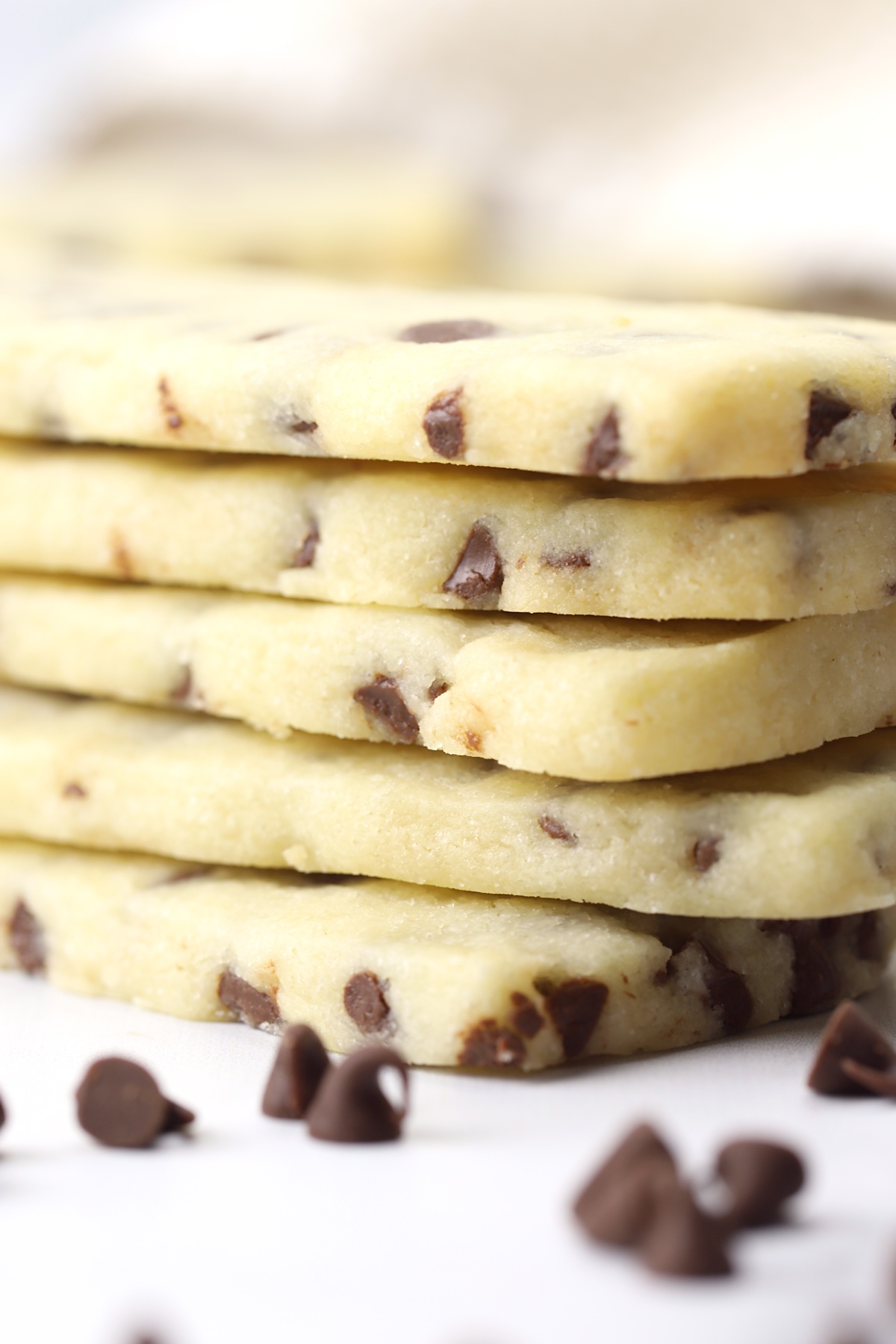 You're going to love this recipe for chocolate chip shortbread cookie dippers because they're easy to make, with only 5 ingredients needed.
Plus, they're incredibly buttery, tender, and filled with chocolate chips. What's not to love?
Sliced into bars, they're the perfect pairing with a cup of coffee, tea, or a cold glass of milk. Or, use cookie cutters to make any shape or size you'd like!

1:2:3 shortbread ratio
If you've never made shortbread cookies before, you may be unfamiliar with the traditional shortbread ratio. Shortbread dough consists of one part sugar, two parts butter, and three parts flour. For this recipe, your measurements would be:
4 ounces granulated sugar (½ cup)
8 ounces unsalted butter (1 cup or 8 tablespoons)
12 ounces all-purpose flour (technically 2.35 cups, but I've rounded down to 2.33, or 2 ⅓ cups, for simplicity)
I receive many messages regarding this recipe and whether the amount of flour listed is accurate. It is! Shortbread is not like a chewy chocolate chip cookie. The dough is dense, buttery, and tender. Since there are no leavening agents, these cookies do not rise or spread when baked.
Shortbread has been made for centuries using this exact ratio of ingredients. For more information, read about shortbread on Wikipedia: Wikipedia - Shortbread
As long as your ingredients are measured properly, your dough will hold together when pressed into a disc and rolled out with a rolling pin.
Properly measured flour
Shortbread cookies, while having a short ingredient list, can be difficult to master. If you've never had a shortbread cookie before, they have a different texture than a regular chocolate chip cookie.
Shortbread cookies are buttery, tender, and delicate. They don't contain any leavening agents, so these cookies are dense and won't puff up in the oven.
The most important part about making cookies (this applies to ANY recipe!) is the proper measuring of ingredients - especially the flour.
I highly recommend using the metric measurements listed in the recipe card and measure using a kitchen scale. This ensures a 100% accurate measurement every time.
To properly measure flour using measuring cups, spoon the flour into your measuring cup, then level off with a knife.
If you scoop directly from your flour container using the measuring cup, this compacts the flour into your cup, adding up to 25% extra flour to your recipe.
Extra flour causes shortbread dough to be crumbly, or chocolate chip cookie dough to be 'cakey'.
Ingredients and substitutions
Unsalted butter and salt can be substituted with salted butter.
Mini chocolate chips can be omitted for a more traditional shortbread cookie, or replaced with another flavor of baking chips or sprinkles.
Texture of shortbread dough
First, you'll cream together your butter and sugar. Then, you'll add your salt and all-purpose flour. This may be difficult to do by hand - I like to use a hand mixer for this reason. Your dough will be very thick and crumbly.
Grab a bit of dough and pinch it together with your hands. If your dough will stick together and hold its shape, your dough is the proper texture.
Chilling your cookie dough
Your dough needs to be chilled in the refrigerator for about 30 minutes (or more) before rolling it out. After rolling and cutting into bars, I also like to refrigerate my cookies again before baking.
A chilled dough will spread less in the oven, which is what we're looking for.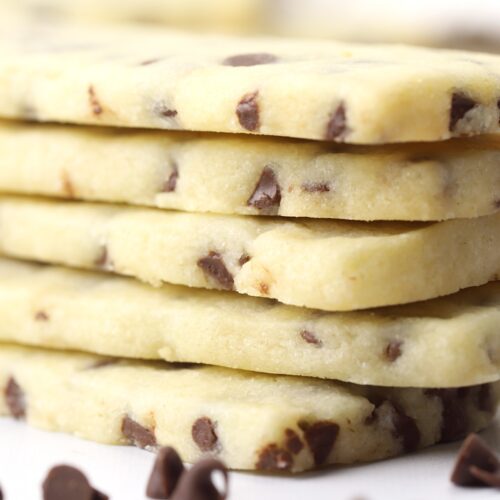 Print Recipe
Chocolate Chip Shortbread Cookie Dippers
Chocolate Chip Shortbread Cookie Dippers are the perfect companion for a warm cup of coffee or cold glass of milk. Using the classic 1:2:3 shortbread ratio, these cookies turn out buttery and delicate. Plus, you need only 5 ingredients for this quick and easy cookie recipe.
Ingredients
1

cup

unsalted butter

room temperature

½

cup

granulated sugar

2 ⅓

cups

all purpose flour

½

teaspoon

salt

¾

cup

mini chocolate chips
Instructions
In a large bowl, add butter and sugar. Mix with a hand mixer until creamed and fluffy, about a minute. In a separate bowl, sift together your dry ingredients - flour and salt.

Add dry ingredients to butter mixture and mix with a hand mixer until ingredients are fully incorporated, about 1-2 minutes. Your dough will be very thick and crumbly, but holds its shape when pinched between two fingers (shortbread dough does not come together like regular chocolate chip cookie dough).

Add mini chocolate chips and mix into your dough.

Shape dough into a disc and wrap in wax paper. Refrigerate for 30 minutes.

Meanwhile, preheat oven to 350 degrees and line a baking sheet with parchment paper. Set aside.

Dust counter top and rolling pin with flour, then roll dough to ¼" thickness. Cut off rounded edges, leaving you with a large square or rectangle. Slice dough into long rectangles, about 1 inch by 4 inches. Place on baking sheet.

*If your dough has been out of the refrigerator for a long time at room temperature, I recommend placing the entire baking sheet back in the refrigerator for 10 minutes to chill your cookies before baking. This will help your cookies spread less in the oven.

Bake for 12-14 minutes or until cookies begin to lightly brown around edges. Remove from oven and allow to cool for 2-3 minutes before removing from sheet to cool completely.
Notes
This recipe uses the classic 1:2:3 shortbread ratio for ingredients - the measurements above (namely the flour) are indeed correct. Please see 1:2:3 section above for more details.
I do not recommend mixing this recipe by hand - a hand (or stand) mixer is needed to cream together your butter mixture as well as incorporate your flour. It takes more mixing than you may think to fully incorporate your ingredients together to make a dough.
Cookies will keep for 5-7 days in a sealed container. To help keep cookies fresh, place a slice of bread in the container with the cookies. Replace the bread slice as needed.
Raw cookie dough will keep in the refrigerator for 3 days. Cookie dough and baked cookies freeze well, up to 3 months in a sealed plastic container or freezer bag.
Nutrition
Serving:
0
g
|
Calories:
201
kcal
|
Carbohydrates:
24
g
|
Protein:
2
g
|
Fat:
11
g
|
Saturated Fat:
7
g
|
Cholesterol:
25
mg
|
Sodium:
64
mg
|
Potassium:
19
mg
|
Fiber:
1
g
|
Sugar:
12
g
|
Vitamin A:
300
IU
|
Calcium:
13
mg
|
Iron:
0.8
mg
Shortbread Cookie Recipes