Mint Chocolate Shortbread Cookies are buttery and tender mint chocolate cookies. Dipped in melted chocolate and decorated with sprinkles, these cookies are similar to the popular thin mint cookie.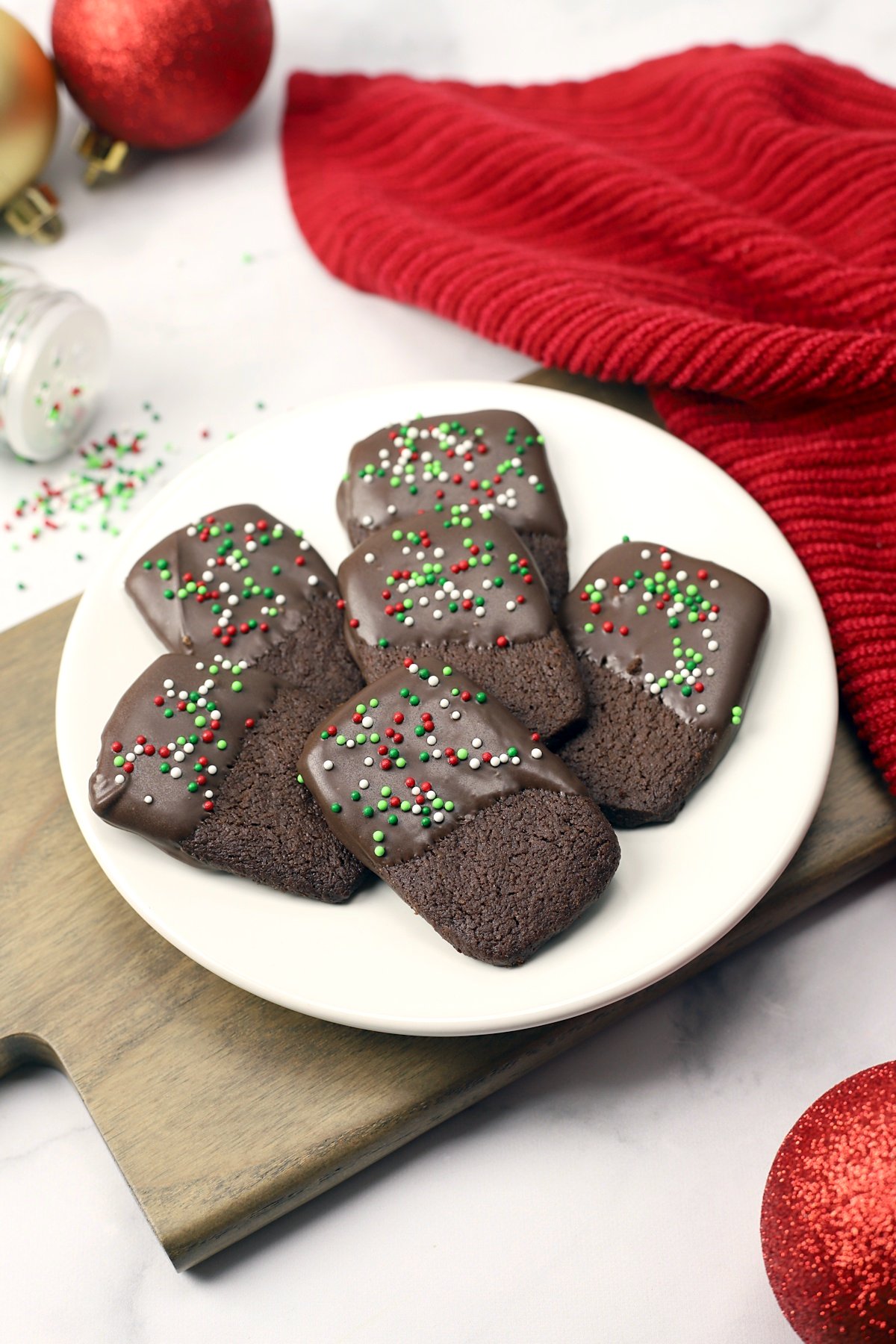 Mint Chocolate Shortbread Cookies are a fantastic addition to your holiday cookie tray. They're easy to make and only require a handful of easy to find ingredients.
Shortbread cookies are tender, buttery, and delicate. They require no leavening agents like baking powder or baking soda, so they don't rise like a traditional cookie.
When dipped in melted chocolate, these cookies resemble the classic thin mint cookie you may enjoy during girl scout cookie season. If you're a fan of thin mints, you'll probably enjoy these cookies too.
Tips For Successful Chocolate Shortbread Cookies
Chocolate shortbread cookies can be difficult to master if you've never made shortbread before. Here are a few tips to make your shortbread cookies a success!
The most important part about making cookies is the proper measuring of ingredients – especially the flour. To properly measure flour, spoon the flour into your measuring cup, then level off with a knife.
If you scoop your flour from the container with your measuring cup, this compacts the flour into your cup, adding extra flour to your recipe. By spooning the flour into your cup, this ensures better accuracy.
For the MOST accurate measuring of flour, feel free to use a kitchen scale (this is the model I use). One cup of all-purpose flour should equal 4 1/4 ounces or 120 grams.
Your dough needs to be chilled in the refrigerator for a solid 30 minutes (or more) before rolling it out. After rolling and cutting into bars, I also like to refrigerate my cookies again before baking.
A chilled dough will spread less in the oven, which is what we're looking for.
How to Make Mint Chocolate Shortbread Cookies
First, gather your ingredients.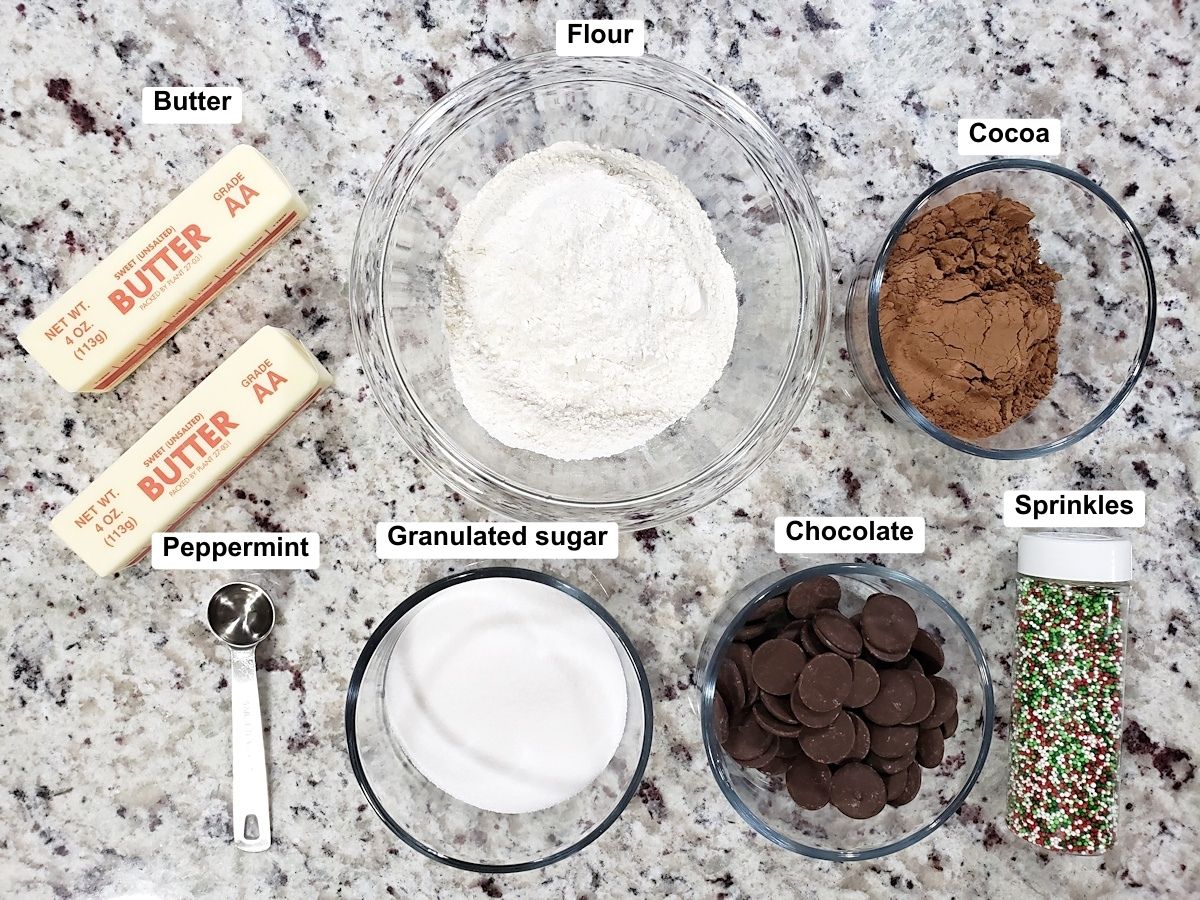 To make chocolate shortbread cookies, you'll need unsalted butter at room temperature, all-purpose flour, cocoa powder, peppermint extract, and granulated sugar.
You'll also need chocolate melting wafers (I like Ghirardelli or Mercken's) and sprinkles for decorating.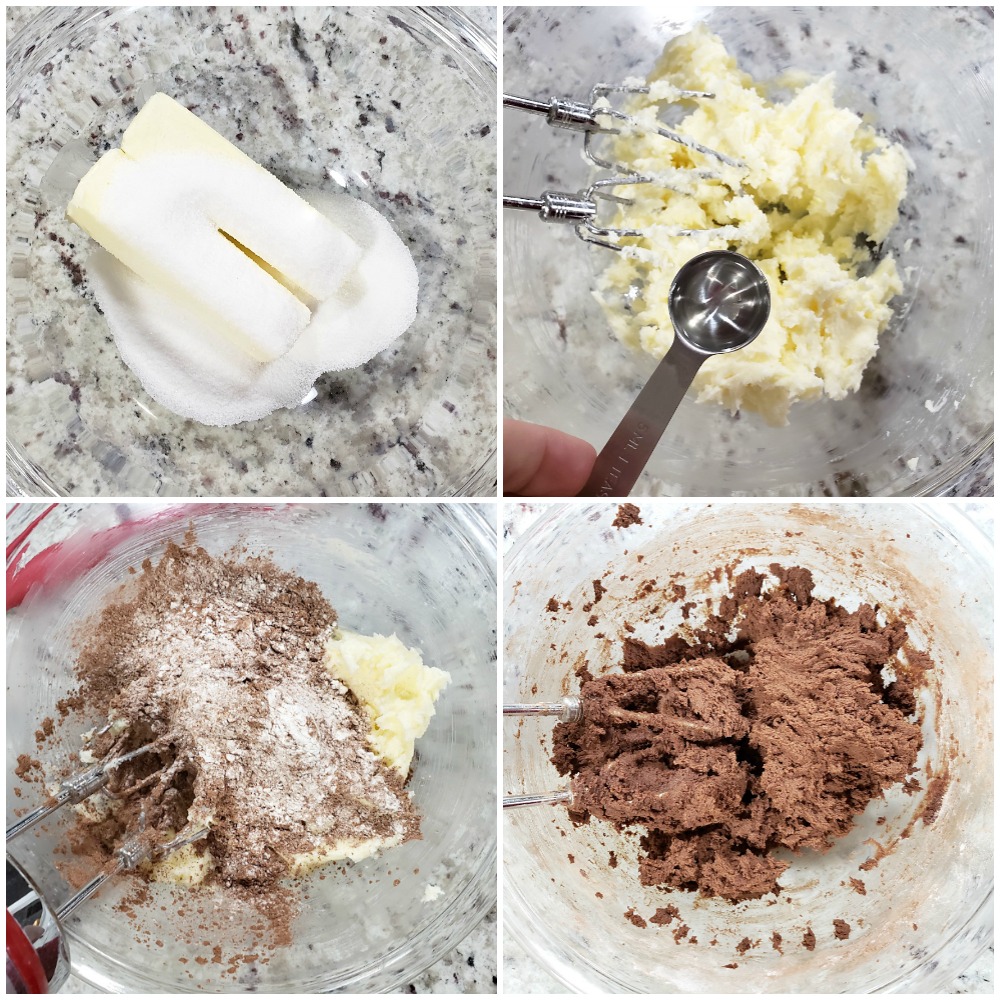 First, add your butter and sugar to a large bowl and mix until creamy. Then, add your peppermint extract and mix until combined.
In a separate bowl, sift or whisk together your dry ingredients: your flour and cocoa powder.
Then, slowly add your dry ingredients to your butter mixture and mix until incorporated. I like to add mine half at a time, starting the mixer slowly (so as to not make a mess).
Your dough will be very thick – this is what you're looking for. Shape your dough into a disc, wrap with wax paper, and refrigerate for at least 30 minutes, or until chilled.
Rolling, Cutting and Baking Shortbread Cookies
Next, remove your dough from the refrigerator, cut in half, and place half back in the refrigerator. Roll out your dough onto a lightly floured surface.
If your dough is sticking to your hands or your rolling pin, feel free to dust with flour as well.
Roll your dough to about 1/4″ thickness, then cut off the rounded edges to make a large rectangle. Cut your dough into approximately 1 inch by 2 inch rectangles, then gently place onto a parchment lined baking sheet. (You can also use cookie cutter shapes for this step!)
Once your cookies are done baking, allow them to cool for up to 5 minutes on the baking sheet before removing to a cooling rack. Shortbread cookies are incredibly delicate when hot, but will harden as they cool.
Once cooled, melt your chocolate wafers and dip the cookies halfway into the chocolate. Shake off any excess chocolate before placing onto a sheet of wax paper.
Decorate with sprinkles immediately, while your chocolate is still wet. Allow your cookies to dry for up to an hour before storing.
More Christmas Cookie Recipes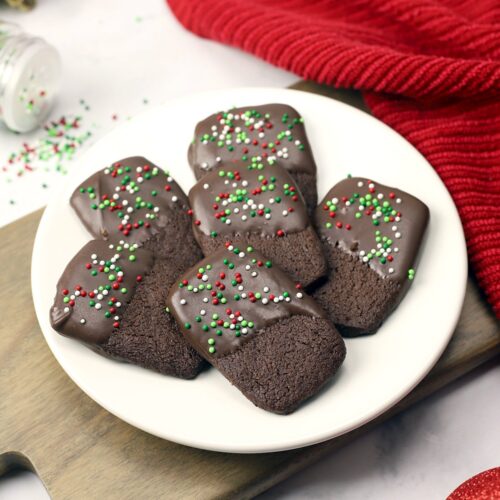 Print Recipe
Mint Chocolate Shortbread Cookies
Mint Chocolate Shortbread Cookies are buttery and tender mint chocolate cookies. Dipped in melted chocolate and decorated with sprinkles, these cookies are similar to the popular thin mint cookie.
Ingredients
1

cup

unsalted butter

room temperature

1/2

cup

granulated sugar

1

teaspoon

peppermint extract

1 1/2

cups

all purpose flour

1/2

cup

cocoa powder

8

ounces

chocolate melting wafers

sprinkles

optional
Instructions
In a bowl, cream together butter and sugar. Add peppermint extract and stir to combine.

In a separate bowl, sift together flour and cocoa powder. Add flour mixture, half at a time, to butter mixture and stir until dough forms. Dough will be thick.

Shape into a disc and wrap in wax paper. Refrigerate for 30 minutes.

Meanwhile, preheat oven to 350 degrees and line a baking sheet with parchment paper. Set aside.

Cut dough in half. Place remaining half back in refrigerator. Dust counter top and rolling pin with flour, roll dough to 1/4" thickness. Cut off rounded edges, creating a large rectangle. Slice dough into small rectangles, about 1 inch by 2 inches. Place on baking sheet.

Bake for 11-13 minutes, or until edges are set and middle of cookie is still soft. Allow to cool for 5 minutes before removing cookies from baking sheet. Remove to cooling rack and allow to cool completely before dipping.

Place melting wafers in a microwave safe bowl and microwave in 30 second increments, stirring until melted.

Dip each cookie halfway into chocolate and tap to remove excess. Place on wax paper or parchment and immediately add sprinkles before chocolate sets. Allow to set for 1 hour at room temperature, or place in refrigerator for 15 minutes.
Notes
Your cookies will keep for 3-5 days in a sealed container. To help keep cookies fresh, you can place a slice of bread in the container with the cookies. Replace the bread slice as needed.
You can keep raw cookie dough in the refrigerator for 3 days. Cookie dough and baked cookies freeze well, up to 3 months in a sealed plastic container or freezer bag. Allow frozen cookie dough to thaw overnight in the refrigerator before rolling out.
Nutrition
Serving:
0
g
|
Calories:
110
kcal
|
Carbohydrates:
11
g
|
Protein:
1
g
|
Fat:
7
g
|
Saturated Fat:
5
g
|
Cholesterol:
16
mg
|
Sodium:
5
mg
|
Potassium:
30
mg
|
Fiber:
1
g
|
Sugar:
5
g
|
Vitamin A:
190
IU
|
Calcium:
5
mg
|
Iron:
0.5
mg