Chocolate frogs are a must make recipe for every Harry Potter fan! Dark chocolate candy frogs are filled with a sweet peanut butter filling. A fun and easy no-bake confection.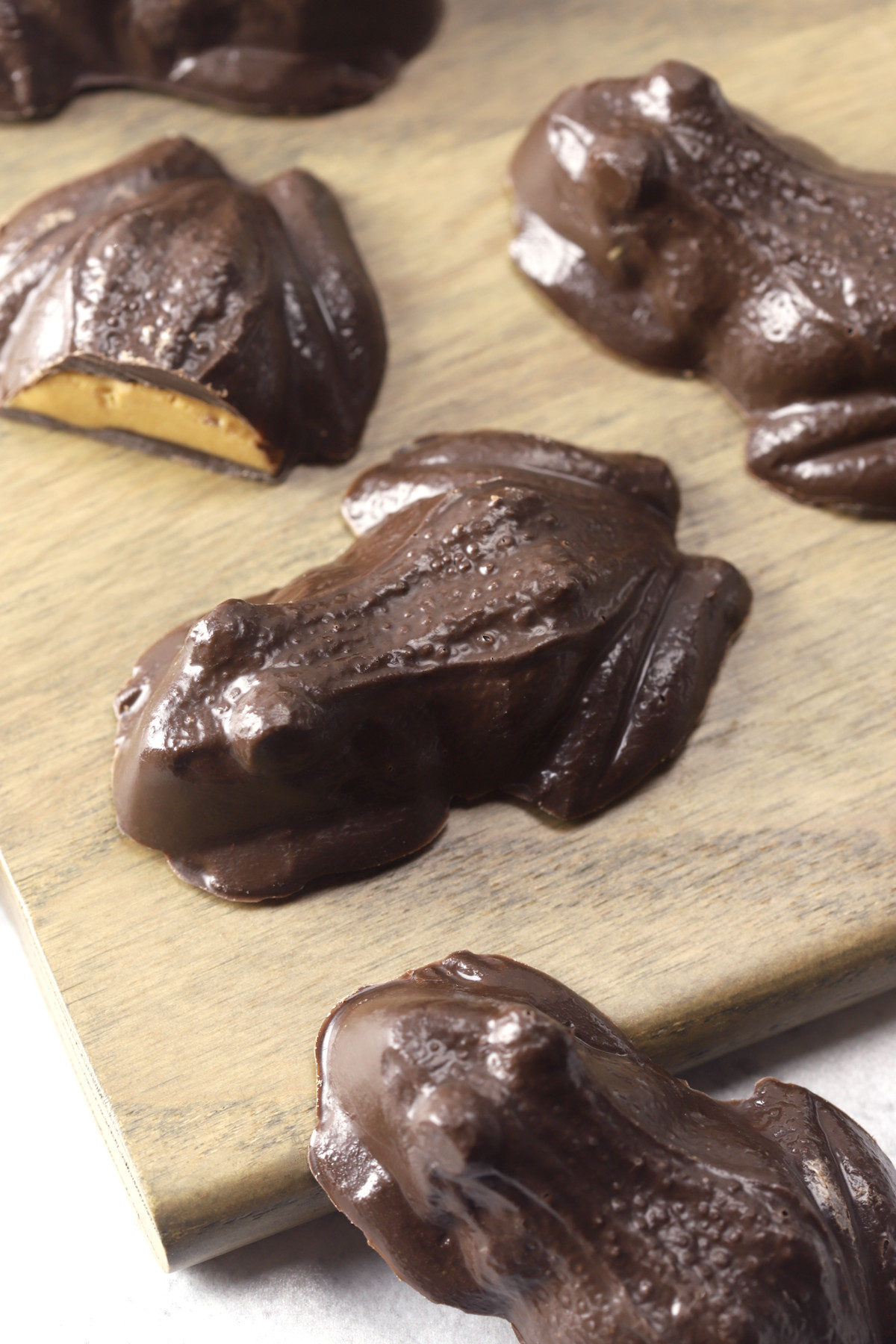 Are you a fan of the Harry Potter books and/or movies? If so, you know all about chocolate frogs. In the Harry Potter universe, chocolate frogs are a popular candy confection sold by Honeydukes Sweetshop and on Hogwarts express.
Because of its mood-enhancing qualities, chocolate is often used in the books as an antidote for frightening situations. While these particular chocolate frogs won't get up and hop away, they are sure to improve your mood!
Dark chocolate melting wafers make these candy confections easy to make in your own home. Filled with a smooth, creamy, peanut butter filling, this candy treat is perfect for any peanut butter fanatic.
These cute frogs also make a great Halloween party dessert! Serve them alongside a batch of pumpkin pasties and a bowl of pumpkin juice.
Frog mold
This recipe will work with any frog (or other style) candy mold. However, the ingredients needed may vary based on the size and depth of your mold. Here are a few frog molds that I've found online, including the one used in the photos:
Ingredients and substitutions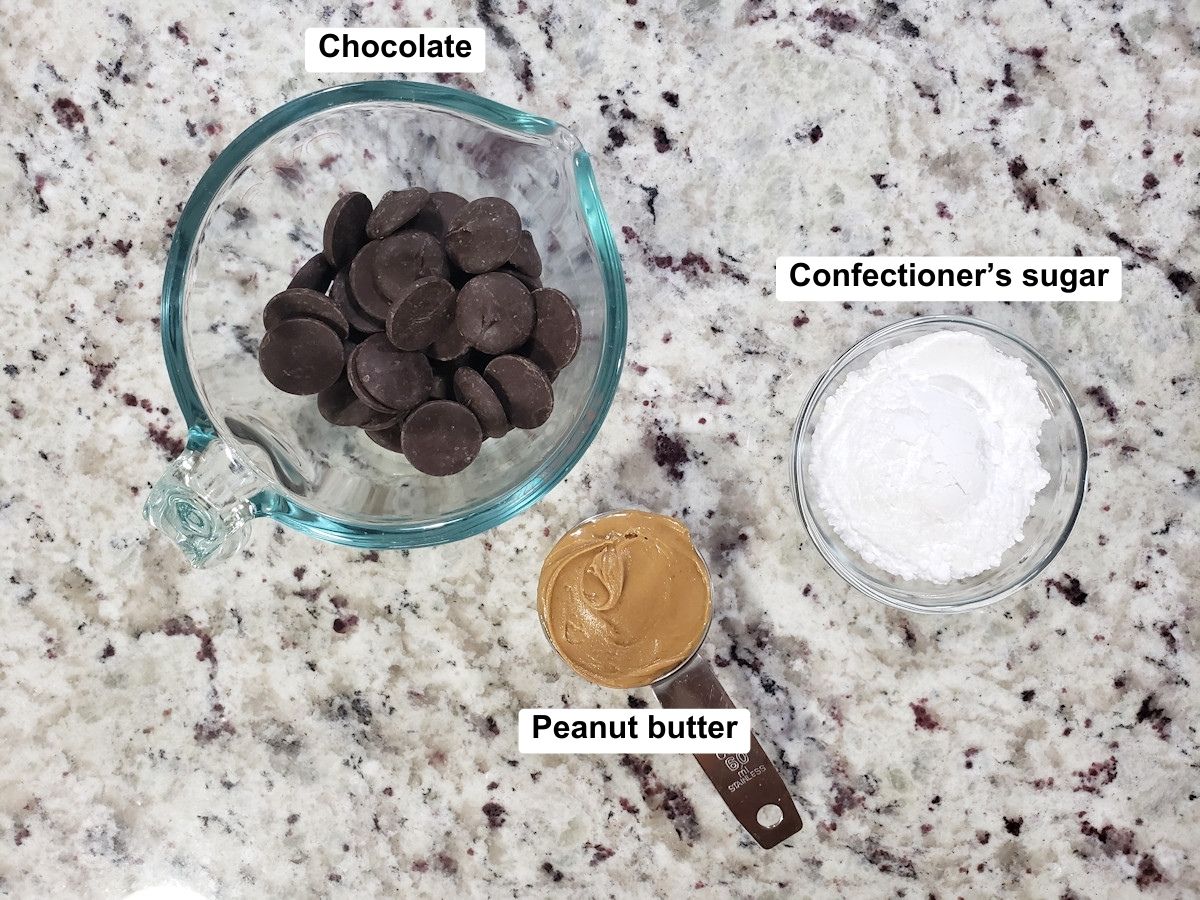 Melting wafers are a must for this recipe - milk chocolate, dark chocolate or white chocolate will all work.
Peanut butter can be substituted with any other nut or seed butter, like almond butter or sunflower seed butter. More confectioner's sugar may need to be added to get a good consistency for your filling.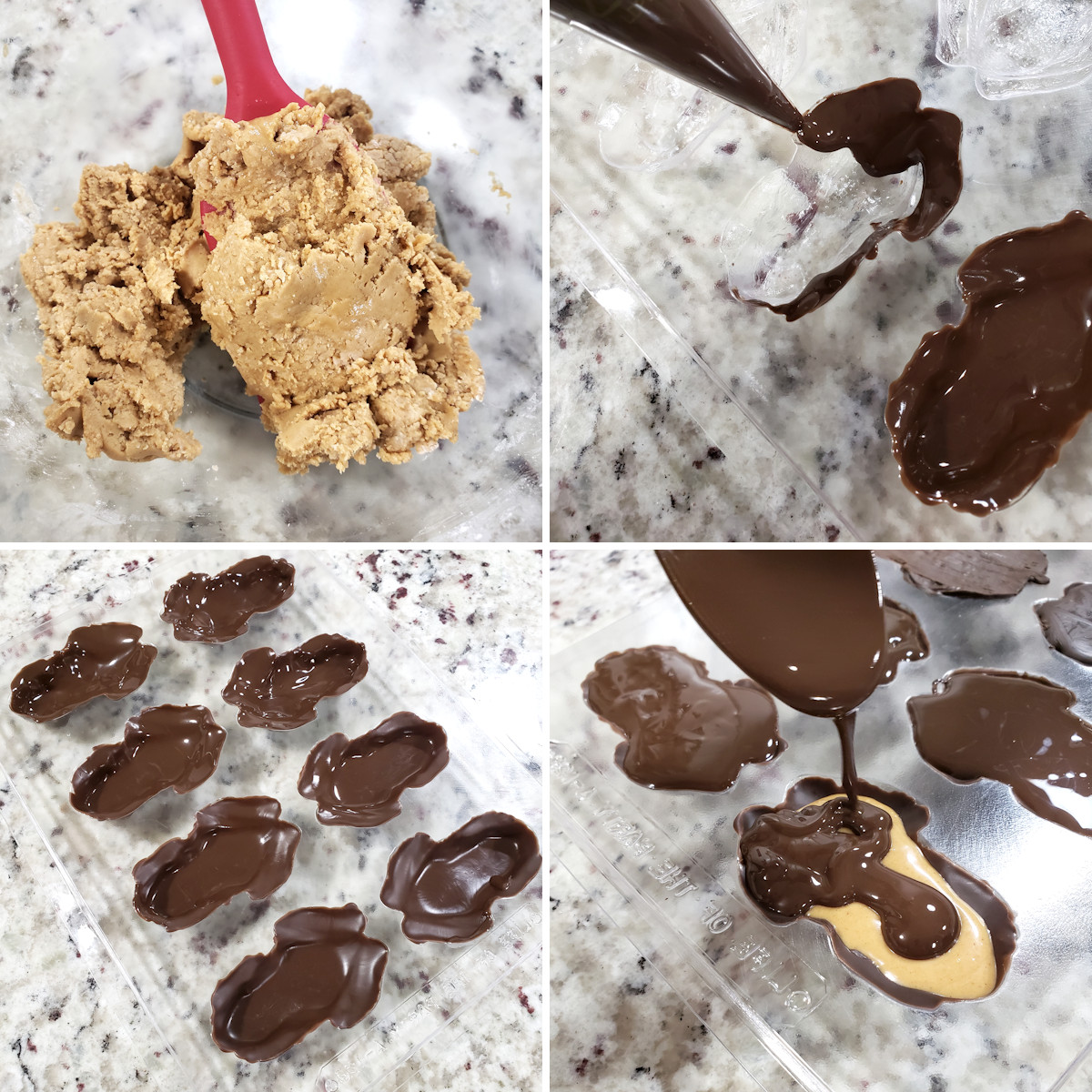 Melting wafers vs. chocolate chips
Melting wafers are specially made for candy making at home. They are the ideal choice because they're very easy to use. When melted and solidified, your candy has a shiny finish and a candy bar "snap" when broken in half.
Chocolate chips, when melted and solidified, have a dull finish and soft texture. Your candy will likely taste just as good, but will not have that candy bar "snap" or shiny finish. They also melt easily when handled with your hands, making your candy messier to eat.
For candy making with molds, I do not recommend using chocolate chips.
Best brands of melting wafers
I recommend Merckens melting wafers. You can find them on Amazon and other candy making websites by doing a quick google search. Bakery supply stores may also carry Merckens locally.
If you don't have time to shop online, Ghirardelli melting wafers will do the trick in a pinch. While they don't taste quite as good as Merckens, they're still miles better than the cheap/waxy generic melting wafers.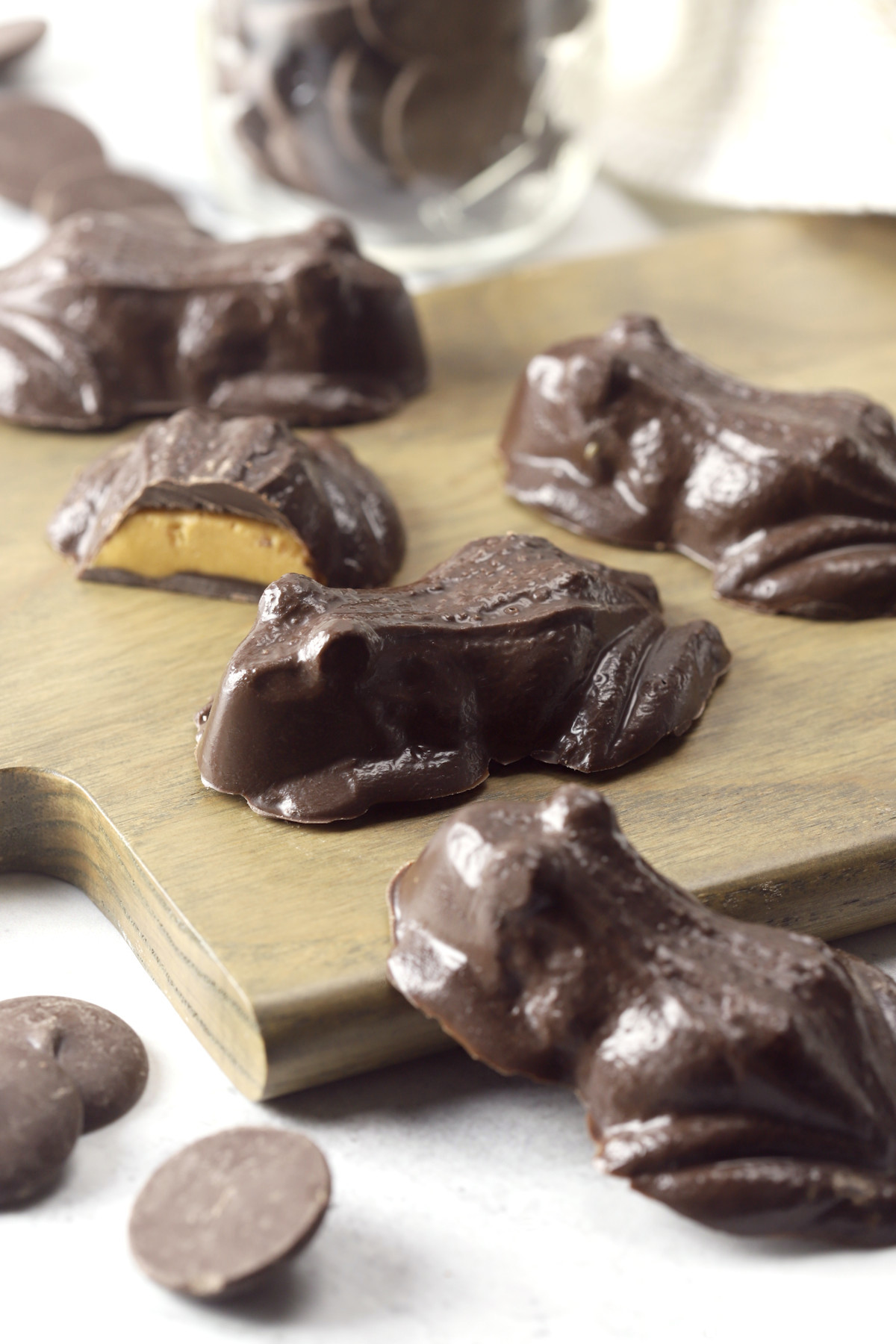 Candy tips and tricks
Use melting wafers, not chocolate chips. Melting wafers will give you a shiny, smooth candy finish, and easily release from the mold after chilling.
Heat your wafers just enough in the microwave to melt them. Overheating your chocolate can cause it to separate and get cloudy when it solidifies.
Make sure your candy sets long enough to solidify completely before removing from the mold. If not, your candy may separate, leaving chocolate behind in the mold.
Make sure your candy molds are clean and dry before beginning. If they look dull or cloudy, give them a quick wipe with a paper towel.
Having a hard time filling your candy molds? Try using a piping bag to transfer your chocolate to the mold. It's less messy and easier to control filling a complex design.
I found this website particularly helpful, it contains lots of tips and tricks for using candy molds and melting wafers! Confectionery House: How to Use a Chocolate Mold
Candy storage
Homemade chocolate candy will keep in a tightly sealed container at room temperature for 2-3 weeks.
While you can store your chocolate in the refrigerator, I don't recommend it unless your house is so hot that your chocolate may melt.
If you're planning on serving candies to guests, remove them from the refrigerator and remove the lid several hours before serving.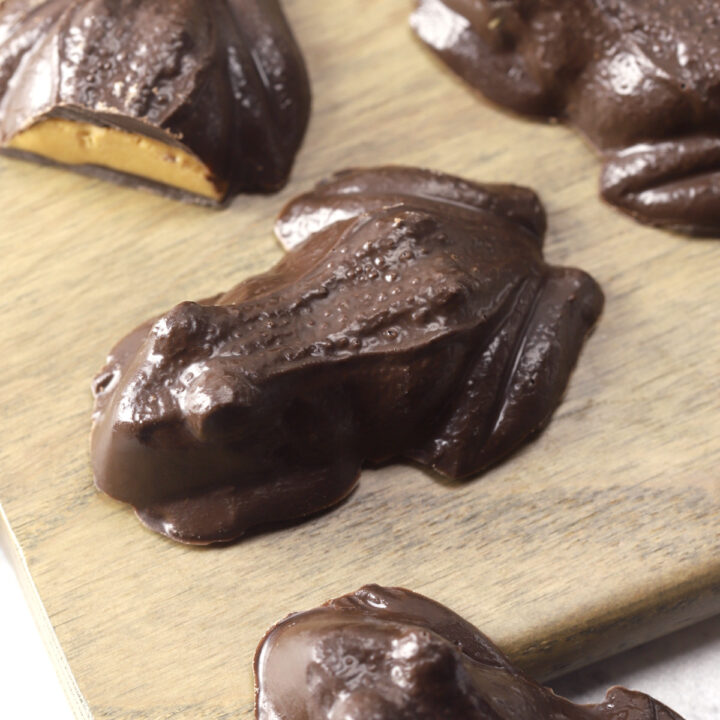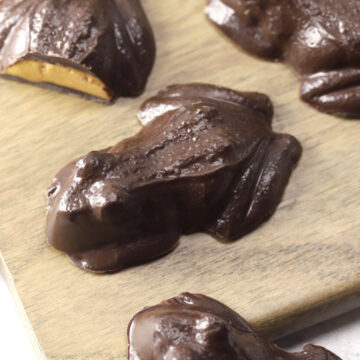 Print Recipe
Chocolate Frogs
Chocolate frogs are a must make recipe for every Harry Potter fan! Dark chocolate candy frogs are filled with a sweet peanut butter filling. A fun and easy no-bake confection.
Ingredients
6

ounces

(

170

g

)

dark chocolate melting wafers

¼

cup

(

68

g

)

creamy peanut butter

¼

cup

(

29

g

)

confectioner's sugar
Instructions
If using a flimsy silicone mold, place mold onto a stiff baking sheet (for ease of transferring to and from refrigerator).

In a small microwave safe bowl, heat melting wafers in 30 second increments, stirring every 30 seconds, until wafers are melted and smooth.

Add a spoonful of melted chocolate to each frog mold. Or, use a pastry bag/plastic baggie to pipe the chocolate into the mold. If needed, add a second coat to the sides of your mold, filling in any holes or thin areas. Transfer to refrigerator for 10 minutes to harden.

Meanwhile, add peanut butter and confectioner's sugar to a bowl. Stir until combined - mixture will be thick, like a dough. Add more sugar as desired for a sweeter filling.

Remove mold from refrigerator. Distribute peanut butter filling evenly between your frogs, gently patting down into an even layer. Leave about ⅛" of space at the top of your mold to fill in with chocolate.

Top each frog with remaining chocolate (reheat as needed in the microwave if chocolate has solidified) and spread into an even layer. Return tray to the refrigerator and allow to chill for 20 minutes.

Remove frogs from molds. Store in a sealed container at room temperature.
Notes
Melting wafers cannot be substituted with chocolate chips - melting wafers are tempered chocolate and ideal for melting and making candies. They harden into a shiny, candy texture and are ideal for using in candy molds.
Ingredients listed will fill frog mold with individual dimensions of 2-13/16" x 1-⅞" x 1-13/16" for each frog. Measurements will vary based on size and shape of mold used.
Candies will keep for 2-3 weeks in a sealed container at room temperature.
Peanut butter can be substituted with other nut or seed butters, like almond butter.
Nutrition Estimate
Calories:
109
kcal
|
Carbohydrates:
11
g
|
Protein:
2
g
|
Fat:
7
g
|
Saturated Fat:
3
g
|
Sodium:
47
mg
|
Potassium:
52
mg
|
Fiber:
1
g
|
Sugar:
10
g
|
Calcium:
4
mg
|
Iron:
1
mg
More recipes