Peanut butter buckeyes are a sweet peanut butter confection that's partially dipped in chocolate candy coating. They're the perfect treat for holiday dessert trays and easy to make ahead of time!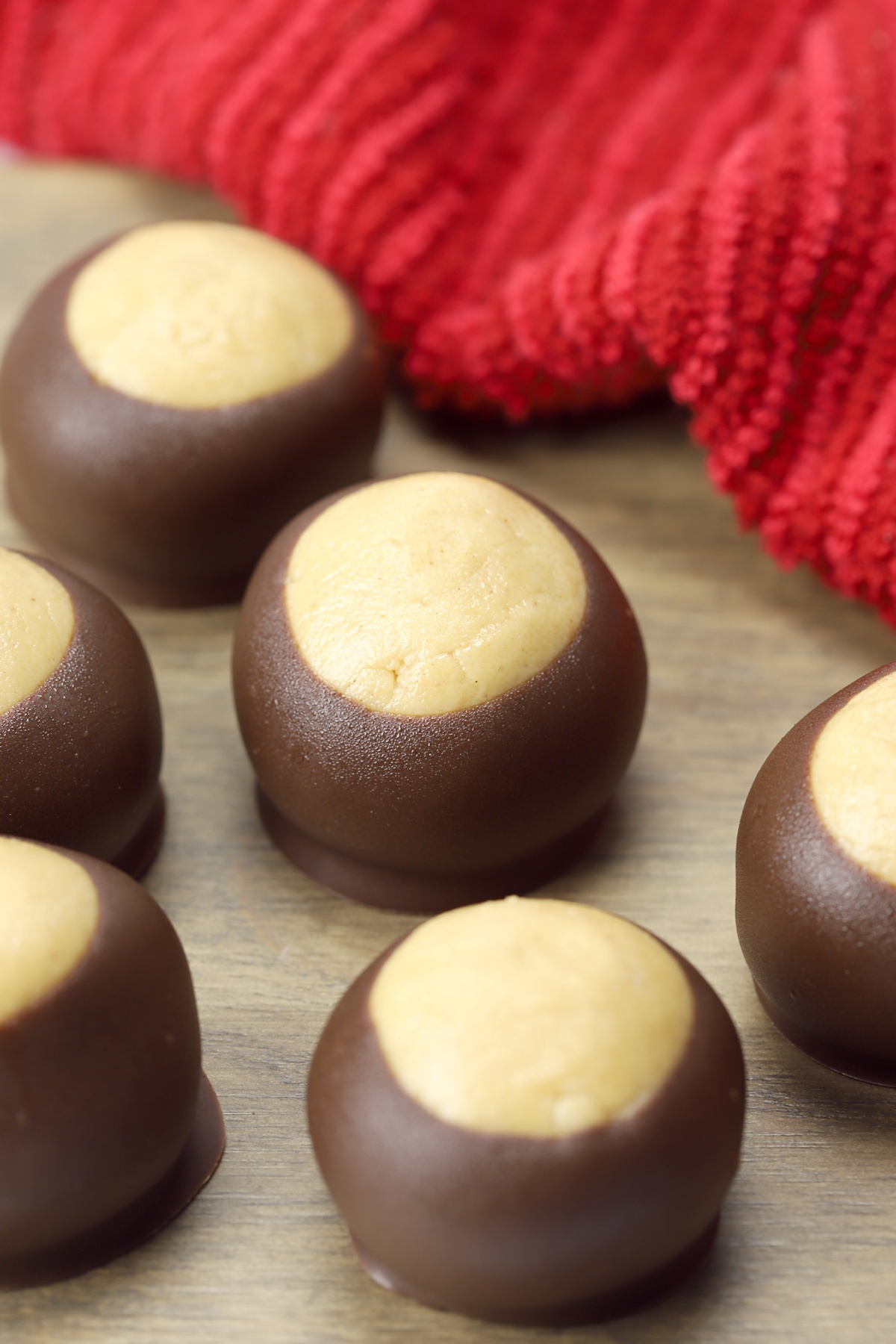 Peanut butter buckeyes are made to resemble the nut of Ohio's state tree, the buckeye tree. In Ohio, they're found on every holiday dessert table. You can even find them sold in local candy shops.
Similar to peanut butter balls, which are fully coated in chocolate, these treats are big on peanut butter flavor! If you like peanut butter cups, you'll want to give these a try.
Serve peanut butter buckeyes on your next holiday candy tray for Thanksgiving or Christmas. They pair well with other homemade candies like chocolate pretzel clusters and Oreo peppermint bark.
Ingredients and substitutions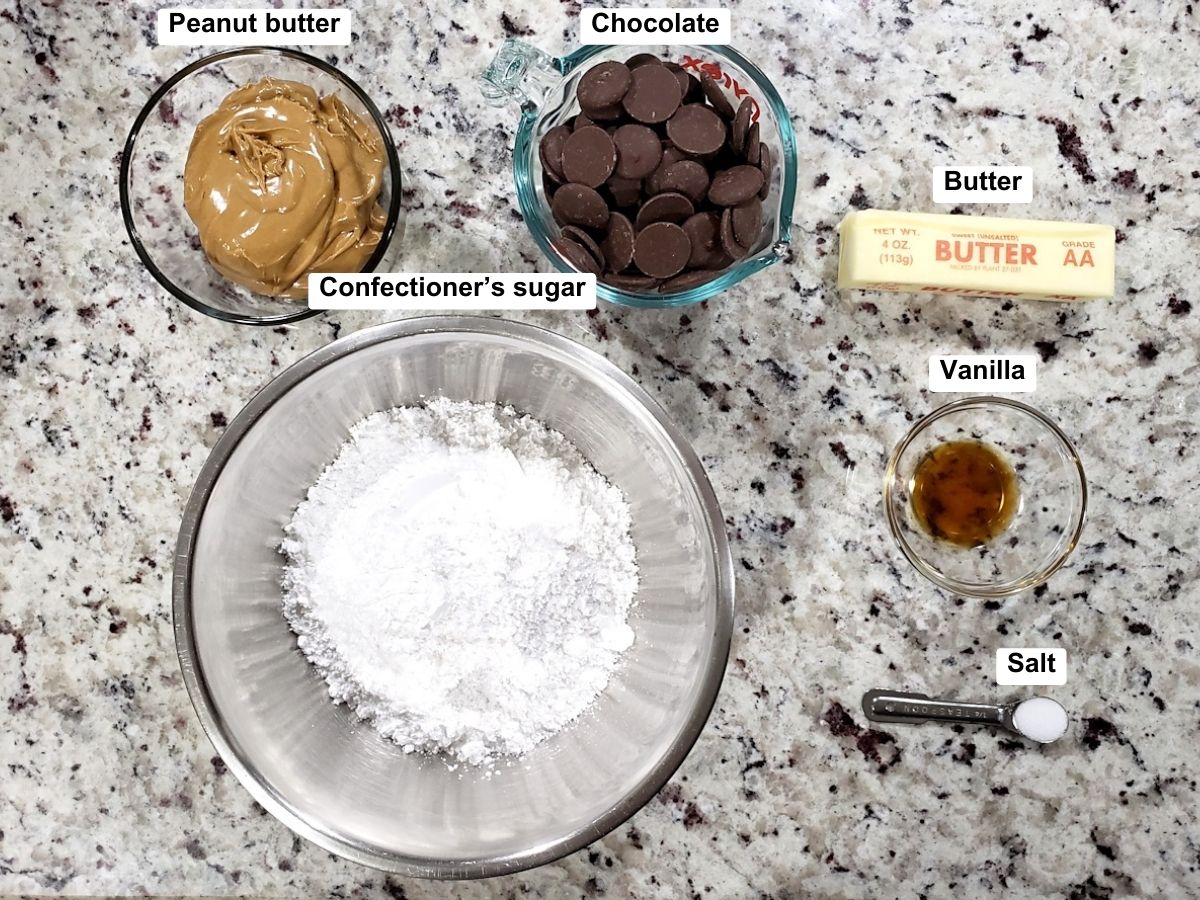 Butter - Unsalted butter and salt can be substituted with salted butter.
Creamy peanut butter - Can be substituted with crunchy peanut butter to make a crunchy buckeye candy. Peanut butter can also be substituted with any nut or seed butter you have on hand, in the same amounts. Almond butter or sun butter are great choices if you'd like to make these allergy friendly.
Melting wafers - Milk chocolate, dark chocolate, or white chocolate melting wafers will all work for buckeyes. I highly recommend melting wafers as opposed to chocolate chips because chocolate chips do not solidify into a crispy candy coating and remain slightly soft and melty when touched.
Confectioner's sugar - Necessary to make a smooth, sweet peanut butter filling. Granulated sugar adds a grainy texture so I don't recommend it for making buckeyes.
Vanilla extract - Adds flavor to the filling.
Salt - Enhances the flavor of the filling and helps balance with the sweetness.
Tips and tricks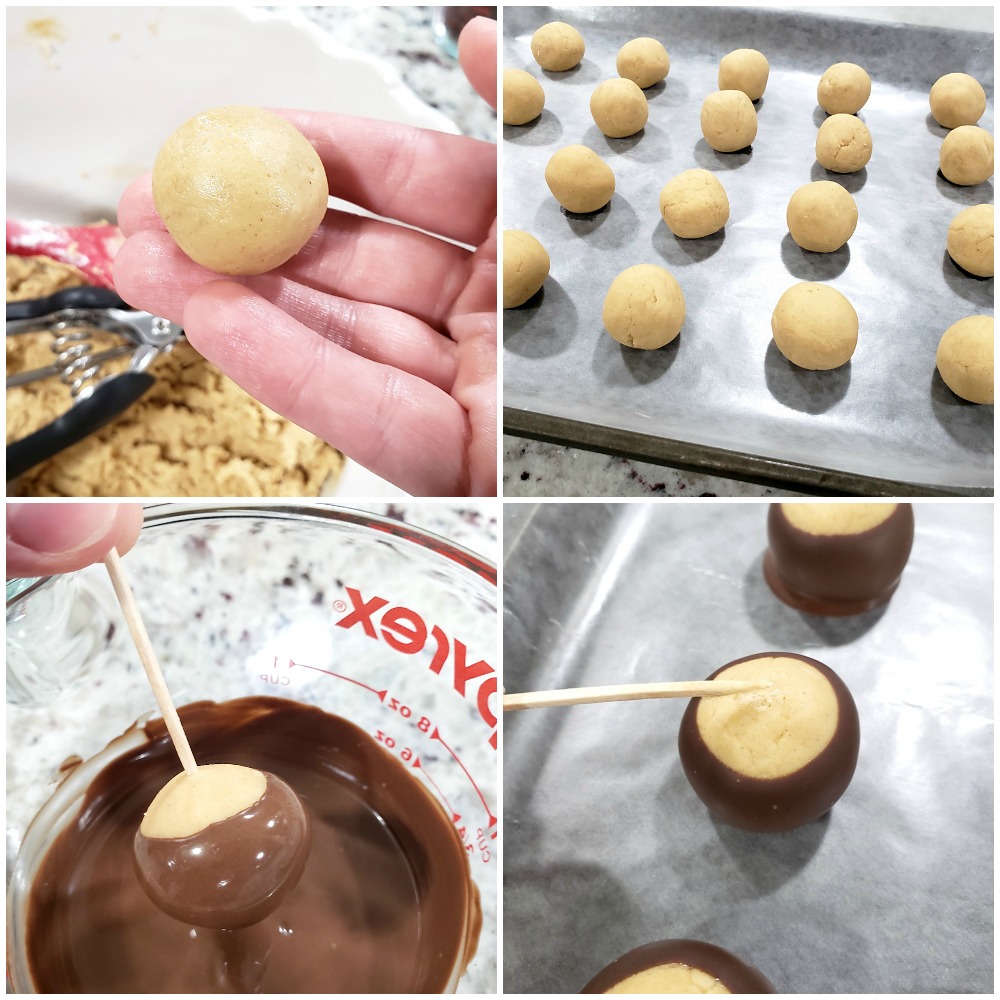 Chill peanut butter balls first - Your peanut butter balls should be cold when dipped into the chocolate coating. This ensures that they don't fall off your toothpick or fall apart in the warm chocolate.
Melting wafers - Heat your wafers in the microwave just enough to melt them. Overheating your chocolate can cause it to separate and get cloudy when it solidifies.
Dip in batches - Pull out half (or less) of your refrigerated balls at a time for dipping. This ensures they stay cold and easy to dip.
Use a tall glass - A tall, thin vessel works best for melting your chocolate. The deeper your chocolate, the easier to dip the peanut butter balls. I like to use a 1-cup pyrex measuring cup, but you can also use a small drinking glass or a mason jar.
Reheat chocolate as needed - If your chocolate begins to cool and thicken, toss is back in the microwave for a few seconds to warm it back up.
Cover the toothpick holes - After removing the toothpicks from your buckeyes, use a toothpick to gently cover the hole left behind. Your candies will look finished and clean by taking this extra step.
Frequently asked questions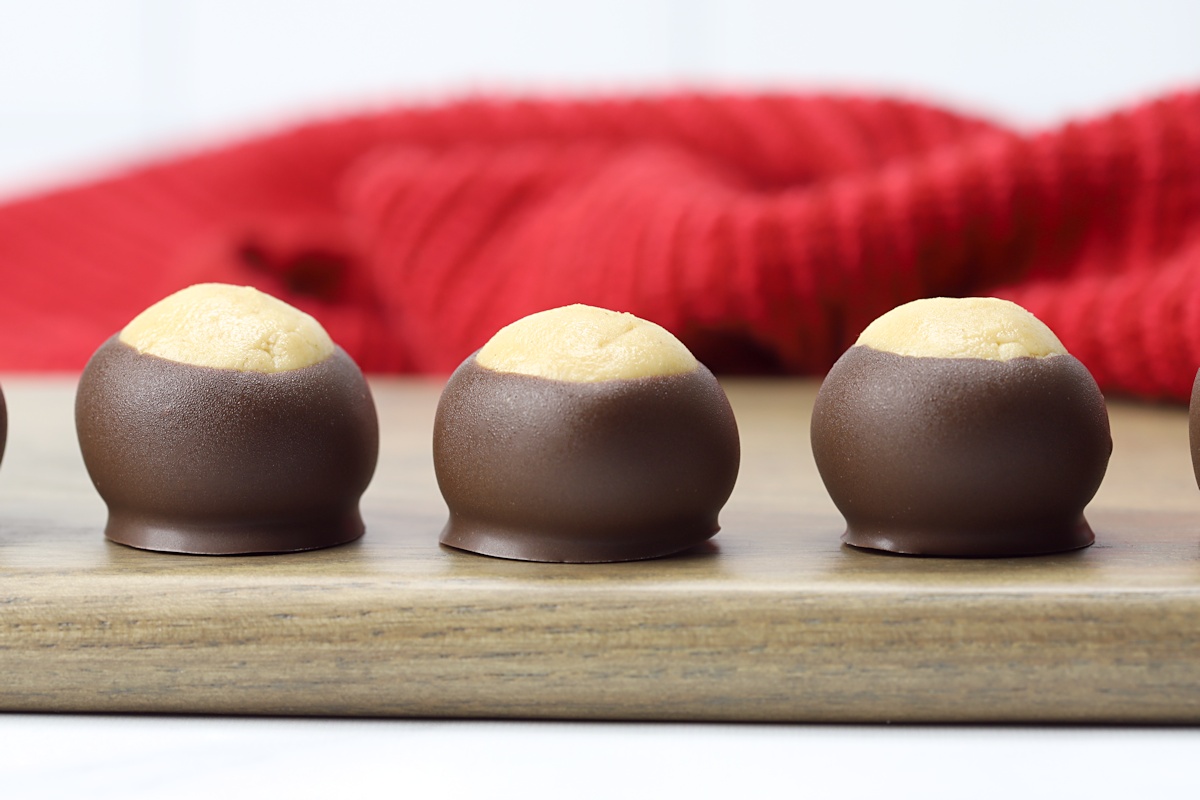 Why are melting wafers best for candy making?
Melting wafers are made for home candy making. They are the ideal choice because they're easy to use and create a nice finished product. When melted and solidified, your candy has a shiny finish and a candy bar "snap" when broken in half.
Can I use chocolate chips instead?
I do not recommend chocolate chips for this recipe. Chocolate chips, when melted and solidified, have a dull finish and soft texture. Your candy will likely taste just as good, but will not have that candy bar "snap" or shiny finish. They also melt easily when handled, making your buckeyes messier to eat.
I have a peanut allergy, can I make this with other nut butters?
Yes, this recipe works with any nut or seed butter, like almond butter or sun butter.
How long do buckeyes last?
Buckeyes will last for about 1 month when stored in the refrigerator.
Can buckeyes be frozen?
Yes, buckeyes can be frozen and will keep for 3 months or more in a tightly sealed, freezer safe container. Keep in mind that frozen chocolate may cause bloom (white streaks that form on chocolate that's perfectly safe to eat) when thawed. Keep this in mind if you'd like to make these for a special event.
Recommended
📖 Recipe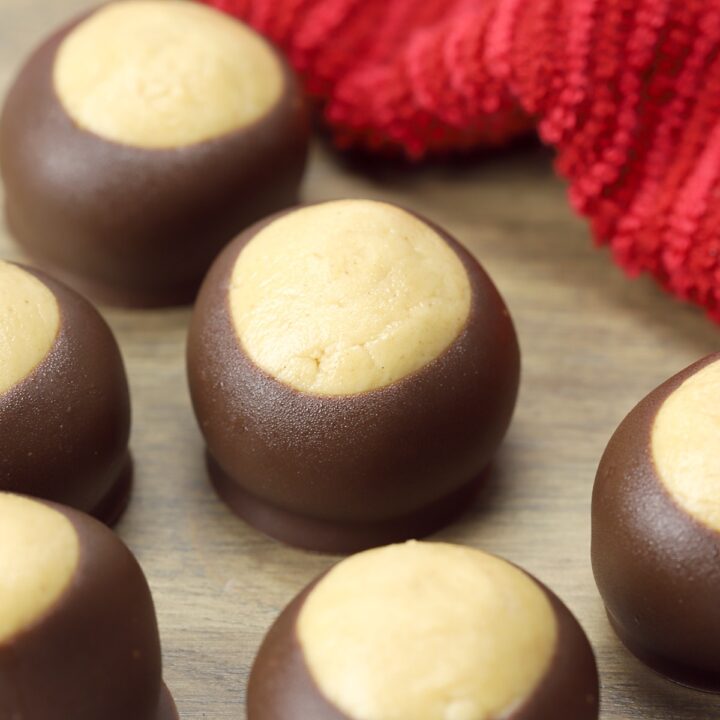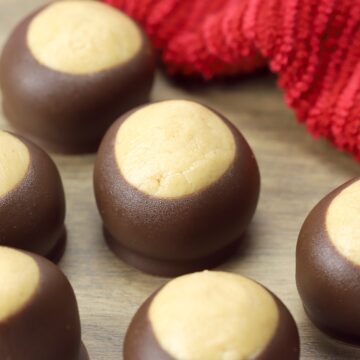 Print Recipe
Peanut Butter Buckeyes
Peanut butter buckeyes are a sweet peanut butter confection that's partially dipped in chocolate candy coating. They're the perfect treat for holiday dessert trays and easy to make ahead of time!
Ingredients
¾

cup

(

203

g

)

peanut butter

¼

cup

(

57

g

)

unsalted butter

,

room temperature

½

teaspoon

vanilla extract

¼

teaspoon

salt

3

cups

(

342

g

)

confectioner's sugar

10

ounces

(

284

g

)

dark chocolate melting wafers
Instructions
In a bowl, add peanut butter, butter, and vanilla. Stir until combined and creamy. Add salt and 1 cup of confectioner's sugar at a time until all 3 cups are combined. Mixture will be very thick, like a dough.

Roll dough into one-inch balls and place onto a wax paper lined baking sheet. Transfer baking sheet to refrigerator and allow to chill for 30 minutes (or into the freezer for 15 minutes).

In a small microwave safe bowl, heat melting wafers in 30 second increments, stirring each time, until wafers are melted and smooth.

Remove a portion of your peanut butter balls from the refrigerator. Pierce the center of each peanut butter ball with a toothpick, going about halfway though. Dip the ball about ⅔ of the way into the chocolate, leaving a circle of peanut butter exposed on the top. Lift out of chocolate and gently shake off excess chocolate. Place back onto the cold baking sheet. Repeat until all balls are coated.

Allow to harden on the counter top for 30 minutes, or in the refrigerator for 10 minutes. Store in a sealed container in the refrigerator until ready to serve.
Notes
You'll have the best success when your peanut butter balls are cold and your chocolate is hot and melted. If your peanut butter balls begin to warm up before being dipped, place back in the refrigerator for a few minutes. If your chocolate begins to cool, microwave for 10 seconds and stir.
Buckeyes will keep for about 1 month in the refrigerator in a tightly sealed container, or in the freezer for about 3 months. Keep in mind that when chocolate is frozen and thawed it may produce bloom (white streaks on the outside that are perfectly edible). Keep this in mind if you're making these for an important event.
Peanut butter can be substituted with any nut or seed butter in equal amounts.
Nutrition Estimate
Serving:
1
buckeye
|
Calories:
90
kcal
|
Carbohydrates:
12
g
|
Protein:
1
g
|
Fat:
4
g
|
Saturated Fat:
2
g
|
Polyunsaturated Fat:
1
g
|
Monounsaturated Fat:
2
g
|
Trans Fat:
0.05
g
|
Cholesterol:
3
mg
|
Sodium:
39
mg
|
Potassium:
28
mg
|
Fiber:
0.2
g
|
Sugar:
11
g
|
Vitamin A:
35
IU
|
Calcium:
3
mg
|
Iron:
0.1
mg