During the winter months, there's nothing better than a hearty soup to keep you warm. Today I'm sharing with you an amazing list of 60 hearty soup recipes that are flavorful and easy to make from scratch in your own home!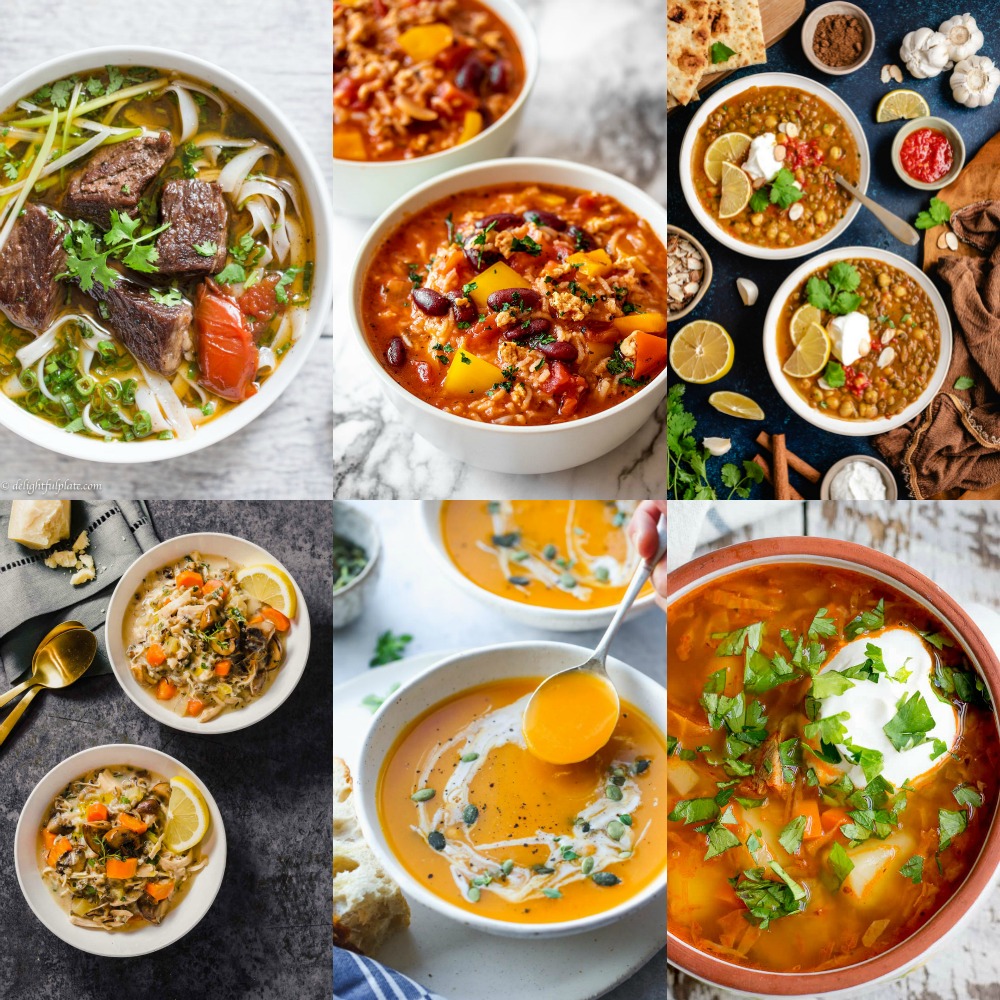 Winter is here, and that means I'm digging out all of my favorite soup recipes! Simple soup recipes make it just a little easier to get through those cold winter months.
Whether you make instant pot soup, or soup on the stove top, soups are an easy dinner idea you can make from scratch in your own home.
Below you'll find some of my favorite hearty soup recipes categorized by types of meat, vegan, vegetarian, and even a cheese soups category. You know I love my cheese! While some soups may fit into multiple categories, I tried to place them using the main ingredient of the recipe.
I hope you find a few new soup recipes here today that will keep you warm all winter long!
Table of Contents
Hearty Beef Soups
Hearty Chicken Soups
Hearty Pork Soups
Hearty Seafood Soups
Hearty Cheese Soups
Hearty Vegetarian Soups
Hearty Vegan Soups
Hearty Beef Soups
From ground beef to chuck roast, you'll find a wide variety of beef soup recipes. How about a bowl of tortellini soup, or beef stroganoff soup? Yum!
Serve your next soup recipe with a side of Skillet Cornbread - the perfect hearty side dish.
Hearty chicken soups (and turkey soups!)
Chicken noodle soup is the epitome of a comforting, warming and hearty soup. But don't stop there! With so many varieties of chicken soups, from creamy to broth-based, you could make a different chicken soup for every night of the week.
Hearty pork soups
These pork soup recipes include everything from andouille sausage, to ham, as well as everyone's favorite - bacon! Try making a batch of potato soup, corn chowder, or bacon black bean soup for dinner.
Hearty seafood soups
Make a seafood chowder for dinner, or how about a bowl of salmon soup? Another classic recipe is a hearty and flavorful seafood gumbo. You can't go wrong with any of these choices.
Hearty cheese soups
Cheese - the way to my heart. If you've been around a while, you know I'm a sucker for a cheese-filled recipe - especially cheese soup! From broccoli soup to beer cheese soup, you'll find plenty of cheesy soup recipes here.
Want to add even more cheese? Top your next soup recipe with these 3-ingredient Rosemary and Garlic Parmesan Crisps.
Hearty vegetarian soups
Vegetarian soups are just as hearty and filling as their meat-filled counterparts. Here you'll find a chunky tomato basil soup, vegetarian taco soup, creamy wild mushroom soup, and more!
Hearty vegan soups
Creamy vegetable soup, udon noodle soup, and tortilla soup will round out our selections of hearty winter soups. All of these soups are vegan, flavor-filled, and perfect for any night of the week!
For even more soup recipes, check out my Soups & Stews recipe index. Happy cooking!