A slice of warm Skillet Cornbread is the perfect addition to any meal. Using a cast iron skillet gives this tender and light cornbread a crunchy, buttery crust.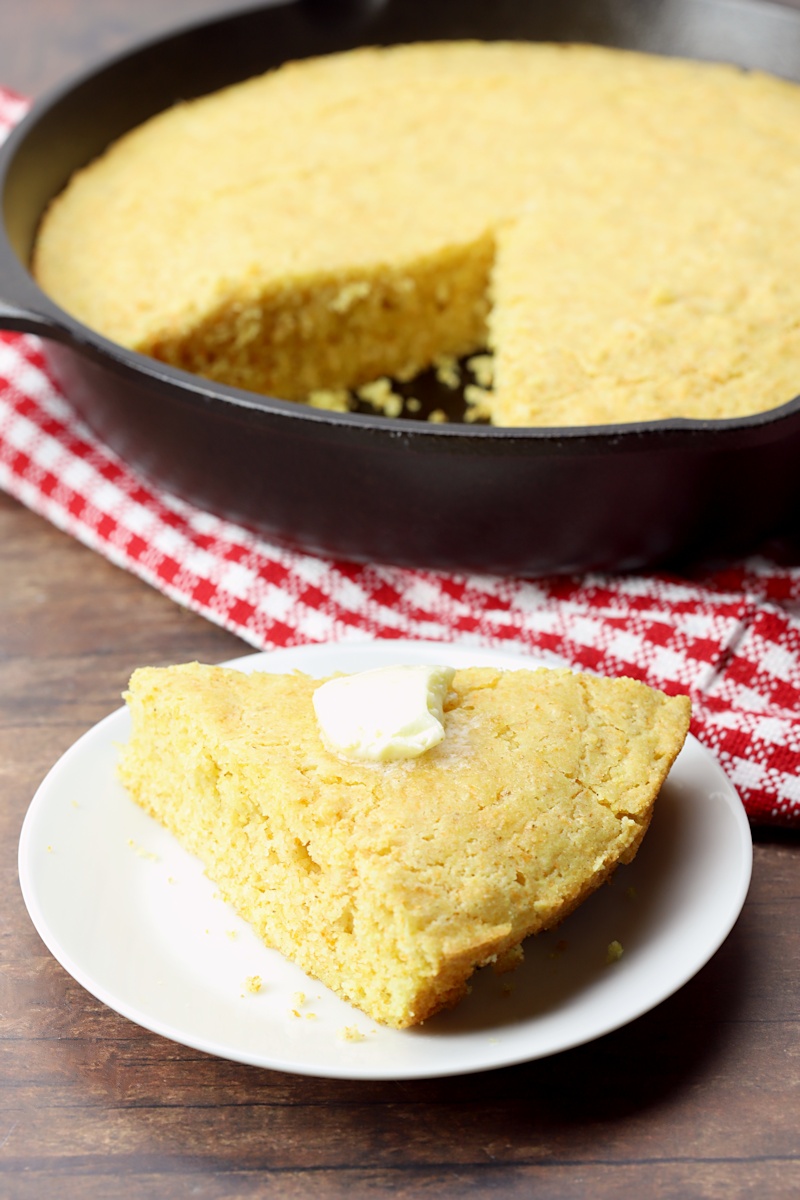 Skillet cornbread is a fantastic side dish to make for any meal. In fact, it pairs particularly well with barbecue or a bowl of chili.
The best part? Made in a cast iron skillet, this cornbread develops a golden, crunchy crust on the bottom. Plus, my cornbread is tender and light on the inside, not dense or dry.
This is the only cornbread recipe I reach for, and it always turns out perfectly.
I used my Lodge Cast Iron Skillet to make this cornbread recipe. If you don't have a cast iron pan on hand, you substitute with a 9 inch pie pan instead.
Homemade Cornbread Mix
If you're pressed for time during the week, save time by making your own cornbread mix on the weekends.
Measure all of the dry ingredients into a container or plastic bag. When the mood strikes, all you'll have to do is add buttermilk, melted butter, and eggs to your dry mix.
I like to make multiple bags of mix, each perfectly portioned to make one recipe's worth of cornbread. That way, there's no thinking or measuring involved!
It's just like using a boxed mix, except it's made from scratch, you know what's inside, and it's a lot better tasting (in my opinion!).
Making Skillet Cornbread
First, preheat your oven to 425 degrees Fahrenheit and place your cast iron skillet (if using one) in the oven while it's preheating. This helps develop that crunchy crust on your cornbread, by pouring the batter into a hot pan from the start of baking.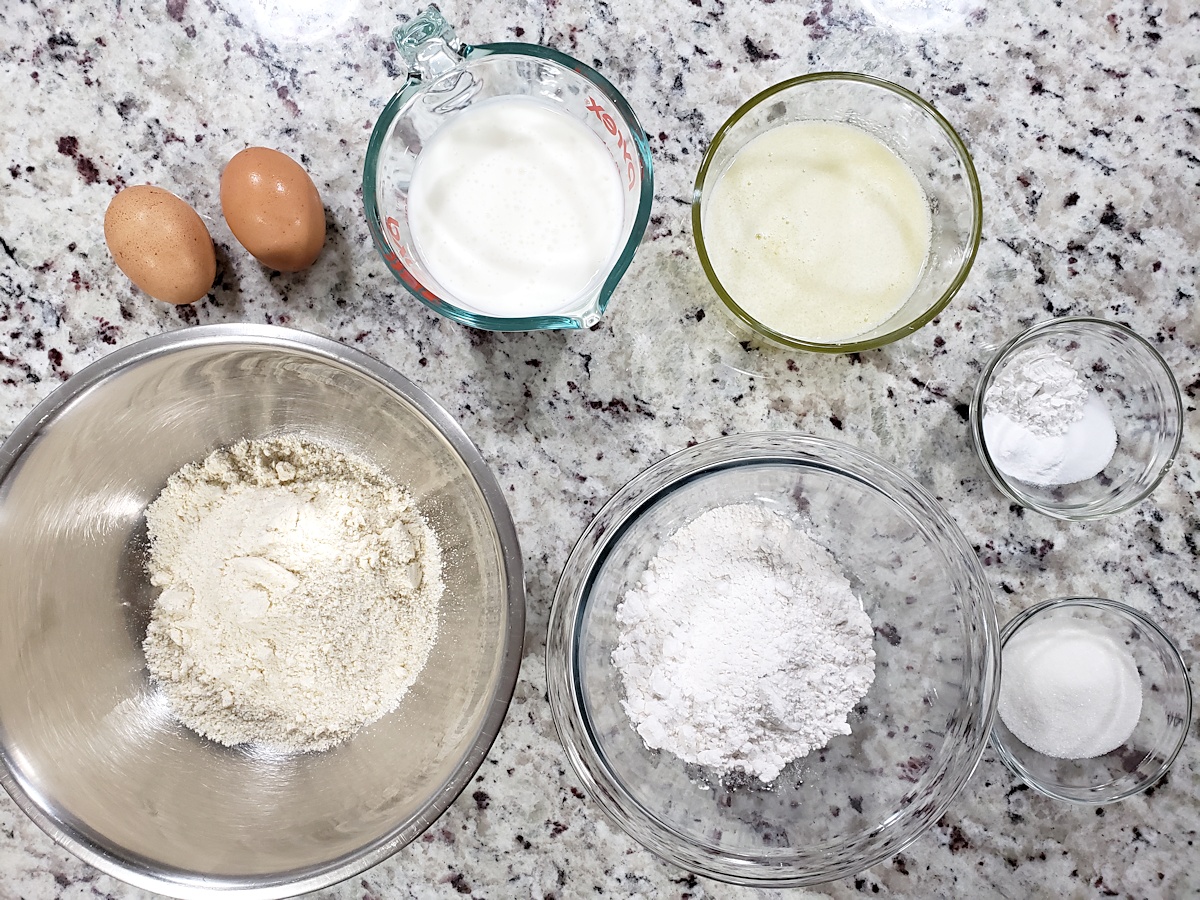 Next, gather your ingredients: eggs, buttermilk, melted butter, cornmeal, flour, baking soda, baking powder, and salt.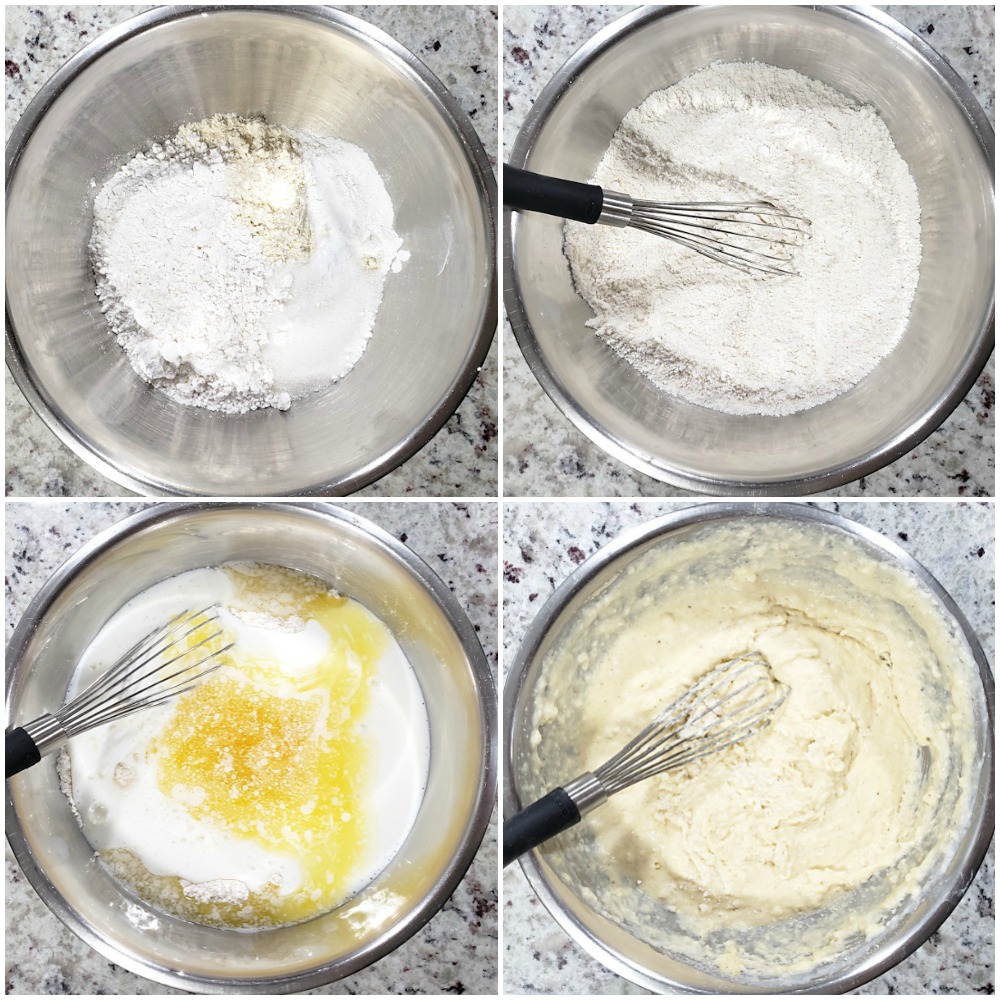 Pour all of your dry ingredients into a bowl. Whisk to remove any lumps. Then, add your wet ingredients – buttermilk, melted butter, and eggs. Stir until just combined. There may be lumps, this is normal.
That's it! You've just finished mixing your cornbread batter. Cornbread is particularly unfussy and easy to make, I highly recommend it for beginner bakers.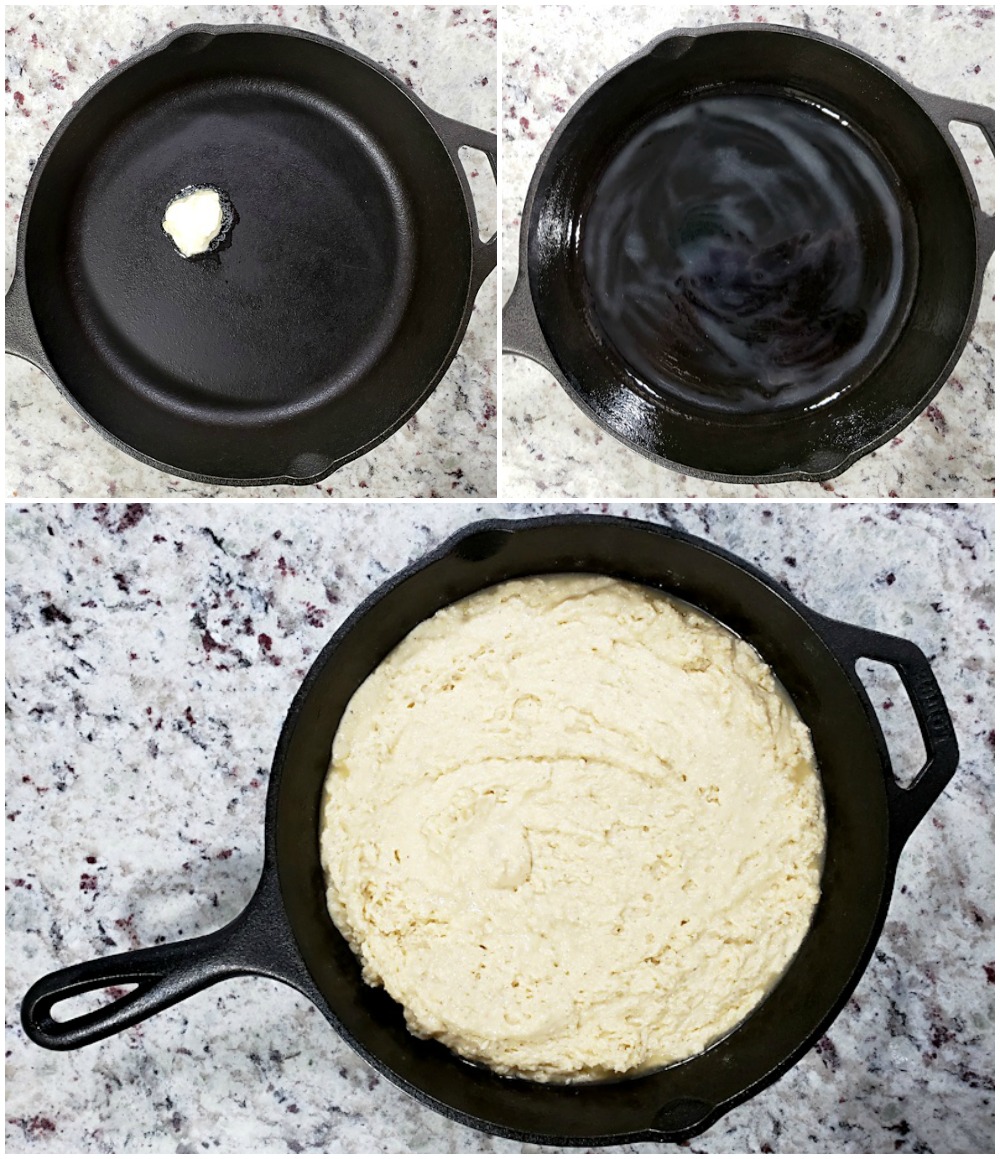 Next, pull your cast iron pan out of the oven and melt a small amount of butter in the pan, greasing the bottom and sides. Then, pour in your cornbread batter.
Bake for 18-20 minutes, or until a toothpick comes out clean. Edges will be golden brown and top will be lightly browned.
How to Serve Skillet Cornbread
If you're serving skillet cornbread with chili, there are a few ways to enjoy it. Serve your cornbread on the side, or place a wedge of cornbread in a bowl and pour your chili over the top.
If you're feeling indulgent, brush the entire baked cornbread with more melted butter or place a pad on top of each slice.
Cornbread is best served the same day of baking, because it will be fresh and moist. If you have leftover slices, I suggest warming them in the microwave (15 seconds should do the trick) and spreading with butter.
Feel free to add diced jalapeños or cheddar cheese to your cornbread. Or, try my Jalapeño Cheddar Cornmeal Biscuits which are an amazing biscuit alternative to cornbread.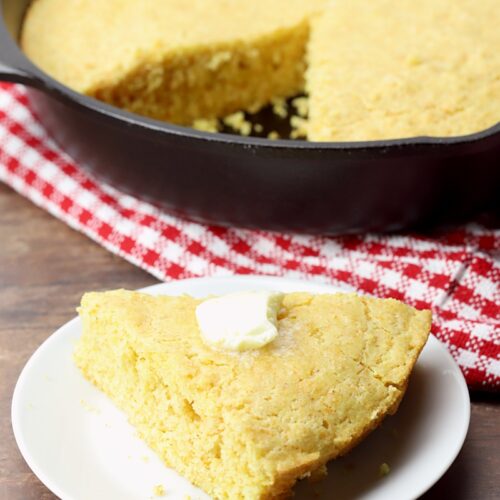 Print Recipe
Skillet Cornbread
Moist, crumbly, and slightly sweet cornbread with a crunchy crust.
Ingredients
1 1/4

cups

ground cornmeal

3/4

cup

all purpose flour

2

tablespoons

white sugar

2

teaspoons

baking powder

1

teaspoon

baking soda

1

teaspoon

salt

1

cup

buttermilk

6

tablespoons

unsalted butter

melted

2

large eggs
Instructions
Preheat oven to 425 degrees. Place skillet in the preheating oven to warm up while you mix your batter.

In a large bowl, whisk together all of the dry ingredients - cornmeal, flour, sugar, baking powder, baking soda, and salt.

Add the buttermilk, melted butter, and eggs to the dry ingredients until just combined. Let the batter sit for 5 minutes in the bowl.

Remove the hot skillet from the oven and coat the bottom and sides with butter (you can also use a cooking spray or oil, but butter will provide the best flavor).

Pour your batter into the hot skillet and place back in the oven. Bake for 18-20 minutes, or until toothpick inserted into center comes out clean or with a few crumbs. Edges should be browned and top should have a light brown color. Allow cool for 10 minutes before serving.

Optionally, brush the top with more melted butter before serving.
Notes
If you do not have a cast iron skillet, this can me made in a 9 inch round pie pan. Baking time may need to be adjusted.
Nutrition
Calories:
260
kcal
|
Carbohydrates:
32
g
|
Protein:
6
g
|
Fat:
12
g
|
Saturated Fat:
7
g
|
Cholesterol:
67
mg
|
Sodium:
478
mg
|
Potassium:
249
mg
|
Fiber:
3
g
|
Sugar:
5
g
|
Vitamin A:
371
IU
|
Calcium:
90
mg
|
Iron:
2
mg