Today I'm sharing 25 ginger ale cocktails that are easy to mix up in your own home. If you love the refreshing, bubbly, lightly spiced flavor of ginger ale, you're sure to find a new favorite cocktail on this list.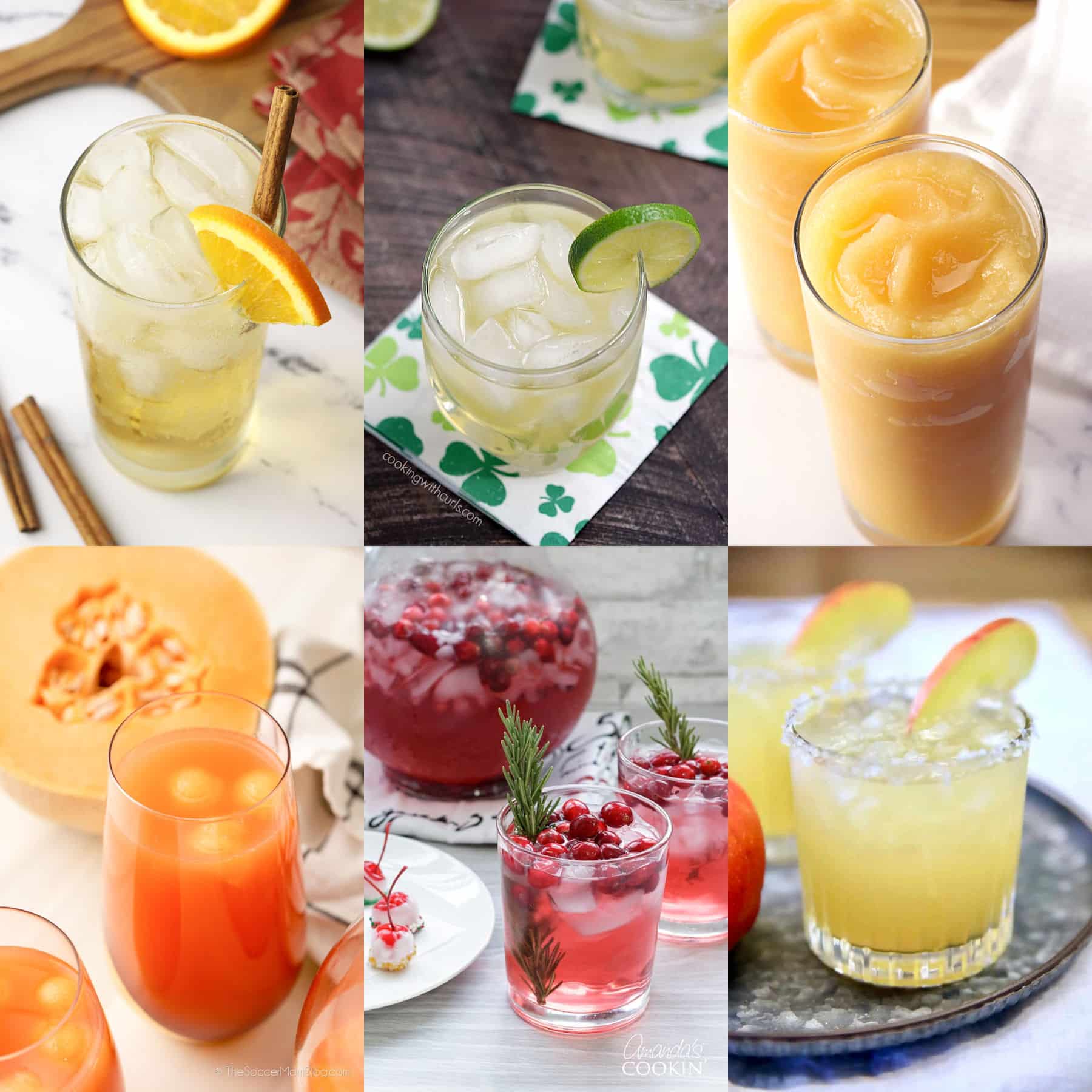 Ginger ale is a carbonated beverage that's lightly sweetened with a mild ginger flavor. It's a popular beverage for settling an upset stomach, as well as being used as a mixer for alcoholic drinks.
Did you know that ginger ale can also be used in stage performances as a stand-in for alcohol, like champagne and beer? Since it's carbonated and has a similar color, it makes an easy, inexpensive swap.
It's also used in non-alcoholic punches, like our New Year's Eve celebration punch and fall party punch recipes.
What alcohol mixes well with ginger ale?
Ginger ale is a fantastic mixer to keep on hand because it blends well with just about any alcohol. Try mixing ginger ale with any of these alcohols:
Rum
Vodka
Gin
Bourbon
Tequila
Whiskey
Ginger ale even mixes well with white wine or red wine, like in holiday punch or sangria recipes.
Ginger ale vs ginger beer
What's the difference between ginger ale and ginger beer? Ginger ale, as we've mentioned, is a carbonated beverage that is non-alcoholic and has a mild, sweet ginger flavor.
Modern day ginger beer is also carbonated and non-alcoholic. The main difference is that ginger beer has a stronger ginger flavor and is usually less sweet than ginger ale.
Despite the names 'ale' and 'beer', neither beverage contains alcohol. Ginger beer did originally contain alcohol (when it was made in the 18th century by fermentation), but through the years became known as the non-alcoholic beverage you can find in stores today.
Brewed alcoholic ginger beer does exist, but it's usually labeled as 'alcoholic ginger beer' to differentiate itself from the more common non-alcoholic version.
Can you use ginger ale instead of ginger beer in cocktails?
Ginger ale and ginger beer, in the broad spectrum of carbonated beverages, are fairly similar. They both have ginger flavor and carbonation, with varying levels of sweetness. While not always true, technically you could substitute ginger beer with ginger ale (and vice versa) without ruining a cocktail recipe.
However, I highly suggest reading the recipe and following the substitutions offered by the writer. There are times when ginger beer may add too strong a ginger flavor, or ginger ale would add too much sweetness.
Ginger ale cocktails
Looking for more cocktail recipes to use up that ginger ale? Look no further! Check out these 25 ginger ale cocktails and find a new drink recipe to share with friends and family (or enjoy for yourself).
Did you find a new drink to try on this list? Let us know what you thought in the comments below!