Today I'm sharing The Toasty Kitchen's top ten reader favorite dinner recipes. These are the top rated, most viewed, and most loved meals of my readers! From sloppy joes to a classic tuna casserole, you're sure to find a new favorite on this list!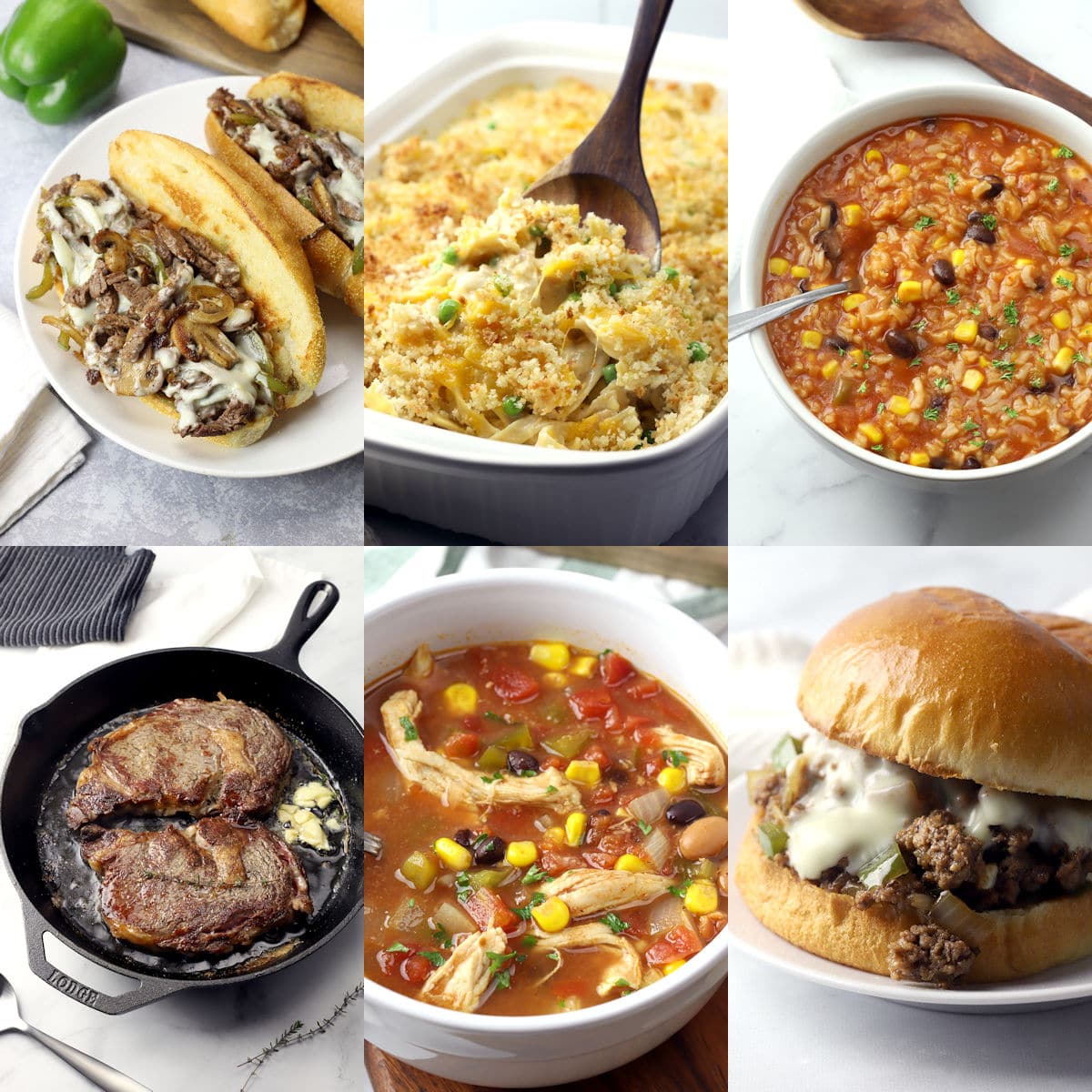 Looking for more recipes to add to your go-to list of weeknight dinners? I've gathered my top ten reader favorite dinner recipes to share with you today.
From ground beef to chicken breasts, you'll find many budget-friendly and easy recipes on this list. You'll want to keep this list on hand for future dinner ideas.
All of my dinner recipes are:
easy to prepare at home
made with easy-to-find ingredients
filled with flavor
made from scratch
Intimidated by making your own meals from scratch? No worries! Leave a comment on any recipe with questions, and I'll be glad to help you out. Remember - practice makes perfect! Your skills will improve the more you cook.
Top Ten Dinner Recipes
Without further ado, take a look through my readers' top ten favorite dinner recipes!
10. Chicken Bacon Ranch Pasta
Readers love this recipe because it's filled with fun flavors like bacon and ranch. Plus, it's made in a single pan!
9. Cheesy Tuna Noodle Casserole
This family-friendly casserole is made entirely from scratch - no canned soups here!
8. Slow Cooker Chicken Taco Soup
This hearty soup is prepared entirely in the slow cooker, making it a simple meal recipe the entire family will enjoy.
7. Patty Melt with Secret Sauce
The patty melt is a classic American diner menu item, which is a variation of the classic cheeseburger. It's easier than you think to make in your own home!
6. Beans and Rice Taco Soup
This meatless soup recipe is made entirely with shelf-stable ingredients, meaning none of the ingredients need to be kept refrigerated. It's nice to have a few simple recipes made with shelf-stable foods, in case you can't get to the grocery store for fresh ingredients.
5. Beef Stew From Scratch
A classic beef stew that's filled with potatoes and carrots - perfect on a cold winter day. Flavorful and hearty, made in a single pot on the stove top.
4. Pan-Seared Ribeye with Garlic Butter
Looking for a restaurant quality steak, but made at home? This pan-seared ribeye makes the perfect romantic meal for two. Don't skip the garlic & thyme infused butter at the end!
3. Cheesesteak Style Sloppy Joes
Readers have gone crazy over this recipe - it's simple, flavorful, and kids and adults alike enjoy it. Plus, it has the flavors of your favorite cheesesteak sandwich, without the price tag. What's not to love?
2. Slow Cooker Beef Roast with Potatoes and Carrots
This slow cooker recipe was a surprise hit of 2021 when it was published, skyrocketing to the number 2 spot on this list. This flavorful beef roast is cooked entirely in a slow cooker, along with potatoes and carrots (for the entire 8 hours, no adding ingredients later!).
1. Best Ever Cheesesteak
This recipe was added on a whim because I wanted to share how much we love homemade cheesesteaks. I had no clue how much readers would love it! But really, who doesn't love a cheesesteak? If you've tried and loved this recipe, I suggest trying my chicken cheesesteak next!
Honorable Mentions
These recipes made the list in previous years, and readers still love them! Check them out if you're looking for more tried and true dinner ideas: