These Philly cheesesteaks are a hearty comfort food meal and easy to make in your own home. Made with thin sliced ribeye steak, melty cheese, and your favorite toppings on a lightly toasted hoagie roll.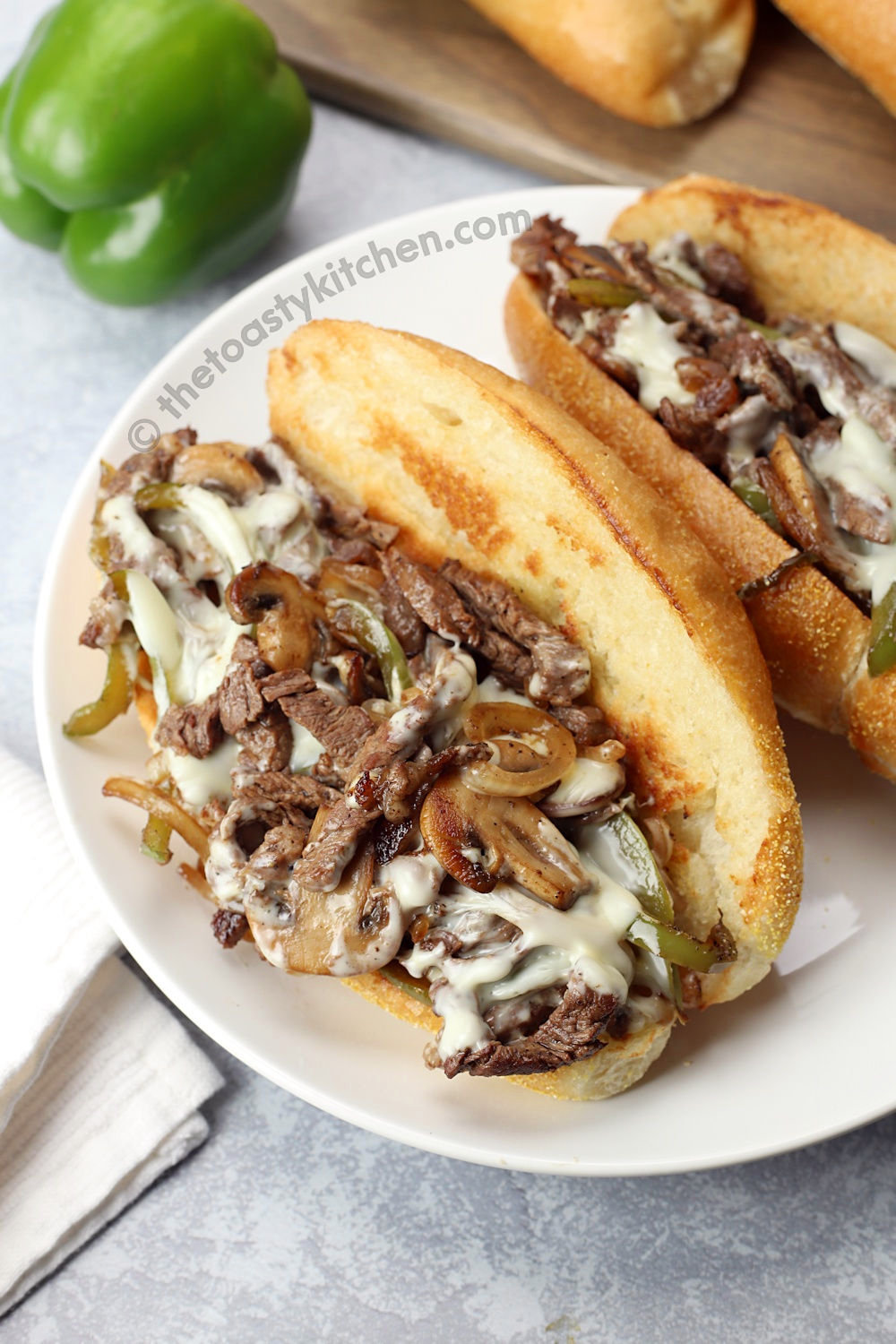 If you love heading to your favorite local cheesesteak spot for dinner, this recipe is a must try. Why not save a few bucks and make your own at home!
These sandwiches are made with thin-sliced ribeye meat, your favorite toppings, and melty cheese. Served on a buttered and toasted hoagie roll, these Philly cheesesteaks couldn't be easier to prepare. They're ready in about 20 minutes!
While not a traditional cheesesteak (I see you, cheesesteak purists!), I think you'll enjoy this cheesesteak recipe. Steak and cheese are the ultimate pairing - the perfect comfort food meal.
Want to switch things up? Try my chicken version - chicken cheesesteaks.
Ingredients and substitutions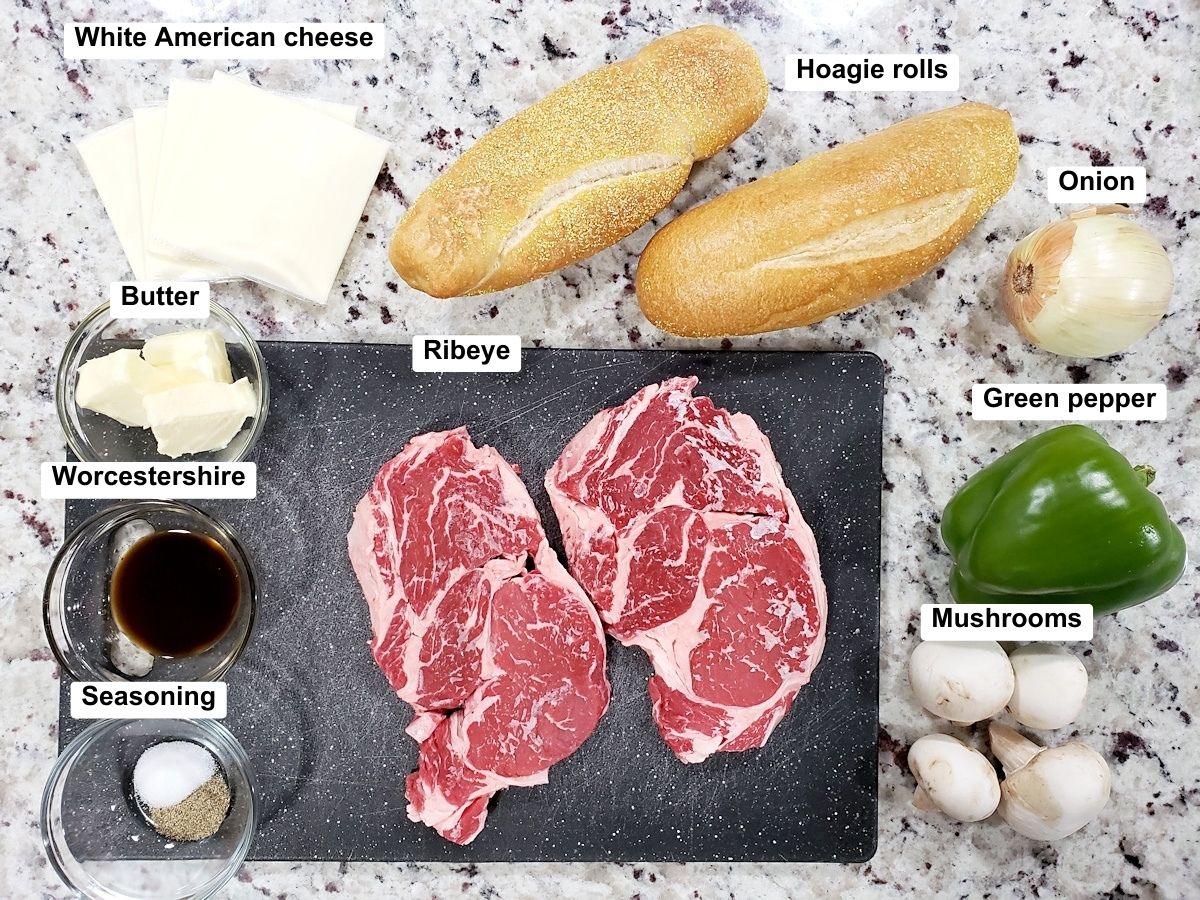 Unsalted butter - Can be substituted with salted butter or ghee if desired.
Hoagie rolls - Many cheesesteak fans like using amoroso rolls. They can be ordered online here: Amoroso's Bakery Otherwise, any high quality hoagie rolls will work. I purchase these hoagie rolls at my local Publix bakery: Hoagie Rolls 4-Count
Toppings - We added onions, bell pepper, and sliced button mushrooms. Feel free to add only the toppings you'd enjoy on your own sandwich.
Cheese - I highly recommend white American cheese because it adds a salty flavor and creamy, melty texture to a cheesesteak sandwich that can't be beat. However, popular substitutions include cheese whiz and smoked provolone cheese slices.
Seasoning - Salt, pepper, and worcestershire sauce add depth of flavor to your cheesesteak. Worcestershire can be substituted with a steak sauce if needed for a similar savory flavor.
Ribeye - Ribeye is the best meat for Philly cheesesteaks. It's tender and flavorful, adding the best flavor to your cheesesteaks. It's the most important ingredient in a cheesesteak, so you really don't want to skimp here.
Tips and tricks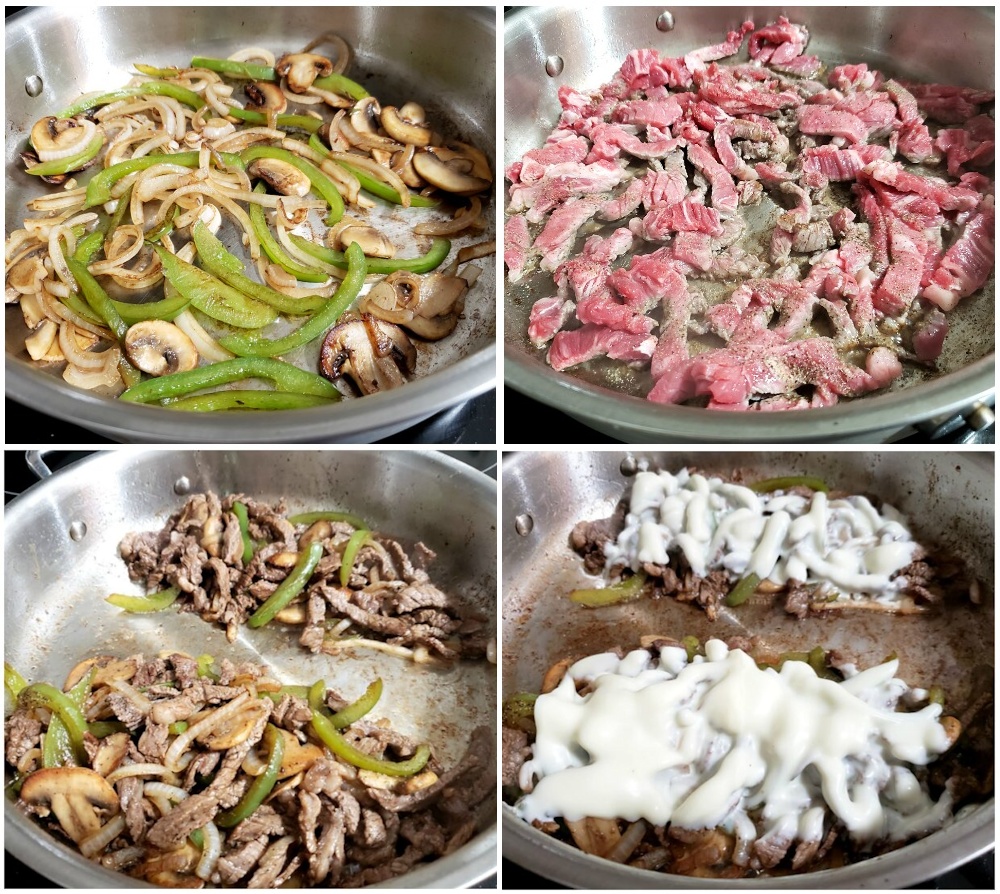 If you're having trouble thinly slicing your ribeye, here are a few tips:
Place your steak in the freezer for about 20 minutes - just enough time to slightly firm up. This helps make it easier to slice. Use this video as a guide: How to thinly slice steak
Use a sharp chef's knife - it will glide through your steak easily, especially if it's been partially frozen first.
Ask your butcher to slice your ribeye for you. Whether at a local shop or at a chain grocery store, your butcher should gladly slice your ribeye for you. You may need to call ahead, and there may be a small fee (some butchers do this at no additional cost), but all you've got to do is ask.
Whether you're slicing it yourself or asking your butcher to do it for you, make sure your steak is sliced against the grain. Slicing against the grain cuts through any long fibers in your steak, making your meat tender and easier to chew.
Frequently asked questions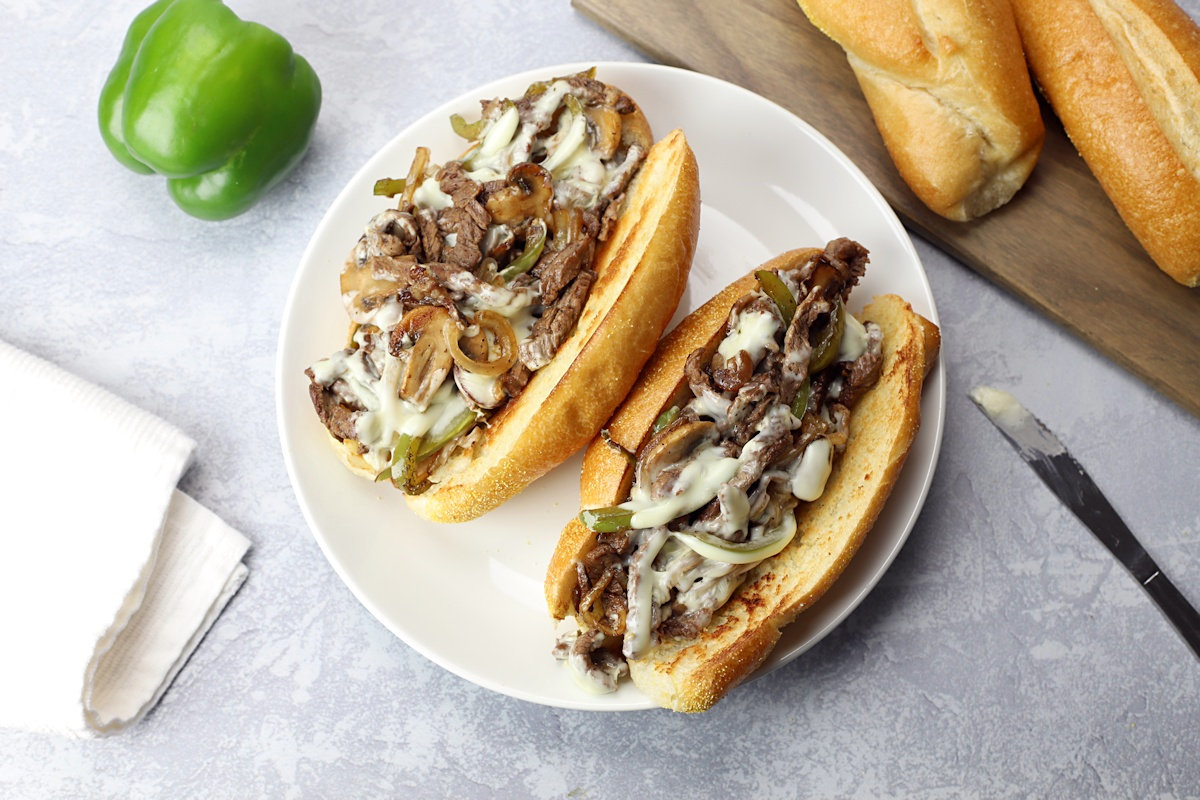 What's the best cheese for cheesesteaks?
I highly recommend trying white American cheese on your cheesesteak sandwich. It adds a creamy, melty, and salty quality to the cheesesteak that really completes the sandwich. Other popular choices include smoked provolone slices or cheese whiz. I suggest using your favorite - it's your sandwich after all!
What toppings go on a Philly cheesesteak?
A traditional cheesesteak usually only includes onions as a topping. In other cities across the country, popular toppings include bell peppers, hot peppers, or mushrooms. You could also make a "cheesesteak hoagie," which is a combination of a hot cheesesteak and a cold hoagie. For this version, you'd add mayonnaise, shredded lettuce, and sliced tomatoes.
In my opinion, there is not one ideal cheesesteak recipe for everyone. Add your own favorite toppings and enjoy!
What is the best meat for cheesesteaks?
When it comes to cheesesteaks, I highly recommend using thin sliced ribeye steak. Ribeye is tender and flavorful and doesn't get tough when cooked quickly in a skillet or on a flat top grill. If you ask your butcher, they may also slice your ribeye for you (either at no charge or for a small fee).
Is this an authentic Philly cheesesteak?
No. However, I can tell you that this is an amazing, flavorful, and delicious cheesesteak sandwich. Authentic or not, I think you'll enjoy it!
What makes a cheesesteak authentic?
What makes a Philly cheesesteak authentic? It depends on who you ask. I've received countless emails and messages on this subject, all explaining in detail what exactly makes a Philly cheesesteak authentic. Guess what - every description has been different, other than the inclusion of the ribeye itself.
The type of hoagie rolls used (Amoroso rolls are popular), the type of cheese (provolone, American, cheddar, or cheese whiz), and even toppings (most commonly onion, sometimes peppers or mushrooms), can all vary based on who you ask and where they're from.
What I've learned is many people have strong feelings about what should or shouldn't go on a cheesesteak. The great part is that when you're cooking at home, you can put anything you want on your own sandwiches.
If you'd like to learn more about the history of the cheesesteak, check out Wikipedia: Cheesesteak
More recipes
📖 Recipe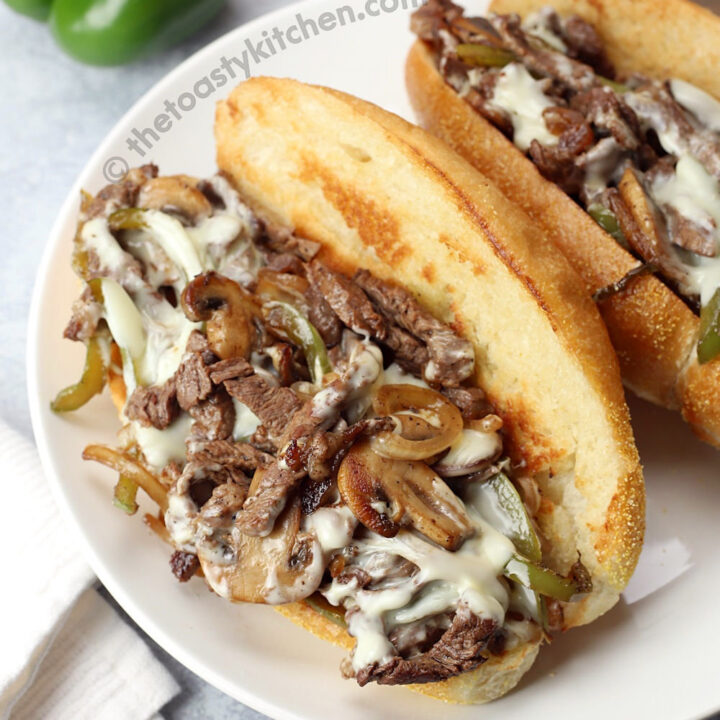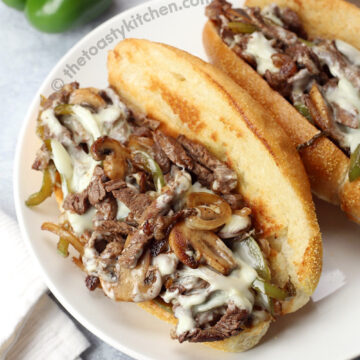 Print Recipe
Philly Cheesesteak
These Philly cheesesteaks are a hearty comfort food meal and easy to make in your own home. Made with thin sliced ribeye steak, melty cheese, and your favorite toppings on a lightly toasted hoagie roll.
Servings:
2
large sandwiches
Ingredients
2

eight inch

hoagie rolls

,

sliced

2

tablespoons

unsalted butter

,

divided

½

green bell pepper

,

sliced

1

small

onion

,

sliced

4

button mushrooms

,

sliced

16

ounces

boneless ribeye steak

,

thin sliced

salt and pepper

,

to taste

2

teaspoons

worcestershire sauce

4

slices

white american cheese
Instructions
Optionally, butter insides of hoagie rolls with 1 tablespoon of butter and toast. Set aside.

In a saute pan over medium heat, add 1 tablespoon of butter. Once melted and bubbling, add bell pepper, onions, and mushrooms. Cook, stirring occasionally, until veggies are lightly browned and onions turn translucent. Remove from pan and set aside.

Season sliced ribeye with salt and pepper. Add 1 tablespoon of butter to pan. Once melted and bubbling, add ribeye to skillet and cook for 2-4 minutes, stirring occasionally. Add worchestershire sauce to skillet and stir to combine.

Reduce heat to low. Return veggies to pan and stir to combine. Split your steak mixture in half on either side of the pan. Lay two pieces of cheese onto each half and allow to melt, about 1 minute.

Spoon cheesesteak mixture into your hoagie rolls. Serve immediately.
Notes
This recipes makes two large, hearty sandwiches. Filling can be divided between three hoagie rolls to make smaller sandwiches.
White American cheese can be substituted with cheese whiz or smoked provolone cheese.
Onions are the only traditional cheesesteak topping - bell pepper and mushrooms are optional, but recommended for flavor.
Amoroso rolls are traditional for making cheesesteaks, but any bakery style hoagie rolls will work.
Nutrition Estimate
Serving:
1
sandwich
|
Calories:
761
kcal
|
Carbohydrates:
8
g
|
Protein:
55
g
|
Fat:
57
g
|
Saturated Fat:
29
g
|
Cholesterol:
210
mg
|
Sodium:
888
mg
|
Potassium:
931
mg
|
Fiber:
1
g
|
Sugar:
4
g
|
Vitamin A:
891
IU
|
Vitamin C:
28
mg
|
Calcium:
468
mg
|
Iron:
5
mg