Pineapple rum slush is a smooth and sweet alcoholic beverage that's made with just three ingredients in a blender. This tropical drink is made with frozen pineapple, rum, and coconut water.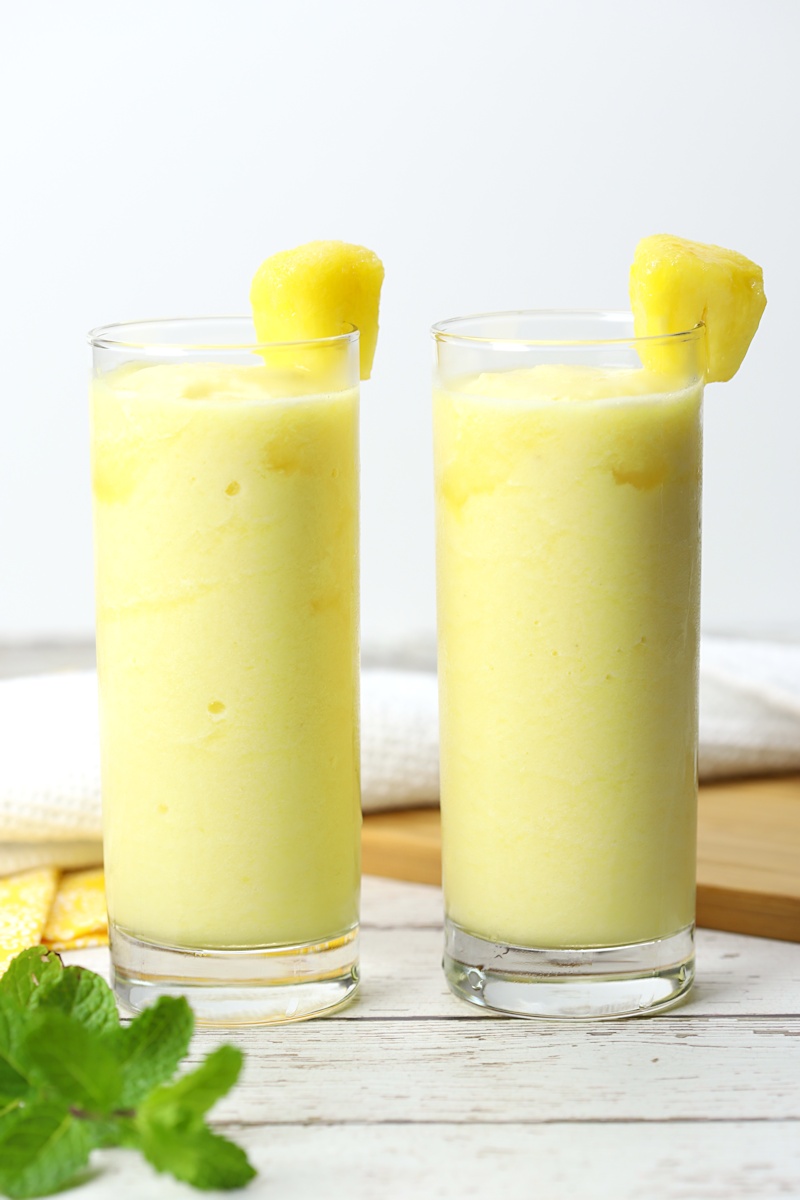 I am a big fan of pineapple. Have you ever had dole whip? It's a soft serve pineapple ice cream that you can find at Disney World, among other places. If you like dole whip, you'll be a fan of my Pineapple Rum Slush.
It's similar, but not quite the same creamy texture. Still, I am in love with this drink. It's so easy, I think it will be my go-to recipe for the rest of summer.
This drink is super easy to whip up in the blender. You don't need an expensive, high-end blender either. I have an Oster 12-speed blender
that I've had for years, and it mixed up this drink beautifully.
Plus, it's so easy to grab literally three ingredients at the store (two if you already have some rum at home!) and you're set.
If you're a frozen drink fanatic, try out my Ginger Peach Vodka Slush. Wine fans may like my Strawberry Rosé Slush.
How To Freeze Pineapple
For this recipe, I bought a 16 ounce bag of Dole Pineapple Chunks in the freezer aisle, which makes two drinks exactly. If you can't find frozen pineapple, you can prep your own the day before.
Slice your pineapple into chunks and spread onto a parchment/wax paper lined cookie sheet. Freeze for a few hours or overnight, then store them in a freezer bag until ready to use.
If you'd like to make this drink lower in calories, I suggest substituting half of your frozen pineapple with ice instead.
How to Make Pineapple Rum Slush
These pineapple rum slush drinks are incredibly easy to make with a blender and just three ingredients. Best of all, these ingredients are easy to keep on hand for when the mood strikes and you're in need of a slushy beverage.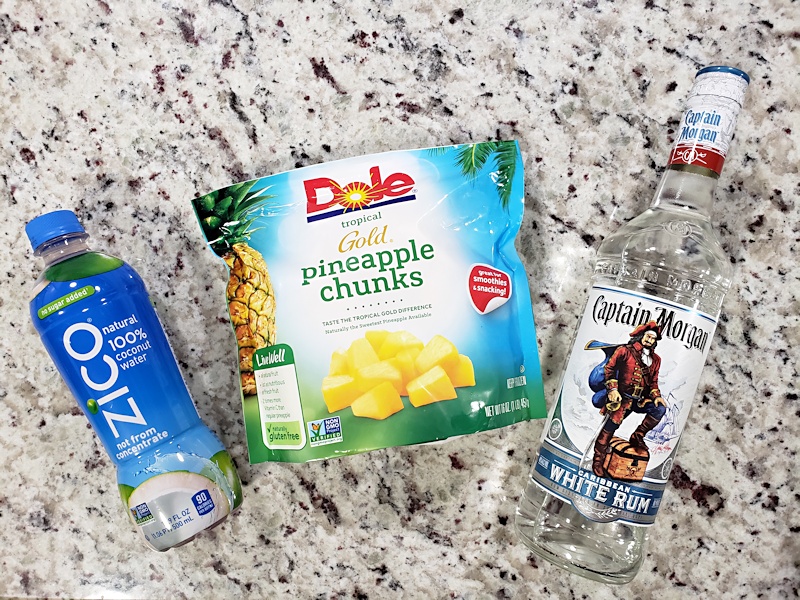 First, gather your ingredients – coconut water, frozen pineapple chunks, and rum.
If you don't like or have coconut water, you can easily substitute it with coconut milk, pineapple juice, orange juice, or plain water. You'll need the liquid in your drink to thin out the frozen pineapple and create a slush, so I wouldn't omit it entirely.
For the rum, simply use your favorite – dark rum, coconut rum, clear rum – or you can substitute with vodka or tequila.
Next, add your pineapple to a blender. If desired, reserve a few pineapple chunks to decorate the rim of your glasses.
Then, add your coconut water and rum to the blender.
Blend your ingredients until they are fulling incorporated. Check for chunks of pineapple and keep blending until your drink is smooth.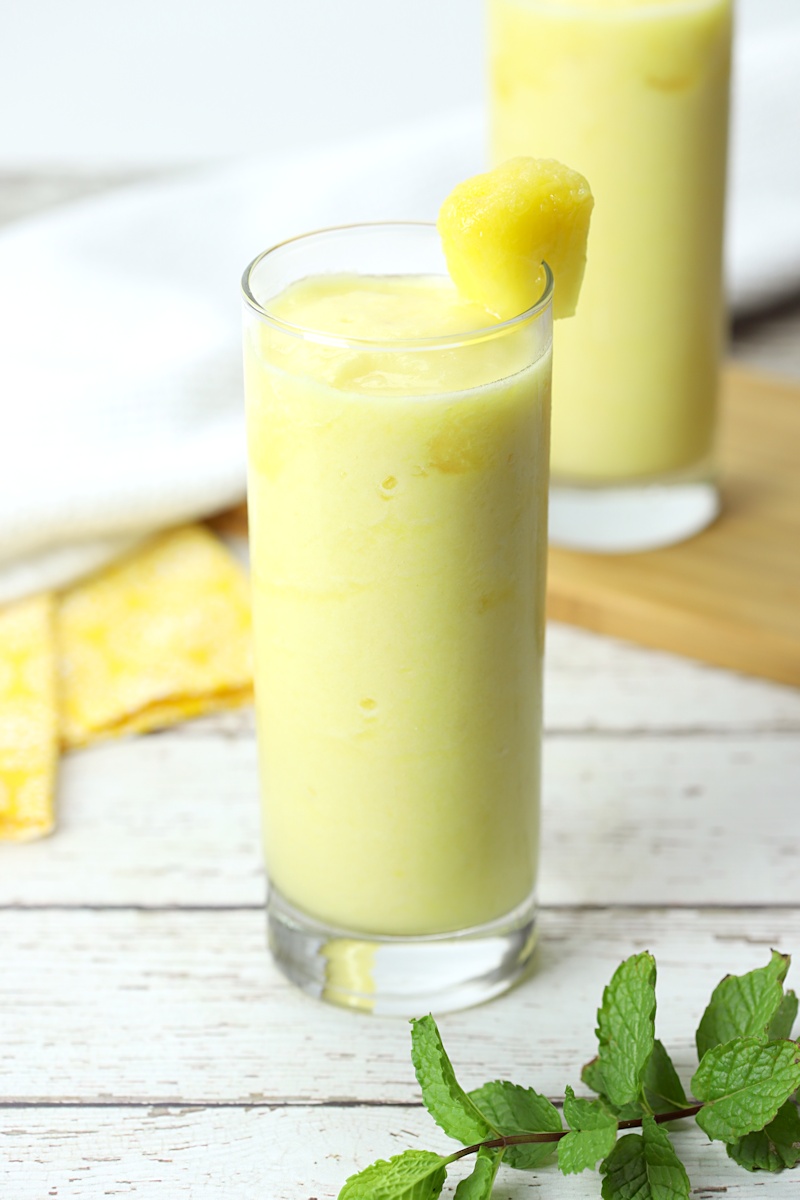 I serve my pineapple rum slush in a highball glass like these, but feel free to use what you have on hand. Pineapple chunks, orange slices, or mint leaves make a great garnish.
Love pineapple recipes? Try my Pineapple Freezer Jam and my non-alcoholic Pineapple Mint Lemonade. It's so refreshing. My husband likes to add whiskey to his!
This recipe was originally published on June 8, 2017 as part of my Summer Happy Hour drink series. The page has since been updated with new photos and step by step process shots. The recipe remains the same.
Print Recipe
Pineapple Rum Slush
Pineapple rum slush is a smooth and sweet alcoholic beverage that's made with just three ingredients in a blender. This tropical drink is made with frozen pineapple, rum, and coconut water.
Ingredients
3

cups

pineapple

cubed and frozen

3/4

cup

coconut water

3

ounces

rum

*
Instructions
(Optional) Set aside two pineapple cubes to use as a garnish, slicing them halfway through and placing on the glass rim.

Pour the coconut water and rum into a blender. Add pineapple cubes and cover. Blend until mixture is smooth and no chunks remain. If mixture is too thick or difficult to blend, add another 1/4 cup of coconut water.

Taste and add more rum as desired.

Pour into glasses and enjoy.
Notes
*3 ounces = 6 tablespoons = 2 filled shot glasses
I used clear rum, but you are welcome to try your favorite variety (spiced, dark, coconut, etc).
Mint leaves can be used an an optional garnish.
Coconut water can be substituted with coconut milk, pineapple juice, or orange juice.
For a low calorie version, substitute half of the frozen pineapple with ice.
If you are using out of season/frozen pineapple that's not as sweet as usual, you may want to use pineapple juice instead of coconut water to give some additional sweetness and pineapple flavor to your drinks.
Nutrition
Serving:
0
g
|
Calories:
239
kcal
|
Carbohydrates:
35
g
|
Protein:
1
g
|
Fat:
0
g
|
Saturated Fat:
0
g
|
Cholesterol:
0
mg
|
Sodium:
97
mg
|
Potassium:
494
mg
|
Fiber:
4
g
|
Sugar:
26
g
|
Vitamin A:
145
IU
|
Vitamin C:
120.5
mg
|
Calcium:
54
mg
|
Iron:
1
mg