Maple glazed cut out cookies are soft, easy to make cookies that are perfect for fall. Maple flavored sugar cookies are frosted with a maple glaze and sprinkled with walnuts.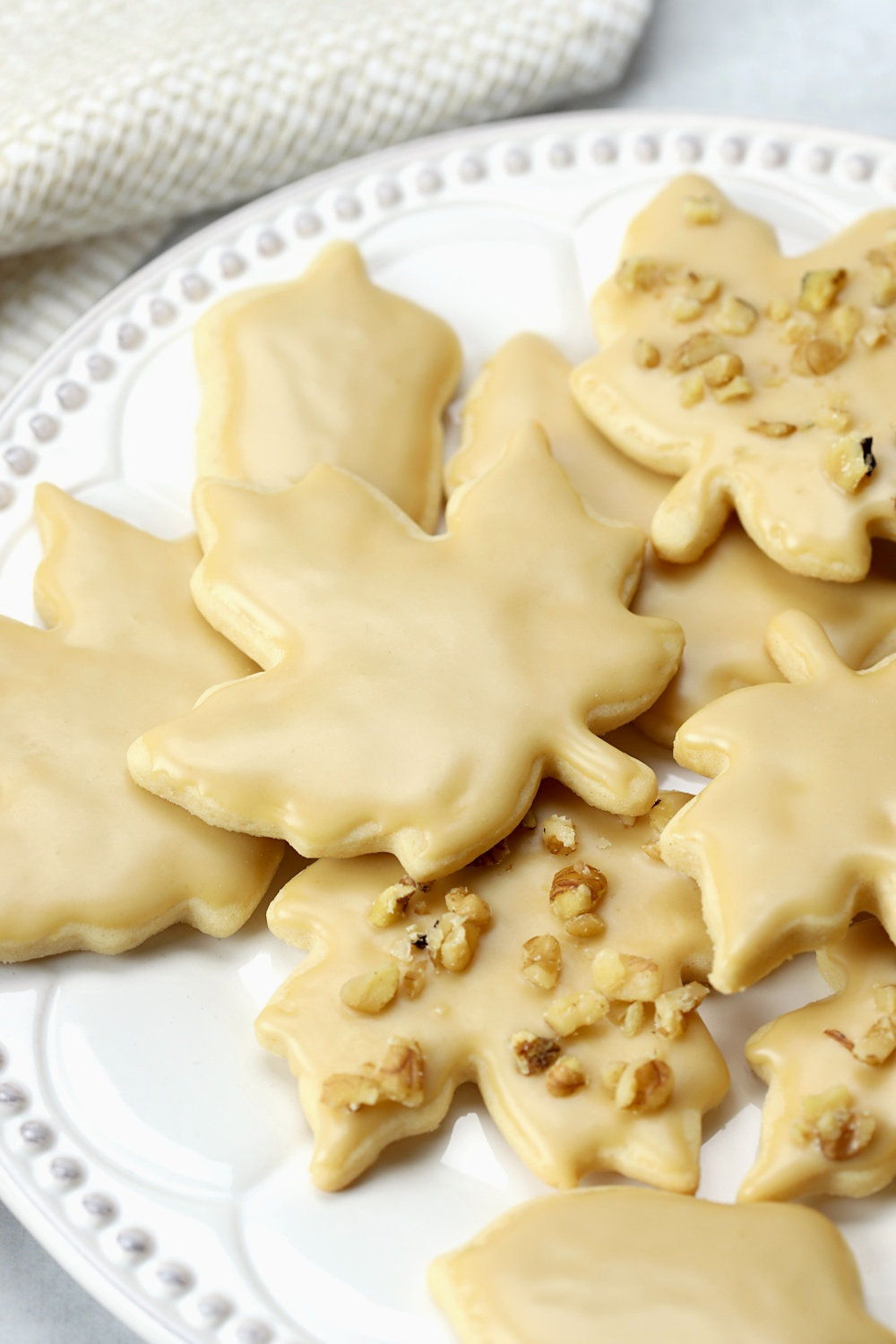 Fall has a new favorite flavor in town - maple. If you're over pumpkin spice and salted caramel, you'll love these maple glazed cut out cookies.
These sweet cookies are soft and chewy, while maintaining their shape while baking. The cookies are lightly flavored with maple, then topped with a maple glaze made from maple syrup.
Serve these maple glazed cookies in the fall with a batch of apple cider, at Thanksgiving, or on your next Christmas cookie platter. Optionally, top with chopped walnuts for extra flavor and texture.
Ingredients and substitutions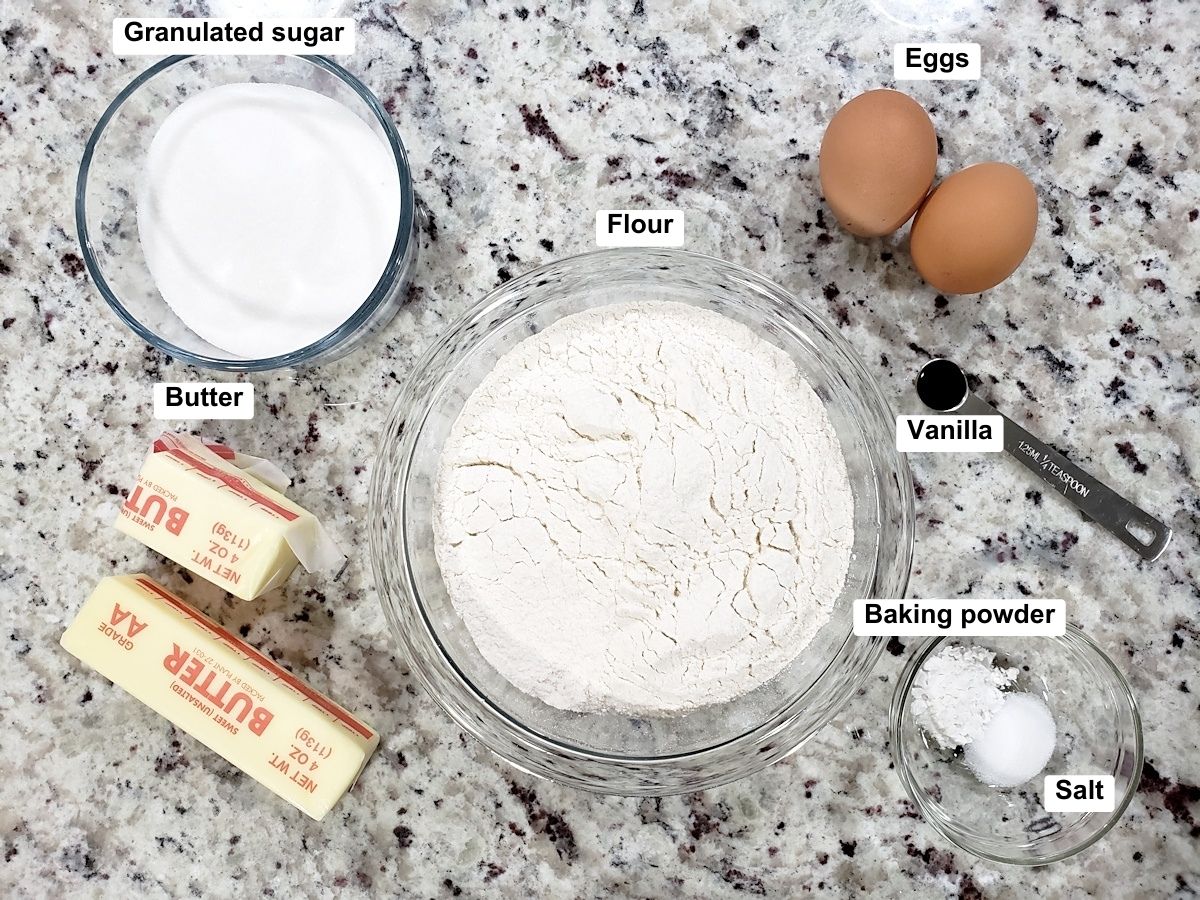 (Sugar and maple syrup for the glaze are not included in the photo above)
Since baking is an exact science, I don't have many substitutions to offer for this recipe. Each ingredient has its purpose in the recipe and nothing should be omitted.
Maple extract can be substituted with vanilla extract to make a vanilla cookie instead.
Unsalted butter and salt can be substituted with salted butter instead.
Your butter and eggs need to be room temperature so that they easily incorporate with your other ingredients.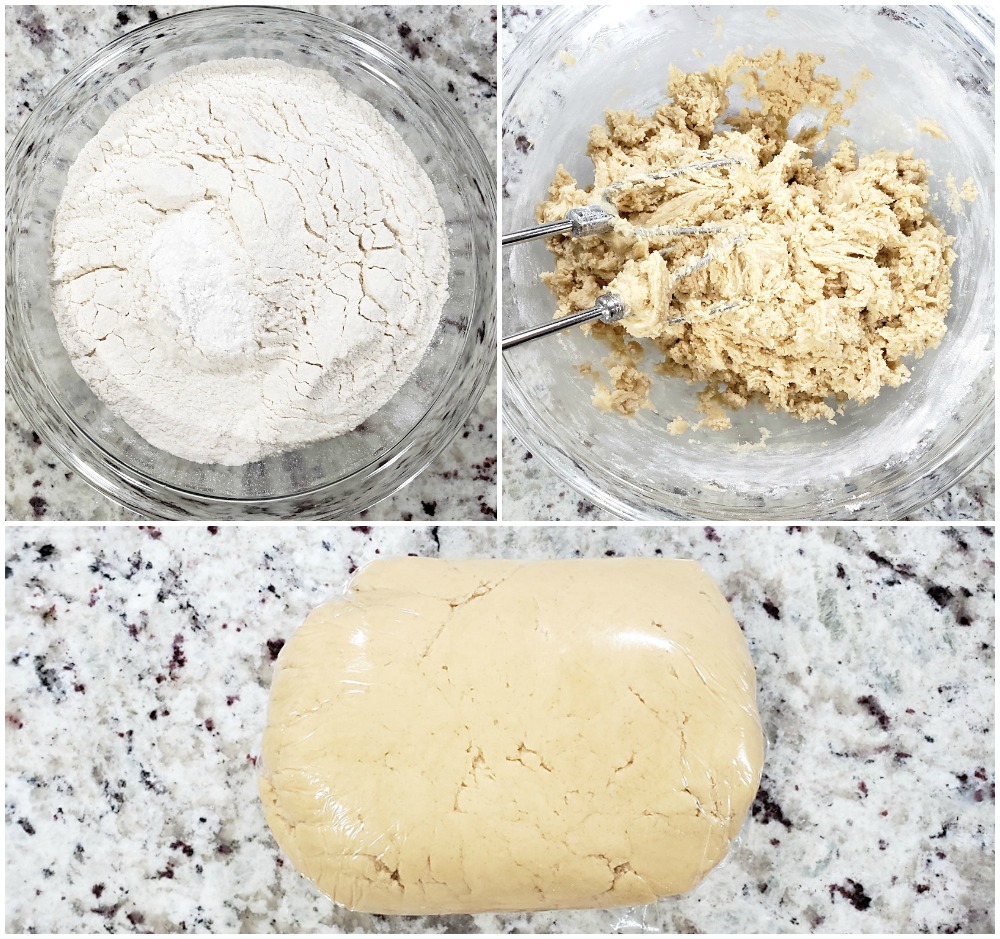 Chilling your dough
Once your dough is mixed, wrap it up and place it in the refrigerator for at least 1 hour. Your dough can rest as long as 24 hours if you'd like to make it the day before.
When you are ready to roll out the dough, try not to handle it too much with your hands - this warms up the dough faster.
Also, after you've cut out your cookies and placed them on the baking sheet - place the baking sheet in the refrigerator for 10 minutes before baking. This ensures those cookies are chilled and will keep their shape once they go in the oven.
If cookie dough is room temperature, it will spread more when baking. This goes for any cookie - not just cut out cookies.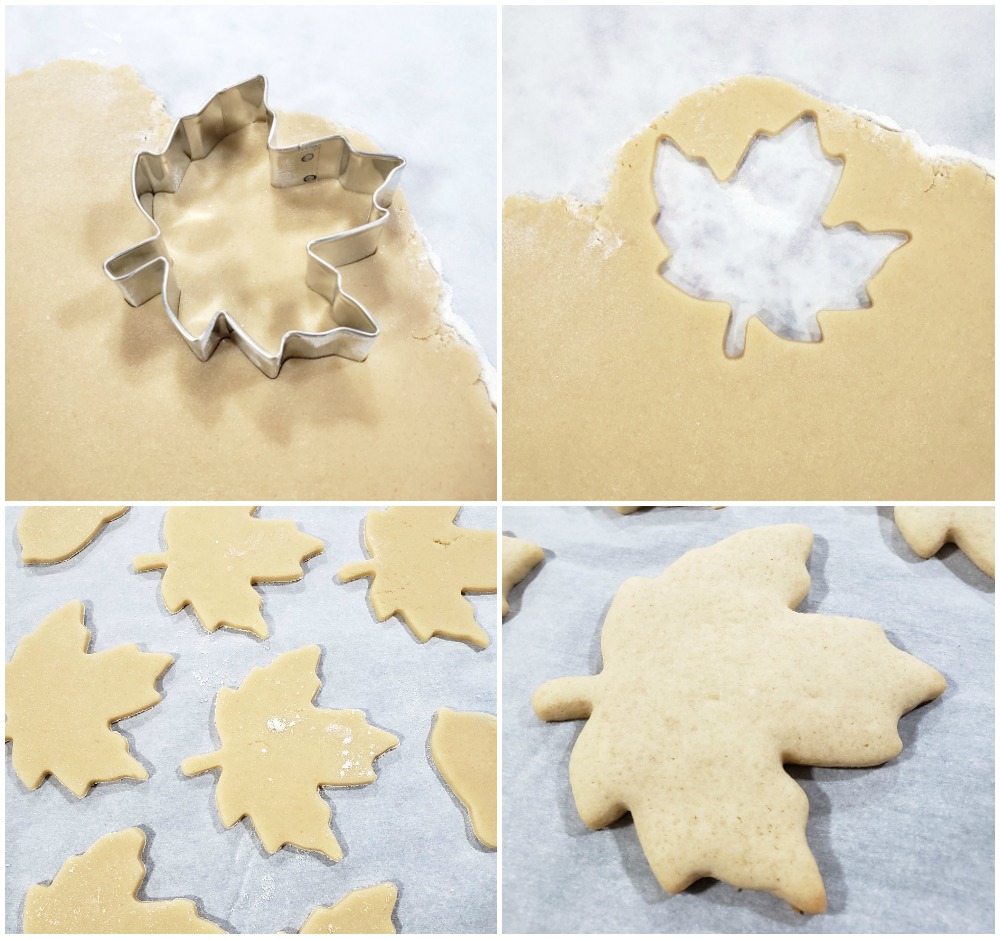 I used this leaf cookie cutter set which includes the maple leaf and acorn, if you're interested in making your cookies the same way.
Dust everything with flour
Don't be afraid to dust all of your tools with flour.
Think about everything that's touching the dough: the counter top or parchment paper, cookie cutters, rolling pin, and even your hands. A little flour will help the dough from sticking.
Keep a small bowl to the side with extra flour just in case.
Cut out cookie tips and tricks
Ever struggled to make cut out cookies work for you? These are my favorite tips for cut out cookie success.
Make sure you're using room temperature ingredients when specified, not melted or cold. Room temperature ingredients emulsify when mixed with the sugar, creating a creamy, even dough.
Do not substitute ingredients. Baking is an exact science and there is a reason for each ingredient listed. If you don't have the proper ingredients on hand, try searching for a recipe that does include your ingredients.
The most common mistake I see in baking is the improper measuring of flour. Too much flour will cause your dough to be dry, crumbly, and tough. The most accurate way to measure flour is with a kitchen scale. If you don't have a scale, spoon your flour into a measuring cup, then level off with a knife. When scooping directly from a bin with a measuring cup, this compacts the flour into the cup, adding up to 25% extra flour to your recipe.
Chilling your dough is an important step that shouldn't be skipped. Chilled dough spreads less in the oven, ensuring that your cut out cookies keep their shape.
Don't be afraid to dust everything with flour while you're rolling out your dough. Dust the counter top, your hands, your rolling pin, and your cookie cutters.
Do not place dough onto a hot baking sheet. This will cause your dough to spread.
Are your cookies still spreading in the oven? Once you've cut out your cookies and placed them on your baking sheet, refrigerate the entire baking sheet for 10 minutes before placing them in the oven. This will help them spread less.
Use parchment paper or a silicone baking mat instead of greasing your baking sheet. Added grease will cause your cookies to spread more.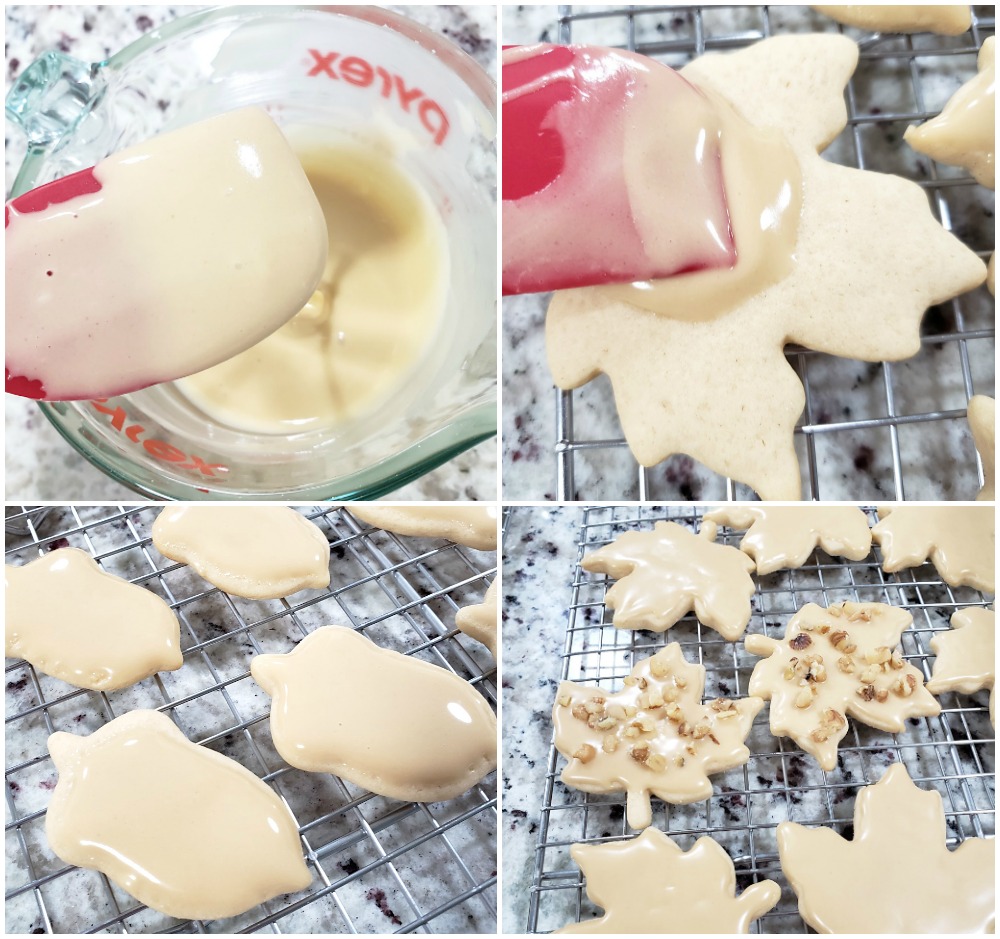 Frosting your cookies
Use a spoon, spatula, or knife to coat each cookie in a thin layer of maple glaze. I used a small spatula, but the back of a spoon or a butter knife would also work.
You can also hold the edges of your cookie, turn it upside down, and dunk the top of the cookie into your frosting. Be sure to allow excess glaze to drip off before turning it right side up to dry.
While your cookies are still wet, sprinkle on optional toppings like nuts or sprinkles.
Allow your cookies to dry for several hours at room temperature before storing. Once your cookies are completely dry, you should be able to stack them without cracking the glaze.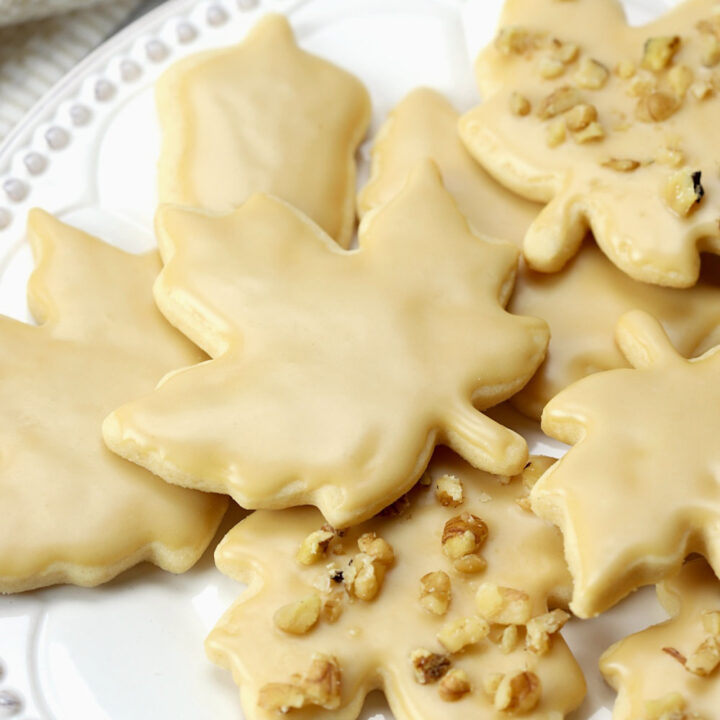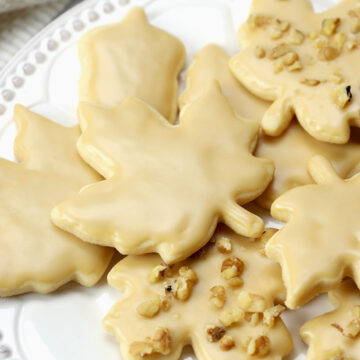 Print Recipe
Maple Glazed Cut Out Cookies
A lightly flavored maple cookie with maple frosting and walnuts.
Ingredients
Cutout Cookies
¾

cup

(

170

g

)

unsalted butter

,

room temperature

¾

cup

(

148

g

)

granulated sugar

2

large eggs

¼

teaspoon

maple extract

2 ¾

cups

(

330

g

)

all purpose flour

1

teaspoon

baking powder

½

teaspoon

salt
Maple Frosting
¾

cup

(

85

g

)

confectioner's sugar

¼

cup

(

28

g

)

real maple syrup

¼

cup

(

59.15

g

)

chopped walnuts

,

optional
Instructions
Cutout Cookies
In a large bowl with a hand mixer (or stand mixer), cream together butter and sugar. Add eggs and maple extract and beat until fluffy, about a minute.

In a separate bowl, sift (or whisk) together the flour, baking powder, and salt.

Add dry ingredients to butter mixture and mix until just combined. Shape dough into two round discs and wrap in wax paper. Refrigerate for 1 hour, or up to 24 hours (dough can be made a day ahead of time).

Preheat oven to 350 degrees Fahrenheit and line a baking sheet with parchment paper. Remove one disc of dough at a time from the refrigerator.

Dust counter top, rolling pin, and top of dough with flour. Roll dough out to ¼" thickness, dusting with additional flour as needed to prevent sticking. Using cookie cutters, cut into various shapes and place onto prepared baking sheet about 1 inch apart.

Bake cookies for 8-9 minutes or until cookies just begin to lightly brown around edges. Remove from oven and allow to cool for 5 minutes on baking sheet before transferring to a cooling rack to cool completely.
Maple Glaze.
In a bowl, combine confectioner's sugar and maple syrup, using a whisk if needed to remove clumps. Glaze should be smooth and shiny.

Using a small spatula, the back of a spoon, or a butter knife, gently coat each cookie with a thin layer of glaze.


Allow cookies to dry for several hours before stacking and/or storing.
Notes
Your cookies will keep for 5-7 days in a sealed container. To help keep cookies fresh, you can place a slice of bread in the container with the cookies. Replace the bread slice as needed.
Dough scraps can be reformed and rerolled once before additional refrigeration is needed. Warm dough will spread more in the oven and cookies may lose their shape. If your cookies are spreading in the oven - after cutting out your cookies, place entire baking sheet in the refrigerator for 10 minutes just before baking. This will help your cookies keep their shape.
I do not recommend greasing your baking sheet. Additional grease can cause cookies to spread more when baking.
Leftover dough and leftover baked cookies (that have been cooled completely) can be frozen in a tightly sealed freezer-safe container for up to 3 months.
Be sure to check out my 10 tips for baking cookies, based on reader comments and questions!
Nutrition Estimate
Serving:
0
g
|
Calories:
94
kcal
|
Carbohydrates:
14
g
|
Protein:
1
g
|
Fat:
4
g
|
Saturated Fat:
2
g
|
Cholesterol:
17
mg
|
Sodium:
33
mg
|
Potassium:
28
mg
|
Fiber:
1
g
|
Sugar:
7
g
|
Vitamin A:
118
IU
|
Calcium:
10
mg
|
Iron:
1
mg
More recipes