Soft Molasses Cookies are lightly spiced and chewy drop-style cookies rolled in sugar. Popular for the holidays, these soft cookies are filled with seasonal flavors like cinnamon, cloves, and ginger.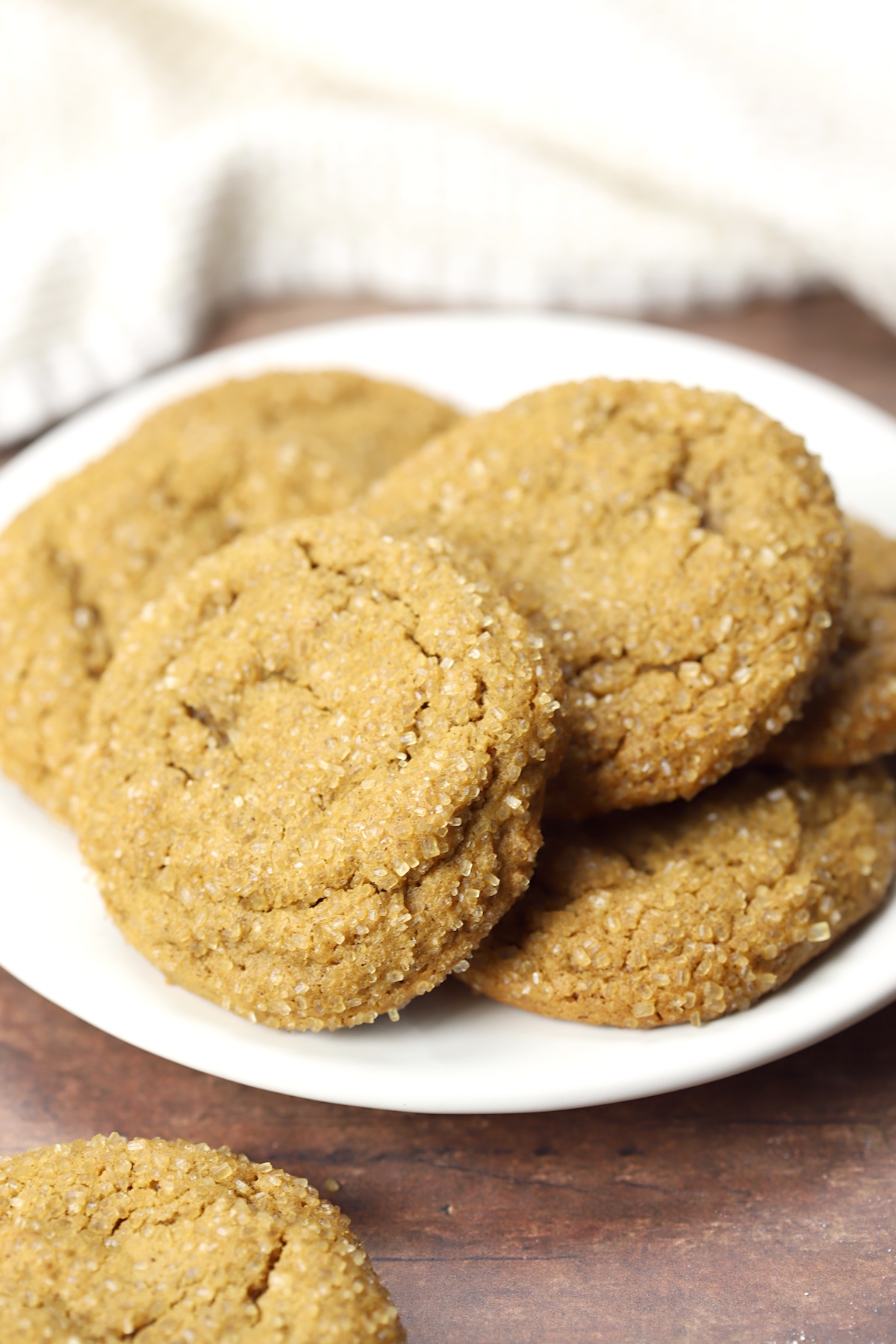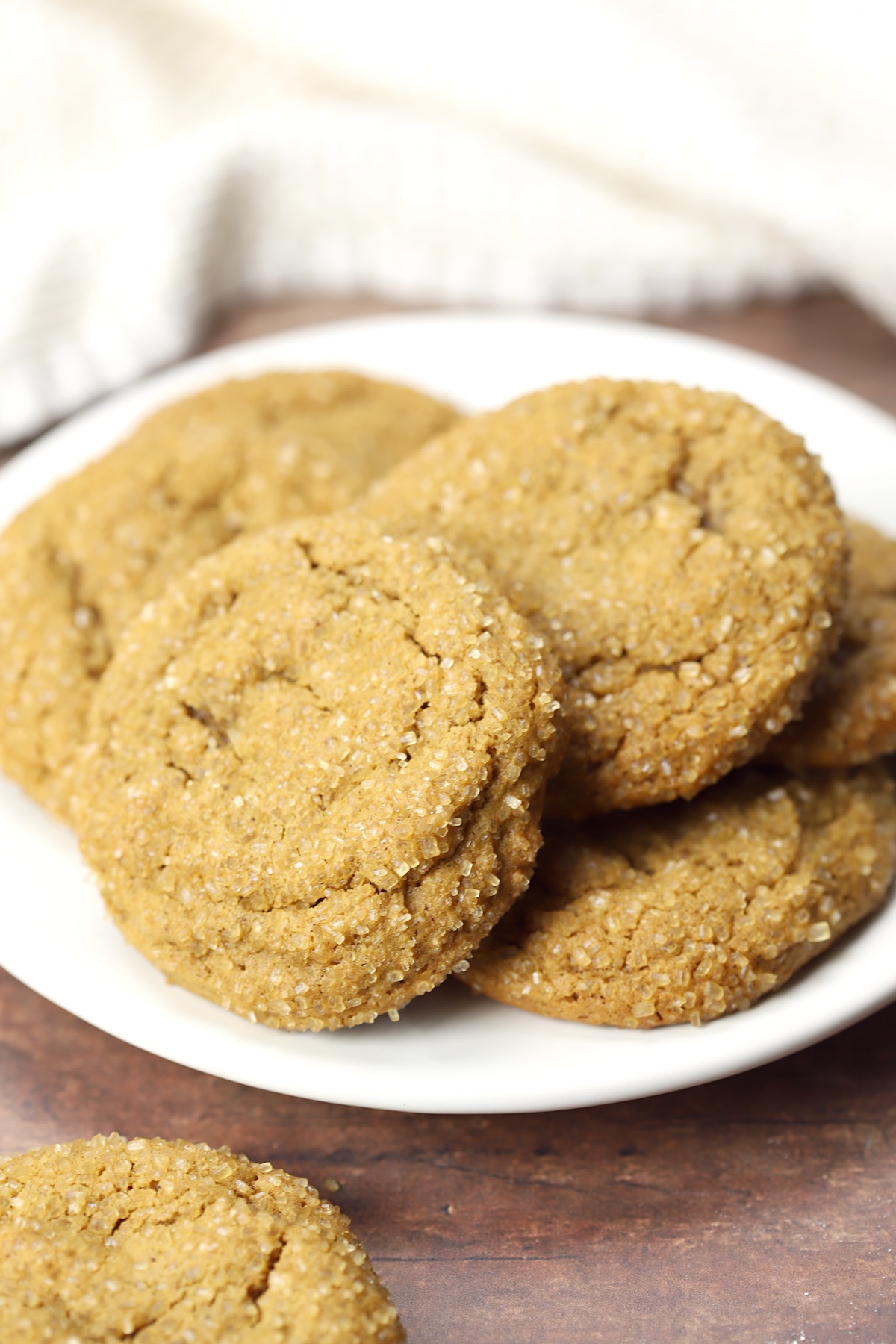 If you love the warm, seasonal flavors of fall, you are sure to enjoy soft molasses cookies. The addition of molasses makes these cookies incredibly chewy (and helps keep them moist for days!).
They're filled with flavorful spices like cinnamon, ginger and cloves, and rolled in turbinado sugar for a crunchy sugar crust.
If you're intimidated by holiday baking, no worries. These molasses cookies are a simple drop cookie. This means no cookie cutters, no rolling dough, and no fancy, hard to find ingredients.
Serve soft molasses cookies on your next holiday cookie tray for Thanksgiving or Christmas. They're a classic holiday cookie!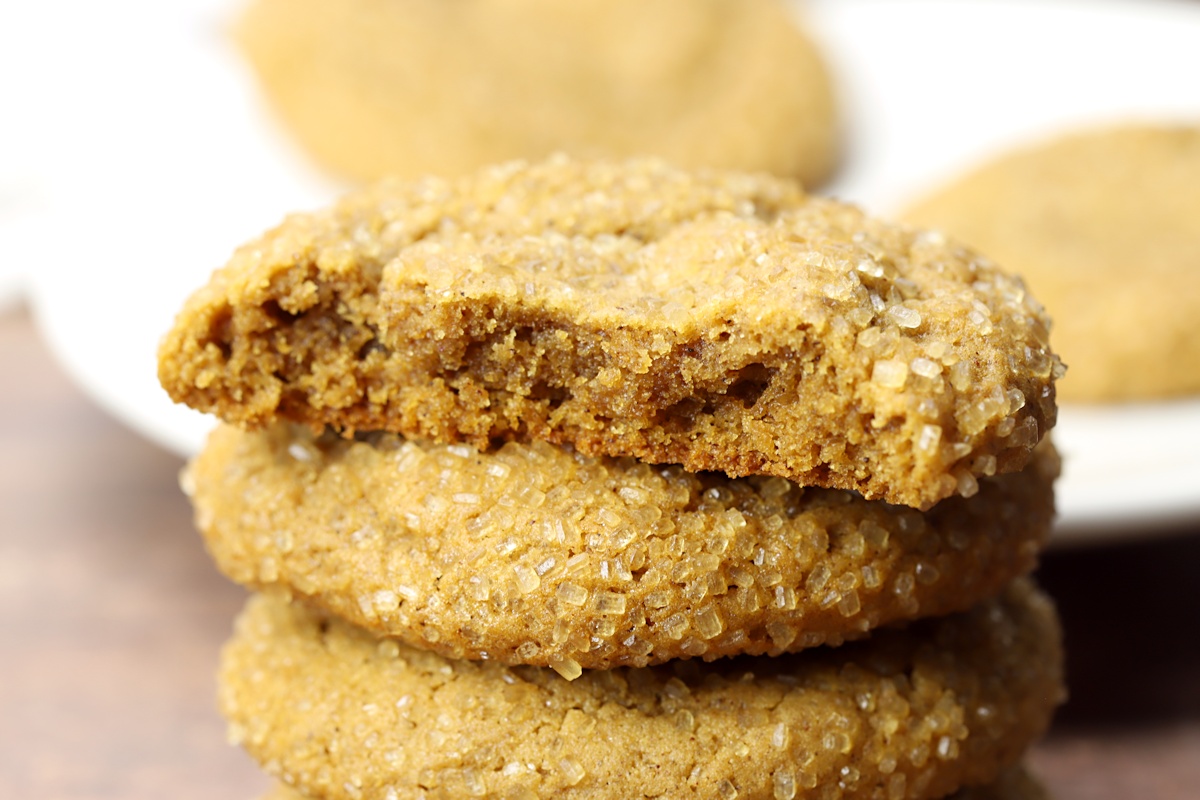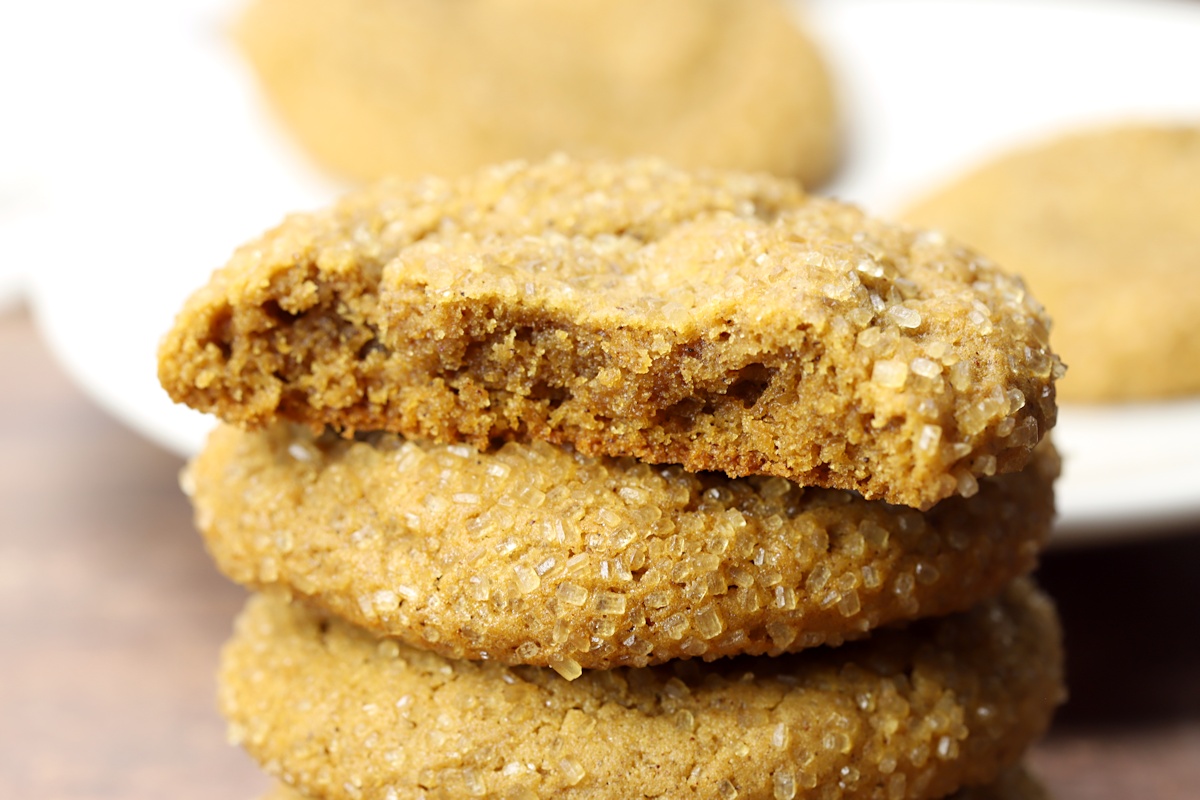 Molasses vs gingerbread vs gingersnap
You may be wondering what the difference is between molasses, gingersnap, and gingerbread cookies. They all contain very similar ingredients, like molasses, cinnamon, and ginger.
So, how do you tell them apart?
Ginger snaps are the crunchiest cookie - hence the name. They 'snap' when you break them in half. Ginger snaps also contain more ginger than a molasses cookie, and sometimes bits of candied ginger.
The same can be said for gingerbread cookies -they also contain more ginger than a molasses cookie. Gingerbread cookies, however, are softer and usually rolled out and cut into shapes, like gingerbread men.
Molasses cookies, however, contain less ginger than the other two cookies. They're also made with all brown sugar, which makes them softer and chewier than a regular cookie.
In the end, they all have similar flavor profiles, but different textures. If you're a fan of one, you'll probably like them all!
Ingredients and substitutions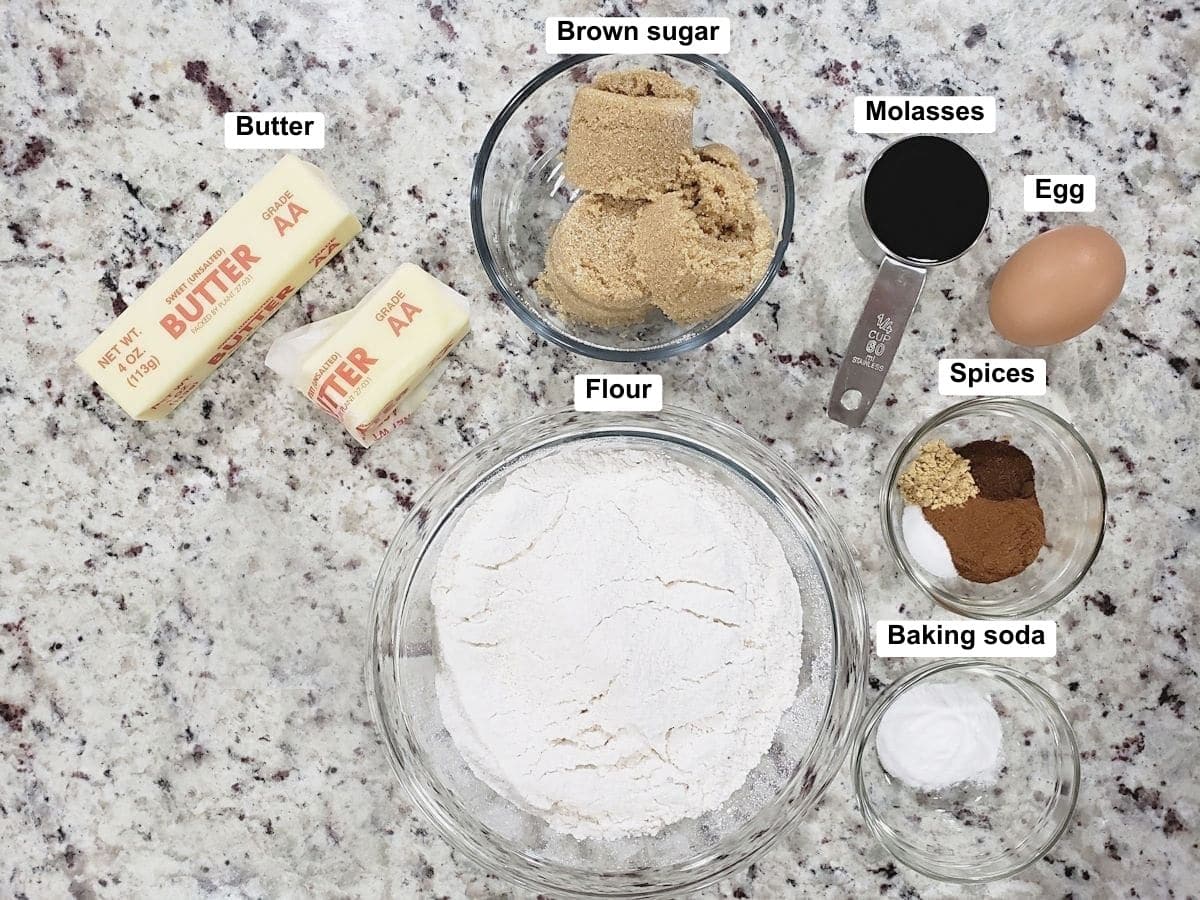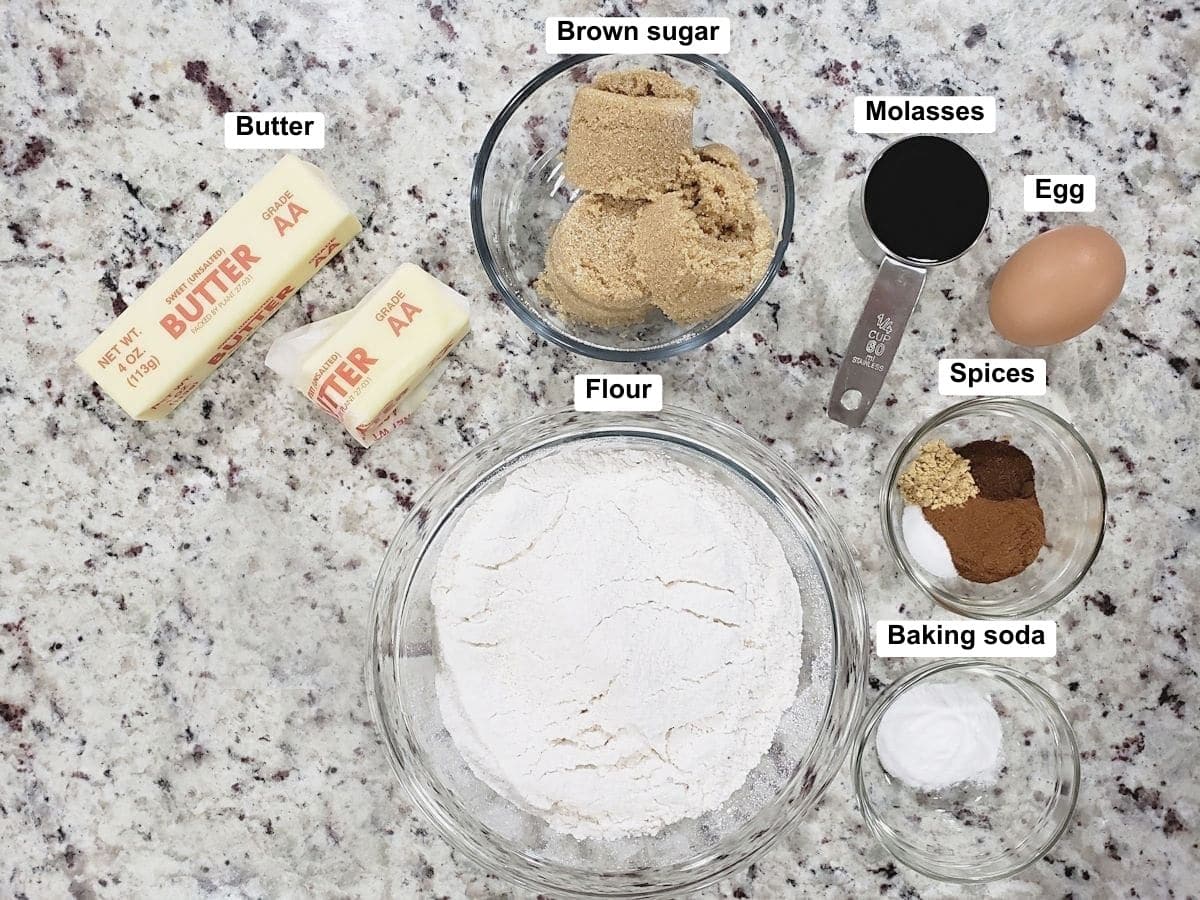 Since baking is an exact science, I do not offer many substitutions for my baking recipes. Each ingredient serves a purpose in the recipe, so I do not recommend omitting anything.
Unsalted butter and salt can be substituted with salted butter.
Brown sugar - I recommend using light brown sugar in this recipe. Dark brown sugar adds more molasses flavor and a darker color to your cookies, which will technically work in this recipe (if needed), but seems unnecessary since we're already adding molasses separately.
Egg - One large egg adds stability and moisture to your cookies. To bring an egg to room temperature quickly, place the egg (in the shell) in a cup and cover in hot tap water. Your egg will come to room temperature in minutes.
Molasses - I recommend Grandma's Original Molasses (a common brand found in grocery stores). It is often found near the maple syrup and honey, or in the baking aisle. Light or dark molasses will work in this recipe - dark molasses gives your cookies a stronger flavor.
All-purpose flour - I do not recommend substituting with any other types of flour you may have on hand. AP flour has the perfect amount of structure needed for these cookies.
Spices - Salt, cinnamon, cloves, and ginger all work together to add a well rounded flavor to your cookies.
Turbinado sugar (not shown) - Adds a crunchy texture to the outside of your cookies. Can be substituted with granulated sugar.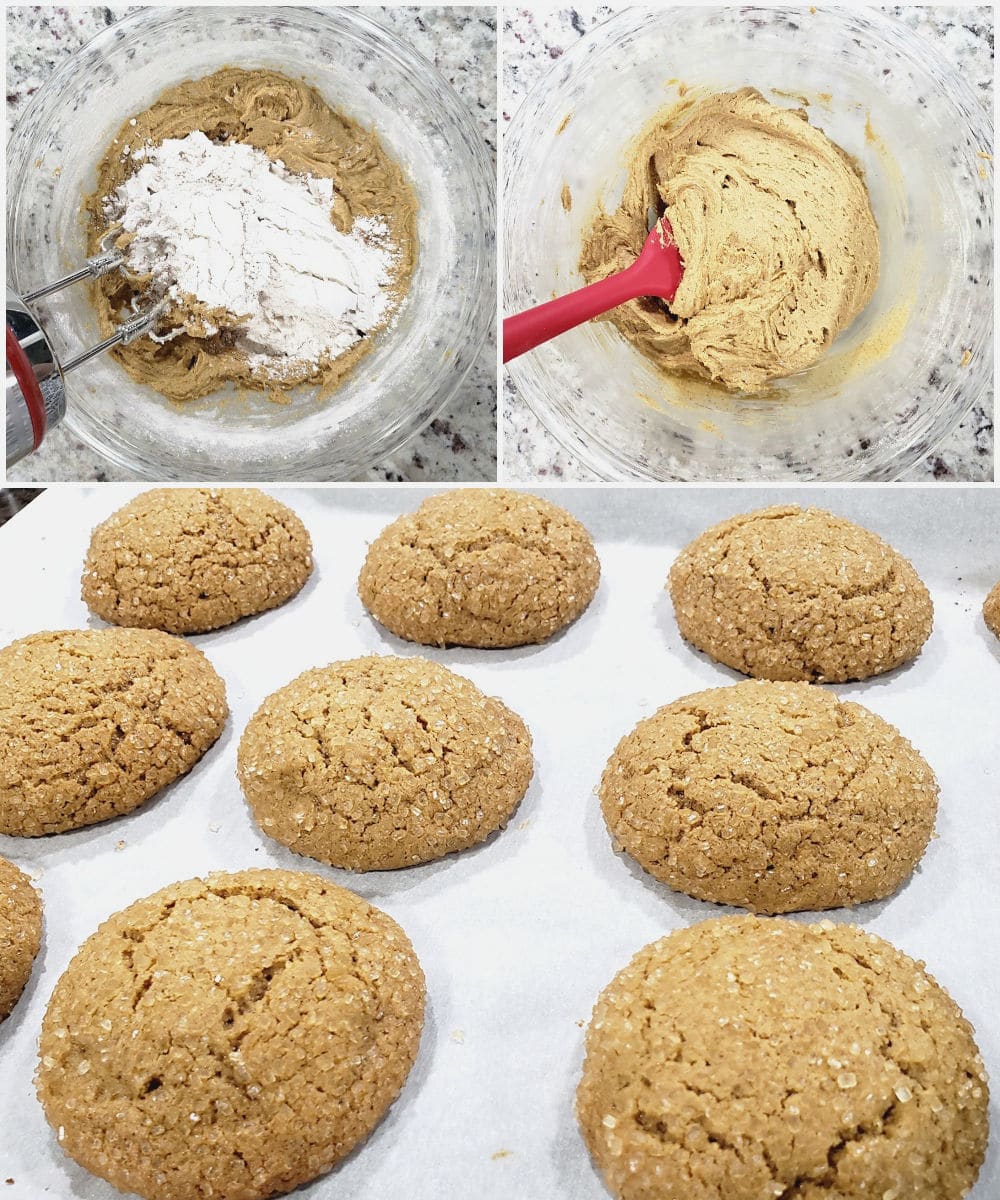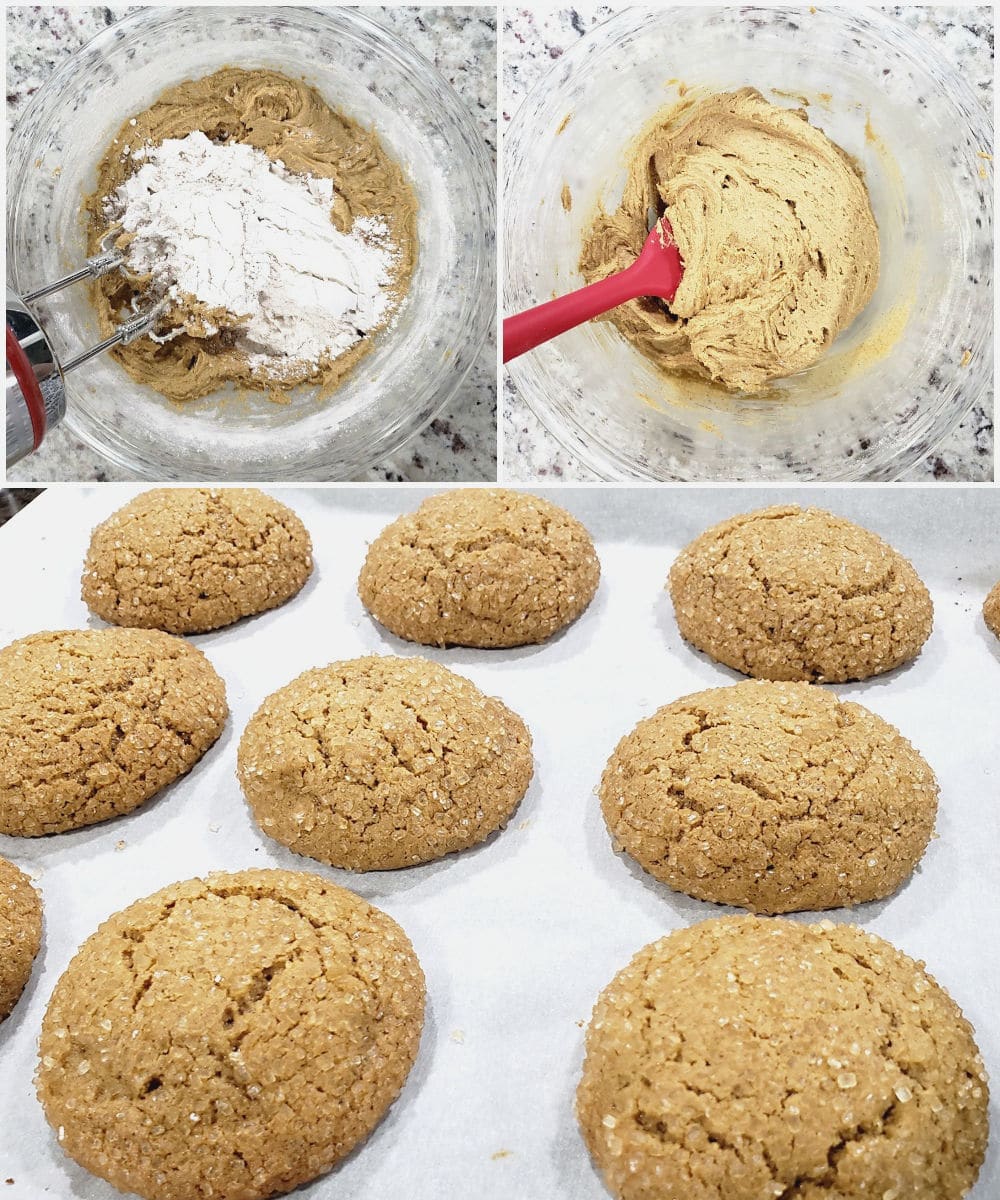 Cookie baking tips and tricks
Room temperature ingredients help your cookies have a consistent, creamy, and even dough. When beaten until light and fluffy, the sugar and butter form an emulsion, which traps air in the dough. This dough bakes up into a soft and fluffy cookie.
Properly measuring flour is an issue I see frequently. If you have issues with your cookies not spreading, or turning out extra thick and tall, you probably measured too much flour into your cookie dough.
To properly measure flour, use a spoon to add flour to your measuring cup, then level off with a knife. By scooping flour directly from a container with your measuring cup, you're compacting the dough into the cup. This can add up to 25% more flour to your dough.
Using parchment paper helps prevent your cookies from spreading too much while baking. A greased baking pan will guarantee your cookies spread more than they should, so I always suggest parchment paper (or a reusable baking mat) instead.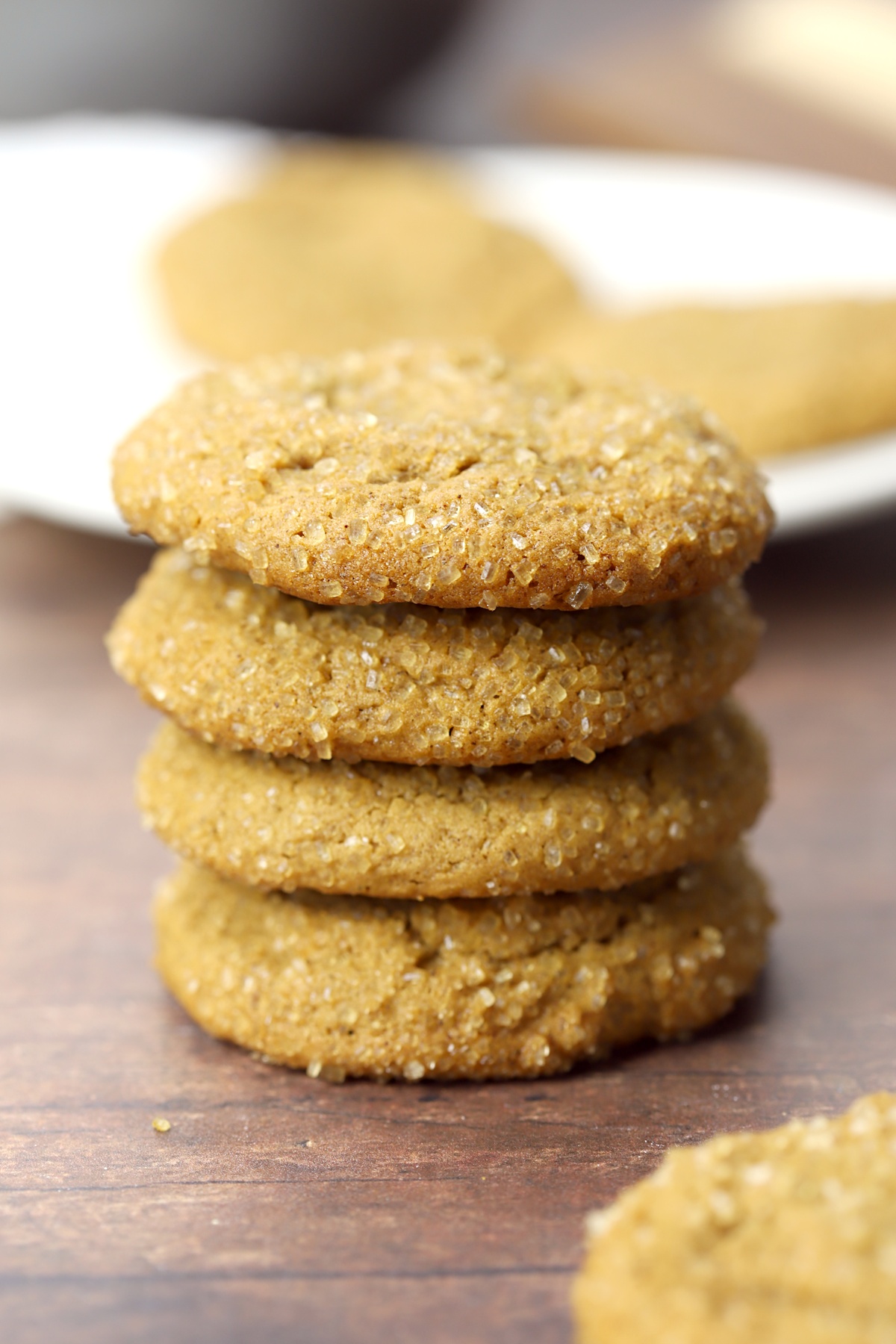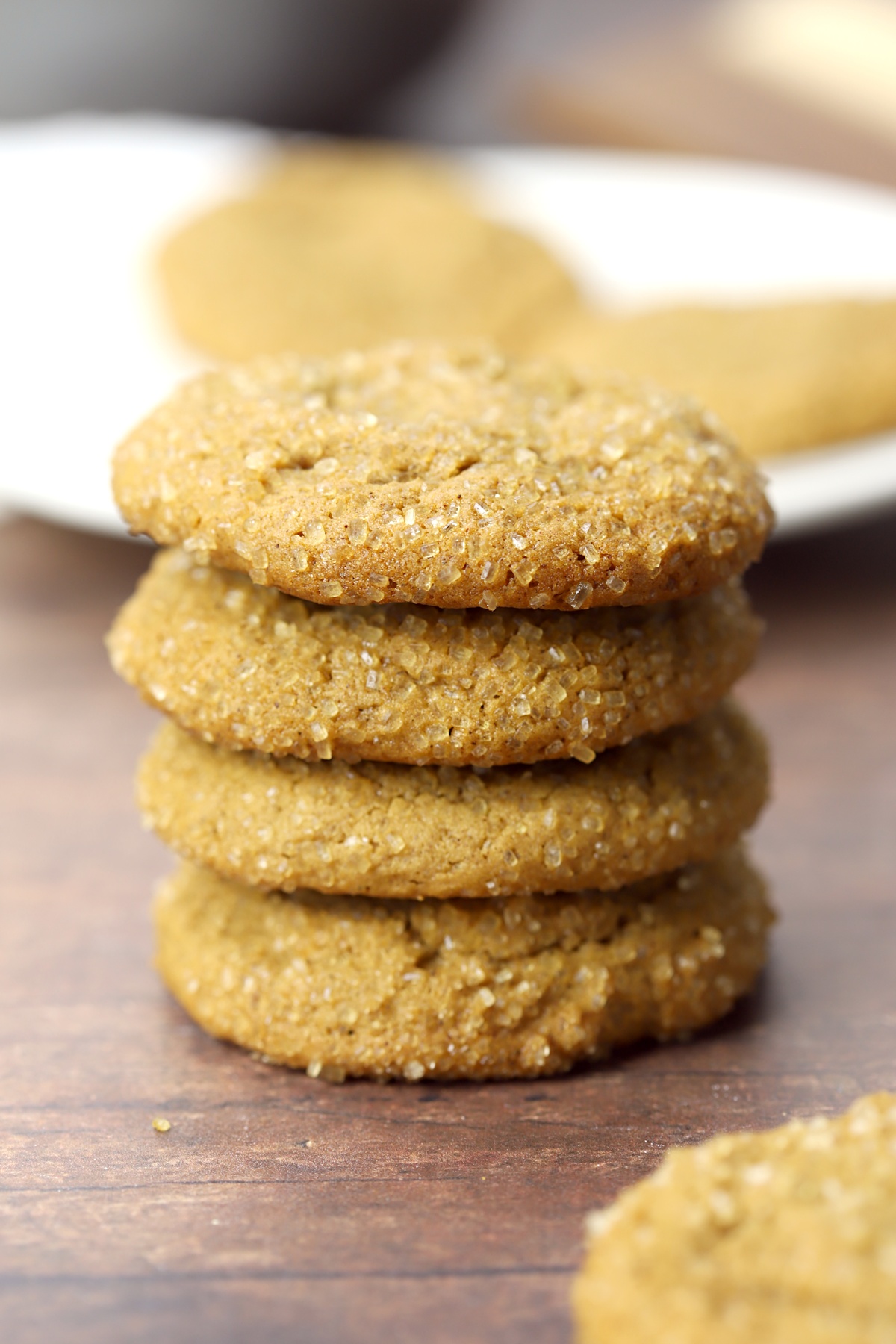 Storage and freezing
Homemade cookies will keep for 3 to 5 days in a sealed container at room temperature. Add a slice of fresh bread to your storage container - it will help keep your cookies moist for longer.
Cookie dough and baked cookies can be frozen in a tightly sealed container or freezer safe bag for 3 months or longer.
📖 Recipe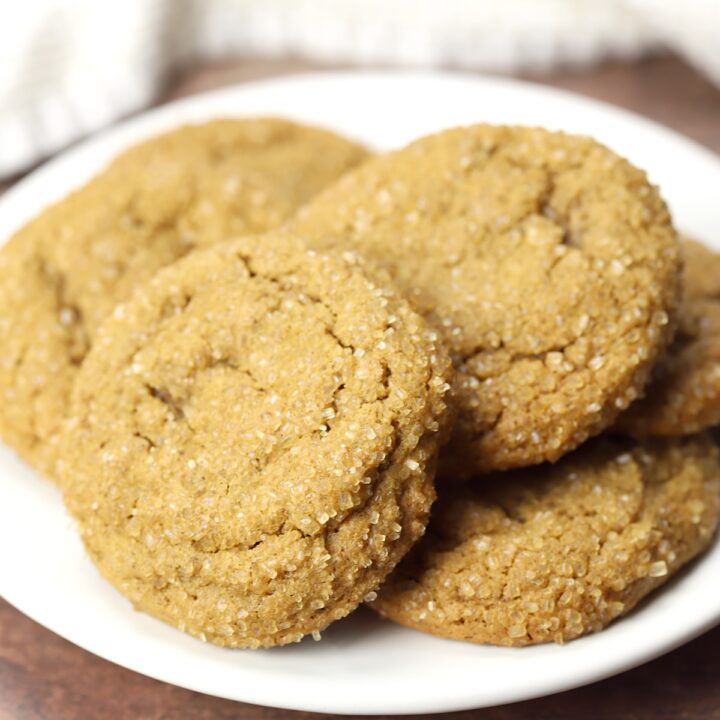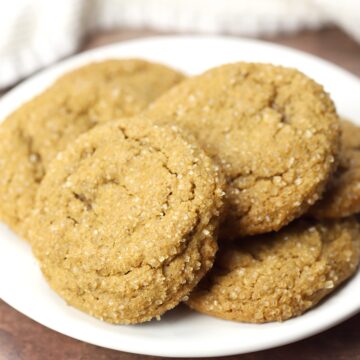 Print Recipe
Soft Molasses Cookies
Soft Molasses Cookies are lightly spiced and chewy drop-style cookies rolled in sugar. Popular for the holidays, these soft cookies are filled with seasonal flavors like cinnamon, cloves, and ginger.
Ingredients
¾

cup

(

170

g

)

unsalted butter

,

room temperature

¾

cup

(

165

g

)

brown sugar

1

large

egg

¼

cup

(

85

g

)

molasses

2 ½

cups

(

330

g

)

all purpose flour

1 ½

teaspoon

baking soda

½

teaspoon

salt

1 ½

teaspoons

ground cinnamon

½

teaspoon

ground cloves

½

teaspoon

ground ginger

½

cup

(

100

g

)

turbinado sugar

,

or granulated sugar, for rolling
Instructions
In a large bowl, add butter and brown sugar. Using a hand (or stand) mixer, cream together until fluffy, about a minute. Add eggs and molasses, mixing briefly to incorporate.

In a separate bowl, whisk (or sift) together the dry ingredients: flour, baking soda, salt, ground cinnamon, ground cloves, and ground ginger.

Gradually stir dry ingredients into butter mixture until just combined.

Cover bowl or wrap dough in wax paper. Chill for at least 1 hour (up to 24 hours) in the refrigerator. Refrigerating will help the flavors meld and also create a firmer dough to roll into balls.

Preheat oven to 350 degrees Fahrenheit. Line a baking sheet with parchment paper and set aside.

Remove dough from refrigerator and scoop dough using a medium cookie scoop or shape by hand into 1.5 inch balls.

Add turbinado sugar to a small bowl. Gently roll balls in sugar to coat. Place cookie dough balls 2 inches apart onto prepared baking sheet.

Bake for 10-11 minutes, or until tops begin to crack, then allow to cool for 5 minutes before removing to a wire rack to cool completely.
Notes
Cookies will keep for 5-7 days in a sealed container. To help keep cookies fresh, place a slice of bread in the container with the cookies. Replace the bread slice as needed.
Raw cookie dough will keep in the refrigerator for 3 days.
Cookie dough balls (and baked cookies) freeze well, up to 3 months in a sealed plastic container or freezer bag. Allow frozen balls to thaw for up to 10 minutes on the baking sheet before baking, or add 1-2 minutes to the baking time.
Be sure to check out my 10 tips for baking cookies, based on reader comments and questions!
Nutrition Estimate
Serving:
1
cookie
|
Calories:
120
kcal
|
Carbohydrates:
18
g
|
Protein:
1
g
|
Fat:
5
g
|
Saturated Fat:
3
g
|
Cholesterol:
18
mg
|
Sodium:
94
mg
|
Potassium:
61
mg
|
Fiber:
1
g
|
Sugar:
10
g
|
Vitamin A:
143
IU
|
Calcium:
15
mg
|
Iron:
1
mg
More recipes