A classic German cookie, Zimsterne, or cinnamon stars, are a must for your holiday cookie trays. Similar to a macaroon, these chewy cut out cookies are made with almonds, egg whites, sugar, and cinnamon. Plus, they're gluten and dairy free.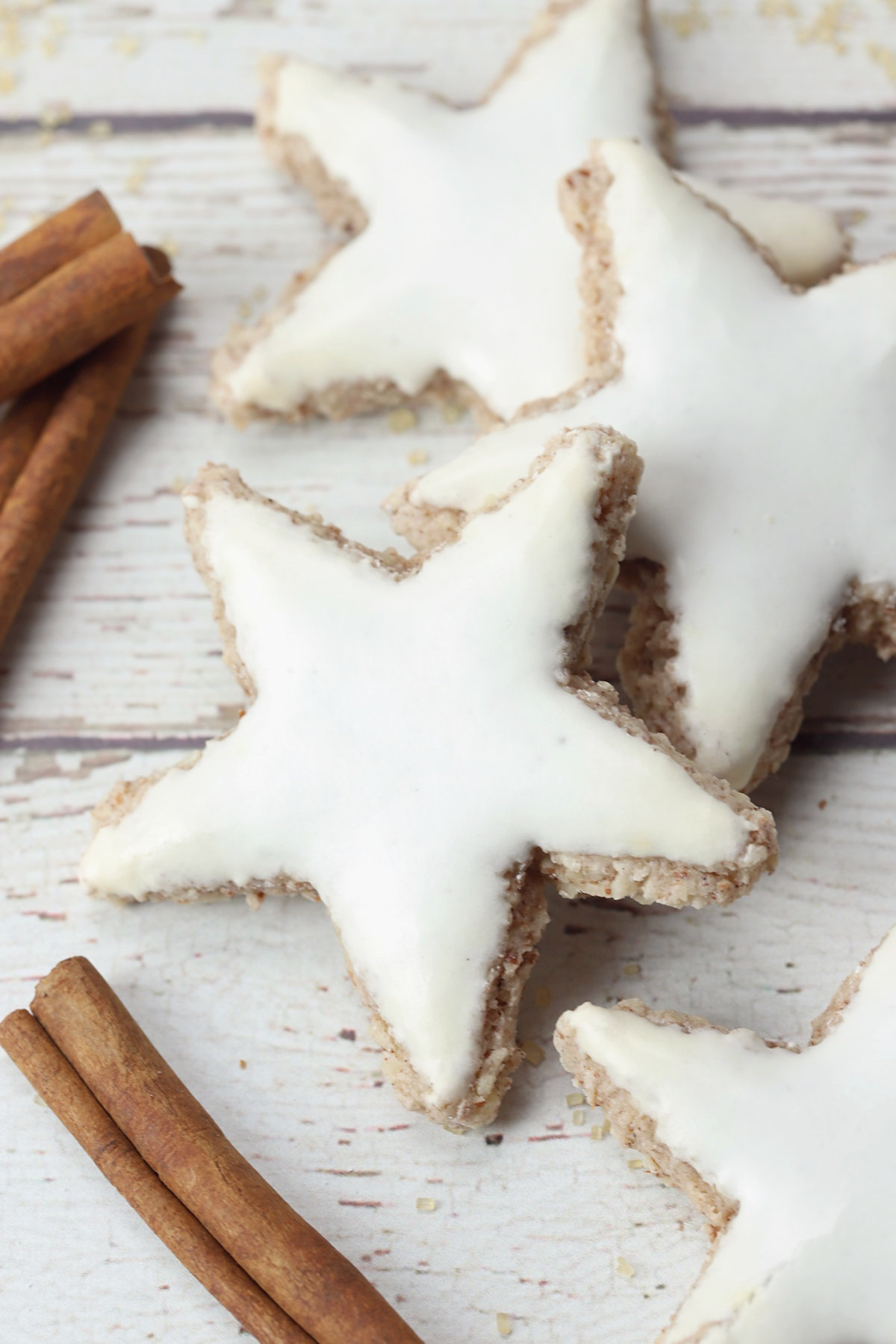 Zimtsterne cookies are a classic holiday cookie in Germany. Similar to a macaroon, these cookies are made mostly with almonds, along with cinnamon and a meringue. They have a chewy texture with a crisp meringue topping.
Zimt = cinnamon
Sterne = stars
Zimtsterne translates in English to "cinnamon stars". They're commonly found in Germany on holiday cookie trays, whether homemade or bought in stores.
Also, these cookies are naturally gluten free and dairy free. If you have guests with gluten or dairy intolerance, this is a fantastic cookie to add to your holiday tray.
While cutout cookies do take a bit of practice, this dough is not difficult to work with. It doesn't need refrigerating, and won't spread in the oven like traditional cutout cookie dough.
Vanilla sugar
One ingredient in this recipe may look unfamiliar to you. Vanillezucker, also known as vanilla sugar.
Vanille = vanilla
Zucker = sugar
Vanilla sugar is a fantastic ingredient when you want to add vanilla flavor to a recipe without adding extra moisture, and is common in German baking.
However, vanilla sugar is a rarity in American stores. I found and purchased mine on Amazon - I tried this German vanilla sugar. One packet equals 1 ½ teaspoons, which is the amount this recipe calls for.
If you'd like to try your hand at making your own vanilla sugar, check out this fantastic post by The Kitchen Maus: Let's Make Vanilla Sugar.
I've also included an easy recipe to make your own in the recipe card below.
Ingredients and substitutions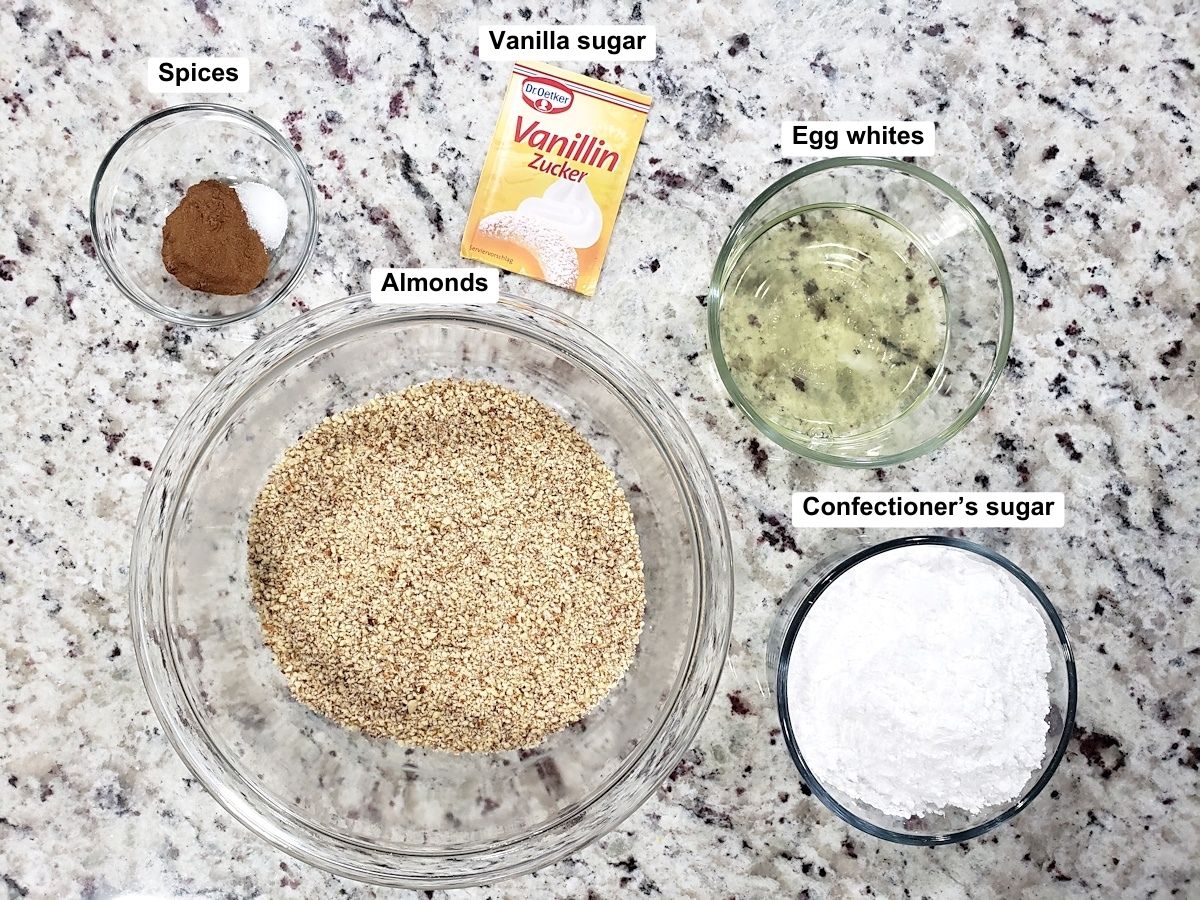 Egg whites - For this recipe, you'll need two large (US) egg whites or two medium (Europe) egg whites. Standard egg sizes vary depending on location - a medium egg in Europe is about the same size as a large egg in the US. Canadian egg sizes are about the same as US egg sizes. For more information: Wikipedia: Chicken egg sizes
Sugar - Confectioner's sugar is recommended because it blends seamlessly into the egg whites.
Vanilla sugar - Adds depth of flavor to your zimtsterne.
Ground almonds - Ground almonds can be substituted with your favorite nut, like ground hazelnuts.
Cinnamon - Adds a hint of warmth to your cookies.
Salt - Enhances the flavor of your cookies without making them "salty".
Ground almonds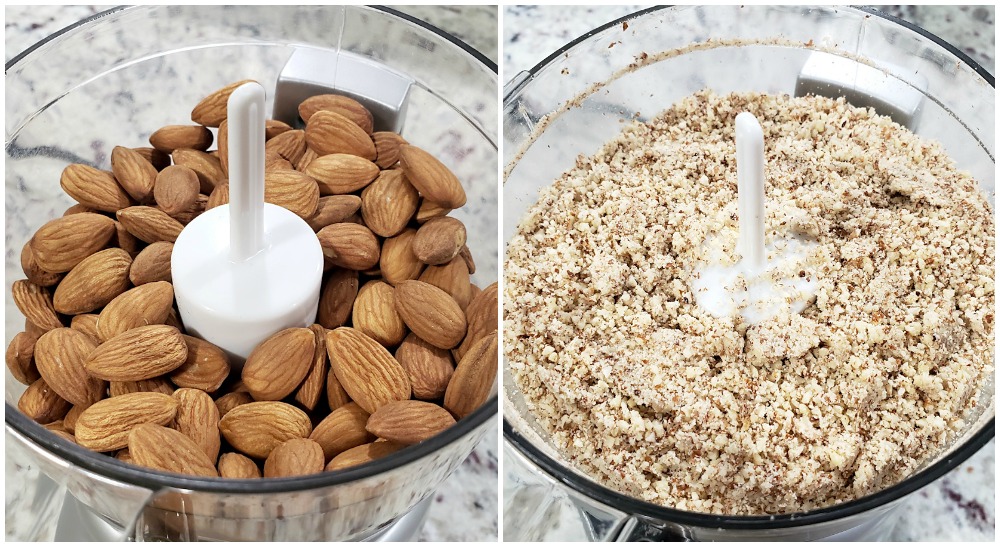 If you don't have finely ground almonds, you can make them in just a few seconds from whole, raw almonds. Simply pulse in a food processor until desired texture is achieved.
You're looking for a coarse consistency somewhere between a meal and a flour.
Making your meringue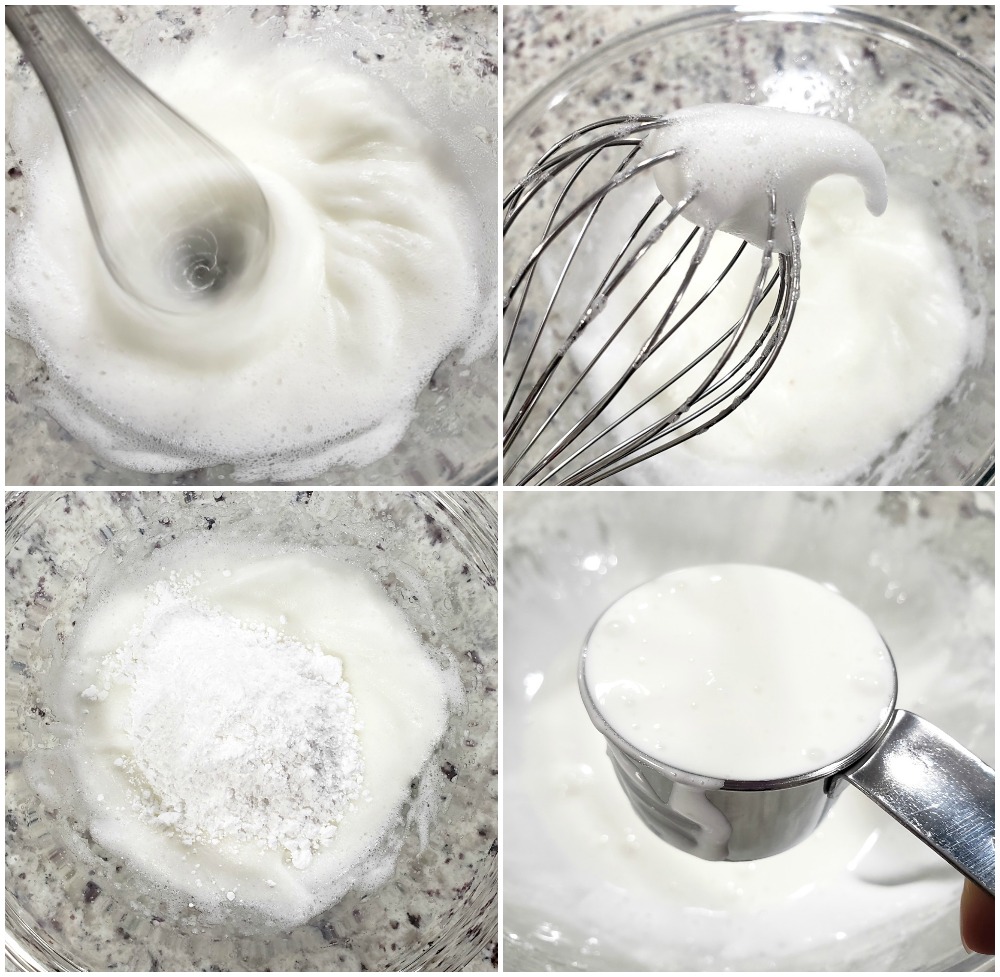 First, you'll whip your egg whites until soft peaks are achieved. Soft peaks will droop over at the tip when your whisk is pulled out of the meringue.
This should take about 1 to 2 minutes. Then, add your confectioner's sugar and mix until smooth and glossy.
The meringue serves two purposes in this recipe. First, it's used to hold together the ground almonds to form a cookie dough. Plus, you'll frost your cookies with it in a later step.
Rolling out your dough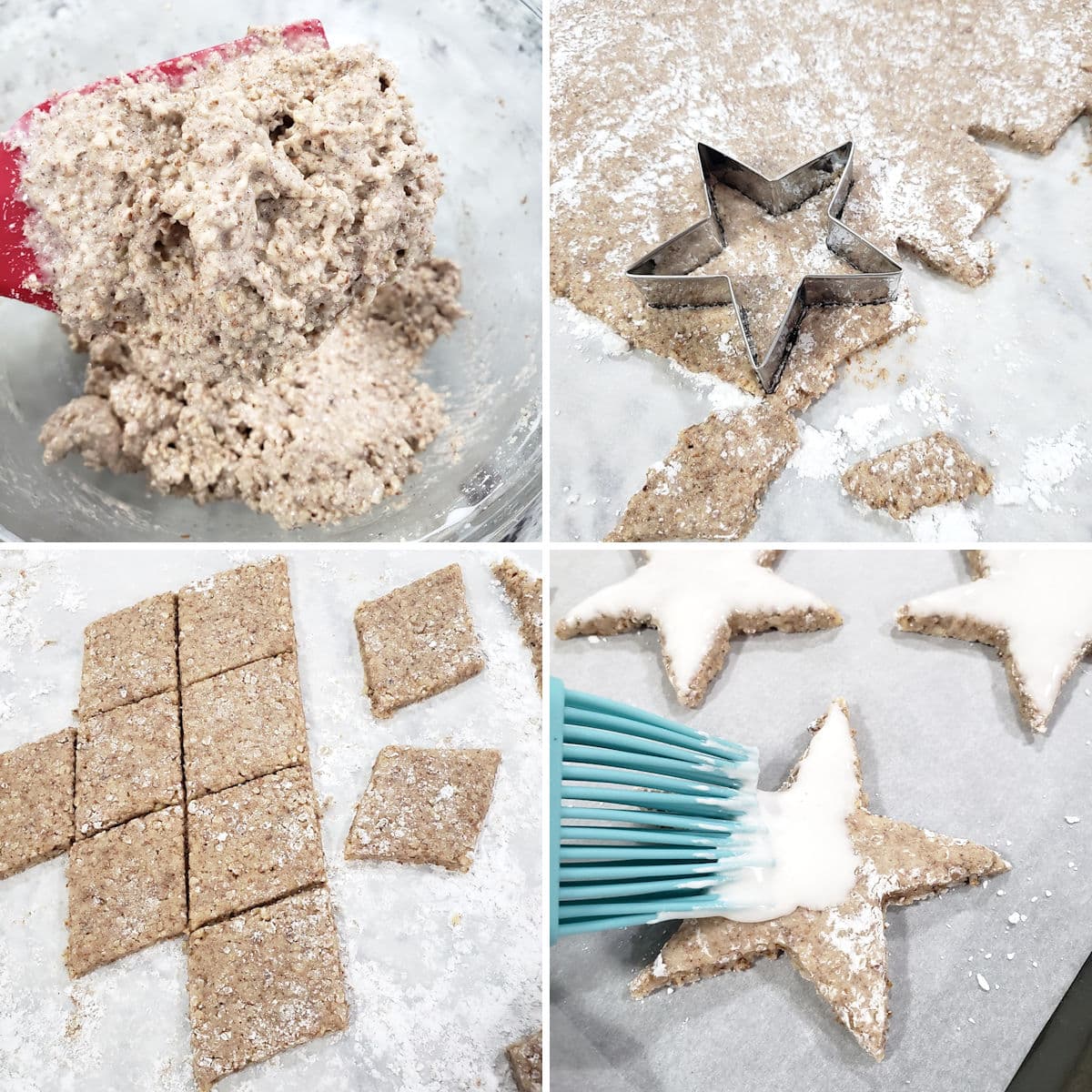 Once your dough is mixed, it may feel too sticky to handle or roll out onto a surface. If so, add a bit more ground almonds and confectioner's sugar until the dough is easier to work with.
Dust your surface and tools with confectioner's sugar before rolling out your dough to prevent sticking.
If the dough is sticking to your cookie cutter, dust it in confectioner's sugar after each cut, or dip it in water.
If you're struggling with the star cookie cutter, try making diamond shape cookies instead. Use any sharp knife to cut crisscross lines into your dough to make diamond shapes. Quicker and easier than traditional cookie cutters!
This dough can easily be mixed and re-rolled multiple times until you've used it all up. Since there is no flour in this recipe, you dough won't get tough (from overworking the gluten) the more you re-roll it.
Last, you'll grab your reserved meringue and frost the tops of your cookies. I used a pastry brush, but you can also use a spoon or knife.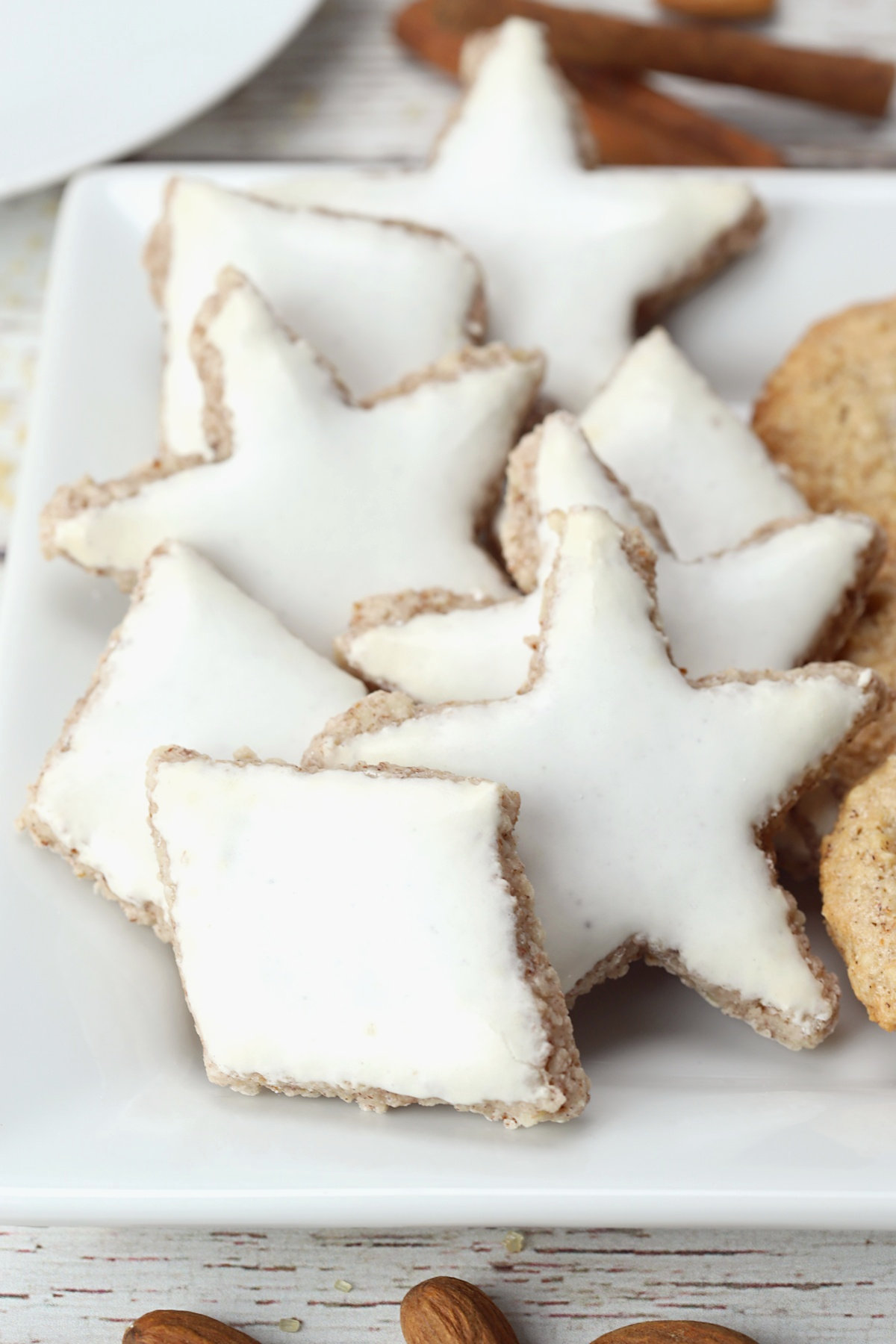 Storing zimtsterne cookies
Zimtsterne keep surprisingly well, up to 10-14 days in a sealed container.
The most delicate part of the cookie is the meringue topping, which can crack if too much pressure is applied. Take extra care if packaging as a gift.
Recommended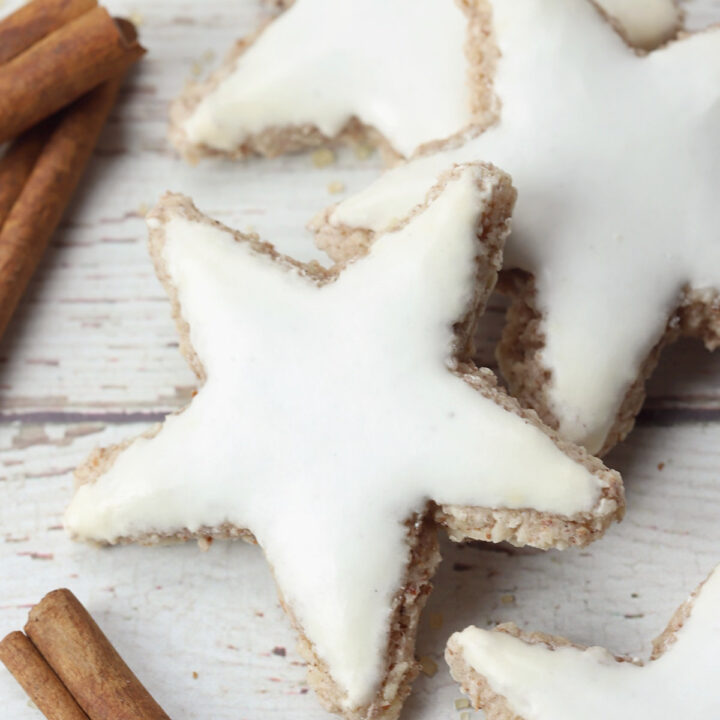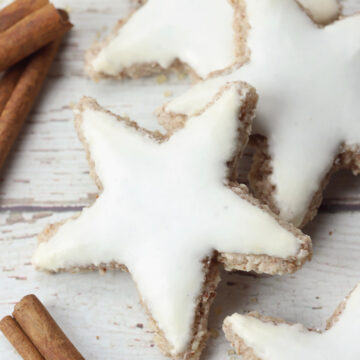 Print Recipe
Zimtsterne - German Cinnamon Star Cookies
A classic German cookie, Zimsterne, or cinnamon stars, are a must for your holiday cookie trays. Similar to a macaroon, these cut out cookies are made with almonds, egg whites, sugar, and cinnamon. Plus, they're gluten and dairy free.
Ingredients
2

large

egg whites (US)

or 2 medium egg whites in Europe*

2

cups

confectioner's sugar

2

cups

finely ground almonds

1 ½

teaspoons

cinnamon

1 ½

teaspoons

vanilla sugar

**optional, or see notes below

⅛

teaspoon

salt
Instructions
Preheat oven to 300 degrees. Line a baking sheet with parchment paper and set aside.

In a large bowl, beat egg whites until soft peaks form (about 1-2 minutes). Add confectioner's sugar and beat until fully incorporated and glossy (about 2 minutes).

Reserve ⅓ cup of the egg white mixture (meringue) and set aside. This will be used to frost your cookies in a later step.

Add ground almonds, cinnamon, vanilla sugar, and salt to the meringue. Gently fold to incorporate ingredients. Mixture will be sticky. If it's too sticky to work with, add more ground nuts and confectioner's sugar.

Lay out a sheet of parchment paper (or use a clean surface) and dust with confectioner's sugar. Roll out dough to about ¼ inch thickness. If dough is sticky or difficult to roll, dust rolling pin and top of dough with more confectioner's sugar.

Cut with a star cookie cutter, or slice into diamond shapes with a knife. If cookie cutter is sticking, dip in water before cutting dough. Excess dough can be rerolled multiple times.

Transfer cookies to a parchment lined baking sheet, 2 inches apart, then brush the tops with the reserved meringue frosting.

Bake for 11-13 minutes, or until the bottoms are lightly browned and the meringue topping is set and lightly browned.

Transfer to a cooling rack and allow to cool completely before storing.
Notes
*Standard egg sizes vary between the US and Europe. In the US, large eggs are about the same size as a European medium egg.
**If you do not have vanilla sugar and do not want to make your own, it can simply be omitted from this recipe.
Vanilla sugar can be purchased on Amazon, or you can make your own using vanilla extract.
How to make vanilla sugar: In a food processor, combine ¼ cup of granulated sugar with ½ teaspoon of vanilla extract. Spread it out to dry. Once dried, the sugar will be clumpy. Transfer back to the food processor and pulse until you have a sugar consistency again.
One packet of vanillezucker/vanillinzucker contains about 1 ½ teaspoons of vanilla sugar. To make 24 cookies with this recipe, you will need 1 packet of vanilla sugar.
Be sure to check out my 10 tips for baking cookies, based on reader comments and questions!
Nutrition Estimate
Calories:
94
kcal
|
Carbohydrates:
12
g
|
Protein:
2
g
|
Fat:
5
g
|
Saturated Fat:
1
g
|
Sodium:
17
mg
|
Potassium:
4
mg
|
Fiber:
1
g
|
Sugar:
10
g
|
Calcium:
21
mg
|
Iron:
1
mg