Lemon Chia Seed Mini Muffins are bite-sized and made from scratch, filled with fresh lemon zest and chia seeds. These tiny muffins are perfect for snacking or a breakfast on the go.
Lemon chia seed mini muffins are the perfect homemade snack. They're ready in less than 30 minutes and made entirely from scratch.
I like to use fresh lemon zest for a light, fresh citrus flavor. Chia seeds add crunch, plus a boost of fiber, antioxidants, and omega-3 fatty acids.
Love mini muffins? I also have a recipe for Chocolate Chip Mini Muffins - it's my favorite for snacking and keeping my sweet tooth at bay!
Choosing a muffin pan
This recipe will make 24 mini muffins, or about 8 standard sized muffins. For mini muffins, you'll want to use a mini muffin or cupcake pan like one of these:
In the photos below, I used an old set of mini muffin pans - nothing fancy! While they aren't nonstick, a nice layer of butter before adding my batter ensured they released easily from the pan.
Whether your pan is nonstick or not, I recommend giving the pan a light layer of butter or non-stick spray to ensure easy release from the pan. Or, you're welcome to use cupcake liners for your muffins if you prefer.
Ingredients and substitutions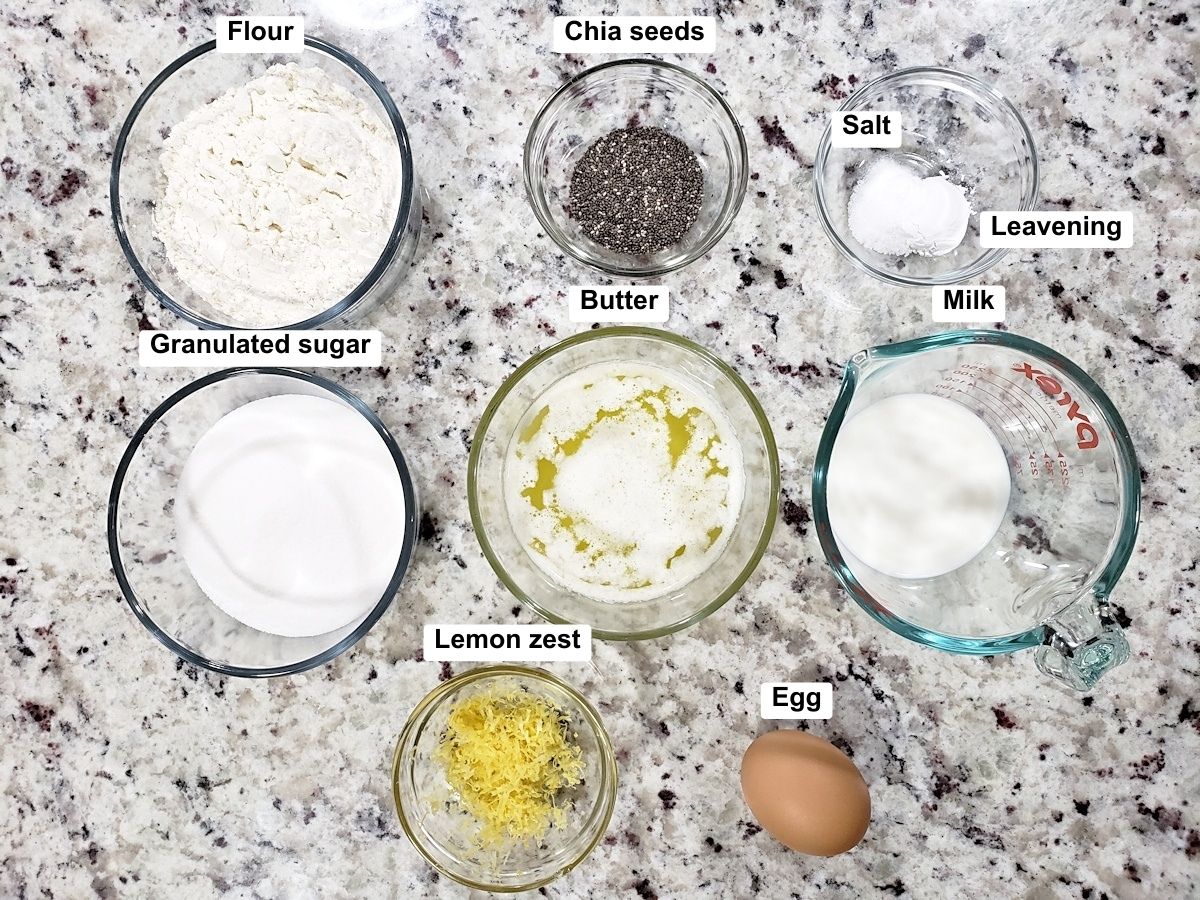 All-purpose flour - Adds structure and balances with the wet ingredients in the recipe. I have only tested this recipe with all-purpose flour, so I can't say for sure how other flours would turn out. Instead of potentially wasting ingredients (because most flours cannot be substituted at a 1:1 ratio), I highly recommend searching for a recipe that includes the ingredients you'd like to use.
Chia seeds - Can be substituted with poppy seeds or omitted entirely to make plain lemon muffins.
Leavening - You'll need both baking powder and baking soda for the proper lift.
Salt - Enhances the flavor of your muffins without making them "salty".
Granulated sugar - Adds a bit of sweetness to your muffins.
Egg - Adds structure and moisture to your muffins.
Milk - Adds moisture to your muffins. I used whole milk, but 1% or skim milk would also work. Note that lower fat milks will make your muffins slightly less moist.
Unsalted butter - Adds moisture and flavor to your muffins. If using salted butter, cut the listed salt in half.
Lemon zest - Adds bright lemon flavor to your muffins. Why use the lemon zest instead of the lemon juice? Despite popular belief, the most concentrated flavor from a lemon is in the zest.
Can I use poppy seeds?
Yes, chia seeds can be substituted with poppy seeds at a 1:1 ratio to make lemon poppy seed muffins if desired.
Mixing your batter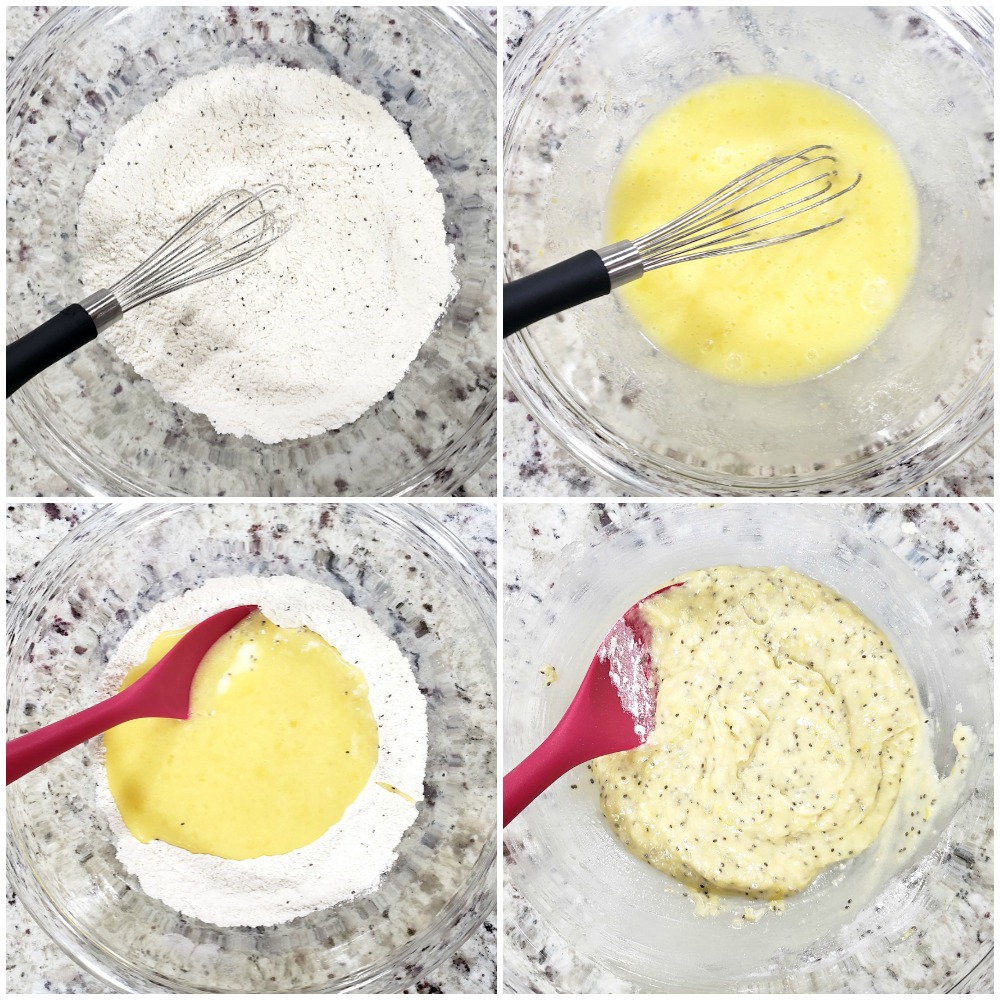 To make muffins, first you'll mix your dry ingredients and wet ingredients in separate bowls, then combine them together. There's no need to use a hand mixer or stand mixer for muffin batter - all you need is a spoon.
Stop mixing once your ingredients are just incorporated. Over-mixing muffin batter can overwork the gluten and create tough muffins.
Removing muffins from the pan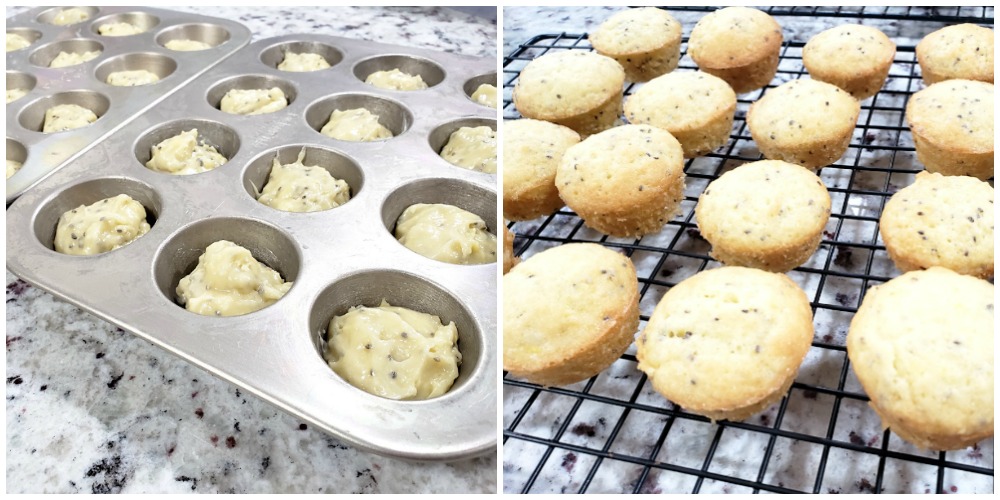 After baking, allow your muffins to cool for several minutes in the pan. They begin to pull away from the pan as they cool, making them easier to remove.
If needed, use a butter knife to gently work around each muffin to loosen it from the pan.
How to prevent dry muffins
Ovens can run hot or cold. If your oven runs hot, your baked goods may be done a few minutes before what is written in the recipe. If you're not sure how your oven runs, try checking your muffins 2 minutes earlier than the time written in the recipe card.
Do not substitute ingredients unless it's something that I recommend above (in the "ingredients and substitutions section). Eggs, butter, milk, and sugar all help make and keep baked goods moist. Substituting ingredients or reducing quantities can make your muffins dry.
Using a sugar substitute can make your muffins dry. Not only does sugar sweeten your muffins, but it also attracts and holds on to moisture. Most sugar substitutes do not have these moisture-retaining qualities.
Adding too much flour can make muffins dry (this is the most common issue I see in baking!). Scooping flour directly from a bin (especially one that's been sitting for a while and may have settled) can compact the flour and add up to 25% extra flour to your recipe. For best accuracy, use a kitchen scale to measure your flour.
Do not slice into hot baked goods (or unwrap them, if using wrappers) straight from the oven. This releases steam (aka moisture) from your baked goods, making them dry when they cool.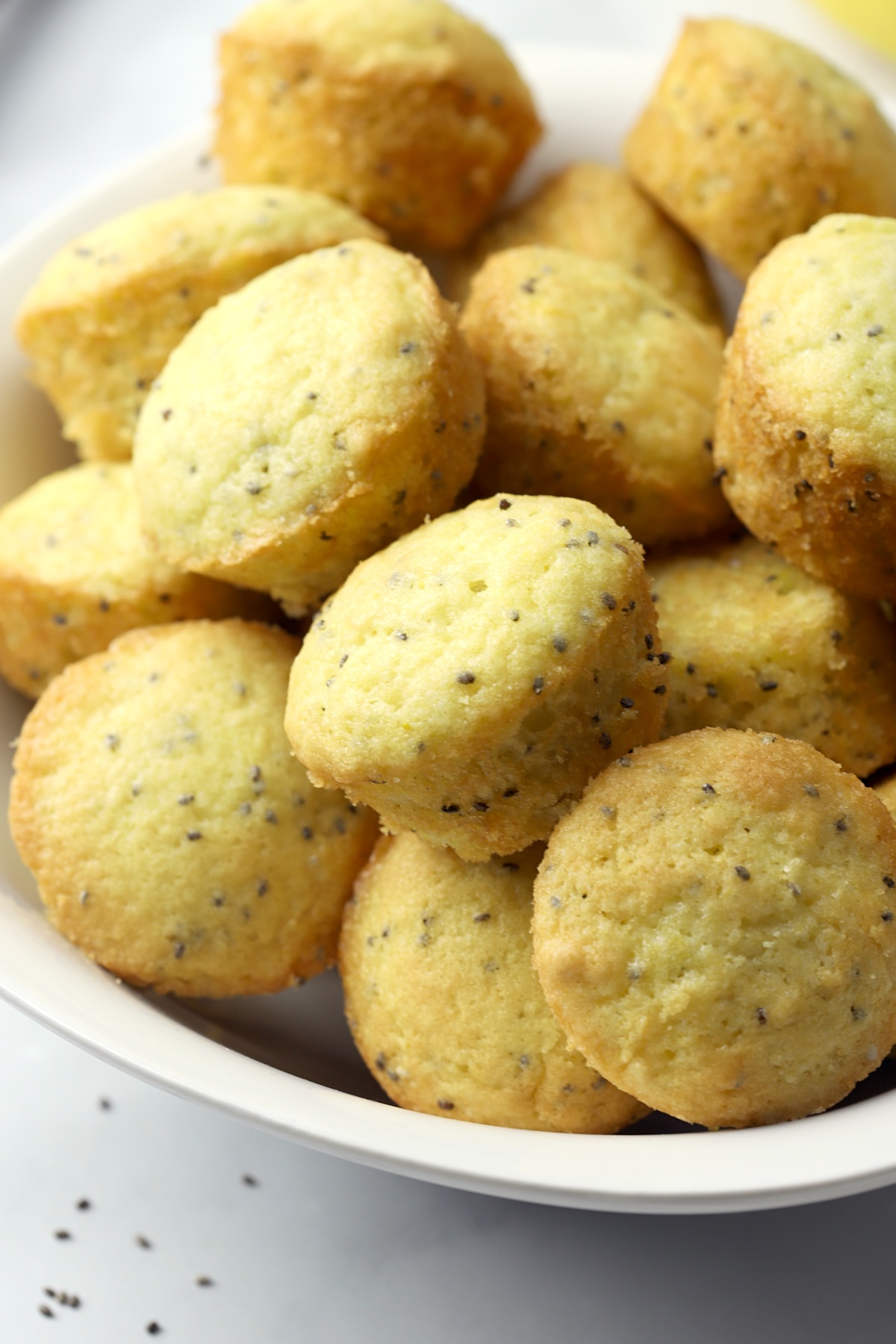 Muffin storage
Store your muffins in an airtight container at room temperature. Your muffins will stay fresh for 3 days or more.
Bread and muffins can also be frozen for up to 3 months, either tightly wrapped in foil or stored in a freezer safe container.
To prevent sticky tops when storing your muffins, allow them to cool completely before storing. Even when your muffin feels cool to the touch, the middles may still be warm, so give them enough time to come to room temperature throughout.
Recommended
📖 Recipe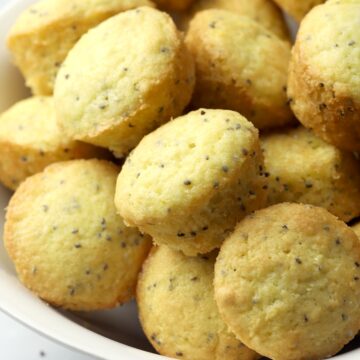 Print Recipe
Lemon Chia Seed Mini Muffins
Make a batch of these quick and easy Lemon Chia Seed Mini Muffins today. These tiny, bite-sized muffins are filled with lemon flavor and a light, barely there crunch of chia seeds.
Servings:
24
mini muffins
Ingredients
1

cup

(

120

g

)

all-purpose flour

2

teaspoons

chia seeds

1

teaspoon

baking powder

¼

teaspoon

baking soda

¼

teaspoon

salt

½

cup

(

99

g

)

granulated sugar

1

large

egg

¼

cup

(

57

g

)

milk

¼

cup

(

57

g

)

unsalted butter

,

melted

2

teaspoons

lemon zest
Instructions
Preheat oven to 350 degrees Fahrenheit and butter or grease mini muffin pan. Set aside.

In a large bowl, whisk together flour, chia seeds, baking powder, baking soda, and salt. Set aside.

In a separate bowl, add sugar, egg, milk, butter, and lemon zest. Mix until fully combined. Add wet mixture to dry mixture and stir until just combined.

Fill mini muffin tins halfway with batter. Bake for about 12-14 minutes, or until a toothpick inserted in the middle comes out clean (or with crumbs, not batter). Or, gently press into the top of a muffin. If it springs back right away, your muffins are done.

Allow pan to cool for 5 minutes before removing muffins from pan. If needed, use a butter knife around the edges of the pan to loosen your muffins. Allow to cool completely before storing in a sealed container.
Notes
This recipe makes 24 mini muffins, or about 8 standard sized muffins. If making standard size muffins, bake for about 18-22 minutes, or until a toothpick inserted in the middle comes out with crumbs.
Muffins will keep at room temperature in a sealed container for 3 days.
Baked muffins can be stored in the freezer for up to 3 months, tightly wrapped in foil and/or stored in a freezer safe container.
Nutrition Estimate
Serving:
1
mini muffin
|
Calories:
58
kcal
|
Carbohydrates:
9
g
|
Protein:
1
g
|
Fat:
2
g
|
Saturated Fat:
1
g
|
Cholesterol:
14
mg
|
Sodium:
41
mg
|
Potassium:
29
mg
|
Fiber:
1
g
|
Sugar:
4
g
|
Vitamin A:
75
IU
|
Vitamin C:
0.2
mg
|
Calcium:
15
mg
|
Iron:
0.3
mg