Banana mini muffins make the best breakfast or bite-size snack! Made from scratch with simple ingredients, these banana mini muffins are easy to make and even easier to enjoy.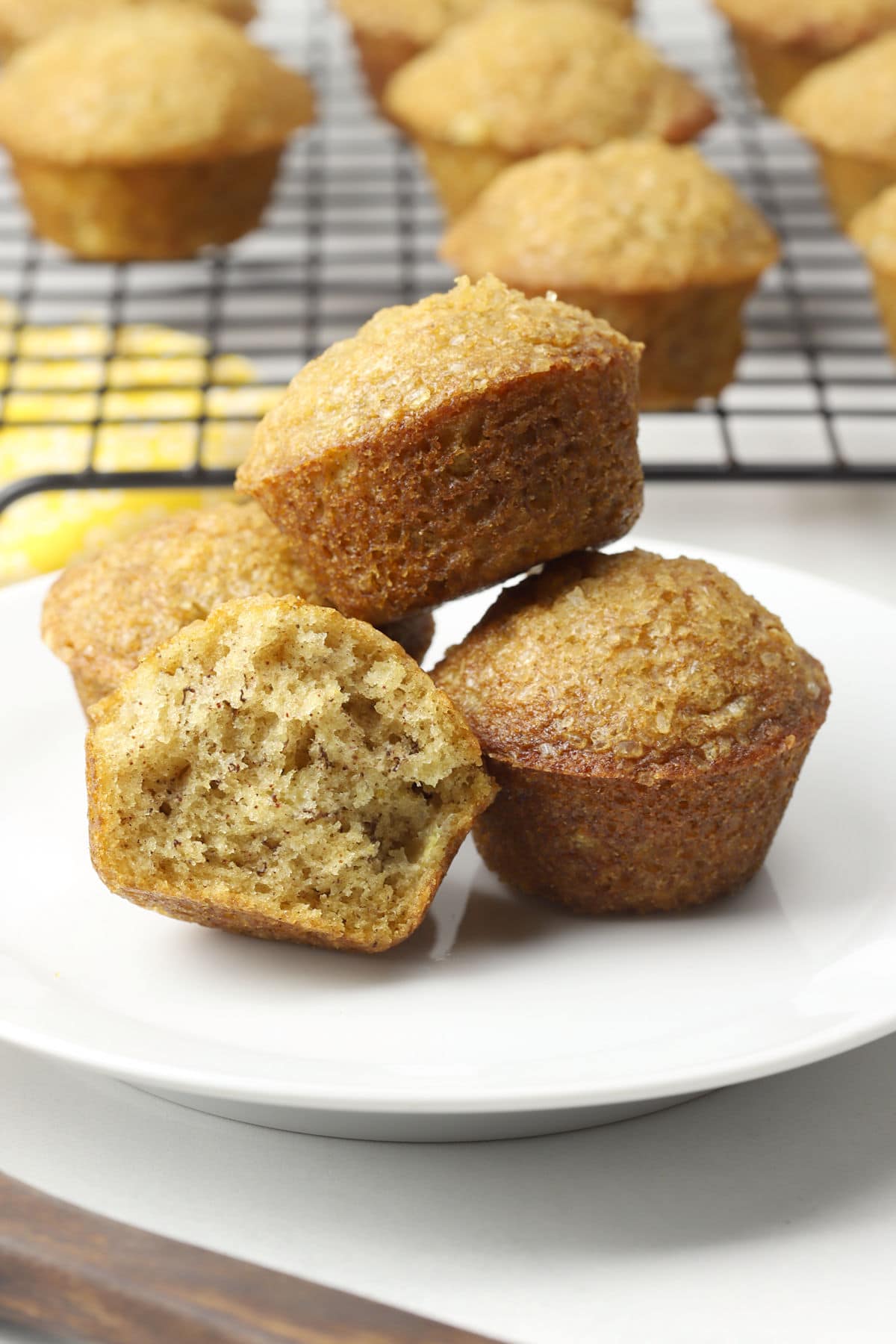 Banana muffins are a classic recipe to make when you have some leftover bananas on hand. These banana mini muffins turn out moist, tender, and filled with banana flavor (and a hint of cinnamon!).
Muffins are a great beginner baker recipe because they're easy to make and require only simple pantry ingredients. Mix your wet ingredients and dry ingredients separately, and then stir to combine them together (no mixer needed!).
Banana mini muffins are the perfect size for snacking on-the-go or a quick breakfast. Plus, they can easily be frozen and saved for later.
Ingredients and substitutions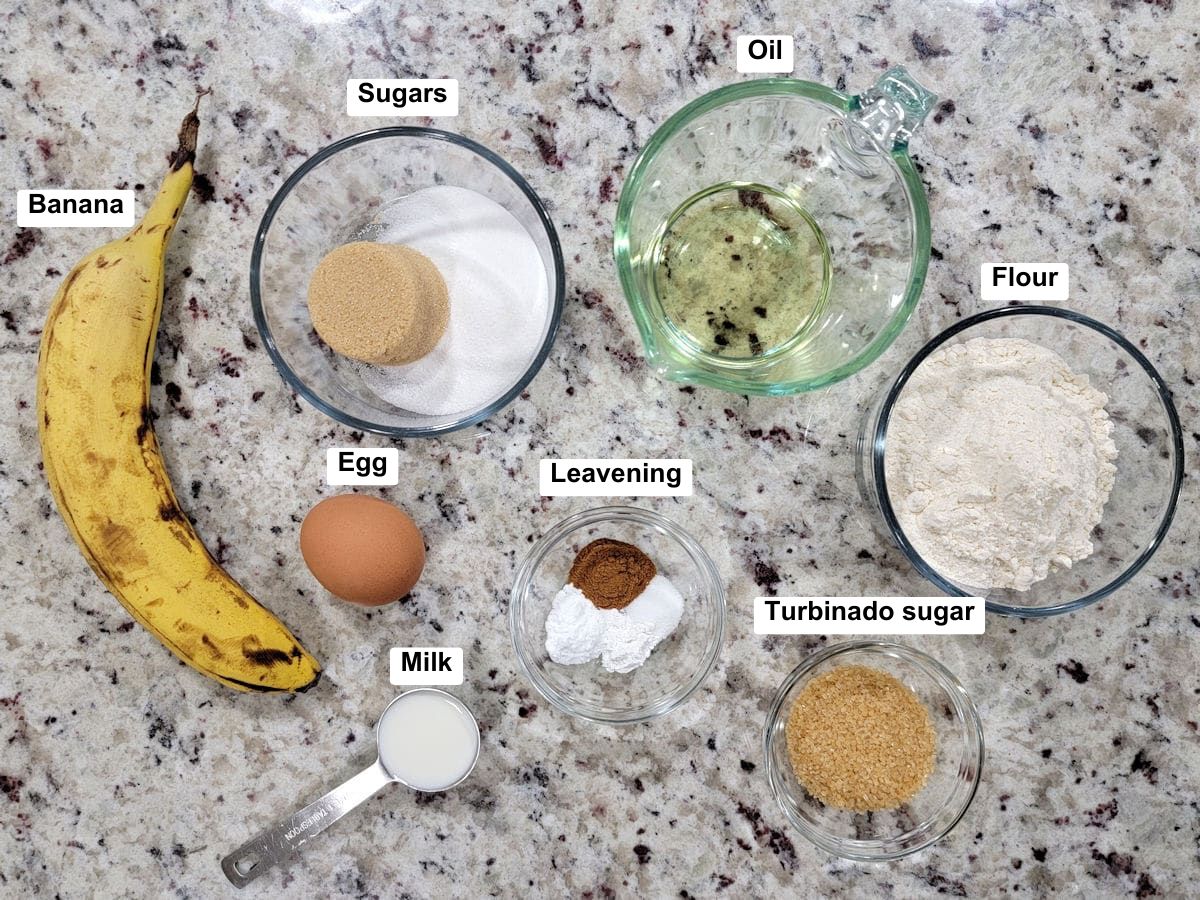 Bananas - For this recipe, you'll need one large banana. This equals ½ cup of mashed banana. Use a banana with no green on the skin, if possible. Overripe bananas will have a moderate amount of brown spots on the outside.
Sugars - You'll need granulated sugar and brown sugar for this recipe.
Oil - Vegetable oil or any other neutral flavored oil will work in this recipe. Oil adds moisture to your muffins and will help keep them moist for days after baking.
Eggs - One large egg adds stability, structure, and moisture to your muffins.
Milk - I recommend using whole milk because it contains the most fat, which will keep your muffins moist. Whole milk can be substituted with any milk you have on hand (skim, 1%, almond milk) if needed.
Vanilla extract - Just a hint of vanilla complements the other flavors in your muffins.
Flour - I have only tested this recipe using all-purpose flour. If you need to bake using a different type of flour, I recommend searching for a recipe that is made for the type of flour you have on hand.
Leavening agents - You'll need baking soda and baking powder for this recipe. One cannot be substituted with the other - you'll need both to get the perfect rise in this recipe.
Seasoning - Just a hint of cinnamon and salt enhance the flavor of your muffins.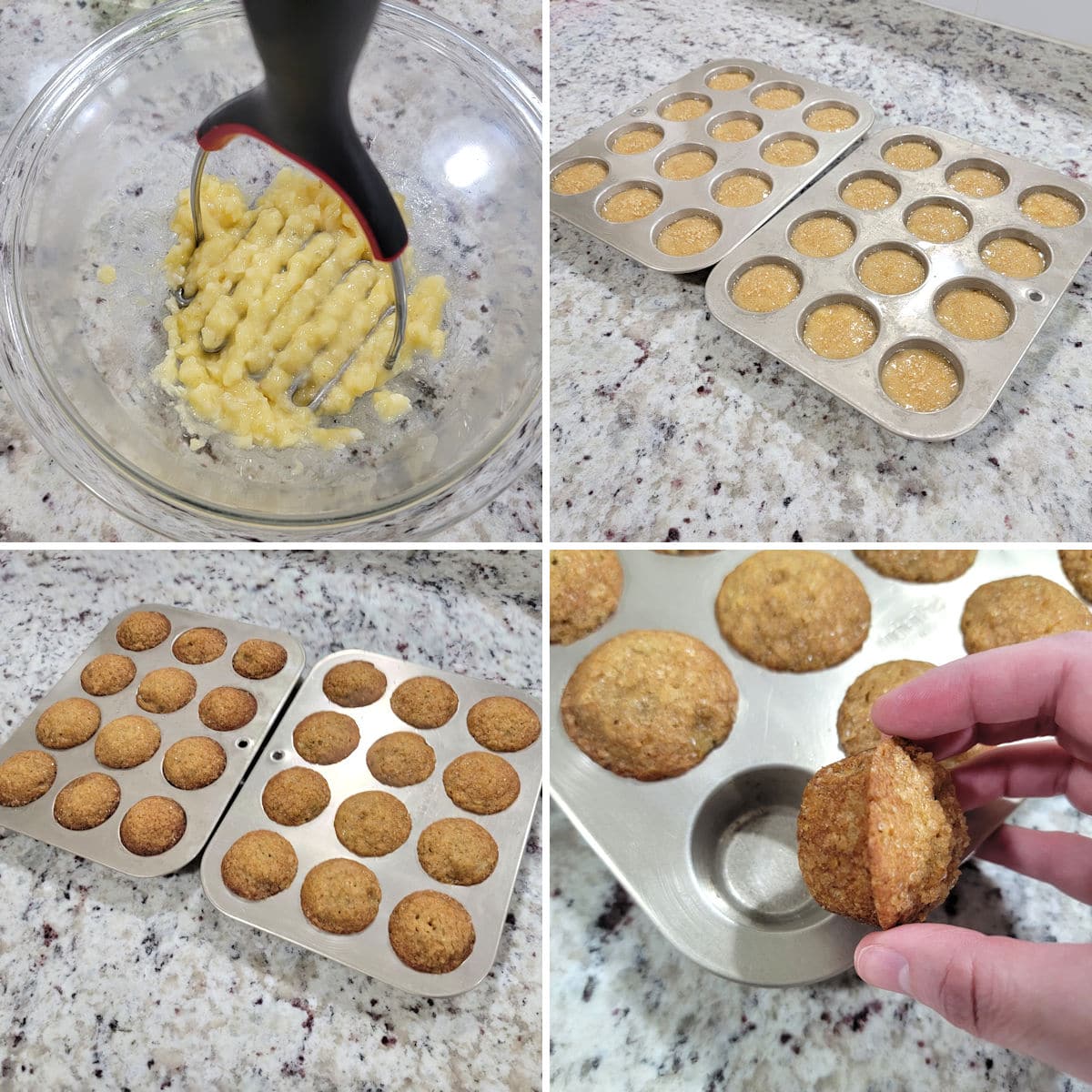 Ripe bananas
Ever wondered why banana bread recipes call for ripe bananas? There are a few reasons.
First, ripe bananas are softer and easier to mash and incorporate into your muffin batter. Second, as bananas ripen, they naturally become sweeter. Sweeter bananas equal sweeter muffins!
Freezing muffins
Mini muffins can be frozen for up to three months in a freezer safe container. To thaw, place your muffins out at room temperature for about 30 minutes.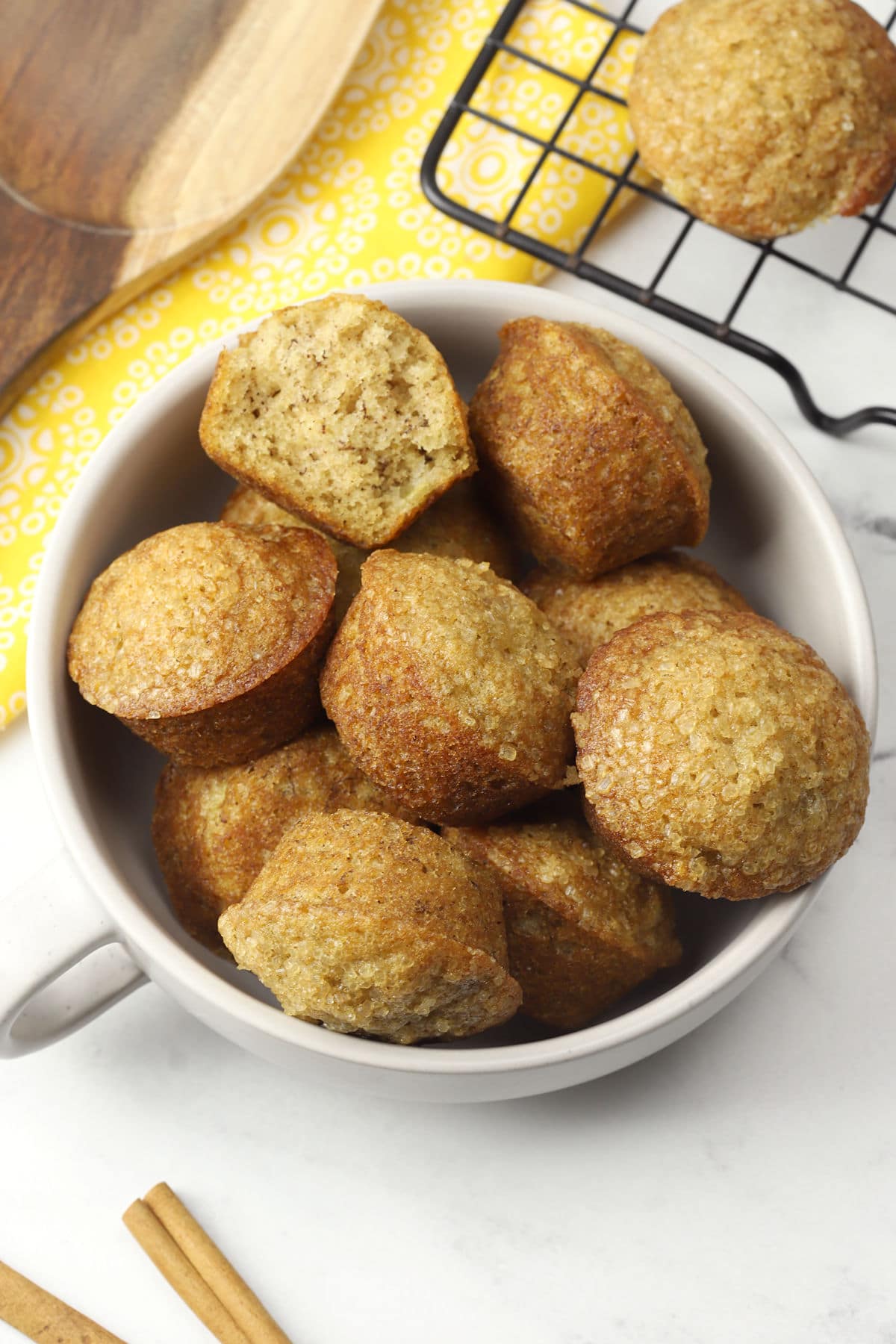 How to make moist muffins
This recipe, as written, will make a moist and tender muffin. Dry muffins can happen for three reasons: incorrect measuring of ingredients, substituting ingredients, or baking for too long. Want to make sure your muffins turn out perfectly moist? Here are my favorite baking tips for success:
Overbaking:
Ovens can run hot or cold. If your oven runs hot, your baked goods may be done a few minutes before what is written in the recipe. If you're not sure how your oven runs, try checking your muffins 2 minutes earlier than the time written in the recipe card.
Use an instant-read thermometer inside your oven to make sure your oven is set to the proper temperature for any given recipe. Here's what I use: Rubbermaid Instant Read Oven Thermometer
Substituting ingredients:
Do not substitute ingredients unless it's something that I recommend above (in the "ingredients and substitutions section). Bananas, eggs, oil, milk, and sugar all help make and keep your baked goods moist. Substituting ingredients or reducing quantities can make your muffins dry.
Using a sugar substitute can make your muffins dry. Not only does sugar sweeten your muffins, but it also attracts and holds on to moisture. Most sugar substitutes do not have these moisture-retaining qualities.
Proper measuring:
Adding too much flour (this is the most common issue I see in baking!). Scooping flour directly from a bin (especially one that's been sitting for a while and may have settled) can compact the flour and add up to 25% extra flour to your recipe. Extra flour can make your baked goods dry, dense, and crumbly. For best accuracy, use a kitchen scale to measure your flour.
More tips:
Use the same pan size as directed in the recipe card. If you'd like to use a different pan size, keep in mind that your baking times will change.
Do not slice into hot baked goods straight from the oven. This releases steam (aka moisture) from your baked goods, making them dry when the cool.
Recommended
📖 Recipe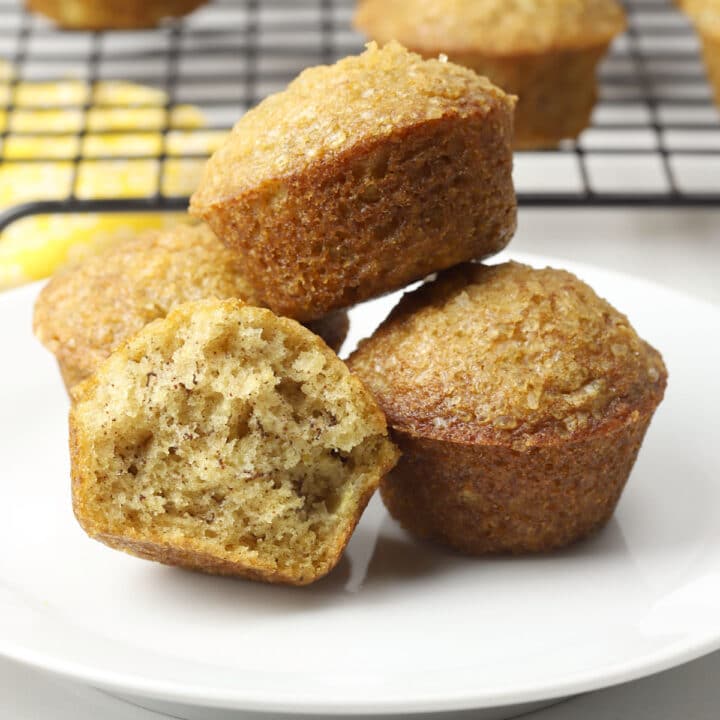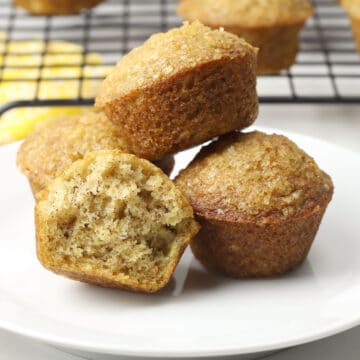 Print Recipe
Banana Mini Muffins
Banana mini muffins make the best breakfast or bite-size snack! Made from scratch with simple ingredients, these banana mini muffins are easy to make and even easier to enjoy.
Servings:
24
mini muffins
Ingredients
1

ripe banana

,

½ cup mashed banana

¼

cup

(

50

g

)

granulated sugar

¼

cup

(

53

g

)

brown sugar

¼

cup

(

50

g

)

vegetable oil

1

large egg

1

tablespoon

(

14

g

)

milk

½

teaspoon

vanilla extract

1

cup

(

120

g

)

all-purpose flour

½

teaspoon

baking soda

¼

teaspoon

baking powder

½

teaspoon

ground cinnamon

¼

teaspoon

salt

2

tablespoons

(

22

g

)

turbinado sugar

,

optional
Instructions
Preheat oven to 350 degrees Fahrenheit. Grease a 24-cup mini muffin pan and set aside.

In a large bowl, add your banana and mash with a fork or potato masher. Then, add granulated sugar, brown sugar, oil, egg, milk, and vanilla extract. Stir until well combined. Set aside.

In a separate bowl, whisk (or sift) together the dry ingredients: flour, baking soda, baking powder, cinnamon, and salt. Pour dry ingredients into the wet ingredients and stir until just combined (do not overmix, this can cause your muffins to turn out tough).

Distribute batter between 24 mini muffin cups. Optionally, sprinkle tops with turbinado sugar. Bake for 11-13 minutes, or until a toothpick inserted into the center of muffin comes out clean (or with crumbs, not batter).

Remove from oven and allow pan to cool for 2-3 minutes before removing muffins to a cooling rack to cool completely. Store cooled muffins in a sealed container.
Notes
Muffins will keep at room temperature in a sealed container for 3 days.
Baked muffins can be stored in the freezer for up to 3 months in a freezer safe container.
If using paper liners, allow your muffins to cool completely before unwrapping, or they will stick to the papers.
Nutrition Estimate
Serving:
1
mini muffin
|
Calories:
67
kcal
|
Carbohydrates:
11
g
|
Protein:
1
g
|
Fat:
3
g
|
Saturated Fat:
1
g
|
Polyunsaturated Fat:
1
g
|
Monounsaturated Fat:
1
g
|
Trans Fat:
1
g
|
Cholesterol:
7
mg
|
Sodium:
51
mg
|
Potassium:
35
mg
|
Fiber:
1
g
|
Sugar:
6
g
|
Vitamin A:
14
IU
|
Vitamin C:
1
mg
|
Calcium:
7
mg
|
Iron:
1
mg