Blueberry biscuits are tender, buttery, and filled with juicy fresh blueberries. Made with simple pantry ingredients, these homemade biscuits make the perfect breakfast or dessert treat.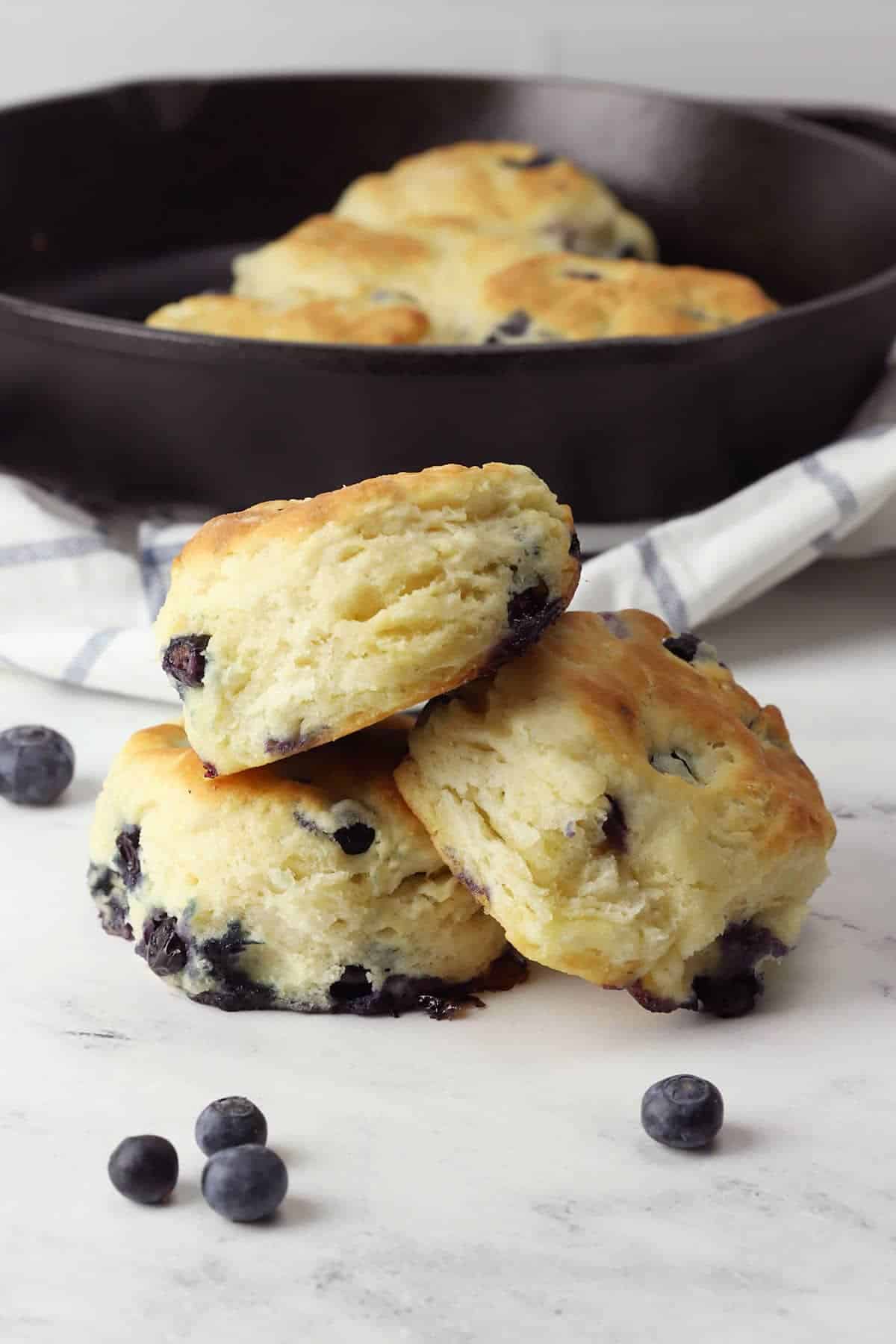 If you love making buttermilk biscuits, it's time to try your hand at blueberry biscuits. They turn out just as flaky, tender, and buttery as their classic cousins, but with a burst of juicy blueberries throughout.
Blueberry biscuits are made with a handful of simple pantry ingredients, like flour, butter, buttermilk, and leavening agents. A handful of fresh blueberries are added for sweet, juicy flavor.
Serve blueberry biscuits for breakfast with a pat of butter, peach jam, or whipped honey butter. They also make the perfect after-dinner treat!
Ingredients and substitutions
Unsalted butter - Your butter needs to be cold - straight from the refrigerator or freezer. I like to shred mine with the large side of a cheese grater - it helps incorporate seamlessly into your dough. If you need to pause at any point while preparing your biscuits, place your butter back in the refrigerator until ready to use.
All-purpose flour - Do not substitute with other types of flour (self-rising flour, cake flour, etc), because it will change the acidity and/or texture of your biscuits.
Buttermilk - Cannot be substituted with other types of milk. Buttermilk adds the perfect amount of acidity paired with the leavening agents in this recipe.
Blueberries - Fresh, never frozen blueberries are best. Frozen blueberries can work, but need to be thawed first. See my tips below for using frozen blueberries.
Granulated sugar - A small amount of sugar is added to make these biscuits a little sweet. Sugar also helps keep your biscuits moist.
Leavening agents - You'll need baking soda and baking powder for this recipe. One cannot be substituted with the other - you'll need both to get the perfect rise in your biscuits.
Salt - Enhances the flavor of your biscuits.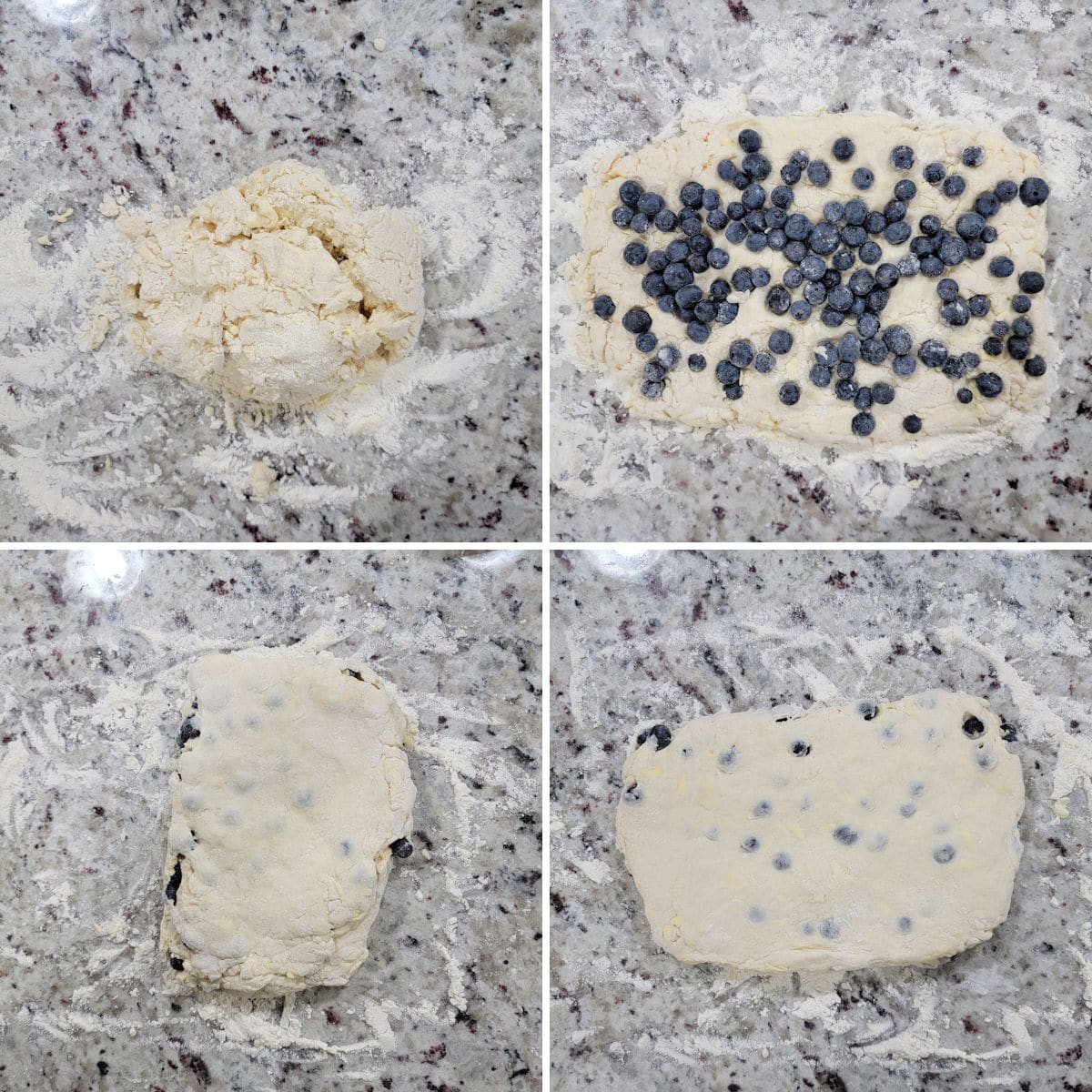 Folding biscuit dough
Folding biscuit dough is one of the most important steps in making biscuits. The goal of folding is to create layers of cold butter throughout the dough. Once baked, this makes those flaky, tender layers in your biscuits.
Once your dough is mostly mixed, but shaggy and sticky, turn it out onto a floured surface. Gently form your dough into a rectangle and pat it down with your hands. Add your blueberries and gently press into the dough.
Fold the rectangle in half, then turn it and gently pat it down into a wide rectangle again. You'll do this five times total before cutting out your biscuits.
If you're a visual person, here's a great YouTube video showing how exactly to fold biscuit dough: Biscuits and Shortcakes: Folding and Turning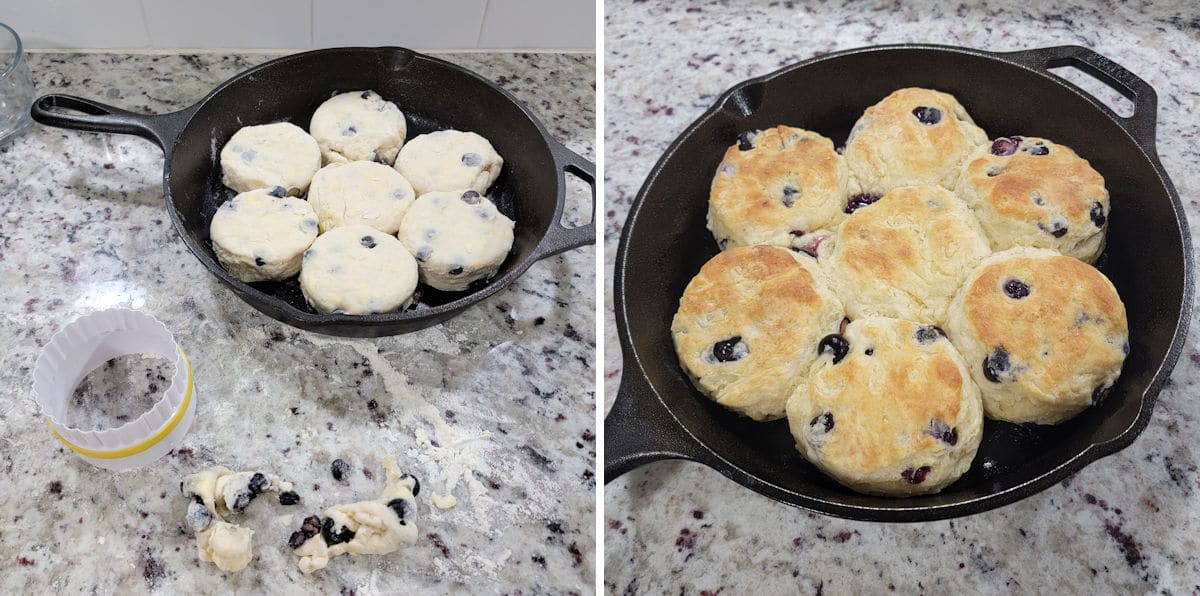 Can I use frozen blueberries?
Fresh blueberries will give you the best results in this recipe, but frozen blueberries can be used when prepared properly.
Place frozen blueberries in a colander and allow to thaw completely. Strain excess juices and gently pat dry with a paper towel. Frozen, thawed blueberries are likely to add extra liquid to your biscuits, so take care to remove as much excess juice as possible.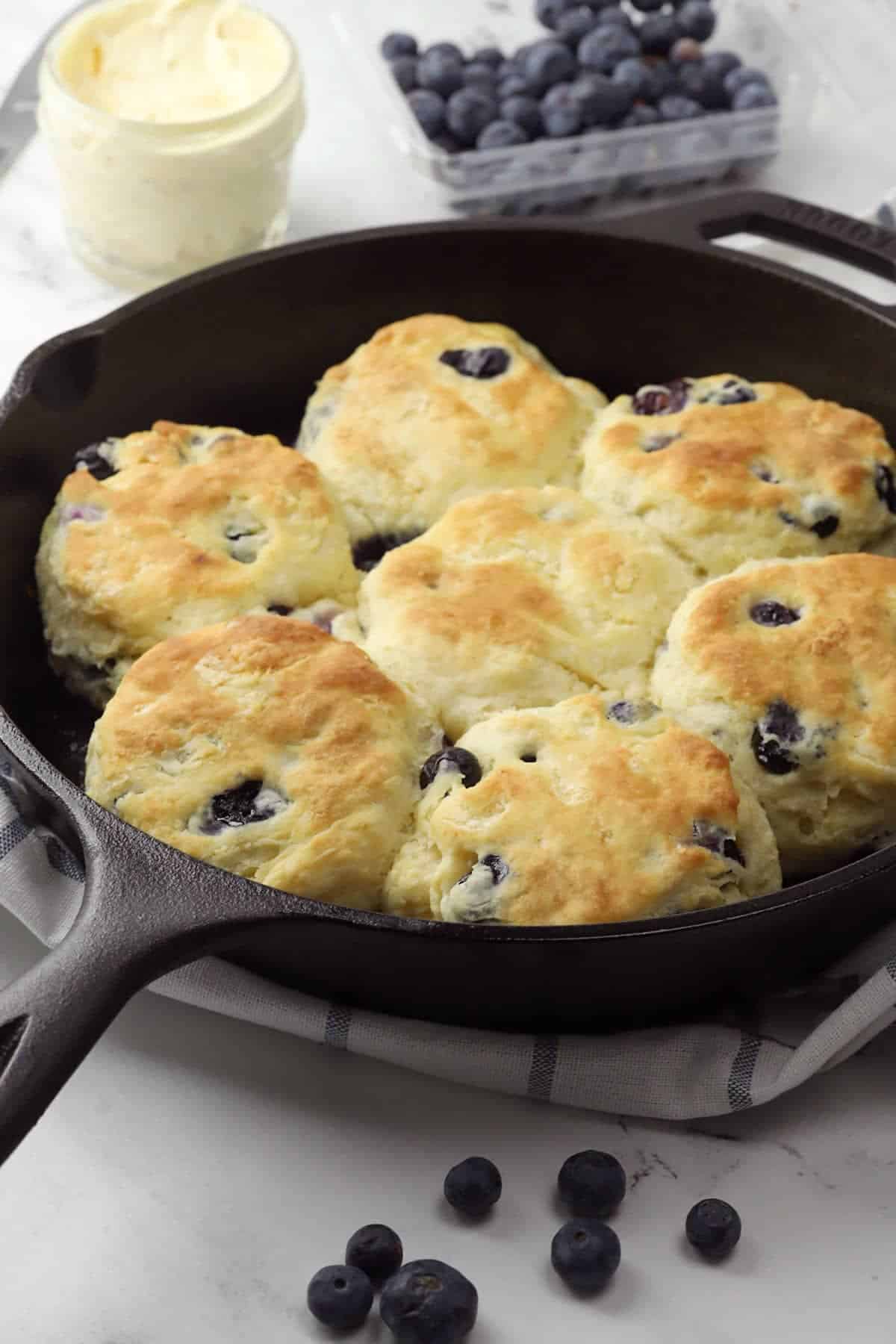 Tips and tricks
Cold butter - When baked, the butter melts and creates steam, which makes little pockets of air inside your biscuit. Make sure your butter is nice and cold, and don't handle your dough so much that the butter melts.
Do not substitute ingredients - This recipe requires very few ingredients, so it's important not to substitute anything. If you don't have the necessary ingredients, I suggest searching for a recipe that includes what you have on hand.
Do not knead your dough - Biscuit dough does not need to be kneaded like bread dough. In fact, you want to handle your dough as little as possible. Gently stir your ingredients until they're just incorporated, then only use gentle pats when folding your dough.
Folding and turning - Do not skip the step of folding and turning your dough. This is what makes those flaky layers and only takes about two minutes.
Cutting your biscuits - Do not twist your biscuit cutter. Twisting the cutter while stamping out your biscuits seals the edges, which means they'll rise less while cooking. Use a straight up and down motion while cutting.
Take care not to overbake - Overbaking will cause your biscuits to turn out dry. Your biscuits are done when they have risen and look golden brown across the top.
Recommended
📖 Recipe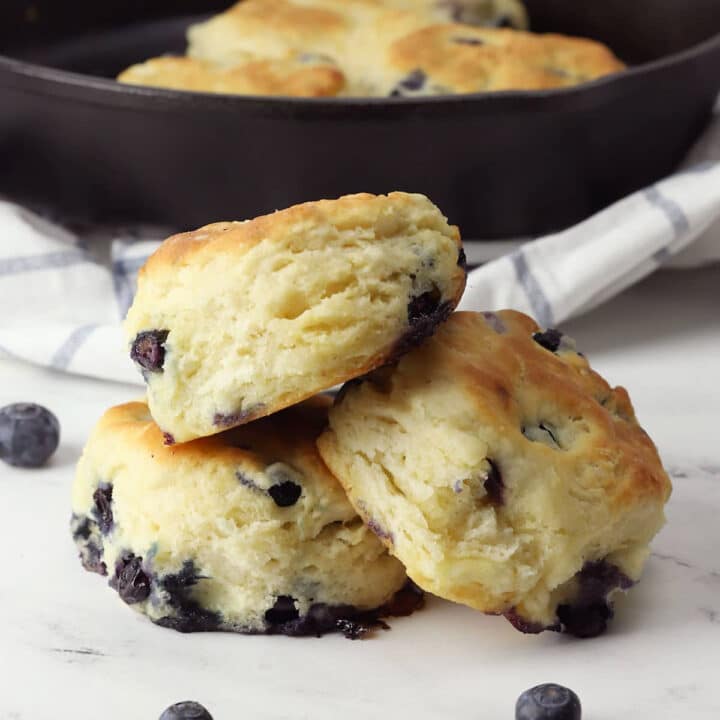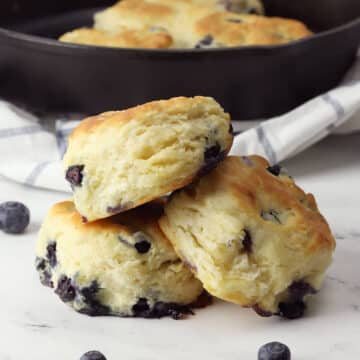 Print Recipe
Blueberry Biscuits
Blueberry biscuits are tender, buttery, and filled with juicy fresh blueberries. Made with simple pantry ingredients, these homemade biscuits make the perfect breakfast or dessert treat.
Servings:
7
or more biscuits
Ingredients
2

cups

(

240

g

)

all purpose flour

2

tablespoons

granulated sugar

1

teaspoon

salt

1

tablespoon

baking powder

¼

teaspoon

baking soda

4

tablespoons

unsalted butter

,

cold

1

cup

(

227

g

)

buttermilk

1

cup

(

155

g

)

fresh blueberries
Instructions
Preheat oven to 425 degrees Fahrenheit. Butter a 10 inch cast iron pan (or other similarly sized baking dish) and set aside.

In a bowl, add flour, sugar, salt, baking powder, and baking soda. Whisk to combine and remove clumps. (Or, add to a food processor and pulse a few times).

Grate cold butter using the large side of a box grater and add to flour mixture, tossing to combine. Or, use a pastry cutter to cut cubed butter into flour mixture. (Or, add to food processor and pulse until butter is pea sized. If using a food processor, pour mixture into a large bowl at this time).

Make a well in the center of your flour mixture and add buttermilk. Gently stir until ingredients are mostly incorporated. Dough will look shaggy and sticky. Pour dough out onto a lightly floured surface.

Gently pat dough with lightly floured hands into a large, flat rectangle, about 10-12 inches wide and about ¾ inch thick. Gently press blueberries into the top of your dough.

Fold dough rectangle in half, turn to the right to make your new rectangle horizontal, and gently pat back into a large rectangle. Repeat 4 times, folding your dough 5 times in total. Pat dough into a large rectangle, about 1 inch thick.

Using a 2.5 to 3 inch biscuit cutter, cut biscuits out of dough (do not twist your cutter, this will seal the edges). Reform leftover dough gently and continue cutting until all dough is used - you should get anywhere from 7 to 10 biscuits, depending on the size of your biscuit cutter.

Place biscuits close together (touching if possible) in your prepared pan. Bake for 16-20 minutes, or until tops are golden brown.
Notes
Homemade biscuits keep for 1-2 days at room temperature in a sealed container, up to 1 week in the refrigerator, or 2-3 months in the freezer. If freezing, seal tightly with foil or plastic wrap and store in a freezer safe container.
Recipe yields about seven 3-inch round biscuits, or ten 2.5-inch round biscuits. This will depend on the thickness of your dough and size of your biscuit cutter. Dough can also be sliced into squares with a sharp knife.
To use frozen blueberries: Place in colander and thaw completely. Strain excess juices and pat dry with a paper towel before adding to dough.
Nutrition Estimate
Serving:
1
three-inch biscuit
|
Calories:
236
kcal
|
Carbohydrates:
36
g
|
Protein:
5
g
|
Fat:
8
g
|
Saturated Fat:
5
g
|
Polyunsaturated Fat:
1
g
|
Monounsaturated Fat:
2
g
|
Trans Fat:
1
g
|
Cholesterol:
21
mg
|
Sodium:
411
mg
|
Potassium:
276
mg
|
Fiber:
2
g
|
Sugar:
7
g
|
Vitamin A:
268
IU
|
Vitamin C:
2
mg
|
Calcium:
122
mg
|
Iron:
2
mg