Homemade chocolate turtle Easter eggs are an easy candy treat to make in your own home. Chocolate eggs are filled with a rich caramel pecan filling and topped with festive sprinkles.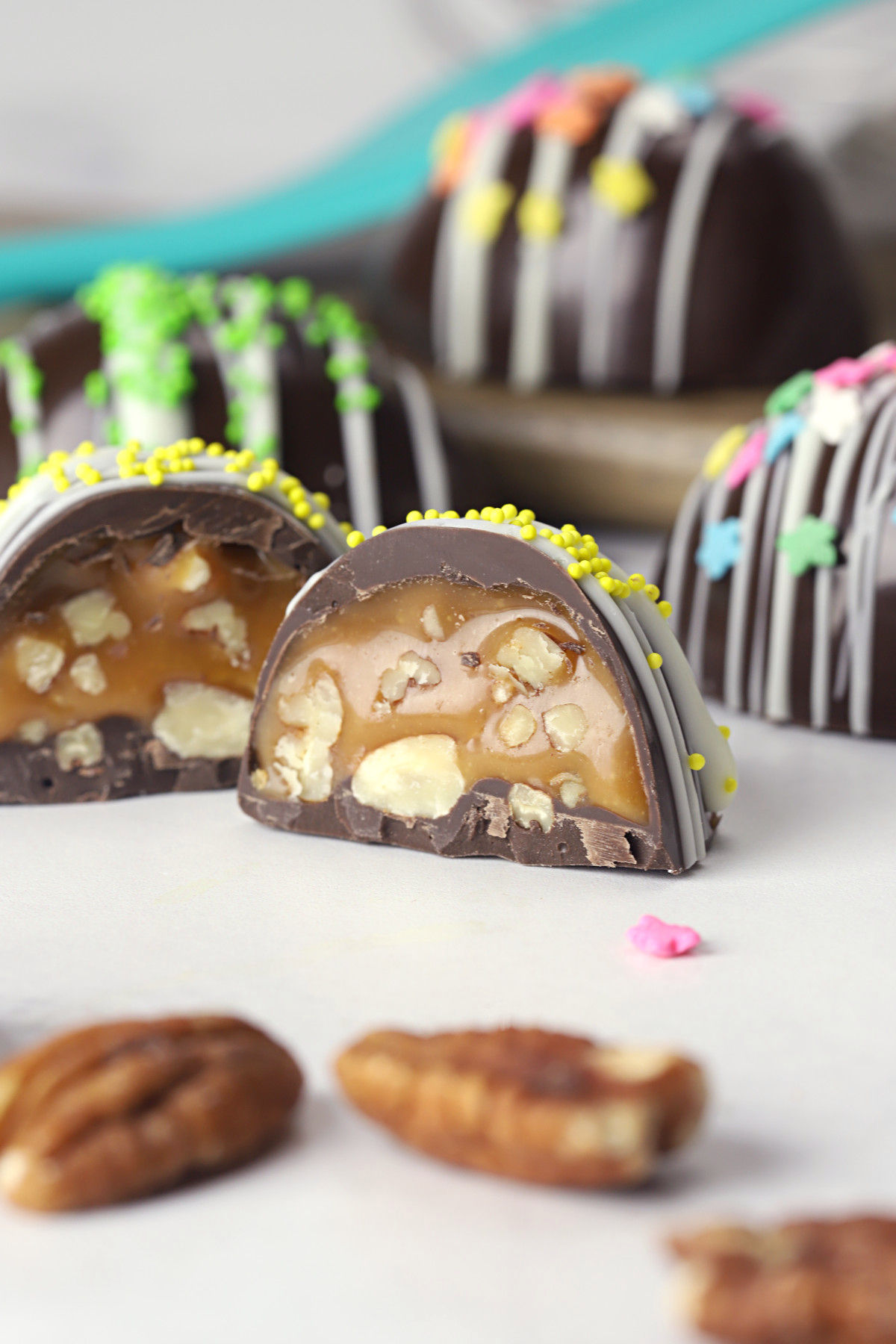 Make your own Easter treats at home this year - no candy making experience needed! These chocolate turtle eggs are filled with a rich, creamy, and sweet caramel pecan filling.
Plus, they're easier to make than you think. All you need are four ingredients and an egg-shaped candy mold to get started!
Decorate your Easter eggs with white chocolate and pastel sprinkles - the entire family can help! Wrap your finished Easter eggs in cellophane bags and ribbon to gift to family and friends on Easter.
Ingredients and substitutions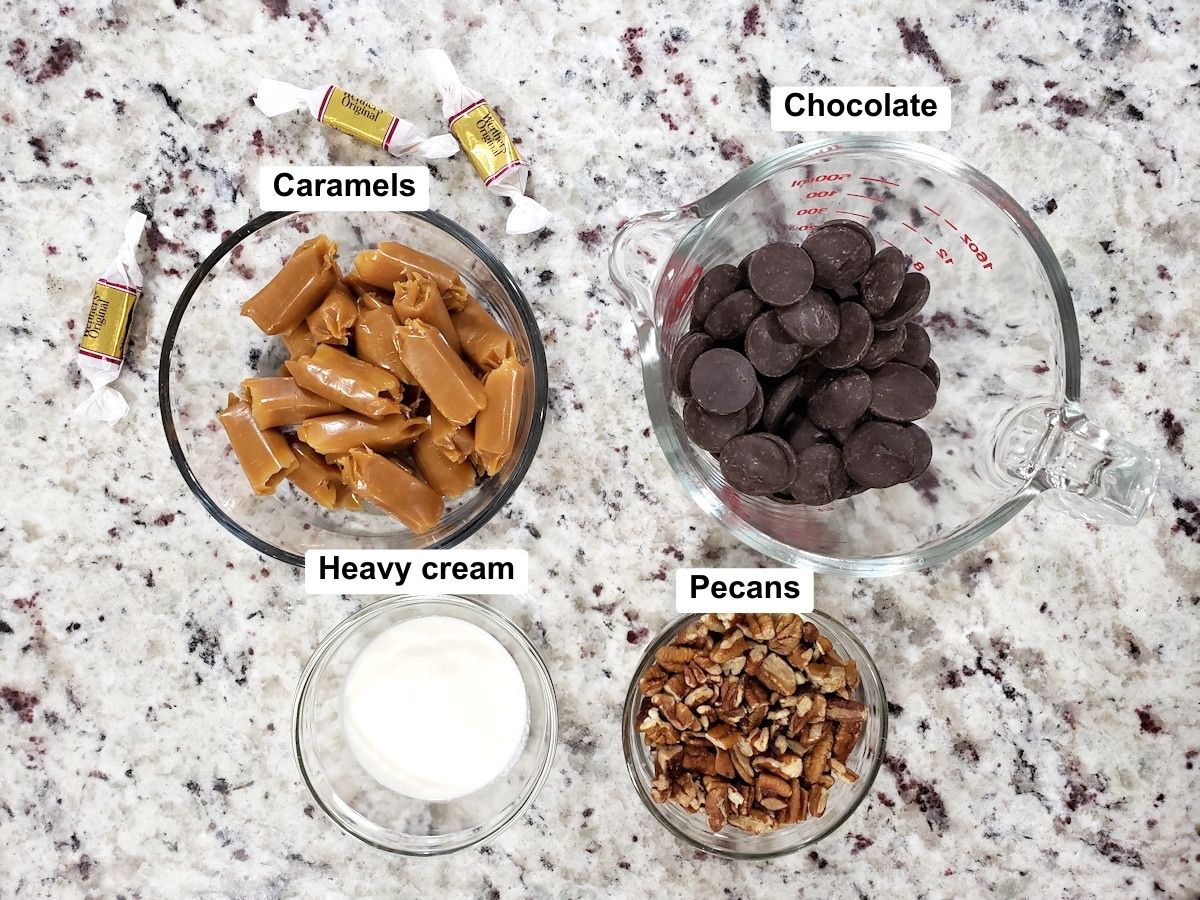 Soft caramels of any brand can be used for this recipe. Kraft caramels (the squares wrapped in clear plastic) are a great choice, or Werther's soft caramels (shown in photos) can be used. Hard candy caramels will not work.
Dark chocolate or milk chocolate melting wafers can be used in this recipe. I do not recommend using chocolate chips (I go into this in more detail below!).
Pecans can be substituted with any other chopped nuts, like walnuts or almonds.
Heavy cream can be substituted with whole milk.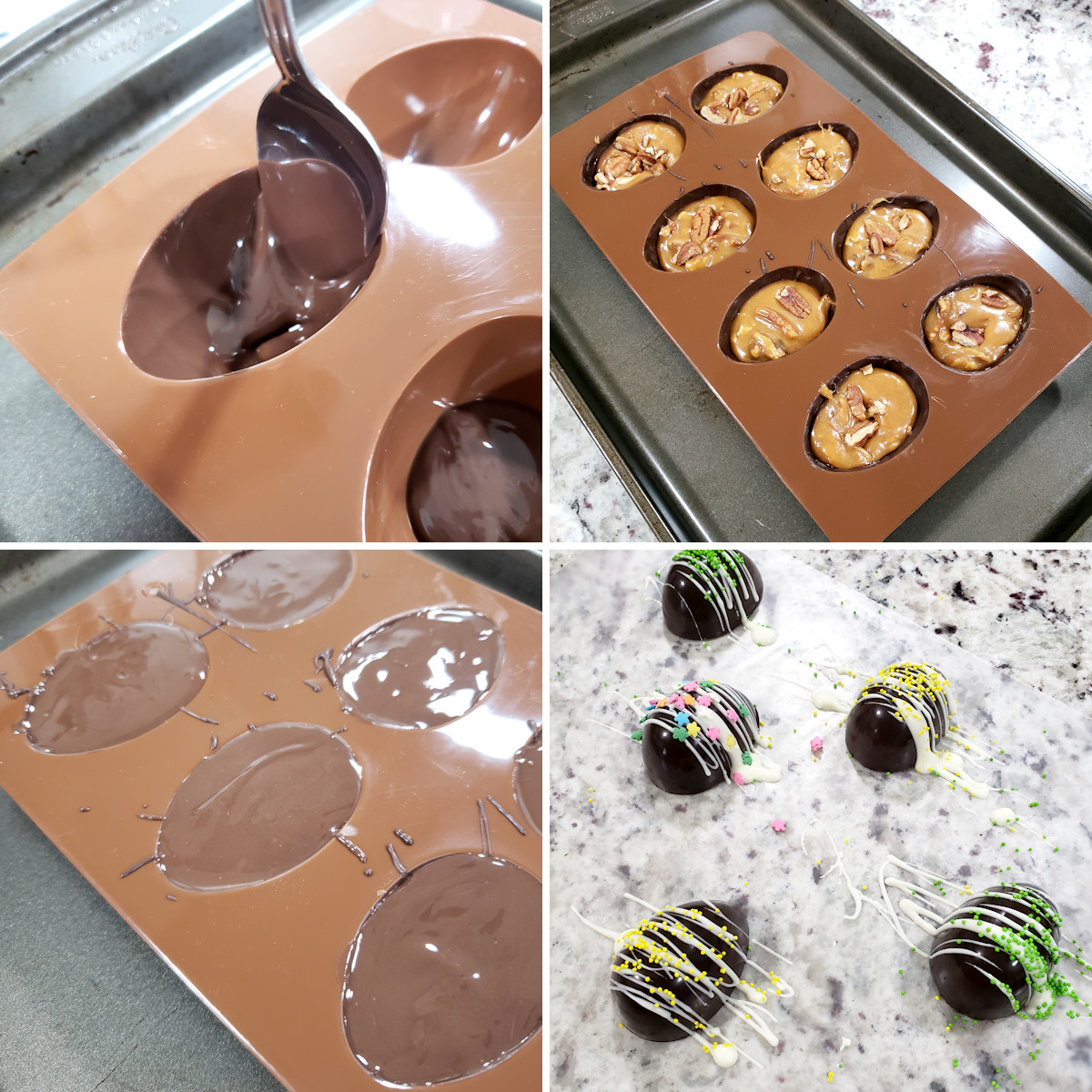 Melting wafers vs. chocolate chips
Melting wafers are made to be melted and solidified to make candy confections at home. Chocolate chips are made to hold their shape when heated. Ever notice when you make chocolate chip cookies and your chocolate chips hold their shape? That's because they're manufactured that way.
Melting wafers are the ideal choice for home candy-making because they're very easy to use. When melted and solidified, your candy has a shiny finish and a candy bar "snap" when broken in half.
Chocolate chips, when melted and solidified, have a dull finish and soft texture. Your candy will likely taste just as good, but will not have that candy bar "snap" or shiny finish. They also melt easily when handled with your hands, making your candy messier to eat.
For this recipe in particular, I do not recommend using chocolate chips.
Best brands of melting wafers
I recommend Merckens melting wafers. You can find them on Amazon and other candy making websites by doing a quick google search. Bakery supply stores may also carry Merckens locally.
If you don't have time to shop online, Ghirardelli melting wafers will do the trick in a pinch. While they don't taste quite as good as Merckens, they're still miles better than the cheap/waxy generic melting wafers.
Melting caramels
For this recipe, you'll be melting down soft caramel candies and mixing with a small amount of heavy cream to make a caramel filling.
If you'd prefer, you can make your caramel filling from scratch. However, using soft caramels is an easy and practically foolproof way to make a caramel filling in minutes.
All you need to do is melt down your caramel with a bit of dairy in a saucepan over medium heat. In just a few minutes, you'll have a smooth, creamy caramel filling.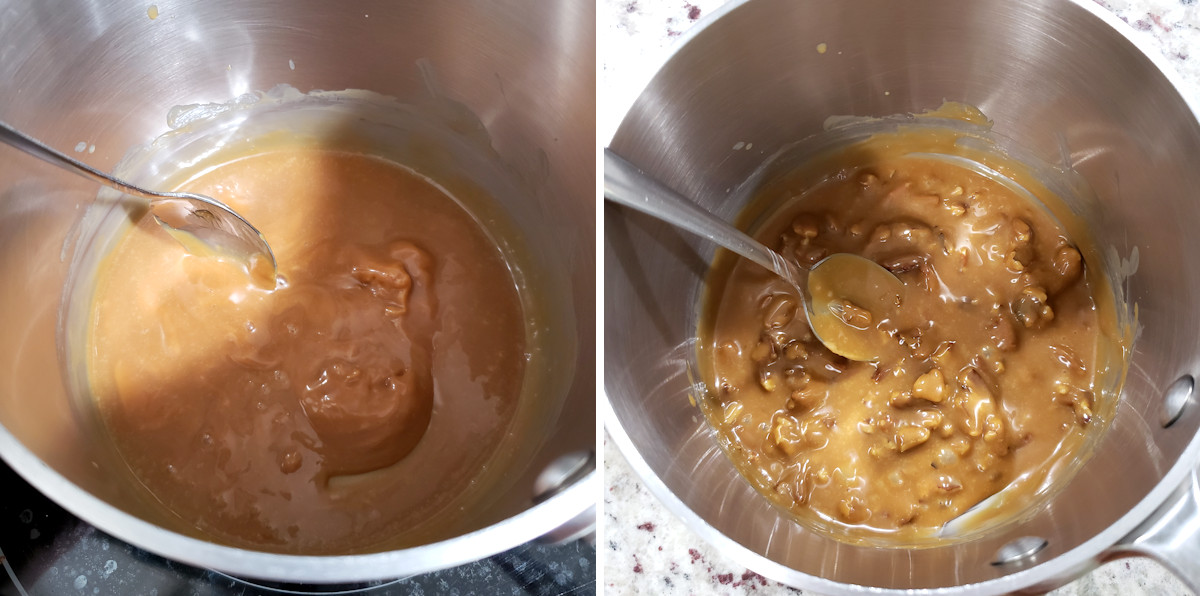 Candy tips and tricks
Use melting wafers, not chocolate chips. Melting wafers will give you a shiny, smooth candy finish, and easily release from the mold after chilling.
Heat your wafers just enough in the microwave to melt them. Overheating your chocolate can cause it to separate and get cloudy when it solidifies.
Make sure your candy sets long enough to solidify completely before removing from the mold. If not, your candy may separate, leaving chocolate behind in the mold.
Make sure your candy molds are clean and dry before beginning. If they look dull or cloudy, give them a quick wipe with a paper towel.
Having a hard time filling your candy molds? Try using a piping bag to transfer your chocolate to the mold. It's less messy and easier to control filling a complex design.
I found this website particularly helpful, it contains lots of tips and tricks for using candy molds and melting wafers! Confectionery House: How to Use a Chocolate Mold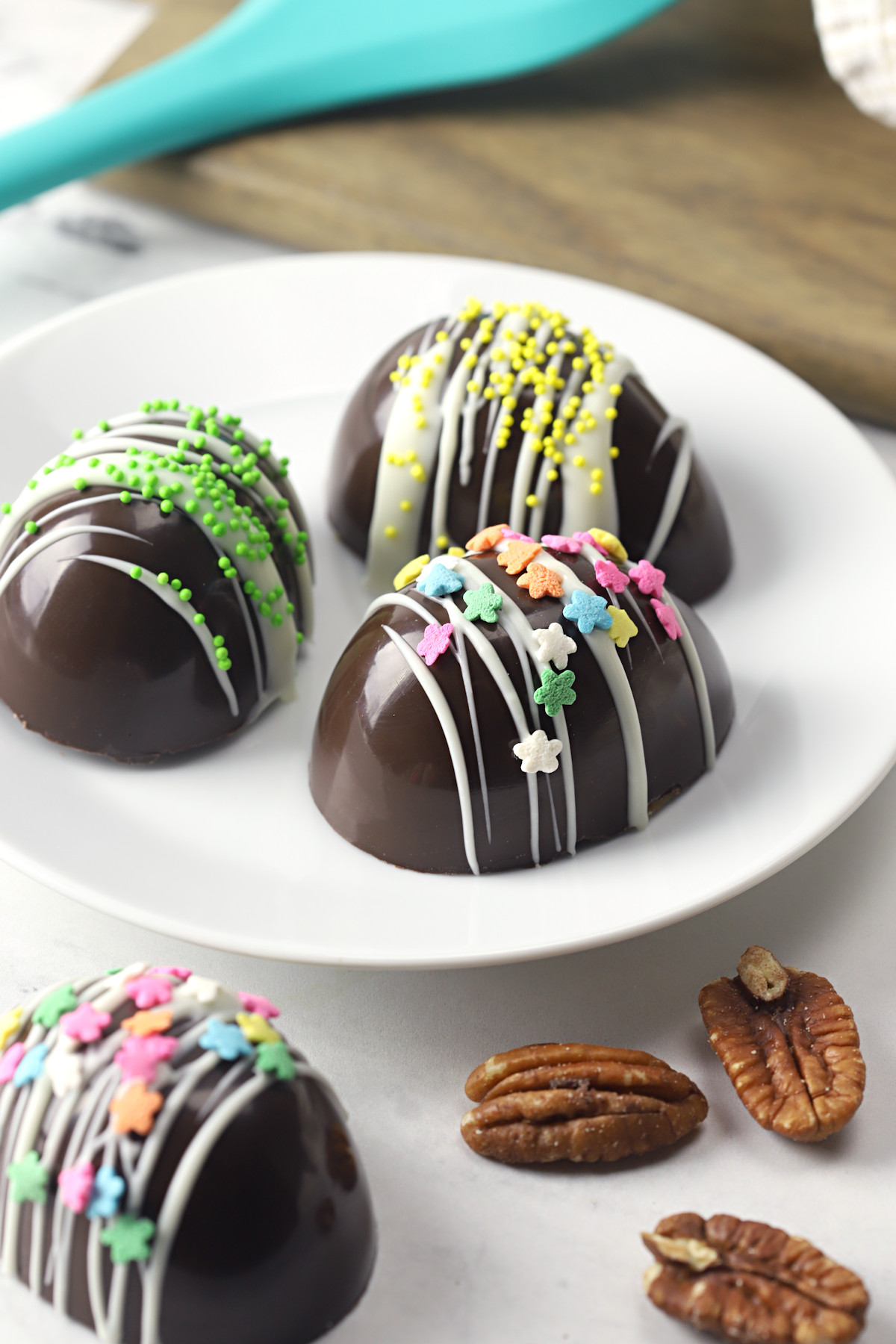 Egg molds
The amount of ingredients needed will vary depending on the size/shape of your candy mold. For this recipe, I used the first mold listed below, which makes eight 2.6" x 1.6" eggs (about the size of a regular large egg).
Candy storage
Your homemade chocolate turtle Easter eggs will keep for 2-3 weeks at room temperature in a tightly sealed container. Keep your chocolates away from warm temperatures, as they may melt.
Chocolates can be stored in the refrigerator, but they may form condensation. If you're planning on serving your candies to guests, remove them from the refrigerator and remove the lid several hours before serving.
📖 Recipe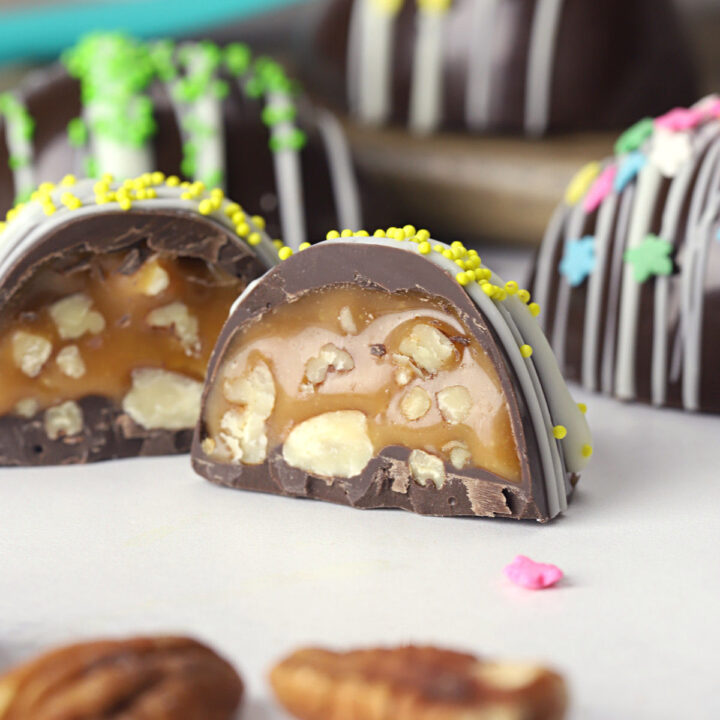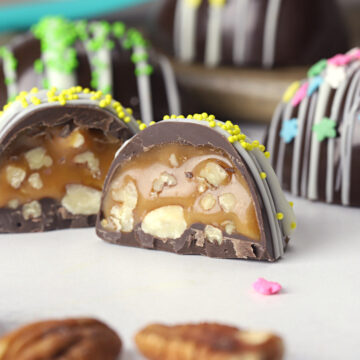 Print Recipe
Homemade Chocolate Turtle Easter Eggs
Homemade chocolate turtle Easter eggs are an easy candy treat to make in your own home. Chocolate eggs are filled with a rich caramel pecan filling and topped with festive sprinkles.
Ingredients
7

ounces

dark chocolate melting wafers

5

ounces

soft caramels

2

tablespoons

heavy cream

,

or whole milk

⅓

cup

chopped pecans
Optional decorations
1

ounce

white chocolate melting wafers

confetti sprinkles

nonpareil sprinkles
Instructions
Place candy mold onto a stiff baking sheet (for ease of transferring to and from refrigerator).

In a small microwave safe bowl, heat melting wafers in 30 second increments, stirring every 30 seconds, until wafers are melted and smooth.

Add a spoonful of melted chocolate to each egg mold. Use a spoon to brush chocolate up the sides of the egg mold until evenly coated. If needed, add a second coat to the sides of your egg mold, filling in any holes or thin areas. Transfer to refrigerator for 10 minutes to harden.

Meanwhile, in a saucepan over medium heat, add soft caramels and heavy cream. Stir until completely melted and smooth. Stir in pecans. Remove from heat.

Remove egg mold from refrigerator. Distribute caramel filling evenly between your egg molds, gently patting down into an even layer. Leave about ⅛" of space at the top of your mold to fill in with chocolate.

Top each egg mold with remaining chocolate (reheat as needed in the microwave if chocolate has solidified) and spread into an even layer. Return tray to the refrigerator and allow to chill for 20 minutes.

Remove eggs from molds. Optionally, swirl tops of eggs with melted white chocolate wafers and sprinkles.
Notes
Soft caramels can be Kraft brand or Werther's brand - as long as they are soft/chewy caramels, not hard caramels.
Melting wafers cannot be substituted with chocolate chips - melting wafers are tempered chocolate and ideal for melting and making candies. They harden into a shiny, candy texture and are ideal for using in candy molds.
The measurements listed were used with a candy mold that makes eight - 2.6 inch x 1.6 inch eggs (about the size of an actual large egg). Measurements will vary based on the type of candy mold used.
For softer/thinner caramel filling, add an additional tablespoon of heavy cream.
Candies will keep for 2-3 weeks in a sealed container at room temperature.
Nutrition Estimate
Calories:
174
kcal
|
Carbohydrates:
22
g
|
Protein:
1
g
|
Fat:
9
g
|
Saturated Fat:
5
g
|
Cholesterol:
6
mg
|
Sodium:
58
mg
|
Potassium:
57
mg
|
Fiber:
1
g
|
Sugar:
19
g
|
Vitamin A:
63
IU
|
Calcium:
30
mg
|
Iron:
1
mg
More chocolate recipes