Ham and cheese puff pastry makes a quick and easy homemade lunch, dinner, or snack. Puff pastry turnovers are filled with ham, cheese, and mustard - with a hint of garlic in the crust.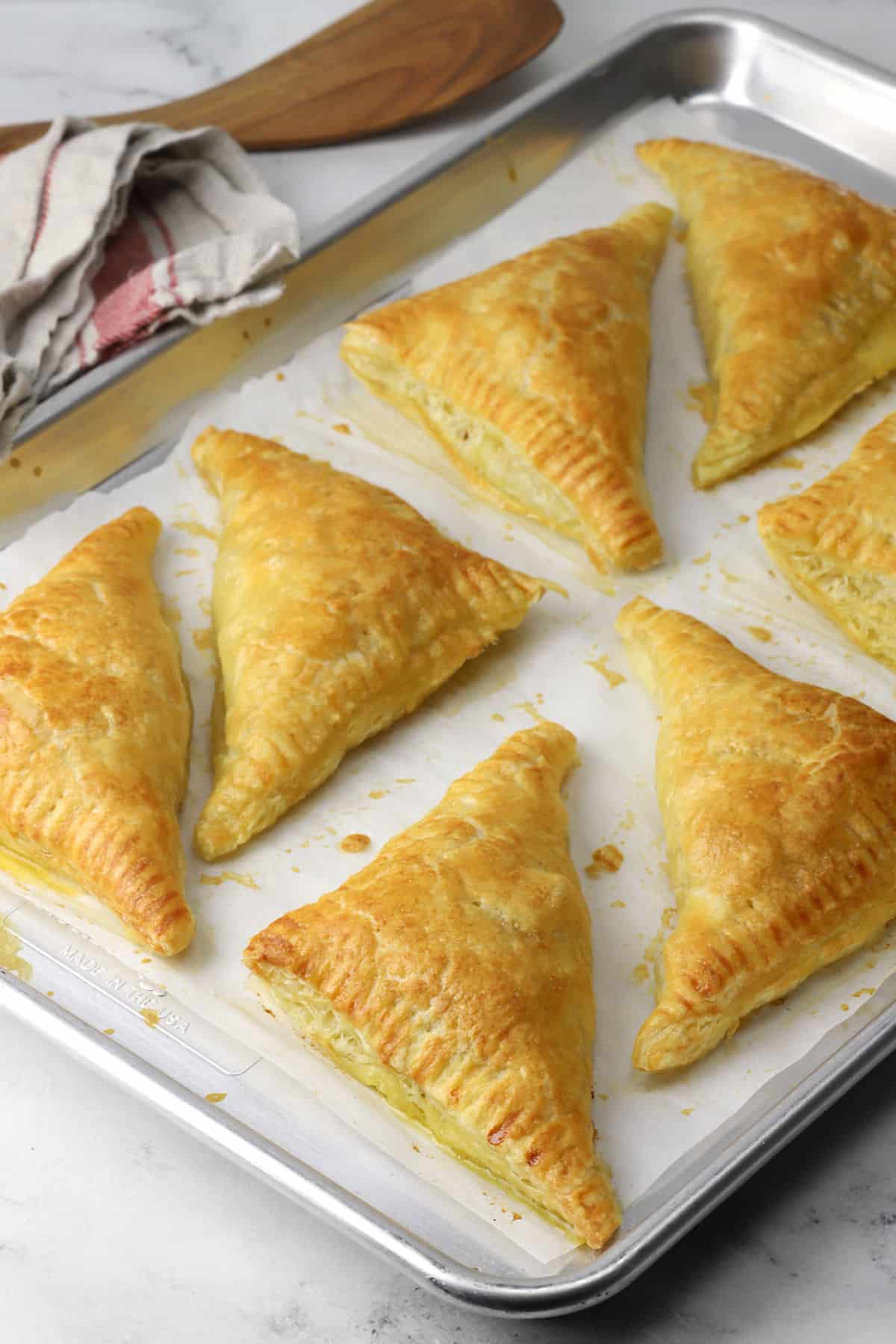 While we love sweet dessert turnovers, like apple turnovers, blueberry turnovers, and cherry turnovers, it's time to try a savory version. We think you'll enjoy these ham and cheese puff pastry turnovers!
These savory pastries are filled with chopped ham, melty cheese, and a hint of dijon mustard. Puff pastry makes these pockets quick and easy to assemble - you'll have them in the oven in minutes!
Ham and cheese puff pastry makes a great snack, quick lunch, or meal on the go. Plus, they're a great way to use up leftover ham from a holiday dinner, like Thanksgiving, Christmas, or Easter.
Ingredients and substitutions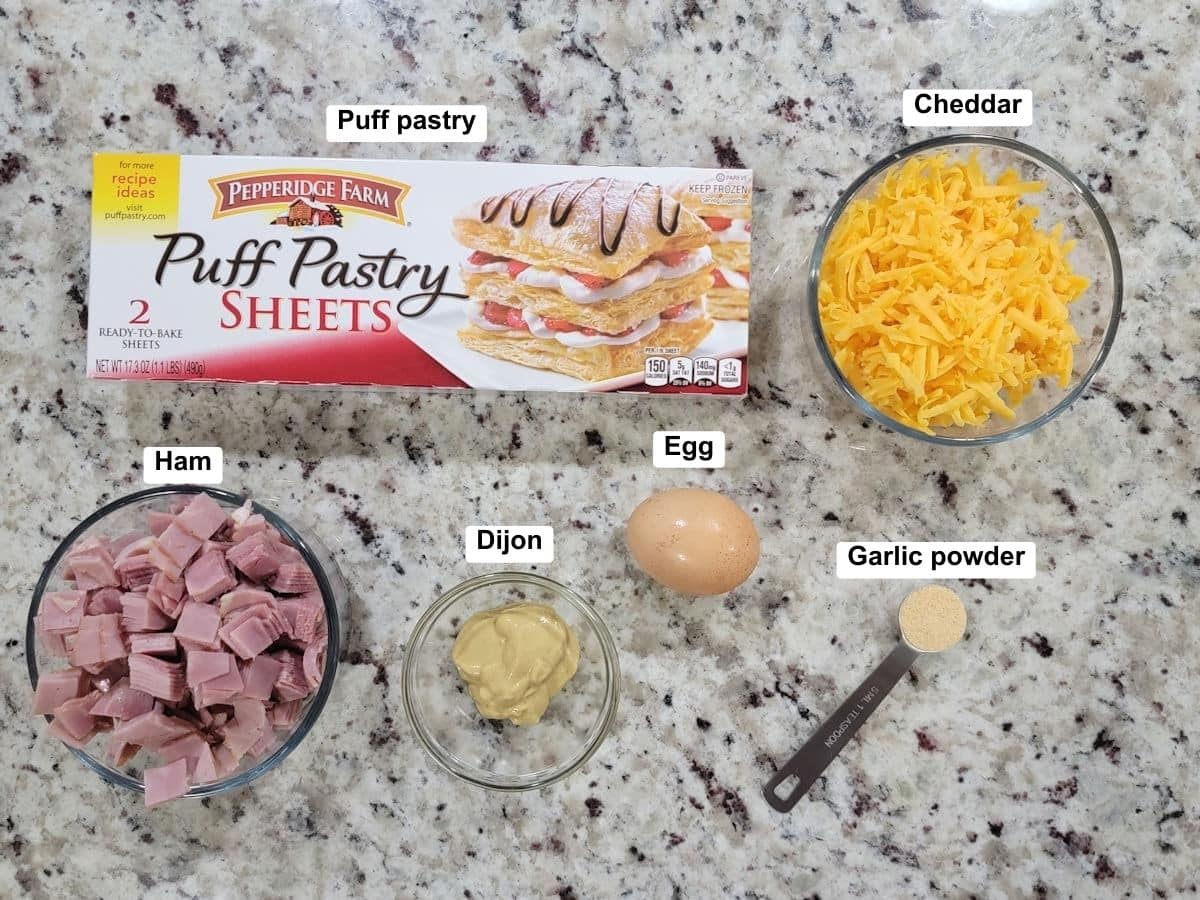 Puff pastry - For this recipe, you'll need one box, or two sheets, of puff pastry. Store bought puff pastry can be substituted with a similar amount of homemade puff pastry. This recipe can also be made with regular pie crust if desired.
Ham - Diced deli ham or leftover holiday ham works well in this recipe. Diced ham could be substituted with shredded rotisserie chicken or turkey.
Cheese - We used freshly shredded sharp cheddar cheese. Freshly shredded cheese melts easily and has the best flavor. Pre-shredded cheeses are often coated in anti-clumping powders that get grainy when melted (and sometimes prevent the cheese from melting at all).
Dijon mustard - Can be omitted if you don't like mustard, but it adds a nice tang and extra flavor to your ham and cheese pockets.
Egg - The egg is used to add an egg wash to the outside of your pockets before baking. This helps your crust bake up golden brown in the oven.
Garlic powder - I like to add a dash of garlic powder to the egg wash for a little garlicky flavor in the crust. It's a must try!
Thawing puff pastry
Does puff pastry need to be defrosted before baking? Yes.
If you're planning ahead, simply move your puff pastry from the freezer to the refrigerator the night beforehand.
Otherwise, place frozen puff pastry on the counter to thaw for 30 minutes before assembling your turnovers.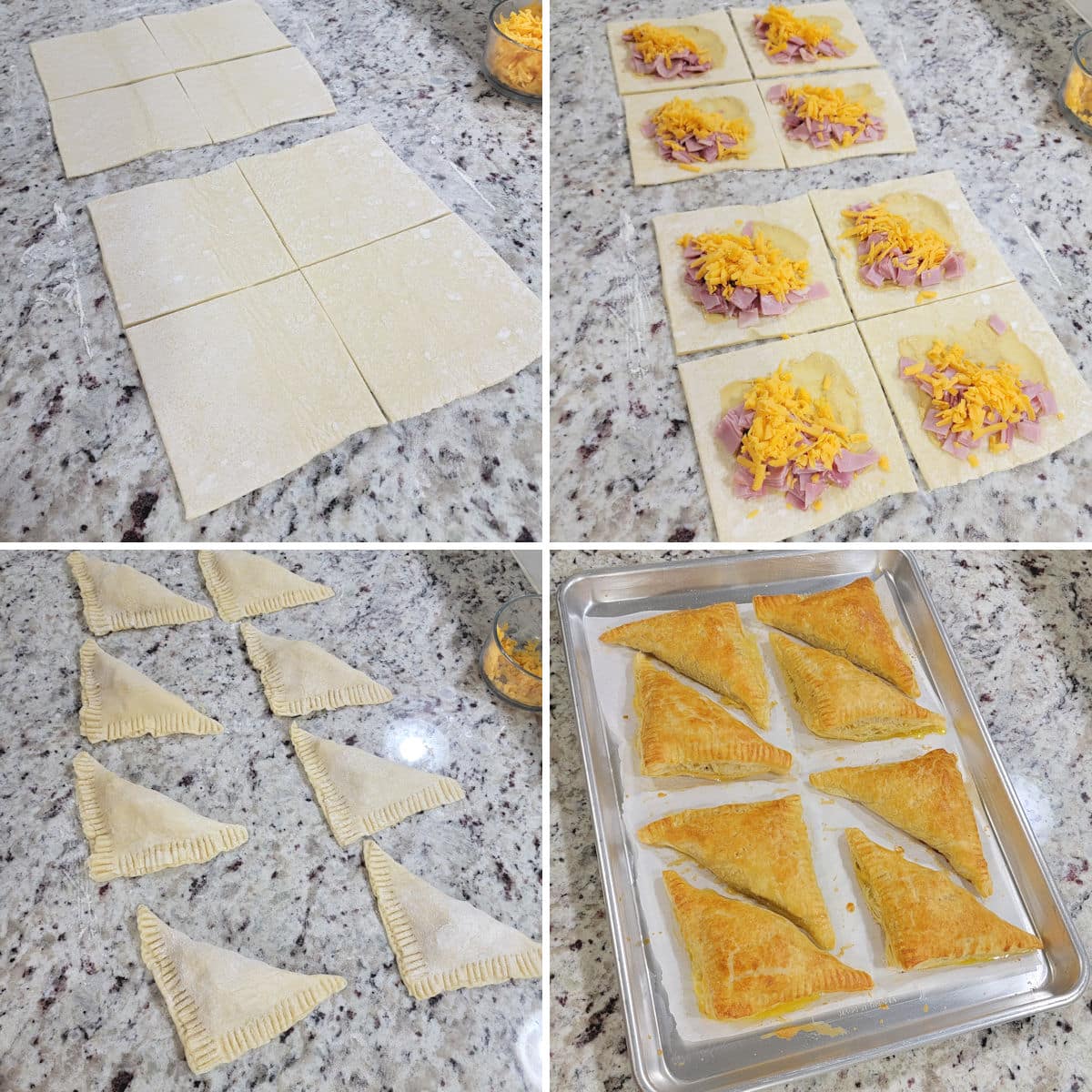 Do you bake puff pastry before filling?
No, there's no need to bake your puff pastry before adding the filling. All of the ingredients are assembled and baked in the oven at the same time.
Assembling your turnovers
Roll out the puff pastry on a lightly floured surface. Cut each puff pastry sheet into four squares, then add your filling.
Crimp the edges with a fork (or pinch together with your fingers) and egg wash the tops and sides.
Be careful filling your turnovers - a little filling goes a long way. With the measurements listed below, your turnovers should be perfectly filled with no spillover.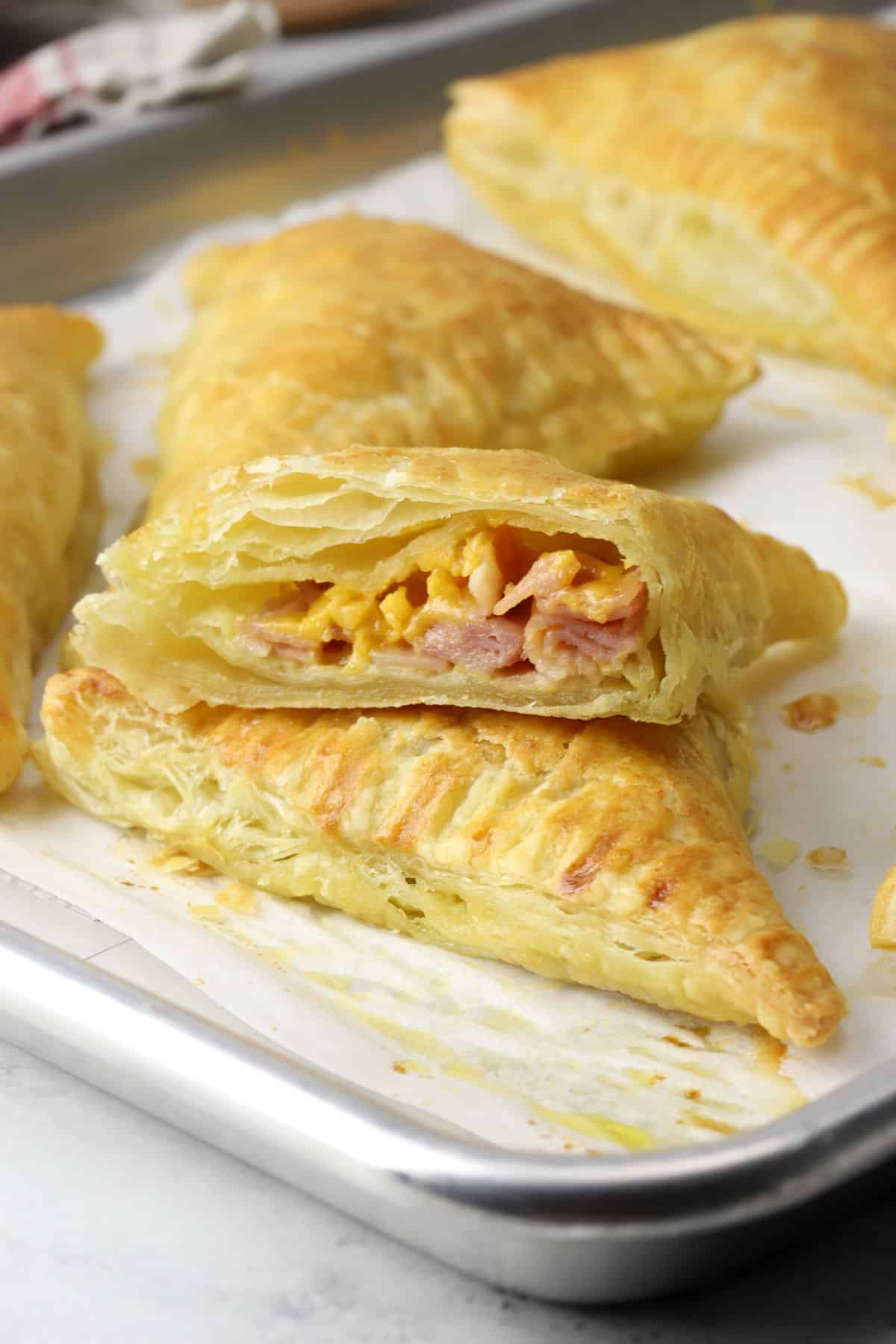 Tips for baking with puff pastry
Don't leave your puff pastry out at room temperature too long. Puff pastry is made with many thin layers of butter. If the butter begins to melt, your dough become difficult to work with and sticky. Your puff pastry may also bake up less fluffy and flaky.
If you need to stop midway through the recipe, transfer your puff pastry to the refrigerator to keep it cold.
Handle your puff pastry as little as possible and try using only your fingertips. The heat from your hands will heat up the pastry.
To ensure none of your filling leaks out, try not to add too much filling. Make sure your edges are crimped shut firmly using a knife. Last, brush your egg wash over the crimped edges, this helps seal the edges shut.
Poke or slice a steam vent into the top of each turnover before baking. This helps release steam from the top instead of the edges (which can cause filling to leak out).
Make sure your oven is completely preheated before baking your turnovers. Puff pastry needs a nice hot oven to bake through evenly and create that beautiful golden crust.
Bake your turnovers until they look completely golden brown across the tops.
Recommended
📖 Recipe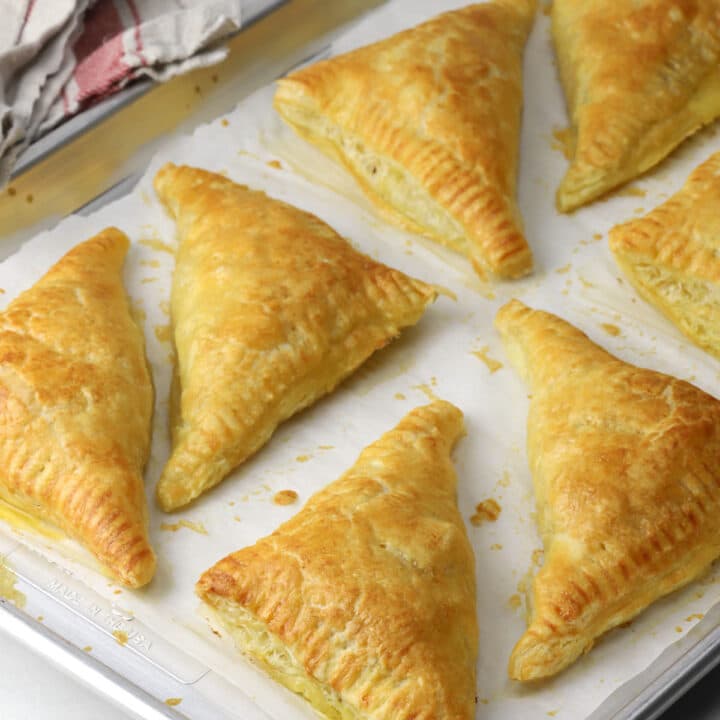 Print Recipe
Ham and Cheese Puff Pastry
Ham and cheese puff pastry makes a quick and easy homemade lunch, dinner, or snack. Puff pastry turnovers are filled with ham, cheese, and mustard - with a hint of garlic in the crust.
Ingredients
2

sheets puff pastry

,

thawed

4

teaspoons

dijon mustard

8

ounces

ham

,

chopped

¾

cup

shredded sharp cheddar cheese

1

large

egg

1

teaspoon

garlic powder
Instructions
Preheat oven to 425 degrees Fahrenheit. Line a baking sheet with parchment paper and set aside.

On a lightly floured surface, roll out puff pastry sheets to approximately 12 inch squares. Cut each sheet into four squares.

Spread ½ teaspoon of mustard onto each square, avoiding an inch around the edges. Spoon 1 ounce of ham and 1 heaping tablespoon of shredded cheese onto a corner of each square. Fold the opposite corner of each puff pastry over to cover filling. This will form a triangle.

Press the edges with a fork to seal.

In a small bowl, add egg, 1 tablespoon of water, and garlic powder. Whisk to create an egg wash. Brush each turnover on the tops and sides with egg wash. Cut a small vent into the tops of each turnover (or prick with a fork).

Transfer turnovers to parchment lined baking sheet. Bake for 20-25 minutes, or until turnovers are golden brown.
Notes
Puff pastry turnovers are best enjoyed the same day of baking. Leftovers can be stored in the refrigerator for up to 3-4 days, but will lose some of their crispiness.
Leftover turnovers can be reheated in the microwave, or in a 350 degree F oven for 8-10 minutes, or until hot and bubbly in the center.
Uncooked turnovers (before adding egg wash) can be frozen and stored for up to 3 months. Freeze spread out on a lined baking sheet, about 1 hour. When frozen, transfer to a freezer safe container and store. To bake from frozen - add egg wash and steam slit, then bake as directed above, adding up to 5 minutes of baking time to account for baking from frozen.
Nutrition Estimate
Serving:
1
turnover
|
Calories:
461
kcal
|
Carbohydrates:
28
g
|
Protein:
14
g
|
Fat:
32
g
|
Saturated Fat:
10
g
|
Polyunsaturated Fat:
4
g
|
Monounsaturated Fat:
17
g
|
Trans Fat:
0.003
g
|
Cholesterol:
51
mg
|
Sodium:
595
mg
|
Potassium:
143
mg
|
Fiber:
1
g
|
Sugar:
1
g
|
Vitamin A:
142
IU
|
Vitamin C:
0.01
mg
|
Calcium:
88
mg
|
Iron:
2
mg