Dutch Cocoa Cookies are rich and chewy, with a crunchy sugar coating. These chocolate cookies are reminiscent of Archway's Dutch Cocoa Cookies.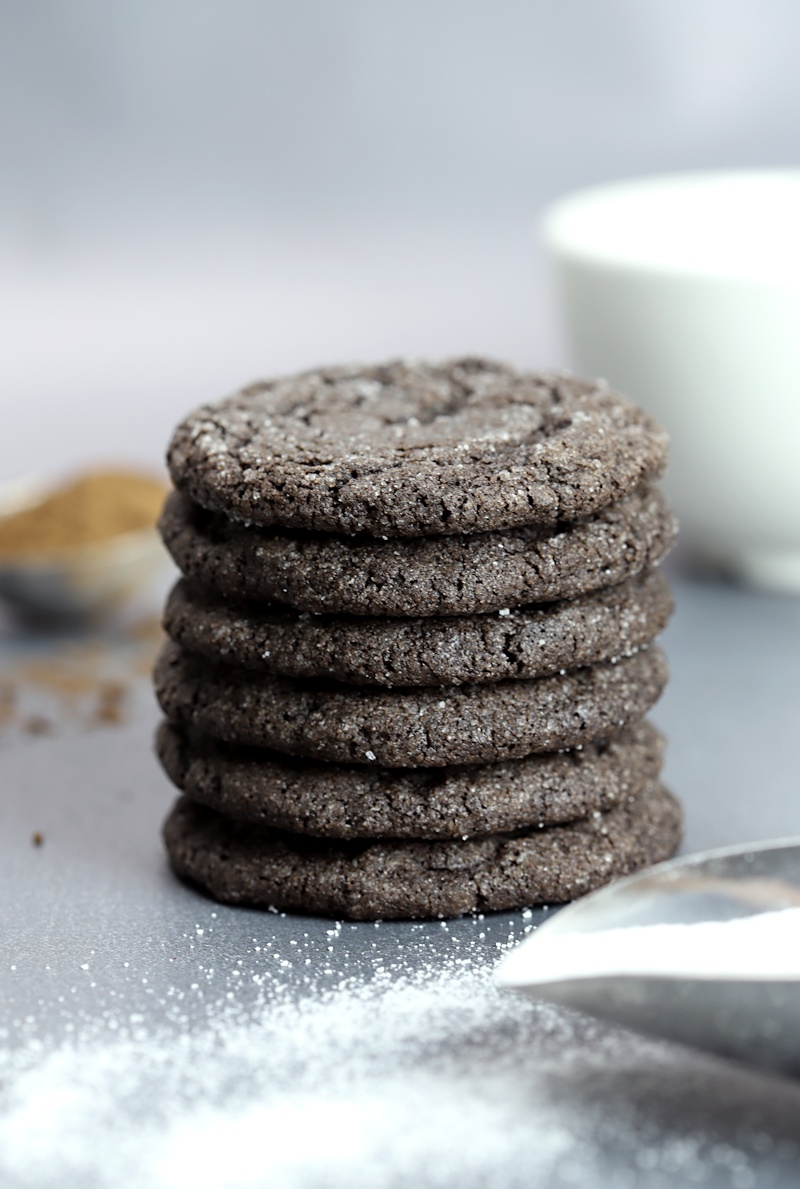 I began a search for this cookie recipe a few years ago when I was reminded of Archway's Dutch Cocoa Cookies. Did anyone else have these as a child? I adored them, and who wouldn't? A soft, chocolate cookie covered in sugar – yes, please!
In my search, I came across this recipe by Martha Stewart for Grammy's Chocolate Cookies. Anything made by Martha must be perfection, right? I made a batch, and from the first taste I was instantly taken back to childhood.
I've since adjusted the recipe slightly, but Martha's version was my starting point. While it might not be an exact replica of Archway's version, it certainly comes close.
Recipe updates and changes
I originally posted my Dutch Cocoa Cookies recipe back in 2017. In fact, it was one of my first recipes on The Toasty Kitchen!
Since then, I've learned more about baking and felt that this recipe was in need of an update.
First, I reduced the amount of butter and sugar in the dough. I found that this didn't affect the flavor, and it helped the cookies spread slightly less.
Second, I decided to use my medium cookie scoop for this recipe, which is my favorite cookie size. If you plan to make cookies with any consistency, I urge you to invest in a medium cookie scoop. I also love to use my small cookie scoop for making party trays or Christmas cookies.
Small cookies tend to go over well during the holidays. I think it's because they feel less indulgent. You also won't feel so bad for eating three or four at a time!
Baking soda with dutch cocoa
Yes, this recipe calls for baking soda. Previously, I didn't understand why Martha included baking soda alongside dutch cocoa. After all, it does not have the acidity of regular cocoa powder.
You need to use acidic ingredients alongside baking soda so that your cookies will rise. However, dutch cocoa cookies are not meant to rise!
These cookies should spread thin when baking, with a crispy outside and a chewy inside. Just like an Archway cookie.
But guess what? Baking soda helps the cookies to spread, and also gives them that crispy exterior. Check out this post with more details – Baking Soda vs. Baking Powder.
Ingredients
What ingredients do you need to make dutch cocoa cookies?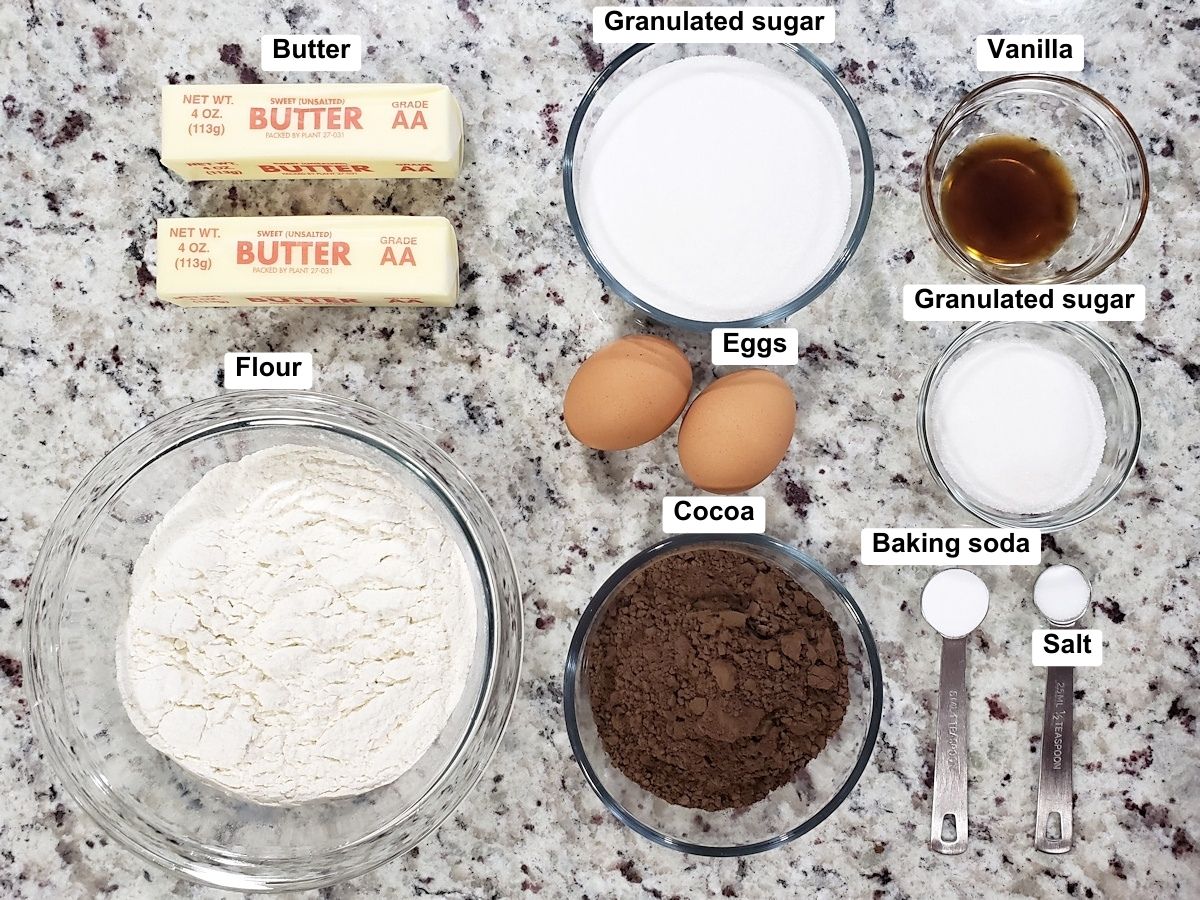 For this recipe, you'll need room temperature butter, granulated sugar, vanilla extract, all-purpose flour, room temperature eggs, dutch cocoa, baking soda, and salt.
You'll also need more granulated sugar to roll your cookie dough later.
First, you'll cream together your butter and sugar, then add your eggs and vanilla extract. Again, cream your ingredients together until fluffy.
In a separate bowl, sift or whisk together your dry ingredients: flour, cocoa powder, baking soda, and salt.
Then, slowly add your dry ingredients to your wet ingredients. Once you have a dough, you'll want to chill it for at least an hour in the refrigerator.
Cookie dough scoops
For this recipe, I like to use two different sized cookie scoops depending on the situation. For a regular sized cookie, I recommend using a medium sized cookie scoop.
For something like a holiday tray, or for a party, sometimes I like to use a small cookie scoop. They make a nice, two-bite cookie that's small and easy to enjoy.
In the video for this recipe, I used a small cookie scoop. In the photos in this post, I used a medium cookie scoop.
More chocolate cookie recipes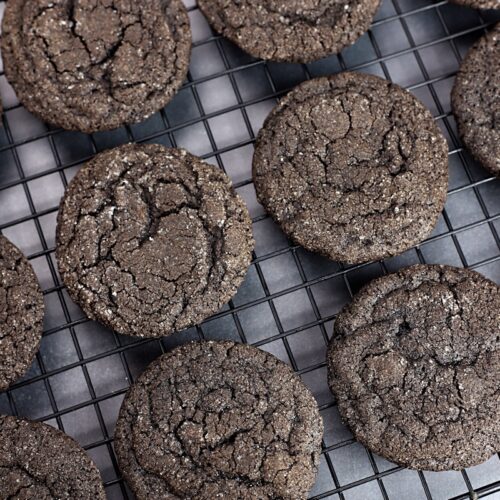 Print Recipe
Dutch Cocoa Cookies
Dutch Cocoa Cookies are rich and chewy, with a crunchy sugar coating. These chocolate cookies are reminiscent of Archway's Dutch Cocoa Cookies.
Ingredients
1

cup

unsalted butter

room temperature

1.5

cups

granulated sugar

2

large eggs

2

teaspoons

vanilla extract

2

cups

all purpose flour

3/4

cup

dutch cocoa

1

teaspoon

baking soda

1/2

teaspoon

salt

1/3

cup

granulated sugar

for rolling
Instructions
In a large bowl, cream together butter and sugar. Add eggs and vanilla extract. Beat for a full 3 minutes, mixture will look fluffy.

In a separate bowl, sift together the flour, dutch cocoa, baking soda, and salt.

Gradually stir dry ingredients into butter mixture until just combined.

Cover bowl or wrap dough in wax paper. Chill for at least 1 hour (up to 24 hours) in the refrigerator. Refrigerating will help the flavors meld and also create a firmer dough to roll into balls.

Preheat oven to 350 degrees.

Remove dough from refrigerator and allow to sit at room temperature for 10 minutes. Scoop dough using a 1.5 tablespoon scoop or shape by hand into 1.5 inch balls. Roll balls in granulated sugar.

Place cookie dough balls 2 inches apart onto a parchment lined baking sheet. Bake for 10-12 minutes, or until cookies begin to crack on top. Allow to cool for 5 minutes before removing to a wire rack to cool completely.
Notes
Your cookies will keep for 5-7 days in a sealed container. To help keep cookies fresh, you can place a slice of bread in the container with the cookies. Replace the bread slice as needed.
You can keep raw cookie dough in the refrigerator for 3 days. Cookie dough balls (and baked cookies) freeze well, up to 3 months in a sealed plastic container or freezer bag. Allow frozen balls to thaw for up to 10 minutes on the baking sheet before baking, or add 1-2 minutes to the baking time.
Nutrition
Serving:
0
g
|
Calories:
118
kcal
|
Carbohydrates:
16
g
|
Protein:
1
g
|
Fat:
5
g
|
Saturated Fat:
3
g
|
Cholesterol:
22
mg
|
Sodium:
67
mg
|
Potassium:
39
mg
|
Fiber:
0
g
|
Sugar:
10
g
|
Vitamin A:
170
IU
|
Calcium:
6
mg
|
Iron:
0.6
mg