No oven needed for these buttery stovetop biscuits. They're cooked in a skillet right on the stovetop. These flaky, tender & buttery homemade biscuits can be served for breakfast, lunch, or dinner - they go with everything!
Homemade biscuits cooked on the stovetop? Yep! You're going to love this recipe for skillet biscuits. They're made from scratch with a handful of ingredients, and you won't even have to turn on the oven.
Maybe your oven is full with holiday casseroles, or you only have access to a stovetop or single burner hot plate. No matter the case, these buttery stovetop biscuits are the perfect solution!
Serve alongside bacon and eggs for breakfast, with soup for lunch, or with fried chicken for dinner. You really can't go wrong with stovetop biscuits!
Prefer to make your biscuits in the oven? No problem, I've also included oven baking directions in the recipe card.
Ingredients and substitutions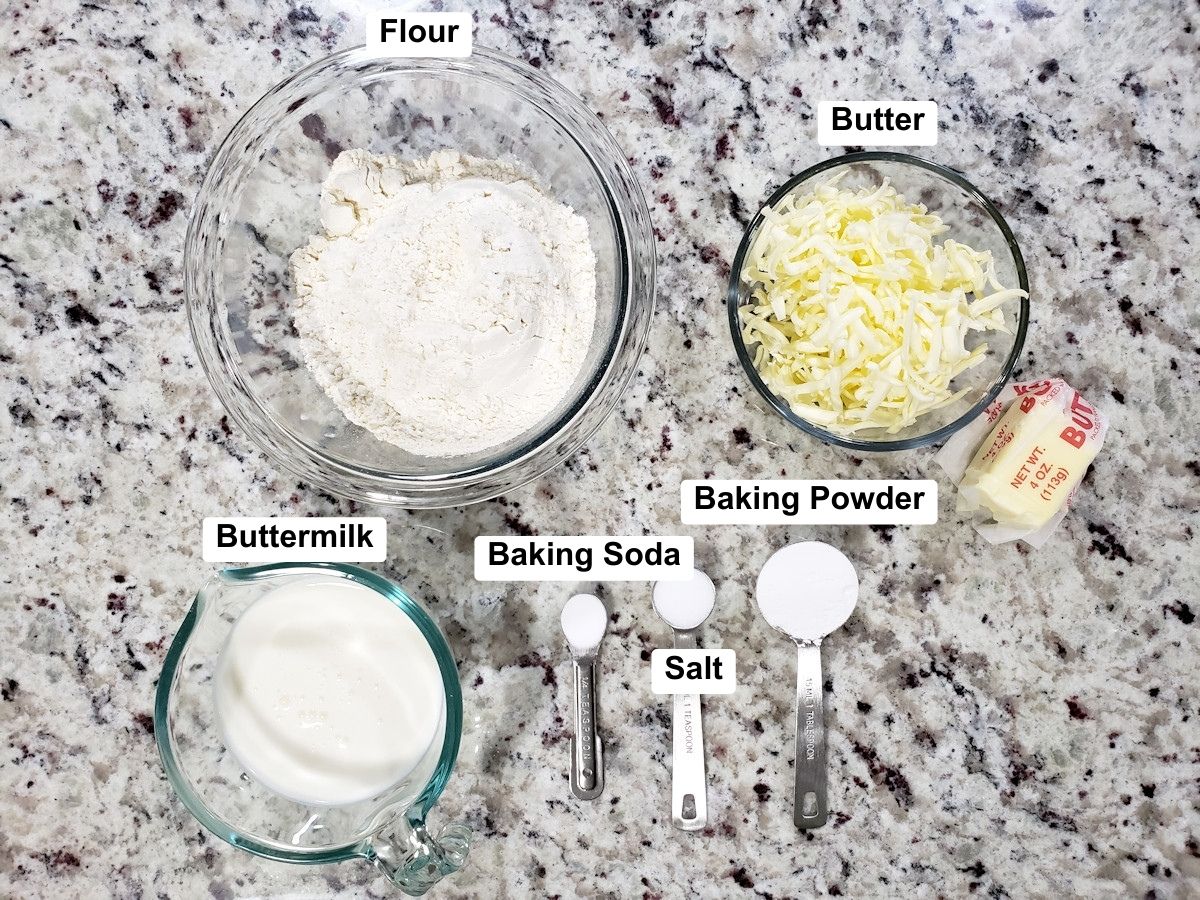 All-purpose flour - Do not substitute with other types of flour (self-rising flour, cake flour, etc), because it will change the acidity and/or texture of your biscuits.
Unsalted butter - Your butter needs to be cold - straight from the refrigerator or freezer. I like to shred mine with the large side of a cheese grater - it helps incorporate seamlessly into your dough.
Buttermilk - It cannot be substituted with other types of milk. Buttermilk adds the perfect amount of acidity paired with the leavening agents in this recipe.
Leavening agents - You'll need baking soda and baking powder for this recipe. One cannot be substituted with the other - you'll need both to get the perfect rise in your biscuits.
Salt - Enhances the flavor of your biscuits.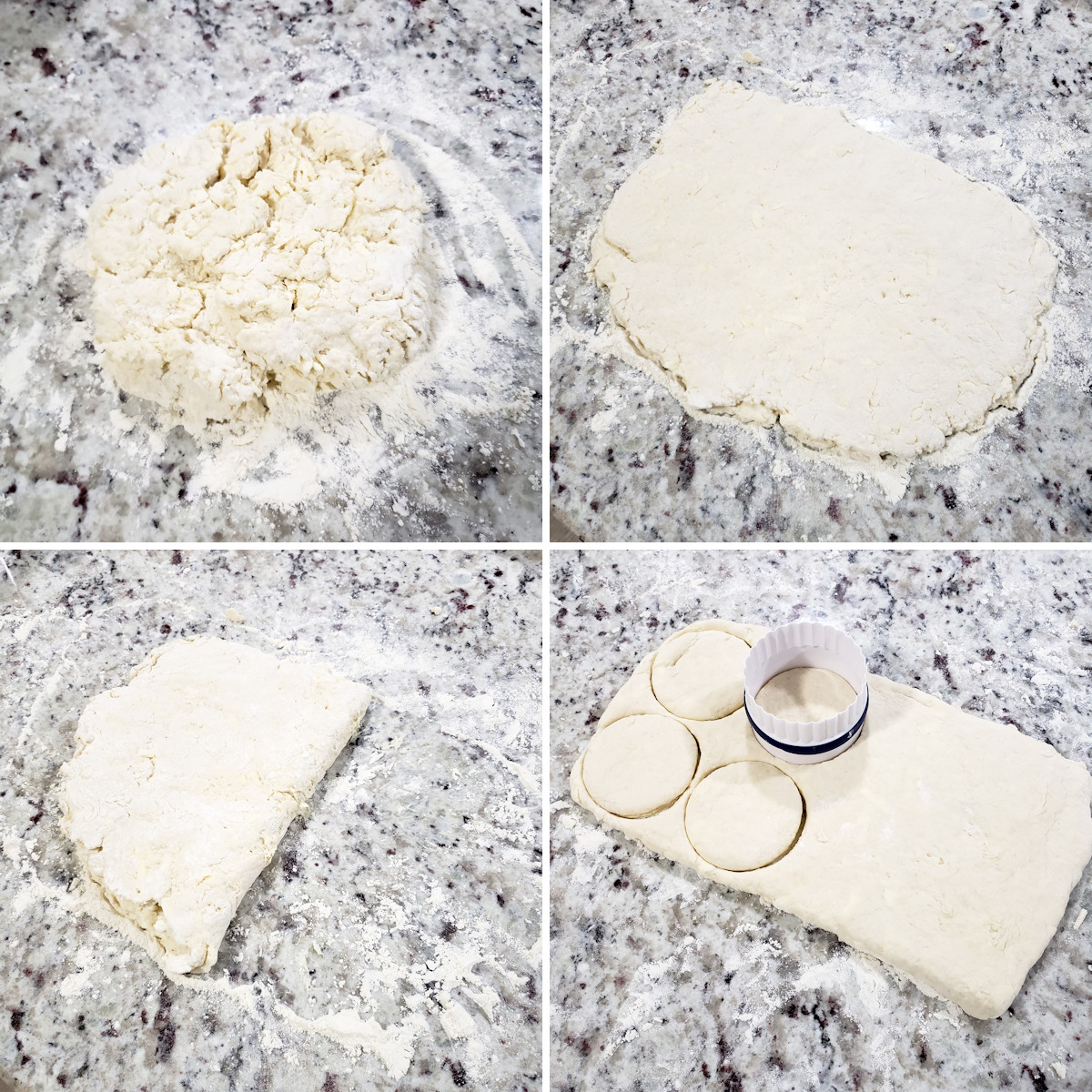 Folding biscuit dough
The goal of folding is to create layers of cold butter throughout your dough, which results in flaky, tender, and fluffy biscuits.
Once your dough is mostly mixed, but shaggy and sticky, turn it out onto a floured surface. Gently form your dough into a rectangle and pat it down with your hands.
Fold the rectangle in half, then turn it and gently pat it down into a wide rectangle again. You'll do this five times total before cutting out your biscuits.
If you're a visual person, here's a great YouTube video showing how exactly to fold biscuit dough: Biscuits and Shortcakes: Folding and Turning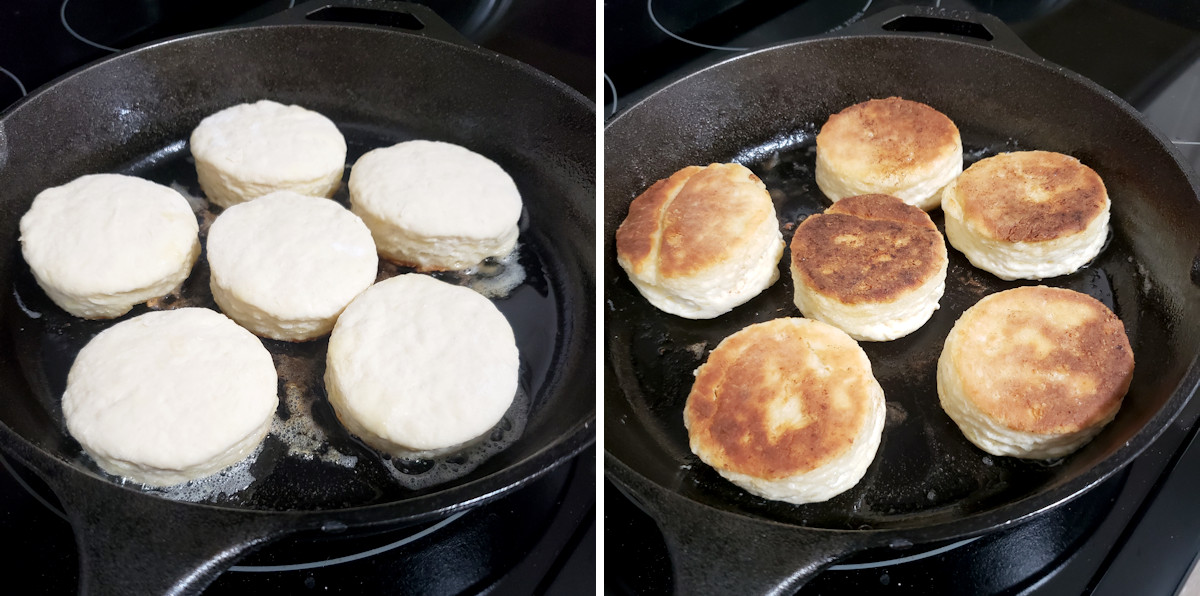 Tips & tricks
Cold butter - When baked, the butter melts and creates steam, which makes little pockets of air inside your biscuit. Make sure your butter is nice and cold, and don't handle your dough so much that the butter melts.
Do not substitute ingredients - This recipe requires very few ingredients, so it's important not to substitute anything. If you don't have the necessary ingredients, I suggest searching for a recipe that includes what you have on hand.
Do not knead your dough - Biscuit dough does not need to be kneaded like bread dough. In fact, you want to handle your dough as little as possible. Gently stir your ingredients until they're just incorporated, then only use gentle pats when folding your dough.
Folding and turning - Do not skip the step of folding and turning your dough. This is what makes those flaky layers, and only takes about two minutes.
Cutting your biscuits - Do not twist your biscuit cutter. Twisting the cutter while stamping out your biscuits seals the edges, which means they'll rise less while cooking. Use a straight up and down motion while cutting.
Cook over medium-low to low heat - This one is important. Biscuits need a solid 6 minutes on each side to cook through on the stovetop. That means you'll need to use low or medium-low heat. A higher heat will cause them to burn on the outside before they're done on the inside.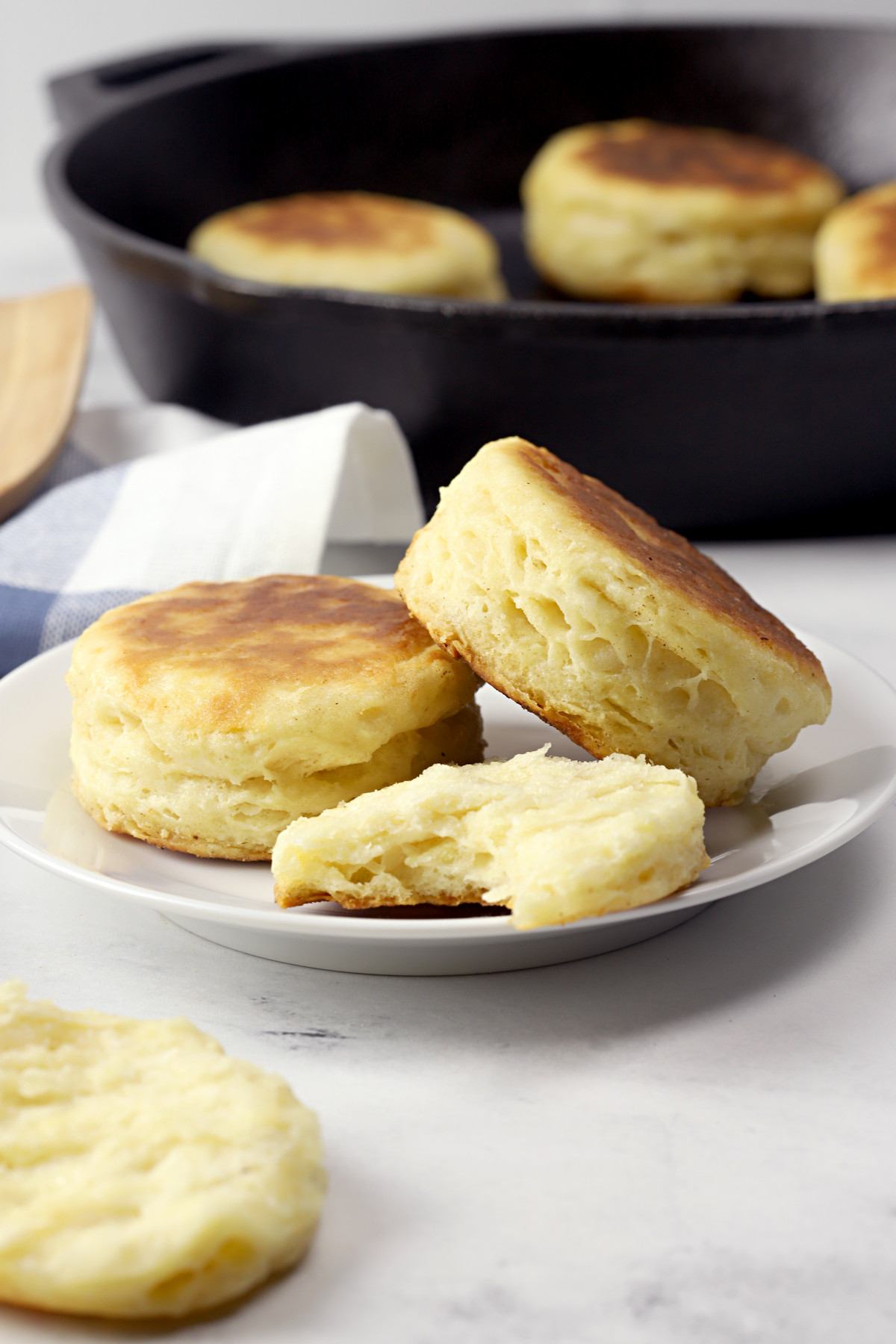 What to serve with biscuits
Biscuits can be served plain, with butter, or with a sweet or savory topping like gravy or jam. Here are a few of my favorite toppings:
Serve biscuits for breakfast, lunch or dinner - they go with just about anything! A few main dish ideas:
Bacon and eggs (make a breakfast sandwich!)
📖 Recipe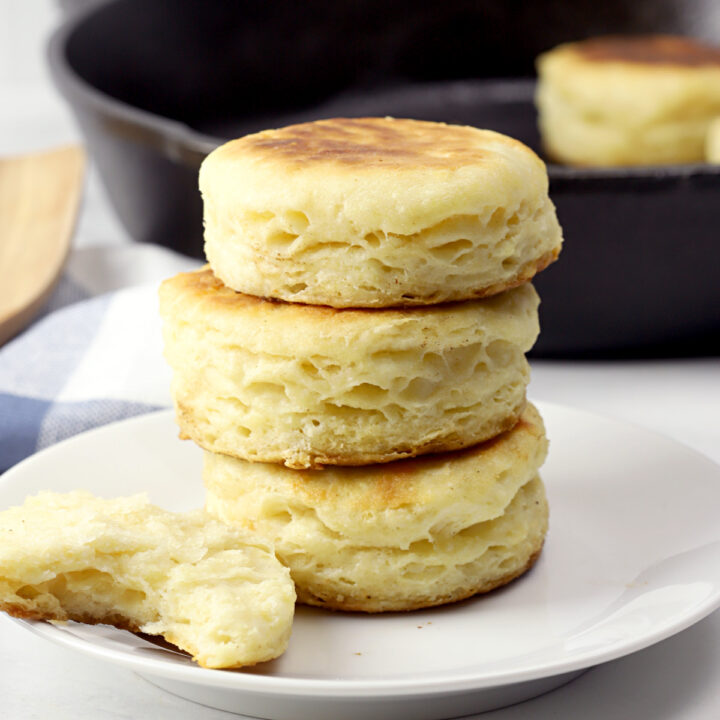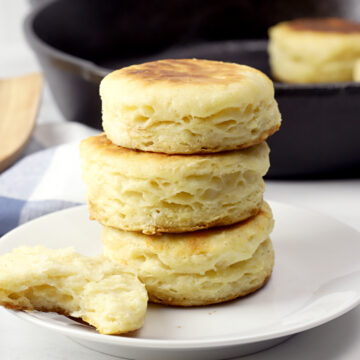 Print Recipe
Buttery Stovetop Biscuits
No oven needed for these buttery stovetop biscuits, they're cooked in a skillet right on the stovetop.
Ingredients
2

cups

(

240

g

)

all purpose flour

1

tablespoon

baking powder

¼

teaspoon

baking soda

1

teaspoon

salt

5

tablespoons

unsalted butter

,

cold, plus extra for greasing the pan

1

cup

(

227

g

)

buttermilk
Instructions
In a bowl, add flour, baking powder, baking soda, and salt. Whisk to combine and remove clumps. (Or, add to a food processor and pulse a few times).

Grate cold butter using the large side of a box grater and add to flour mixture, tossing to combine. Or, use a pastry cutter to cut cubed butter into flour mixture. (Or, add to food processor and pulse until butter is pea sized. If using a food processor, pour mixture into a large bowl at this time).

Make a well in the center of your flour mixture and add buttermilk. Gently stir until ingredients are mostly incorporated. Dough will look shaggy and sticky. Pour dough out onto a lightly floured surface.

Gently pat dough with lightly floured hands into a large, flat rectangle, about 10-12 inches wide and about ¾ inch thick. Keep extra flour nearby and continually flour the surface, dough, and your hands as needed. Fold dough rectangle in half, turn to the right to make your new rectangle horizontal, and gently pat back into a large rectangle. Repeat 4 times, folding your dough 5 times in total. Pat dough into a large rectangle, about ¾ inch thick.

Using a 2.5 to 3 inch biscuit cutter, cut biscuits out of dough (do not twist your cutter, this will seal the edges). Reform leftover dough gently and continue cutting until all dough is used - you should get about 10 biscuits.

In a skillet (I used a 10 inch cast iron skillet), melt a tablespoon of butter over medium-low to low heat. Add biscuits to pan (you'll likely need to cook in two batches) about 1 inch apart, and cook for 6 minutes on each side. If biscuits appear to be browning too quickly, turn the heat down. Low heat ensures your biscuits cook through in the center without burning on the outside. Add another tablespoon of butter before adding each additional batch of biscuits to the pan.
Notes
Do not be tempted to turn the heat up - this will not cook your biscuits faster. Low heat ensures the outside of your biscuits don't burn before the center cooks through.
Homemade biscuits keep for 1-2 days at room temperature in a sealed container, up to 1 week in the refrigerator, or 2-3 months in the freezer. If freezing, seal tightly with foil or plastic wrap and store in a freezer safe container.
Oven baking: Preheat oven to 425 degrees Fahrenheit. Line a baking sheet with parchment paper, or grease a cast iron pan. Place biscuits close together (or touching if possible) for a better rise in the oven. Bake for 16-20 minutes, or until tops are golden brown.
Nutrition Estimate
Calories:
167
kcal
|
Carbohydrates:
21
g
|
Protein:
3
g
|
Fat:
8
g
|
Saturated Fat:
5
g
|
Trans Fat:
1
g
|
Cholesterol:
21
mg
|
Sodium:
288
mg
|
Potassium:
182
mg
|
Fiber:
1
g
|
Sugar:
1
g
|
Vitamin A:
250
IU
|
Calcium:
85
mg
|
Iron:
1
mg
More recipes