Make a puff pastry blueberry galette this summer - it's an easy summertime dessert treat. Flaky, buttery puff pastry is filled with fresh blueberry filling and baked until golden and bubbly.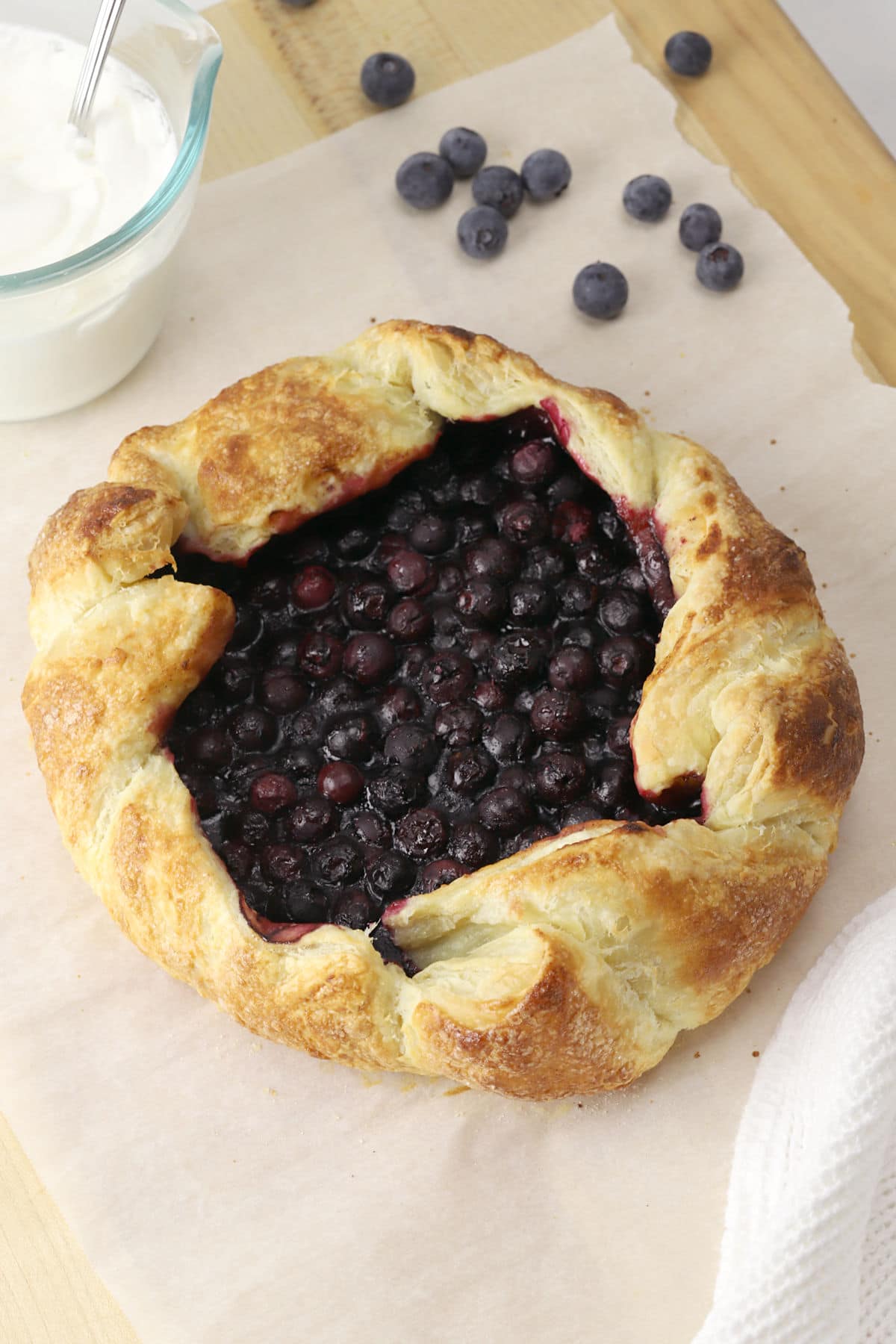 This blueberry galette will be your new go-to summer pie recipe. An eye catching dessert, this rustic, thin pie comes together with just a few minutes of prep work.
Store bought puff pastry makes this recipe a cinch - just roll it out and fill it with a simple blueberry filling. Fold the crust up around your filling and brush with heavy cream before baking until golden brown.
Serve puff pastry blueberry galette with a dollop of whipped cream or vanilla ice cream. Adding a creamy element is the perfect pairing for the slightly acidic fruit filling. This galette is perfect for your next summer party, after-dinner dessert, or small Fourth of July gathering.
Ingredients and substitutions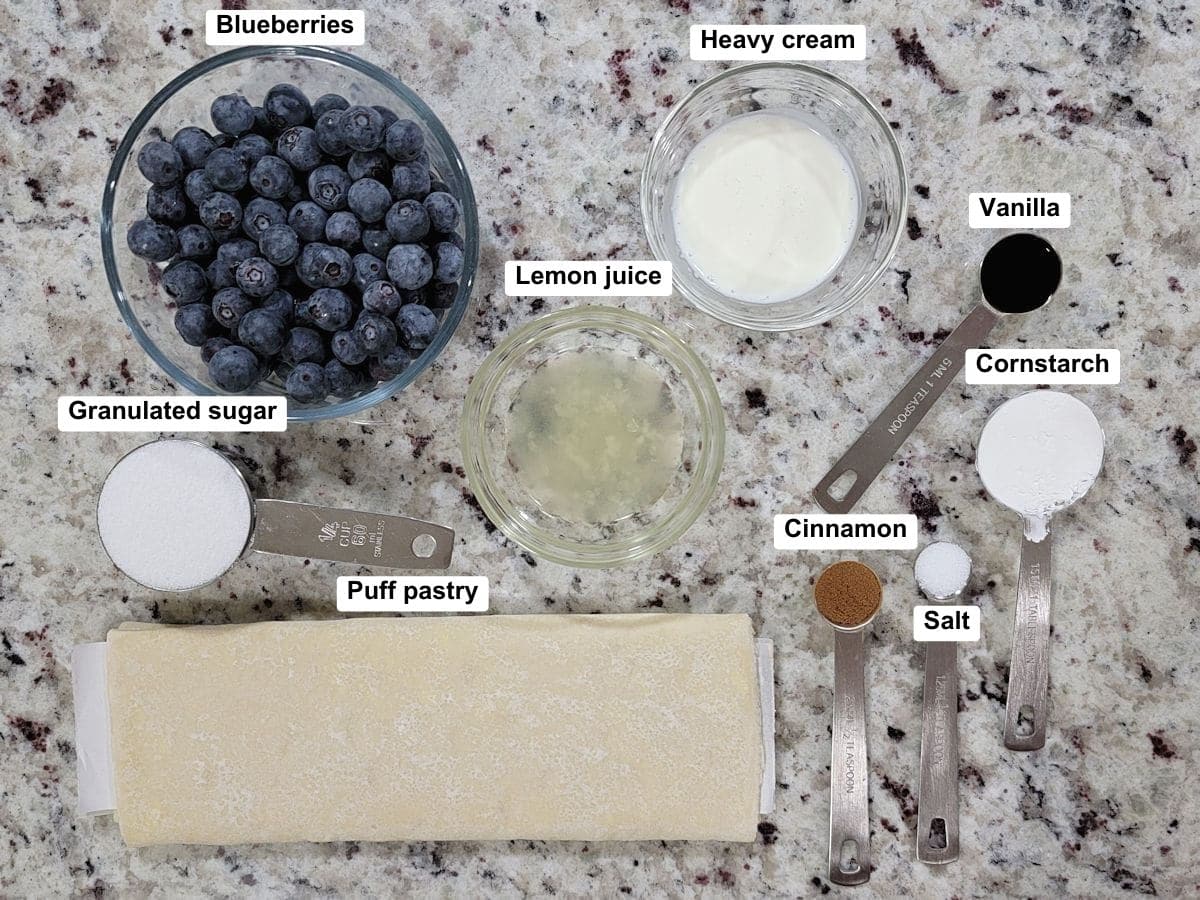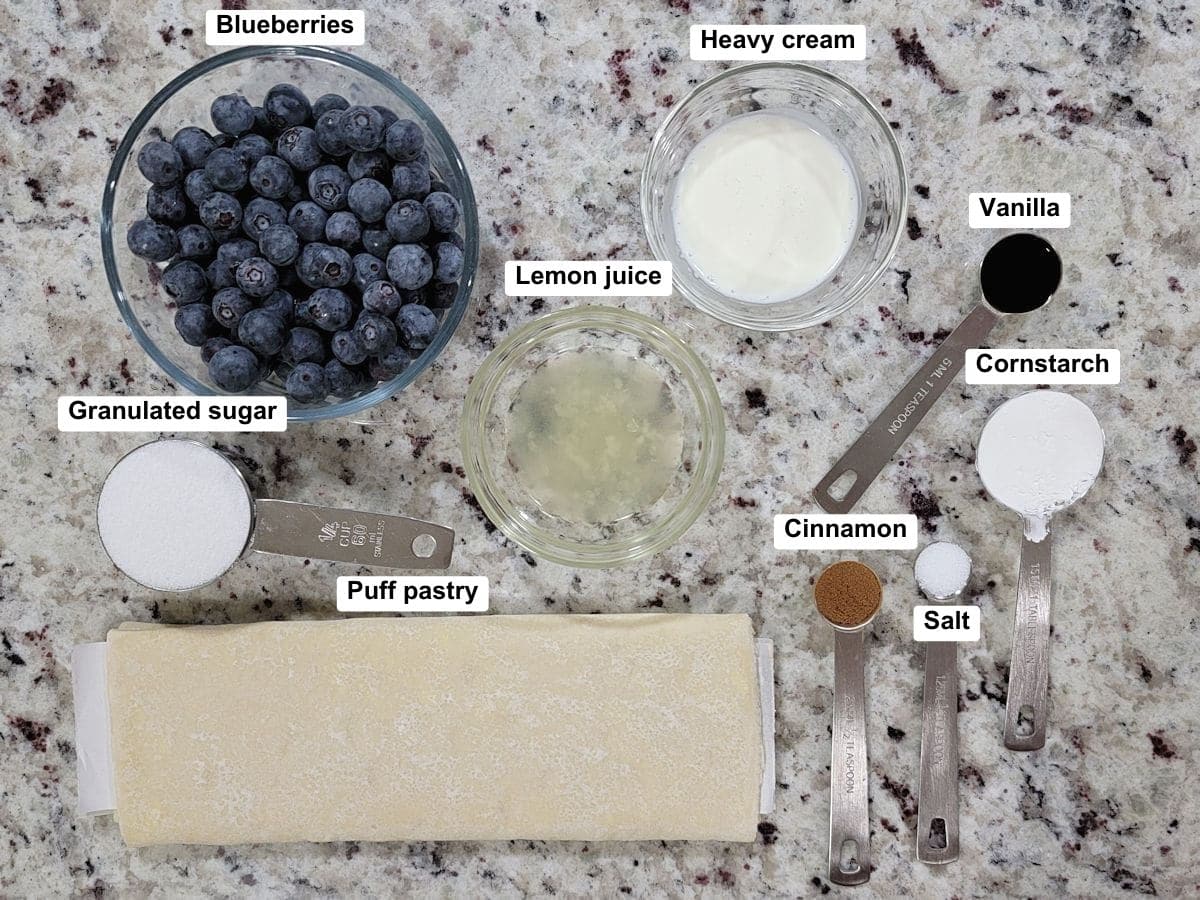 Fresh blueberries can be substituted with other berries you have on hand, like raspberries or strawberries. Want to use frozen blueberries? Thaw them beforehand and strain off any extra juices before mixing your pie filling.
Puff pastry can be homemade or store bought. I like the way the puff pastry makes a big, crunchy, flaky crust around the edges, but a traditional pie crust will also work just fine.
Granulated sugar adds just a bit of sweetness to your blueberry filling, and can be substituted with brown sugar for a more caramelized flavor.
Lemon juice balances the sweetness of your blueberries with a little acidity and brightness.
Vanilla extract adds depth of flavor to your pie, but can be omitted if needed without affecting the texture of your pie filling.
Cinnamon adds a bit of spice and warmth to your pie. This can be substituted with 1 teaspoon of lemon zest if you'd prefer a citrusy flavor.
Salt - a small amount enhances the flavors of your pie without making it 'salty'.
Cornstarch - Helps thicken your filling in the oven. This can be substituted with flour if needed.
Heavy cream (optional) - I like to brush my pie crusts with heavy cream before baking. Similar to an egg wash, this gives your baked crust a beautiful golden brown color. If you don't have any heavy cream on hand, whole milk or an egg wash (one egg whisked with a few teaspoons of water) will also work just fine.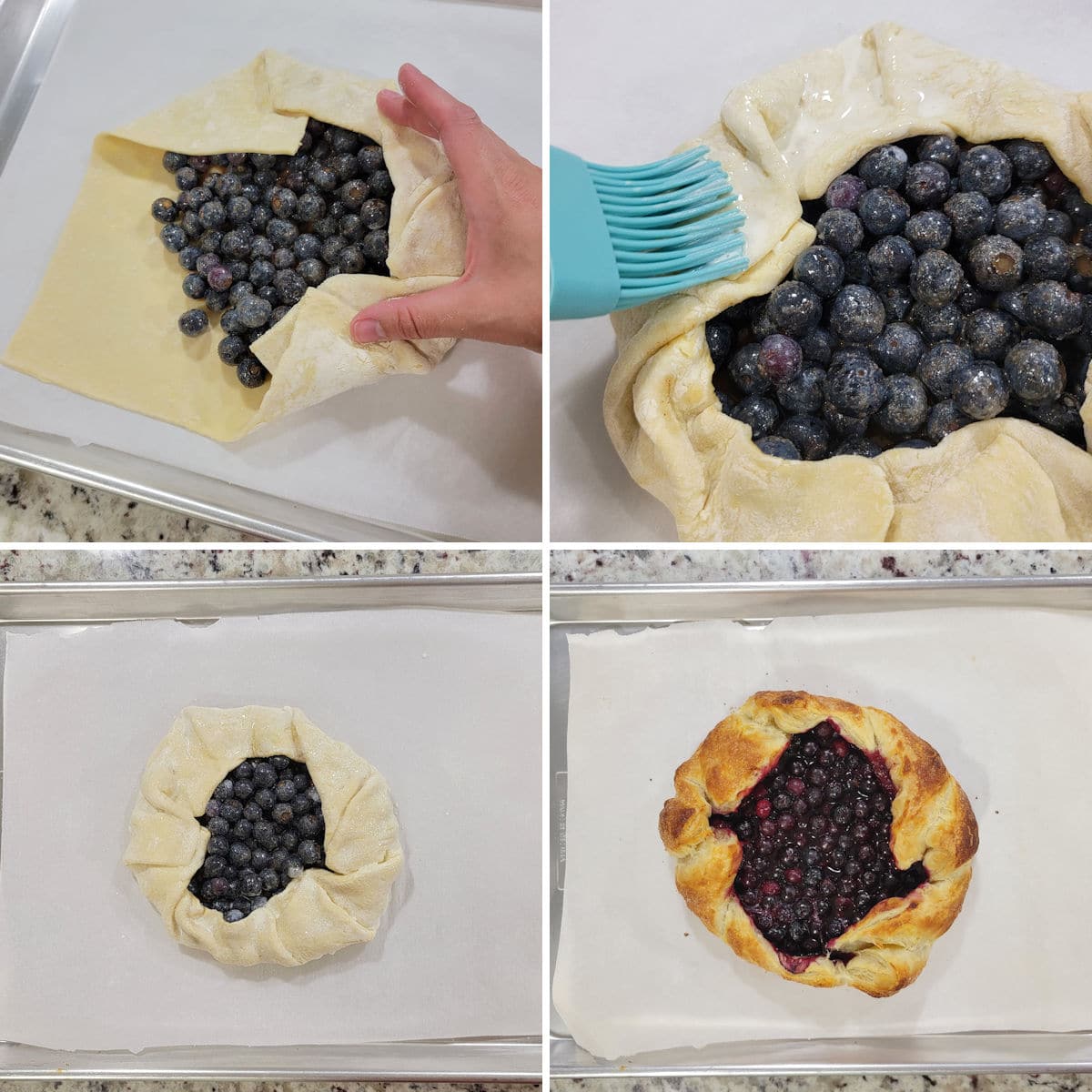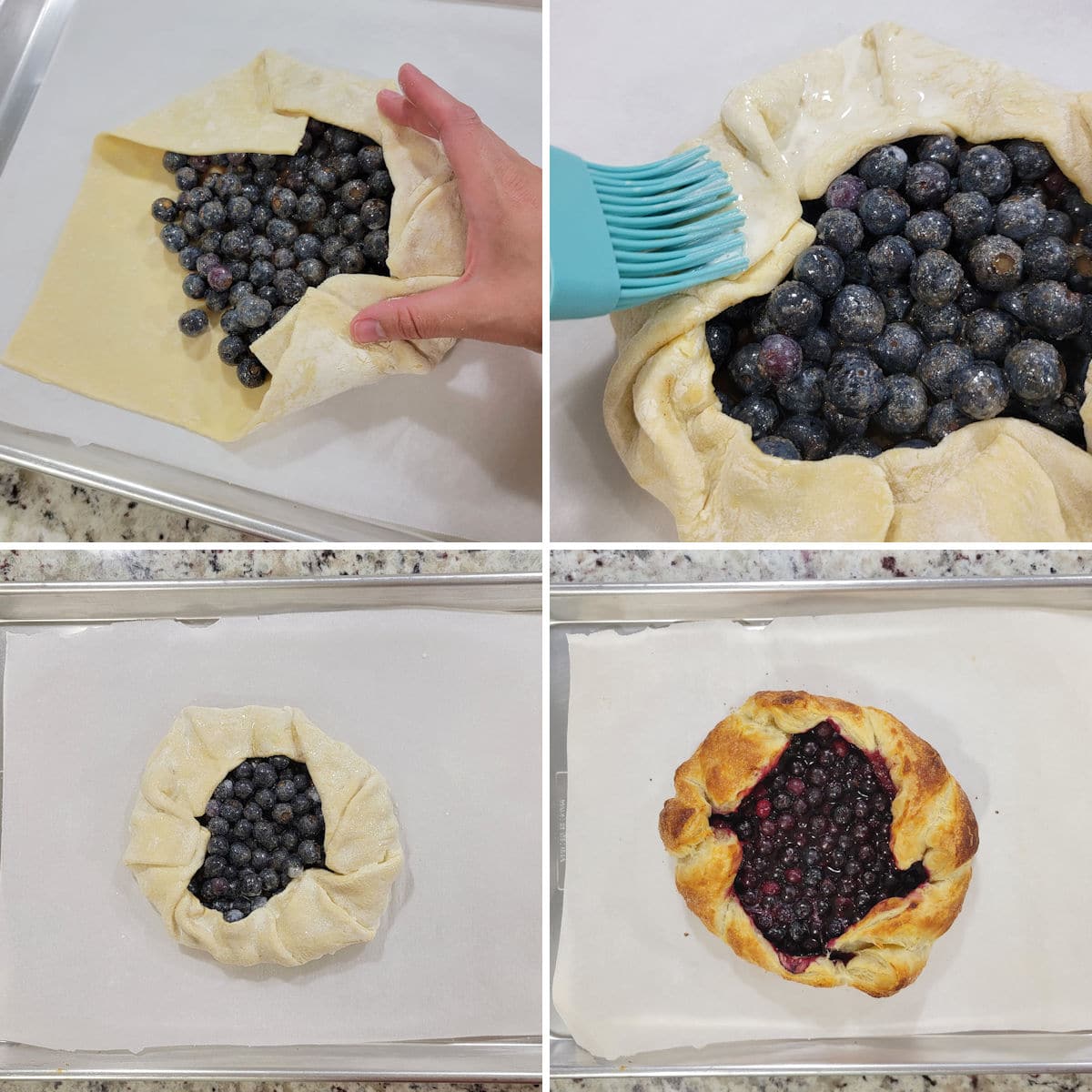 Puff pastry or pie crust
I originally wrote this recipe using a homemade pie crust, but have since updated the recipe to use puff pastry instead.
Either a traditional pie crust or puff pastry will work, whether homemade or store bought. Simply swap the puff pastry listed in the recipe card with a single pie crust.
Tips and tricks
Gently roll out your puff pastry with a rolling pin, to about a 10 to 12 inch square. This removes creases and also stretches your dough out slightly, adding more room for filling and folding later.
Don't worry about perfection - one of the greatest parts of making a galette is its rustic look. When folding your dough around the filling, worry more about sealing up the filling and less about creating the perfect crust. Plus, handling the dough too much can cause the butter to melt. So, handle the dough as little as possible.
Don't add too much filling. Adding extra filling means your pie is more likely to overflow/leak in the oven. Galettes are meant to be thin, and do not have the help of a pie pan to hold their shape. I use about 1.5 cups of blueberries in this galette, which is the perfect amount for me. When tested with 2 cups of blueberries, the crust began to unravel and leak. This amount can vary based on the size of pie crust used. Feel free to tweak this amount once you get the hang of making galettes in your own kitchen.
Don't add more liquid to your filling. Blueberries release their juices as they cook, so there's no need to add extra liquid. If using frozen, thawed berries, strain out extra juices before mixing your filling.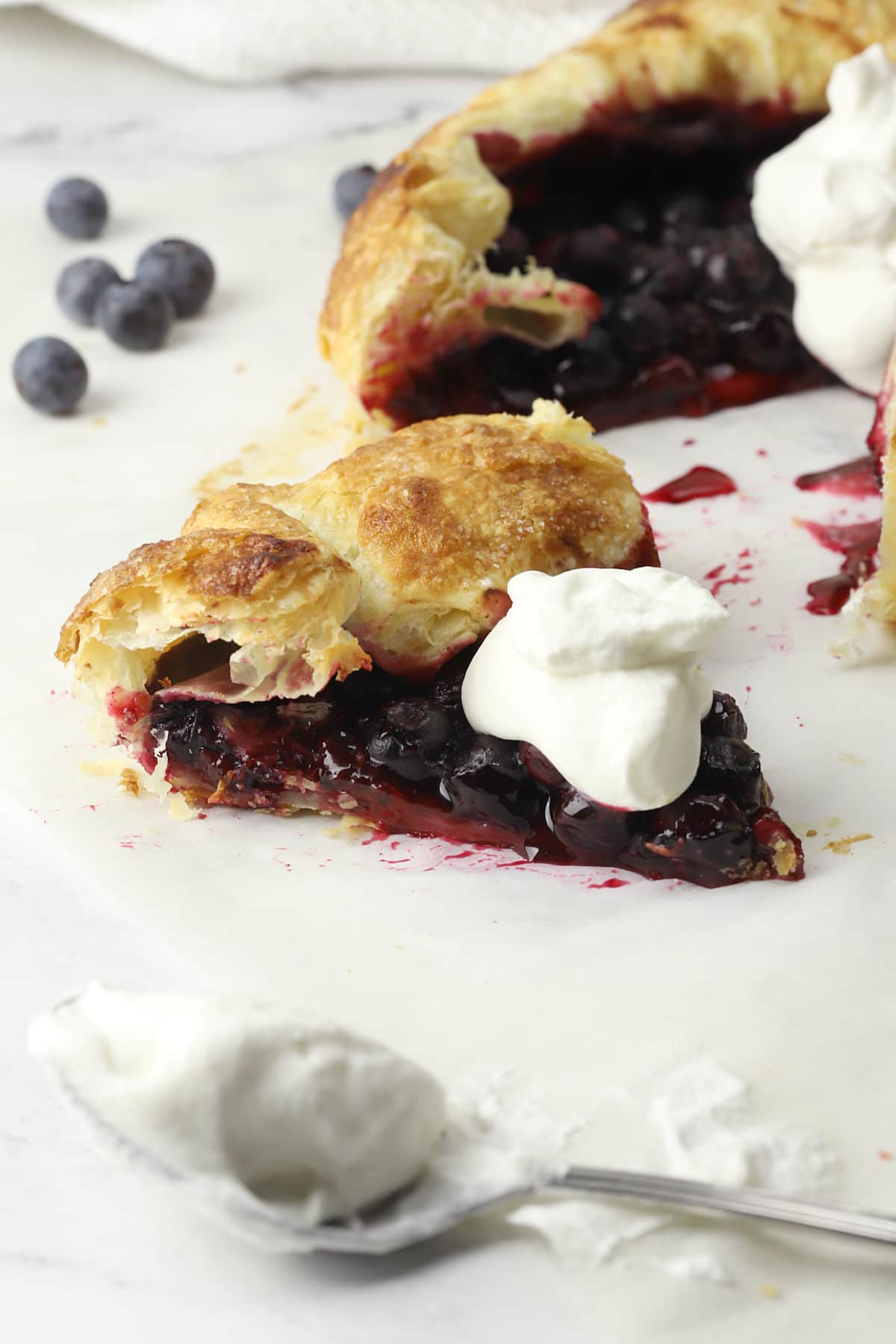 Serving
Your galette can be served warm (cooled slightly from the oven), or room temperature several hours later.
Try topping your blueberry galette with a dollop of whipped cream or a scoop of vanilla ice cream.
If you have leftovers, this pie reheats well with just a few seconds in the microwave.
Recommended
📖 Recipe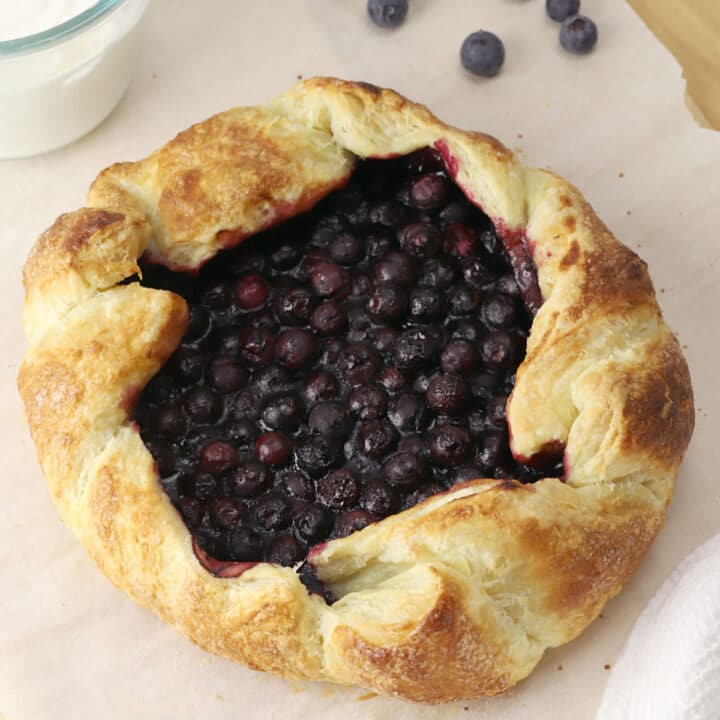 Print Recipe
Puff Pastry Blueberry Galette
This rustic Blueberry Galette is easier to make than you think. A flaky, buttery, lemon zest crust is filled with sweet blueberry filling.
Ingredients
1

sheet

puff pastry

,

thawed

1.5

cups

blueberries

¼

cup

granulated sugar

1

tablespoon

lemon juice

1

tablespoon

cornstarch

1

teaspoon

vanilla extract

½

teaspoon

ground cinnamon

1

tablespoon

heavy cream

,

optional
Instructions
Preheat oven to 400 degrees Fahrenheit. Line a baking sheet with parchment paper.

Unfold puff pastry and using a rolling pin, roll out into a 10 to 12 inch square, removing creases. Transfer to parchment lined baking sheet.

In a bowl, add blueberries, granulated sugar, lemon juice, cornstarch, vanilla extract, and cinnamon. Stir until cornstarch dissolves and ingredients are evenly incorporated. Gently pour blueberry filling into the center of prepared puff pastry, leaving a 2-3 inch border around the edges.

In a clockwise pattern, fold edges of dough over filling (pinching together as needed), leaving a small circle of filling visible in the center.

Optionally, brush edges of crust with heavy cream and sprinkle with additional granulated sugar.

Bake for 30 to 40 minutes, or until crust is golden brown and filling is bubbling. Remove from oven and allow to cool before slicing and serving.
Notes
Store any leftovers in a sealed container at room temperature for 2-3 days.
Optionally, top galette with a scoop of vanilla ice cream or whipped cream before serving.
Puff pastry can be substituted with a traditional pie crust if desired.
If using frozen berries, strain off any extra juices before mixing your filling.
Nutrition Estimate
Serving:
1
slice
|
Calories:
221
kcal
|
Carbohydrates:
25
g
|
Protein:
3
g
|
Fat:
12
g
|
Saturated Fat:
3
g
|
Polyunsaturated Fat:
2
g
|
Monounsaturated Fat:
7
g
|
Cholesterol:
2
mg
|
Sodium:
77
mg
|
Potassium:
45
mg
|
Fiber:
1
g
|
Sugar:
9
g
|
Vitamin A:
43
IU
|
Vitamin C:
3
mg
|
Calcium:
7
mg
|
Iron:
1
mg