Make a loaf of flavorful & moist banana nut bread with those ripe bananas in the pantry. Filled with mashed bananas, walnuts, and a hint of cinnamon, this banana bread makes the perfect breakfast, snack, or dessert.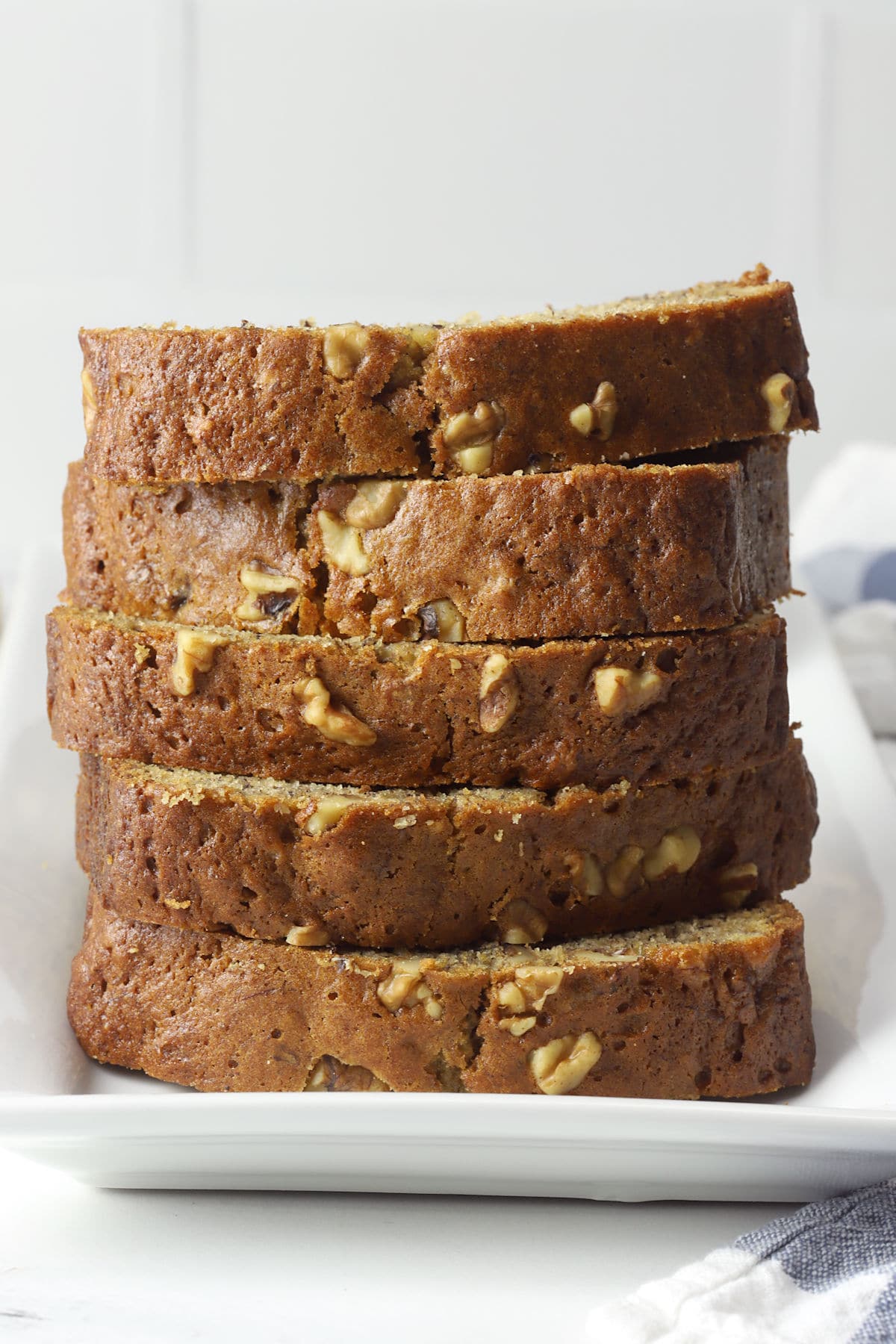 Homemade banana bread is the obvious choice when it comes to using up those overripe bananas. Plus, it's easier than you think to make from scratch!
First, you'll need some overripe bananas. Bananas are perfectly ripe for banana bread when they are covered in brown spots, but don't have mold on the stem. They're probably too soft to slice over your morning cereal.
Next, you'll need a few pantry staples like granulated and brown sugars, vegetable oil, eggs, and all-purpose flour. You'll also need a 9x5 loaf pan and parchment paper for easy removal. Your homemade bread will be ready after about an hour in the oven.
A fresh-baked loaf of banana nut bread makes the perfect breakfast - try it lightly toasted and topped with a pat of butter! Or, serve banana bread as a snack or dessert.
Ingredients and substitutions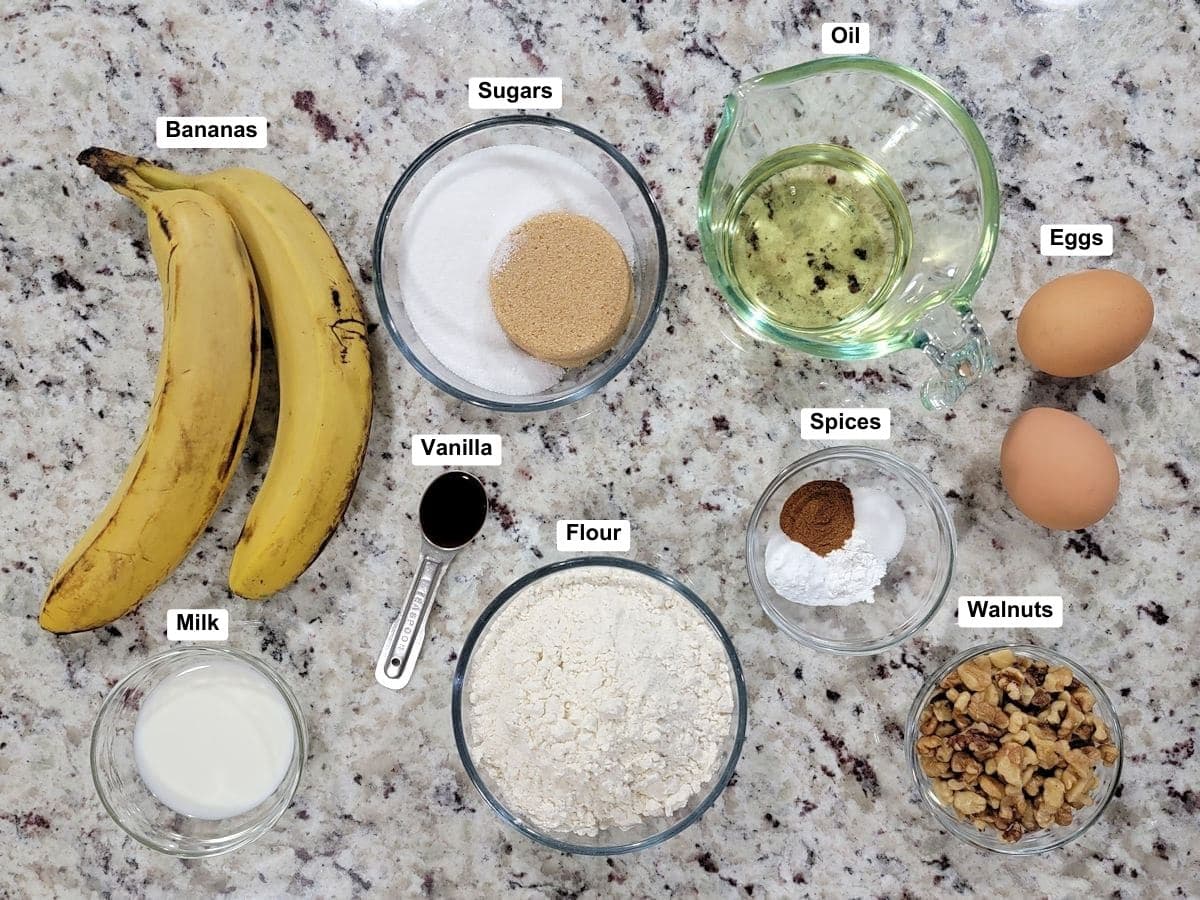 Bananas - For this recipe, you'll need two large or three medium bananas. This equals one cup of mashed banana (if you'd like to measure it out for total accuracy). Try to use bananas with no green on the skin. Overripe bananas will have a moderate amount of brown spots on the outside.
Sugars - You'll need granulated sugar and brown sugar for this recipe.
Oil - Vegetable oil or any other neutral flavored oil will work in this recipe. Oil adds moisture to your banana bread and will help keep it moist for days after baking.
Eggs - Two large eggs will add stability, structure, and moisture to your banana bread.
Milk - I recommend using whole milk because it contains the most fat, which will keep your bread moist. Whole milk can be substituted with any milk you have on hand (skim, 1%, almond milk) if needed.
Vanilla extract - Just a hint of vanilla adds the perfect amount of flavor to your banana bread.
Flour - I have only tested this recipe using all-purpose flour. If you need to bake using a different type of flour, I recommend searching for a recipe that is made for the type of flour you have on hand.
Leavening agents - You'll need baking soda and baking powder for this recipe. One cannot be substituted with the other - you'll need both to get the perfect rise in this recipe.
Seasoning - Just a hint of cinnamon and salt enhance the flavor of your banana bread.
Nuts - Walnuts or pecans are great options for this recipe. Chopped almonds or peanuts would also work well.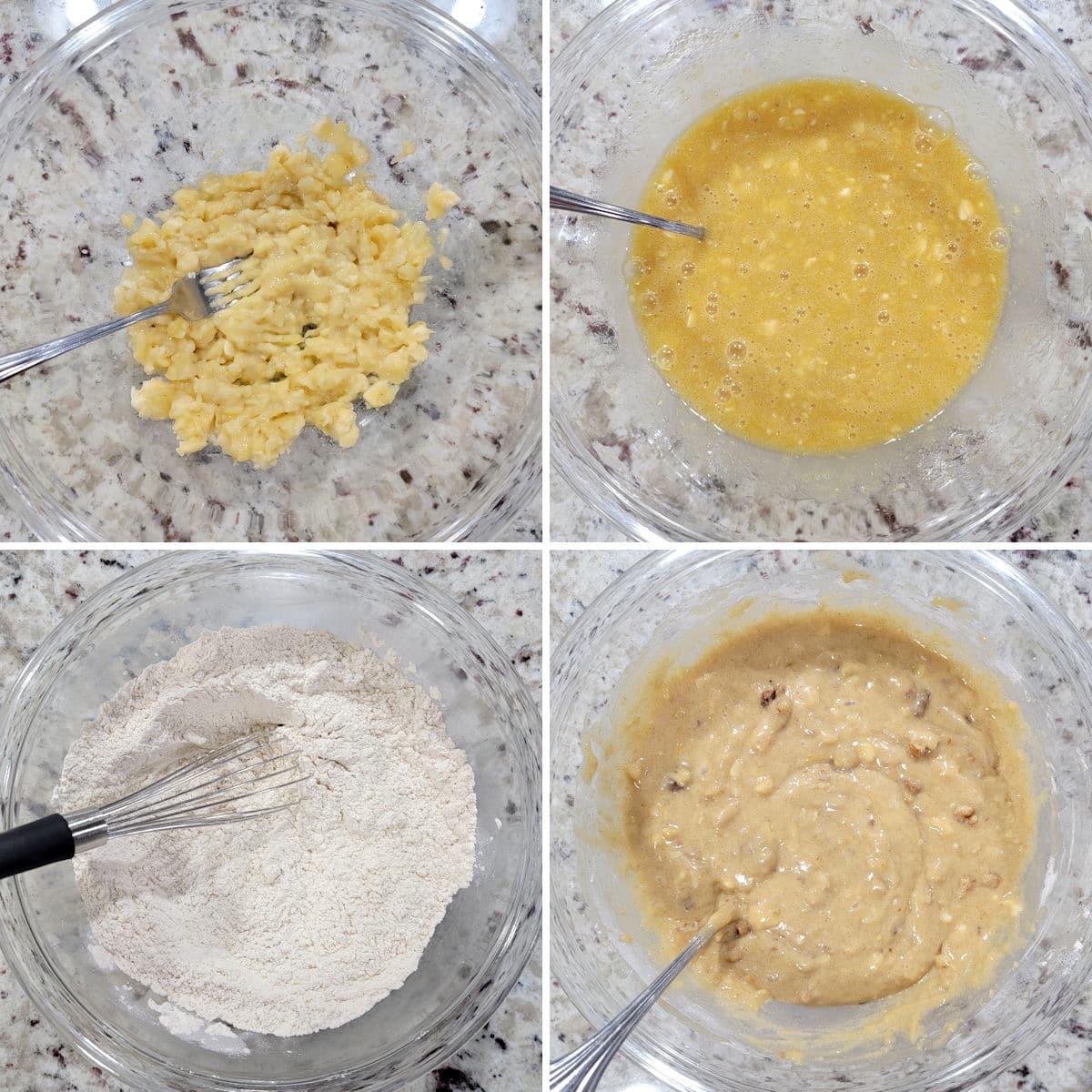 How ripe do my bananas need to be?
Very ripe bananas are best for making banana bread. They are softer, sweeter, and easily incorporate into the batter. While banana bread can technically be made with fresh bananas, you'll get the best result from overripe bananas.
How can you tell if bananas are ready for banana bread?
Brown spots/streaks (no green)
Very soft inside
No visible mold
Do not smell rotten
How to ripen bananas quickly
Want to ripen bananas quickly? Place your bananas in a brown paper bag and fold closed. Leave them on the counter for 24-48 hours.
Or, set your oven to 300 degrees Fahrenheit, line a baking sheet with parchment paper, and lay out your unpeeled bananas. Bake for 15-30 minutes, or until skins look shiny and black.
How to prevent dry banana bread
Be careful not to overbake:
Ovens can run hot or cold (they're all slightly different!). If your oven runs hot, your baked goods may be done a few minutes before what is suggested in the recipe.
Use an instant-read thermometer inside your oven to make sure your oven is set to the proper temperature for any given recipe. Here's what I use: Rubbermaid Instant Read Oven Thermometer
If your oven regularly runs hot, try testing your bread about 5 minutes early. Stick a toothpick in the center of your bread loaf. If the toothpick comes out dry, or with crumbs, your bread is done. If your toothpick comes out with wet batter, give it another 5 minutes and check again.
Measure properly and don't substitute:
Adding too much flour. Scooping flour directly from a bin (especially one that's been sitting for a while and may have settled) can compact the flour and add up to 25% extra flour to your recipe. Extra flour can make your baked goods dry, dense, and crumbly. For best accuracy, use a kitchen scale to measure your flour. 1 cup of flour = 120 grams.
Substituting ingredients. Bananas, eggs, oil, milk, and sugar all help make and keep your baked goods moist. Substituting ingredients or reducing quantities can make your bread dry.
Using a sugar substitute can also make your bread dry. Not only does sugar sweeten your bread, but it also attracts and holds on to moisture. Most sugar substitutes do not have these moisture-retaining qualities.
More tips:
Make sure you're using the proper pan size. Changing the size of your baking pan can change the baking time needed.
Don't slice into hot bread straight from the oven. This releases steam/moisture from your bread.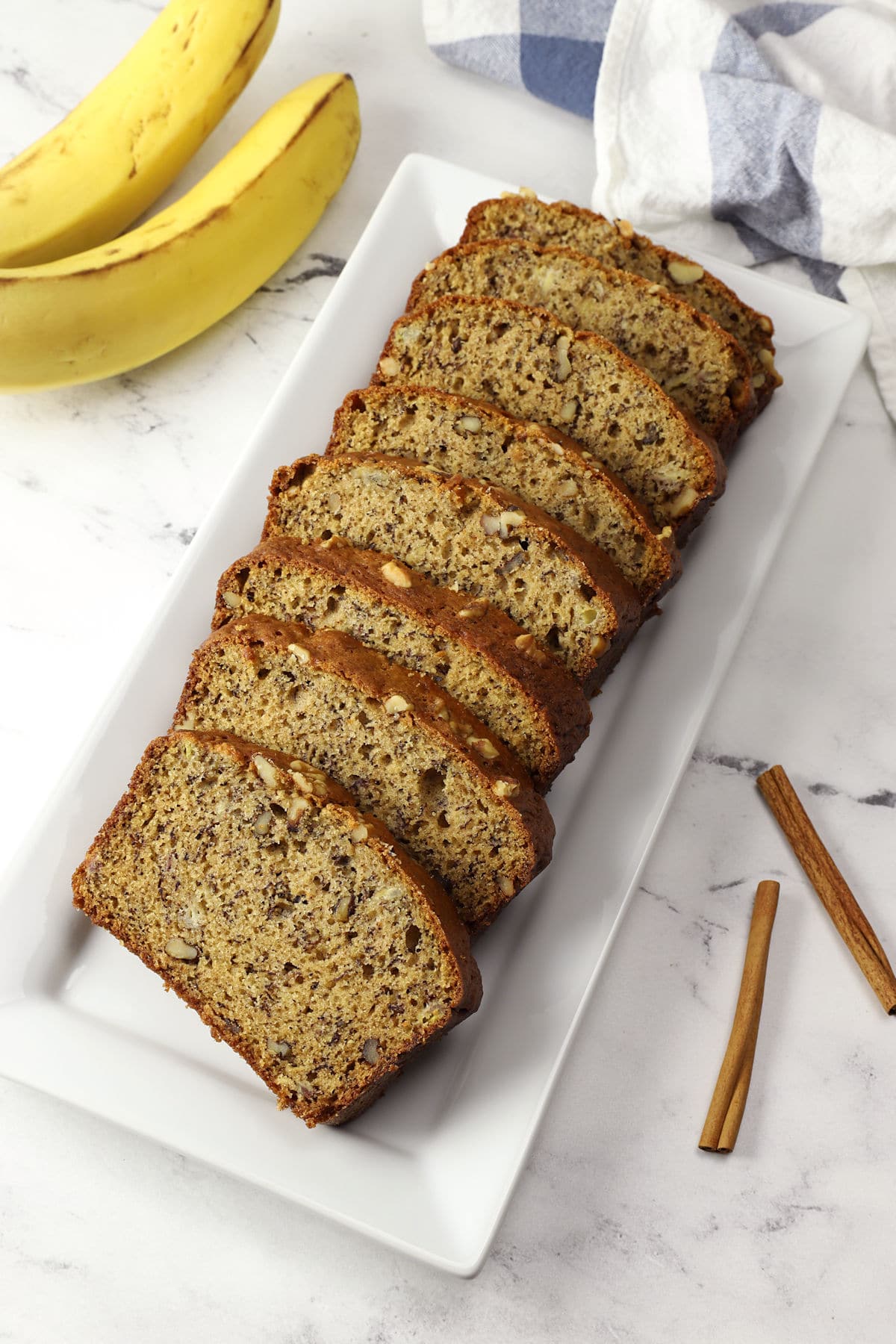 Can I make this recipe into muffins?
Yes! I actually made an entire post dedicated to banana nut muffins, which uses the same ingredients. You can find it right here: Banana Nut Muffins
To make muffins, bake for 19 to 21 minutes at 350 degrees Fahrenheit. This recipe will make 15 regular sized muffins.
Recommended
📖 Recipe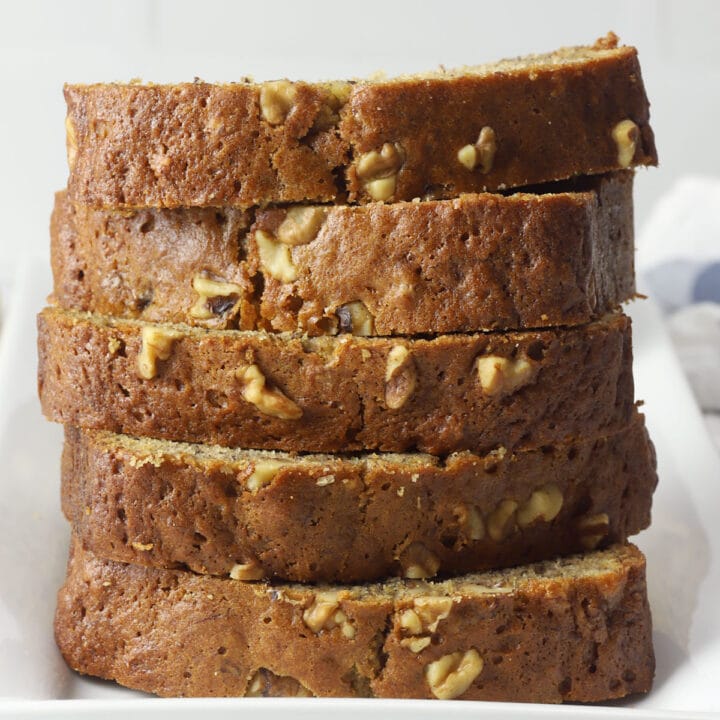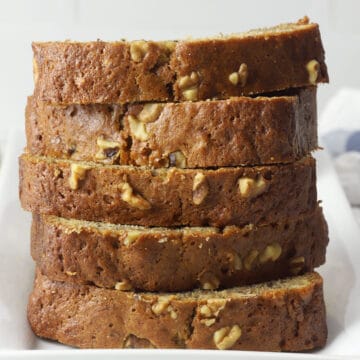 Print Recipe
Banana Nut Bread
Make a loaf of flavorful & moist banana nut bread with those ripe bananas in the pantry. Filled with mashed bananas, walnuts, and a hint of cinnamon, this banana bread makes the perfect breakfast, snack, or dessert.
Ingredients
2

large

ripe bananas

,

or 3 medium bananas /1 cup of mashed banana

½

cup

(

100

g

)

granulated sugar

½

cup

(

106

g

)

brown sugar

½

cup

(

100

g

)

vegetable oil

2

large eggs

2

tablespoons

(

28

g

)

milk

1

teaspoon

vanilla extract

2

cups

(

240

g

)

all-purpose flour

1

teaspoon

baking soda

½

teaspoon

baking powder

1

teaspoon

ground cinnamon

½

teaspoon

salt

½

cup

(

56

g

)

chopped nuts

,

like walnuts or pecans
Instructions
Preheat oven to 350 degrees Fahrenheit. Line a 9x5 loaf pan with parchment paper (or grease and flour the bottom and sides) and set aside.

In a large bowl, add your bananas and mash with a fork or potato masher. Then, add granulated sugar, brown sugar, oil, eggs, milk, and vanilla extract. Stir until well combined. Set aside.

In a separate bowl, whisk (or sift) together the dry ingredients: flour, baking soda, baking powder, cinnamon, and salt. Pour dry ingredients into the wet ingredients and stir until just combined (do not overmix, this can cause your bread to turn out tough). Fold in chopped nuts.

Pour batter into loaf pan. Cover loaf pan lightly with foil (remove foil halfway through baking. This ensures that the top of your bread doesn't burn.) Bake for about 55-65 minutes, or until a toothpick comes out clean.
Notes
Banana nut bread freezes well and can be kept in the freezer for up to 3 months. Wrap in wax paper and foil, and store in a freezer bag for best results.
For best results, do not substitute any ingredients. Baking is an exact science, and each ingredient serves a purpose.
Nutrition Estimate
Serving:
1
slice
|
Calories:
340
kcal
|
Carbohydrates:
46
g
|
Protein:
4
g
|
Fat:
15
g
|
Saturated Fat:
9
g
|
Cholesterol:
33
mg
|
Sodium:
243
mg
|
Potassium:
187
mg
|
Fiber:
1
g
|
Sugar:
23
g
|
Vitamin A:
65
IU
|
Vitamin C:
2.1
mg
|
Calcium:
39
mg
|
Iron:
1.6
mg