Zucchini Banana Bread is an easy quick bread to make with your extra summer zucchini and ripe bananas. This bread is soft, tender, and moist, and makes a fantastic breakfast, snack, or light dessert.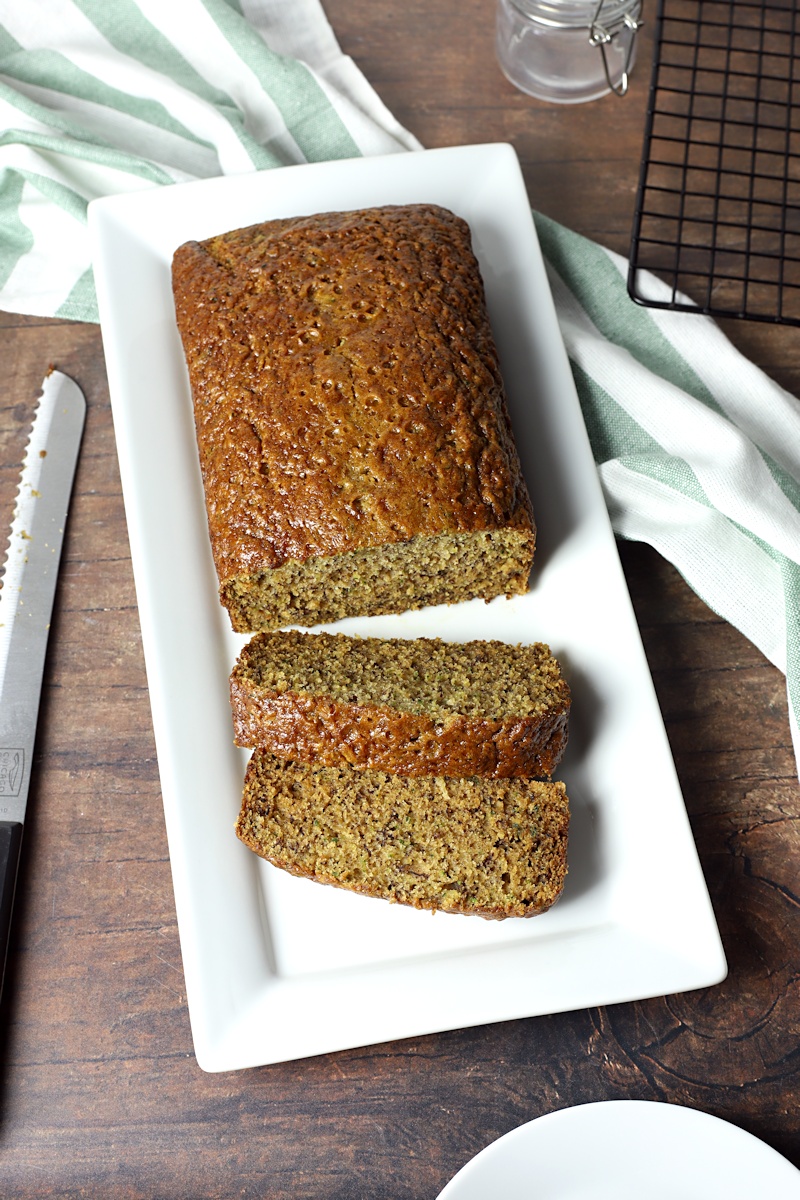 Summer harvest often brings an excess of produce like summer squash and zucchini. If you've never had it before, zucchini bread and muffins are a great way to use up that extra zucchini.
I've combined zucchini with my favorite Banana Nut Bread to bring you this amazingly moist and flavorful zucchini banana bread. Love my banana nut bread? You can also add a half cup of nuts to this recipe for some added crunch. Yum.
Want more zucchini recipes? Check out my Roasted Zucchini and Squash for an easy side dish, or my Cajun Shrimp and Sausage Skillet Meal for a light and flavorful weeknight meal.
Zucchini Banana Bread
Unsure about putting vegetables into your baked goods? Trust me, you really cannot taste the zucchini baked into this bread. It's simply along for the ride, bringing tons of moisture, and pretty flecks of green, to this flavorful bread.
I used the small side of my grater to shred the zucchini into small pieces. Because of this, it baked right into my bread without adding texture.
If you prefer, you can use the larger side of a box grater to grate your zucchini into large pieces. This is all personal preference, and either way will work just fine.
The flavor of this bread mainly comes from the bananas and cinnamon. Honestly, it just tastes like banana bread. So why add zucchini in the first place? Moisture, among other things.
Moist Zucchini Bread
Zucchini provides extra moisture for this bread, so I was able to omit one of the eggs and some of the sugar. I also lightened up on the flour, since natural fiber in zucchini will help bind the bread together.
Adding zucchini to your baked goods may also help you feel better about eating quick bread if there are veggies inside. No, you're not going to be getting a full serving of vegetables from eating a slice of zucchini bread. But you'll be getting a few more vitamins and minerals, which is always a good thing.
After making this bread, I welcome zucchini to all of my future banana breads. It helped add moisture, fiber, vitamins, minerals, and I was able to cut back on some of the other (less healthy) ingredients. Why not add zucchini?
Summer Zucchini Harvest
Most of all, zucchini bread is a fantastic way to use up an abundance of your summer vegetable harvest. Zucchini is easy to grow, so many farmers and home gardeners have excess when it comes to this vegetable.
If you're a home gardener, or an avid zucchini fan, you may look for new and tasty recipes to use up those extra veggies. Why not bake up a moist and flavorful loaf of zucchini banana bread?
Love quick breads? Check out some of my other recipes: