I'm sharing all my favorite tips and tricks on how to bake perfect baked potatoes at home. These perfectly cooked, fluffy potatoes make a great side dish for your next meal.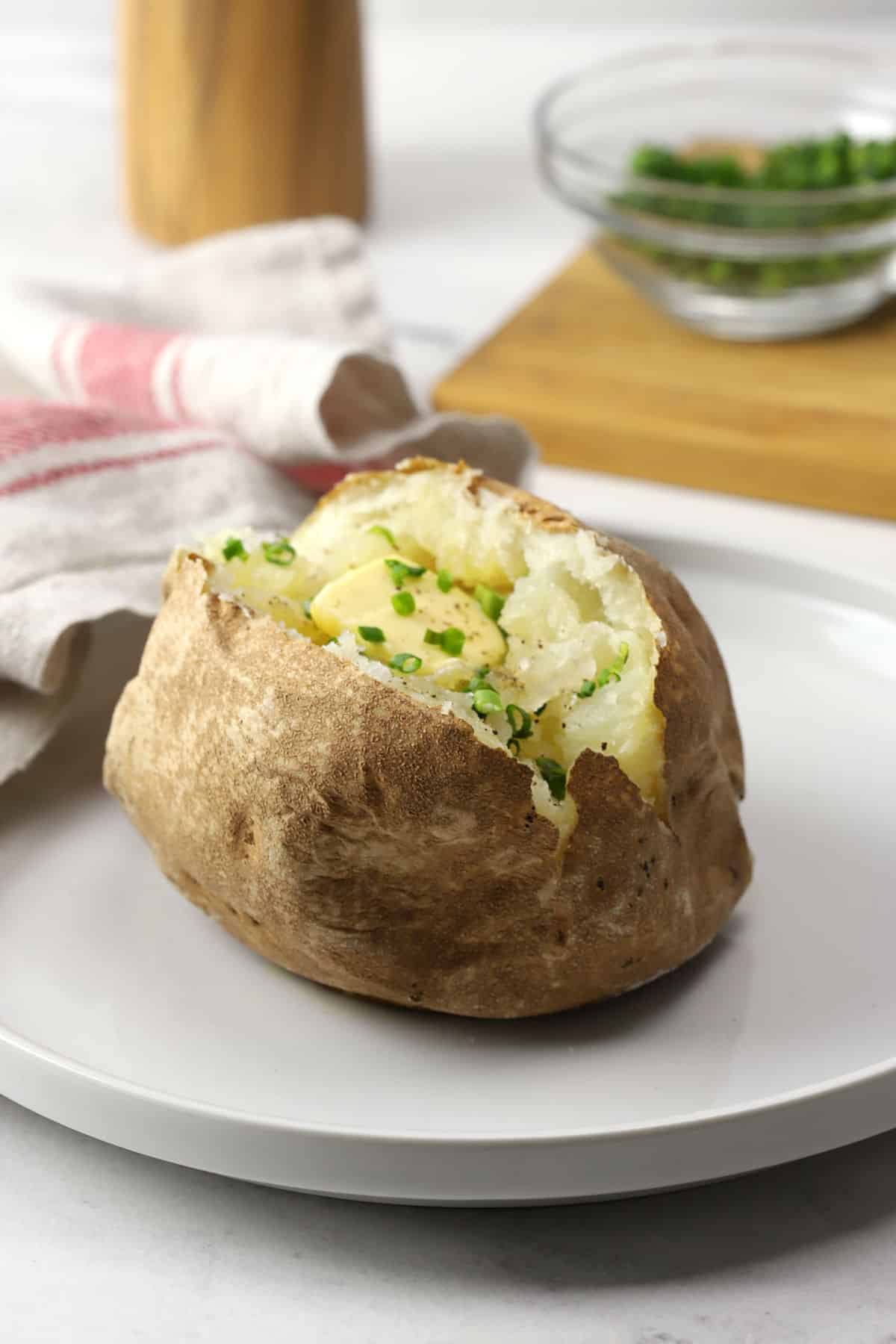 Everyone loves a restaurant-quality, perfectly fluffy baked potato. But how can you get that same result at home? Today I'm sharing my favorite tips and tricks on how to make perfectly cooked baked potatoes in your own home kitchen.
I'll go over the best types of potatoes for baking, the importance of a salt brine, and why we're baking them on a cooling rack instead of wrapping in foil.
Baked potatoes make an excellent addition to many meals. They pair particularly well with mains like pan-seared ribeye, French onion pork chops, and crispy baked chicken thighs.
Ingredients and substitutions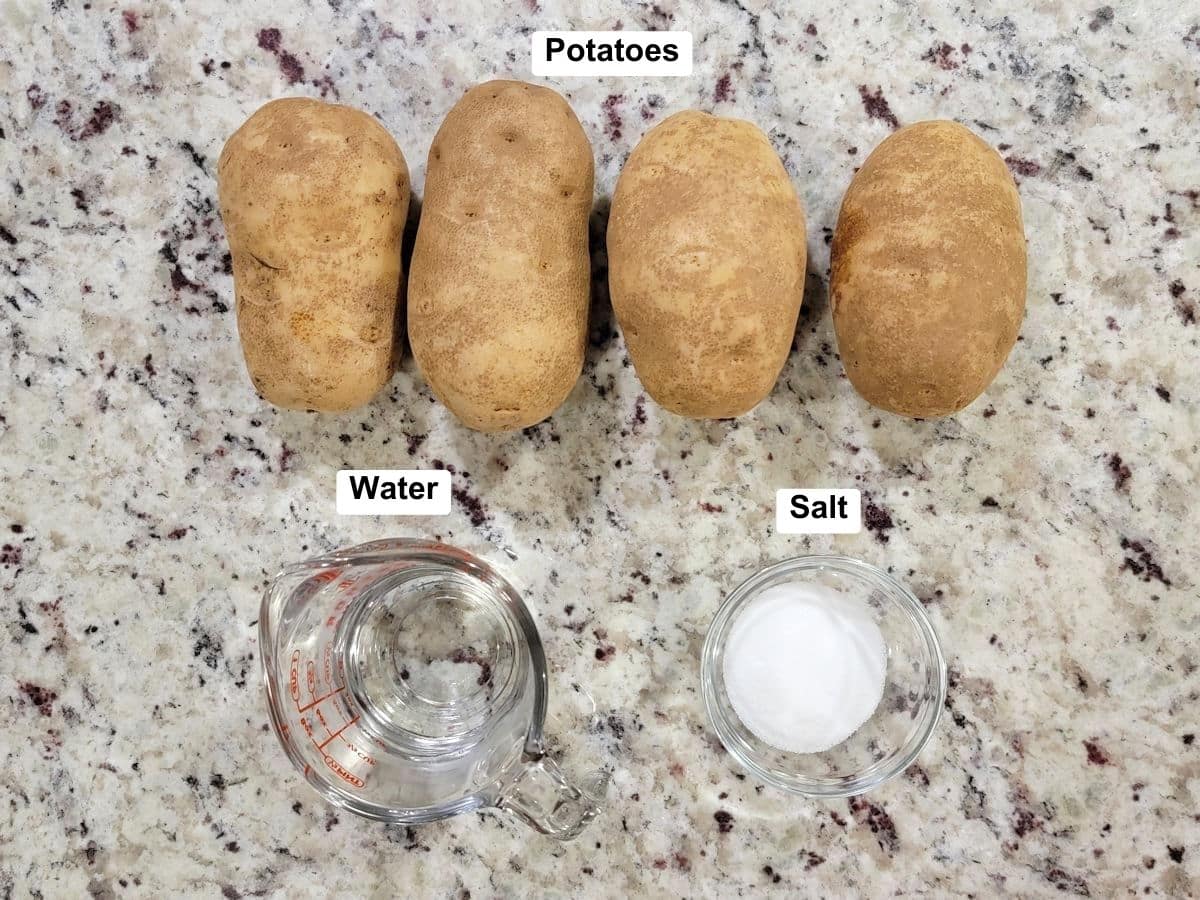 Potatoes - I highly recommend using russet potatoes. They are low in moisture and high in starch, meaning they'll bake up light and fluffy in the oven. Russet potatoes may also be labeled as Idaho potatoes in the US. Sweet potatoes would also work as an alternative in this recipe.
Salt - You'll need two tablespoons of salt to make a brine. Not all of this salt will make its way onto your potatoes, so don't worry about them turning out "salty".
Water - Used to make a brine - simple tap water is fine.
Tips and tricks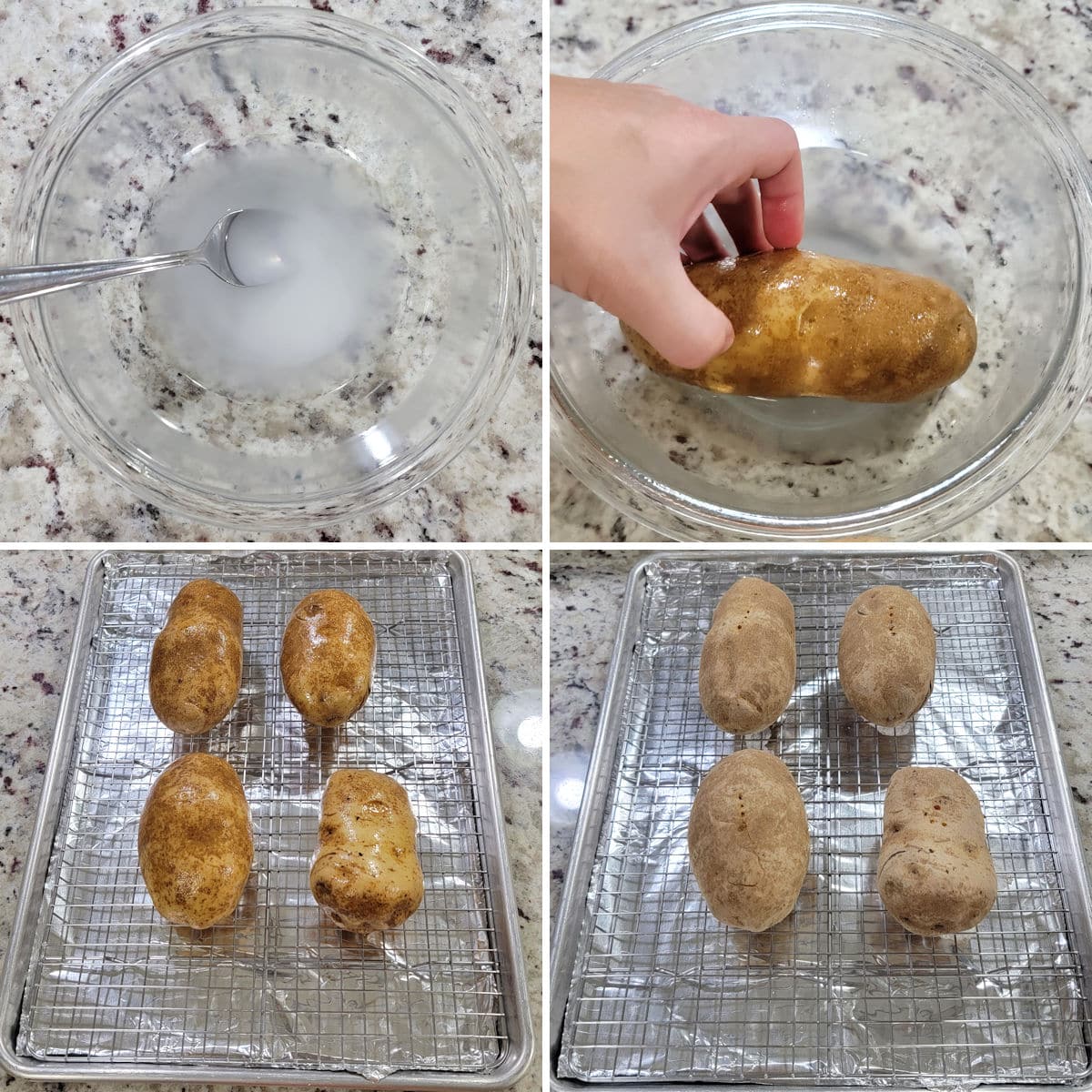 Potato size - Choose medium potatoes that are all about the same size - around 8 to 10 ounces is ideal for this recipe. This way, your potatoes all finish cooking at the same time. Larger potatoes take much longer to cook through.
Scrub your potatoes - Give your potatoes a quick scrub under running water before beginning. Potatoes are often coated in dirt and debris that washes off easily.
Prick with a fork - Prick each potato about 6 times with a fork - about ¼ to ½ inch deep. This helps prevent your potatoes from exploding in the oven.
Do not wrap in foil - Wrapping potatoes in foil traps moisture inside, causing the potatoes to turn out soggy. We want that moisture to escape to create a crisp skin and fluffy interior.
Testing for doneness - I highly recommend using an instant-read thermometer if you have one on hand. Baked potatoes are fluffy and perfectly cooked when they reach 205 degrees Fahrenheit in the center. Other ways to check for doneness? Pierce through a potato with a fork or metal skewer. If it slides through easily with no resistance, your potatoes are done.
Optionally, brush with oil - Once your potatoes are done, brush them with oil and return them to the oven for another 10 minutes. This helps crisp up that skin even more and adds extra flavor. We add oil at the end because otherwise, it seals in the moisture and cause the potatoes to turn out soggy.
Slice potatoes open quickly - For best results, slice your baked potatoes open quickly after baking. Otherwise, steam builds up inside and makes the exterior heavy.
Brine benefits
A brine adds flavor to the skin of the potatoes and helps the skin turn out crispy when baked. It also seeps into the potato where the skin has been pierced, which helps season the flesh of the potato.
Have you ever tried to salt a potato? Large salt granules like to roll right off. Using a brine ensures the salt adheres to the skin and seasons the potato evenly.
Potato toppings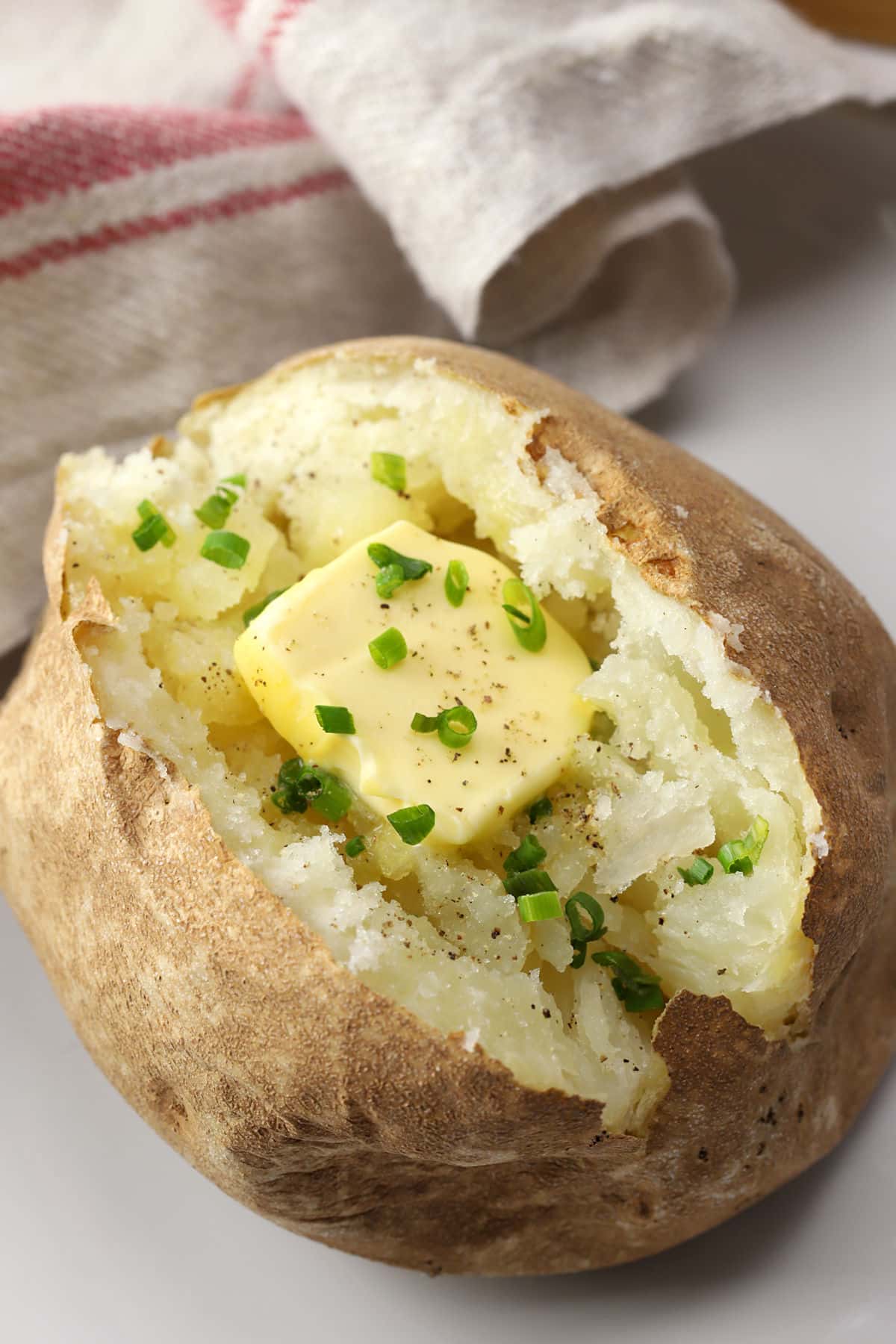 Classic baked potato: Butter, sour cream, salt, pepper, and chives.
Loaded baked potato: Butter, sour cream, bacon, shredded cheddar cheese, sliced green onion, salt, and pepper.
Broccoli cheese baked potato: Butter, steamed broccoli, shredded cheddar cheese, salt, and pepper.
Chili baked potato: Top with your favorite chili, plus sour cream and shredded cheddar cheese.
Pulled pork baked potatoes: Leftover pulled pork, barbecue sauce, sharp cheddar cheese, and sliced jalapenos.
Recommended
📖 Recipe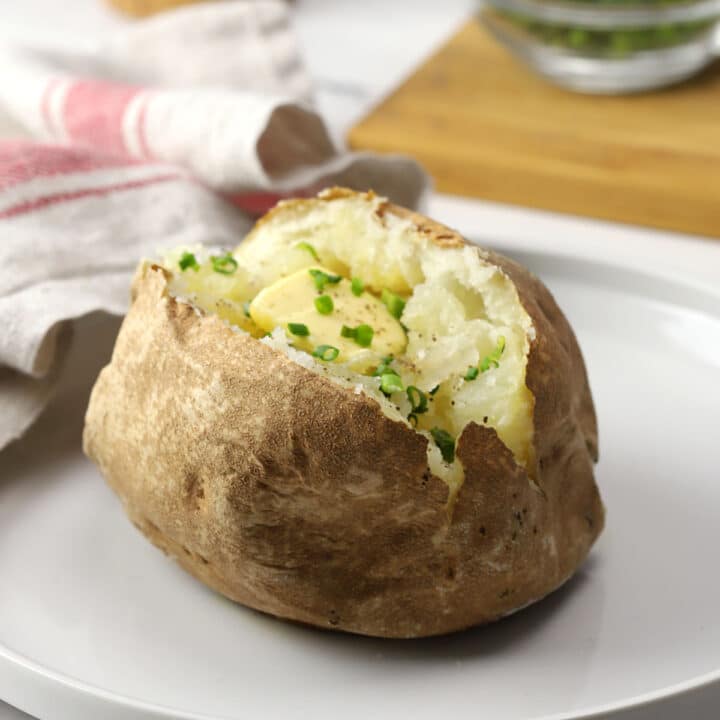 Print Recipe
Perfect Baked Potatoes
These perfectly cooked, fluffy potatoes make a great side dish for your next meal.
Adapted from America's Test Kitchen: Best Baked Potatoes
Ingredients
2

tablespoons

salt

½

cup

water

4

medium

russet potatoes

,

about 8 to 10 ounces each
Instructions
Preheat oven to 450 degrees Fahrenheit. Line a rimmed sheet pan with foil and if you have one, place an oven-safe cooling rack on top (this helps air circulate all around your potatoes).

In a bowl, add salt and water. Stir until salt is dissolved, creating a brine.

Using a fork, prick each potato about six times all over. Roll each potato in the prepared brine to coat all sides. Place potatoes on prepared sheet pan.

Bake for about 45 to 60 minutes, or until potatoes reach 205 degrees Fahrenheit in the center. A metal skewer or fork should pierce through the center of the potatoes with little to no resistance.

Remove from oven and slice open quickly to release steam from the potatoes. Serve immediately with your favorite toppings.
Notes
Don't worry so much about the time it takes to bake the potato. Ovens can run hotter or cooler than the next oven, so the time that worked for me may not work for you. Larger potatoes will take longer to bake. The most important part about this recipe is reaching that 205 degrees Fahrenheit in the center for a fluffy, perfectly baked potato.
Optionally, brush your finished potatoes with oil and return the oven for 10 minutes for an even crispier skin.
Leftover baked potatoes will keep for 3 to 4 days in the refrigerator.
Nutrition Estimate
Serving:
1
potato
|
Calories:
168
kcal
|
Carbohydrates:
38
g
|
Protein:
5
g
|
Fat:
0.2
g
|
Saturated Fat:
0.1
g
|
Polyunsaturated Fat:
0.1
g
|
Monounsaturated Fat:
0.01
g
|
Sodium:
202
mg
|
Potassium:
888
mg
|
Fiber:
3
g
|
Sugar:
1
g
|
Vitamin A:
2
IU
|
Vitamin C:
12
mg
|
Calcium:
29
mg
|
Iron:
2
mg