Bacon garlic mashed potatoes are an indulgent comfort food side dish, filled with crunchy bacon and garlic butter. Made from scratch using simple ingredients and ready in 30 minutes!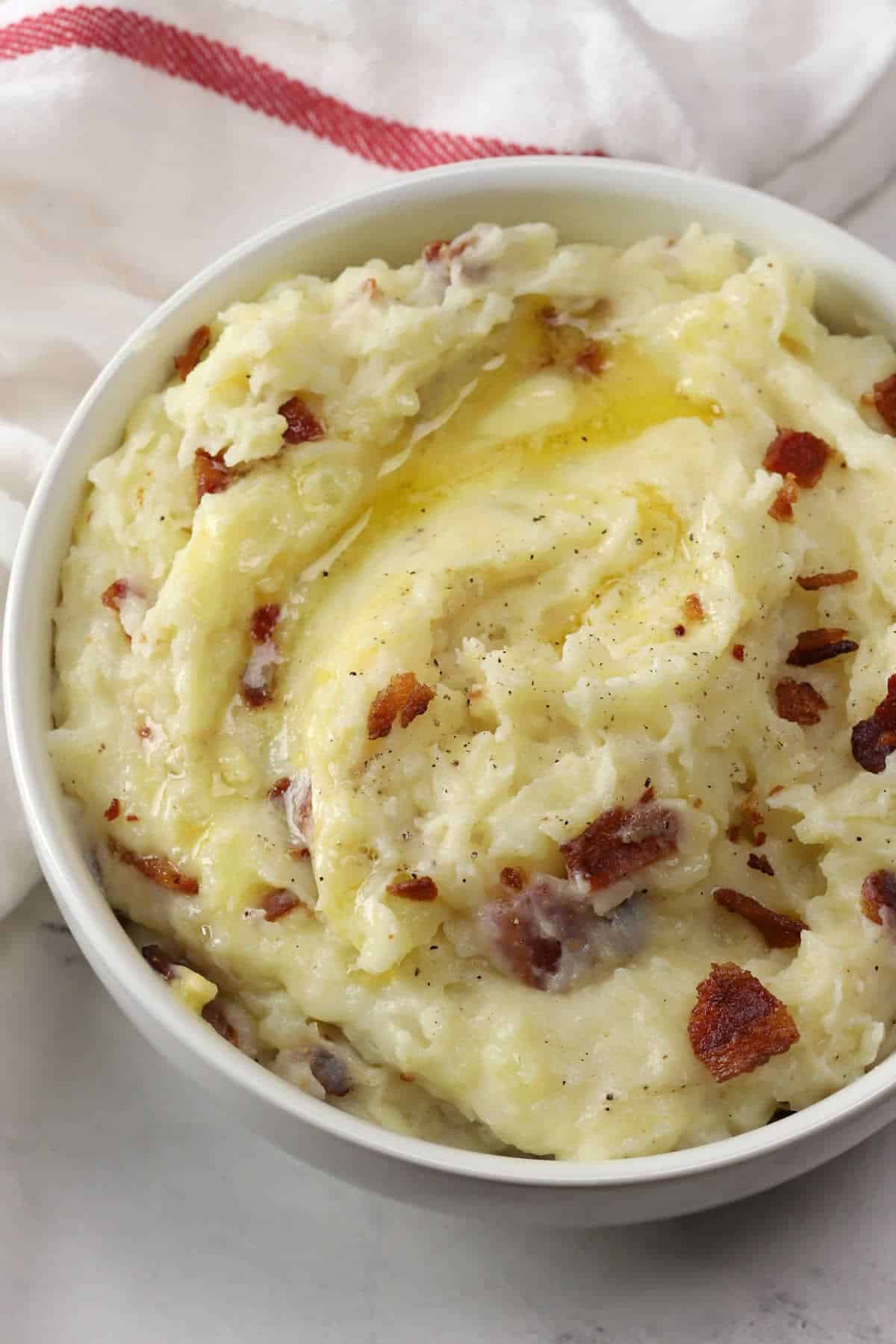 Mashed potatoes are a fantastic comfort food because they're hearty, filling, and reminiscent of family dinners and holidays.
These bacon mashed potatoes pair together two amazing flavors - bacon and garlic. Creamy mashed potatoes are filled with crunchy chopped bacon and garlic infused butter. And although they look fancy, they're incredibly easy to make.
Pair this side dish with your favorite protein - chicken, steak, pork chops, or even a classic meatloaf. It's perfect for a weeknight dinner, and can easily be doubled or tripled for a holiday meal!
Ingredients and substitutions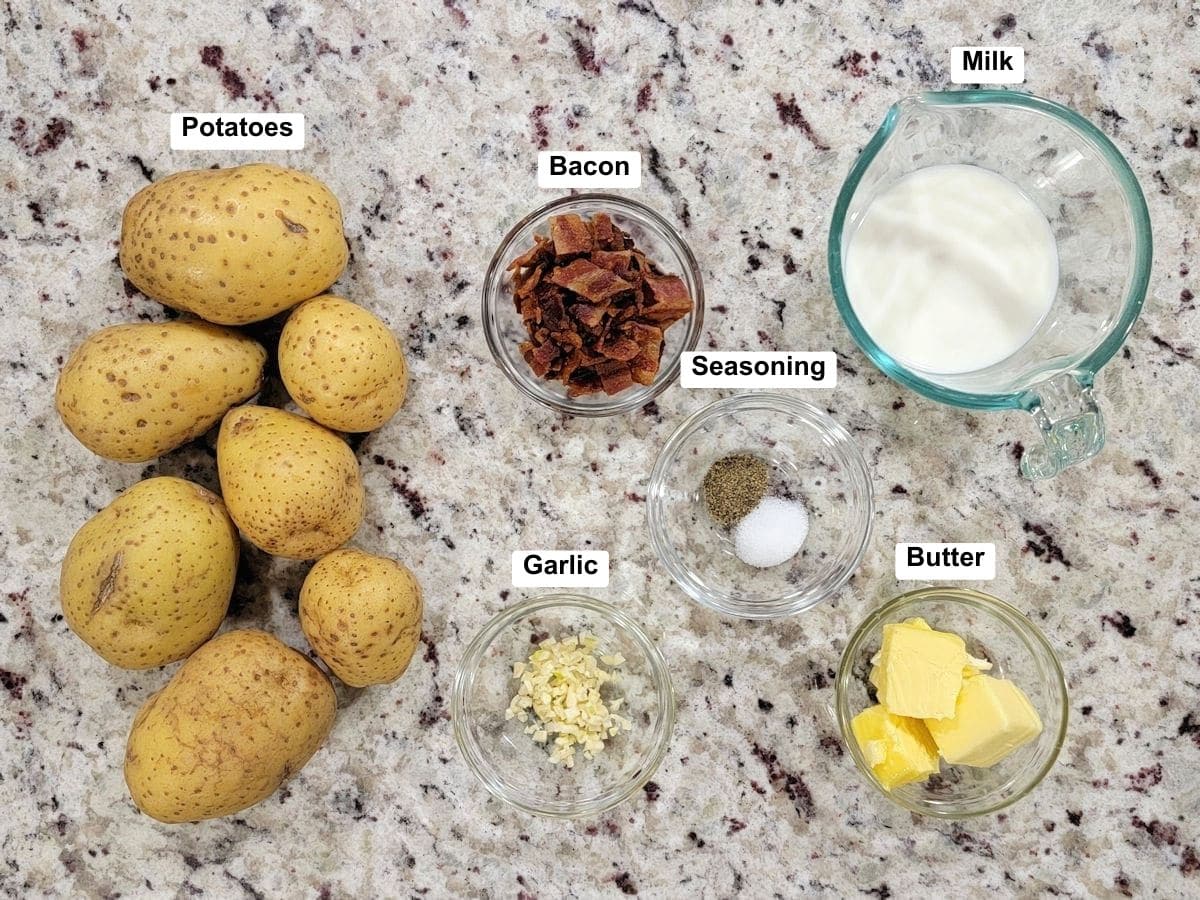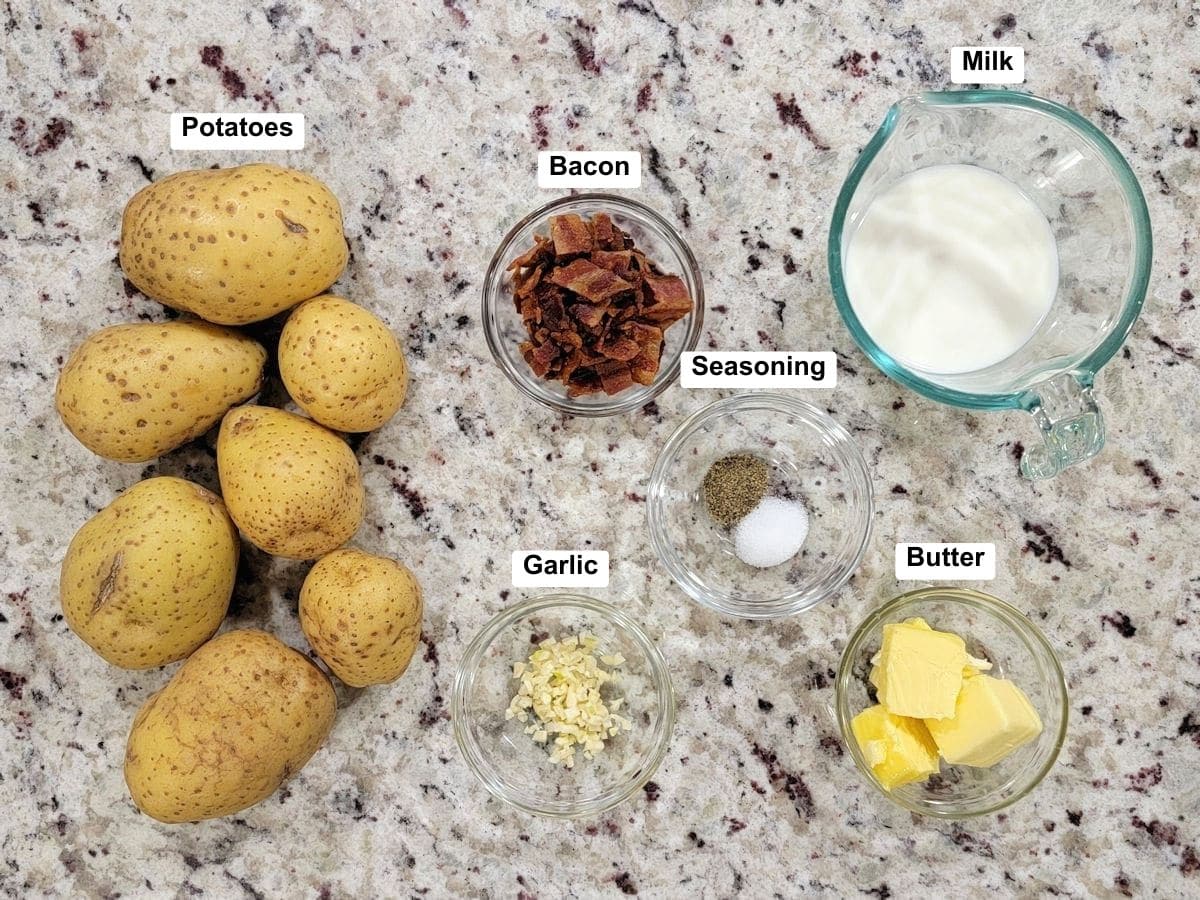 Potatoes - I used yukon gold potatoes (shown above), but russet potatoes are also a great choice. Be careful when mashing russet potatoes, because they can easily become gluey if worked too much.
Butter - Unsalted butter can be substituted with salted butter, but you'll want to omit the salt listed in the recipe.
Garlic - Fresh minced garlic cloves add the best garlic flavor to your mashed potatoes. If you need to substitute, I'd recommend using ½ teaspoon of garlic powder instead. Jarred minced garlic generally has a sharp, unpleasant flavor compared to fresh garlic or garlic powder (and also contains additional ingredients), so I don't recommend it.
Milk - I recommend whole milk, but most any dairy you have on hand, like 1%, skim, heavy cream, buttermilk, or sour cream will work in a pinch. Unflavored almond milk and soy milk are great dairy-free alternatives.
Bacon - Fresh cooked and chopped bacon adds the best flavor, but can be substituted with about ¼ cup of bacon bits.
Salt & pepper - Salt is optional, since bacon can be very salty on its own (depending on the brand and type you're using). I recommend tasting your potatoes before seasoning.
What type of potatoes are best for mashing
Yukon gold potatoes are my favorite potato for mashing. Potatoes can range from starchy to waxy, and yukon gold potatoes fall right in the middle of that spectrum. They are a fantastic all-purpose potato because they can be roasted, mashed, or baked.
An example of a starchy potato would be the russet potato. Russet potatoes can work well for mashing, because they'll break down easily when mashed. But, they can also be overworked and become "gluey". They make an excellent baked potato.
Waxy potatoes, like fingerling or new potatoes, are best for potato salads and casseroles, where you'd want your potatoes to hold their shape after baking. I do not recommend using waxy potatoes for mashing.
For more information: Starchy, Waxy, and All-Purpose: Potato Types, Explained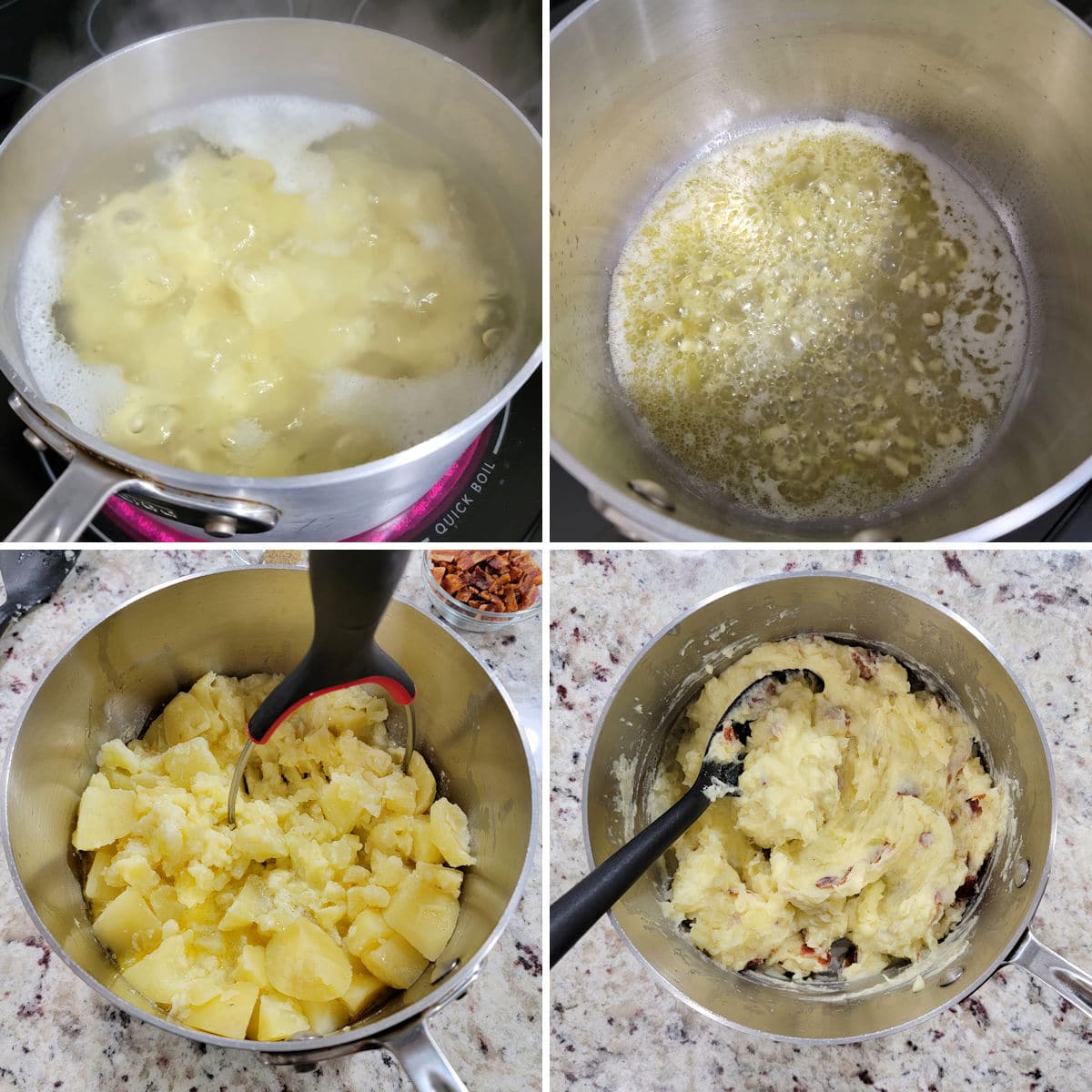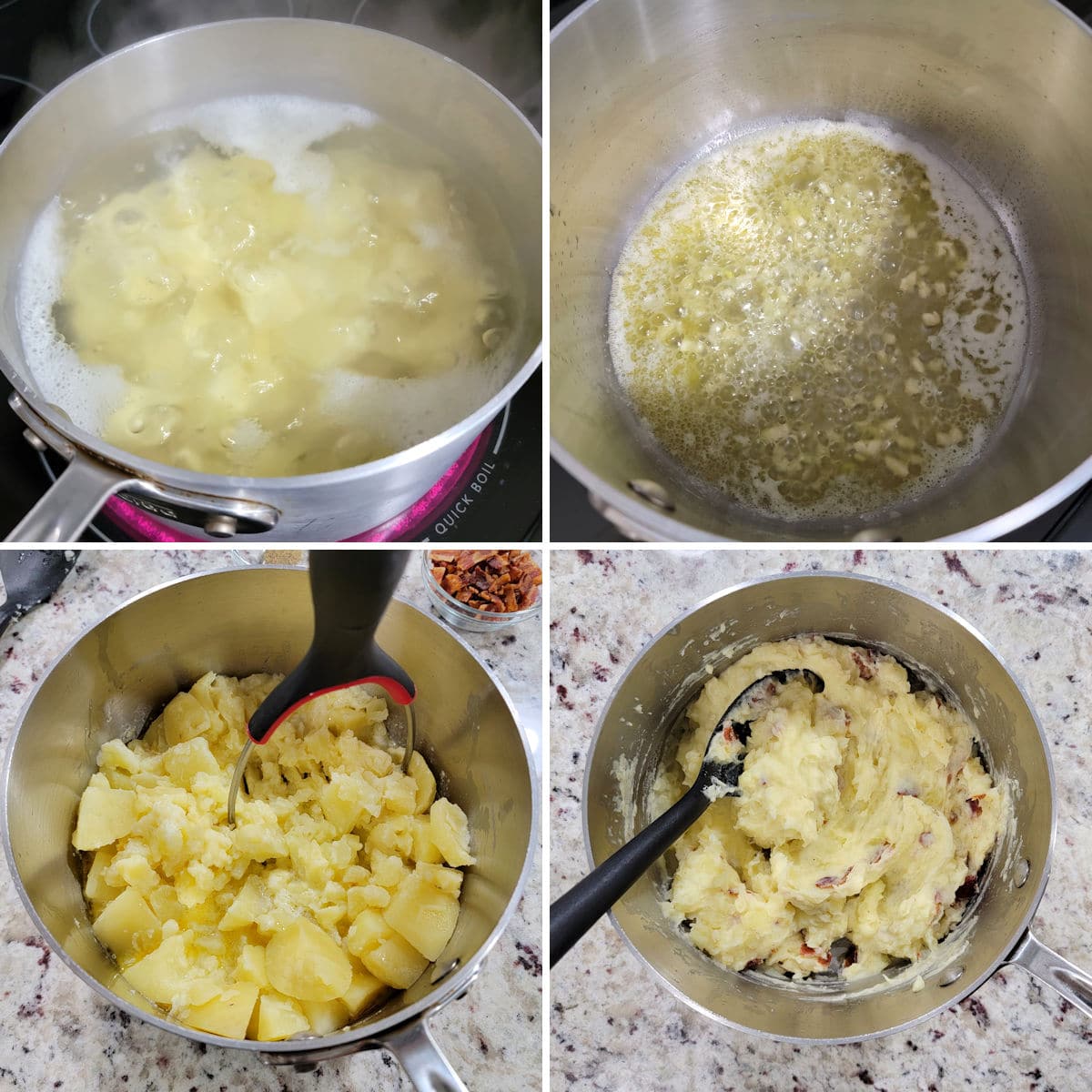 Extra creamy mashed potatoes
For a richer, creamier texture, substitute the milk in this recipe with heavy cream instead. My recipe for creamy mashed potatoes also uses heavy cream, which is my go-to recipe for a classic mashed potato.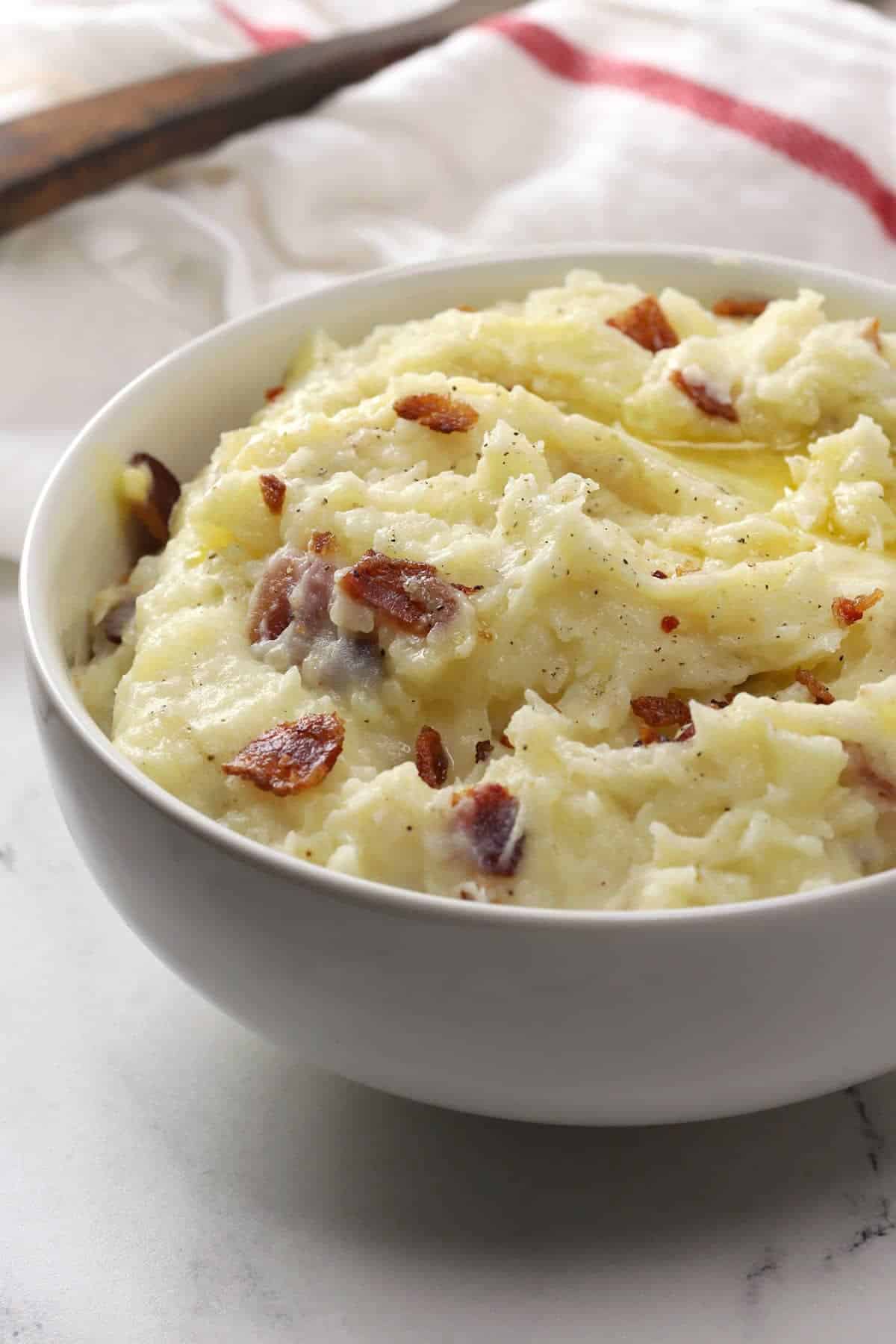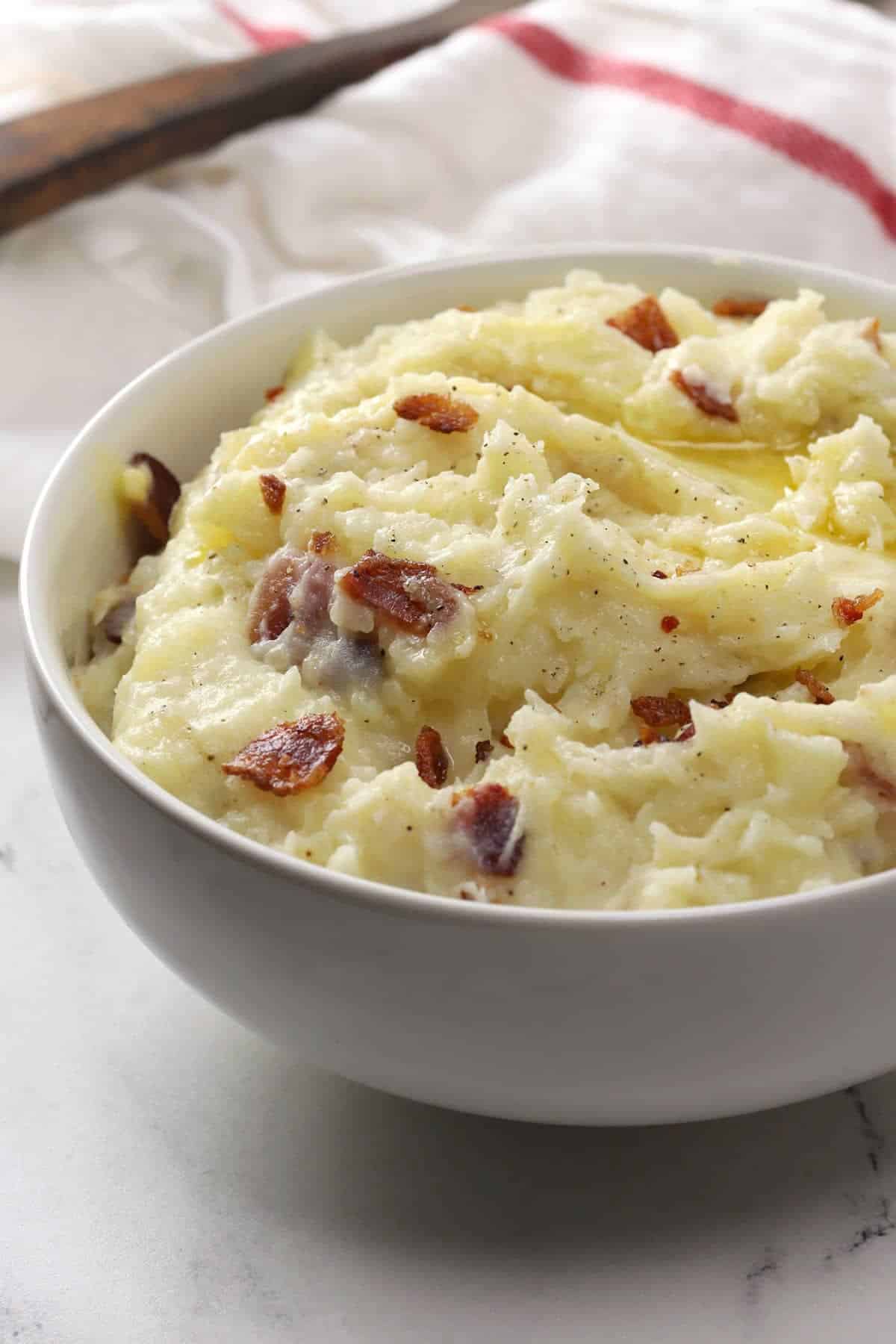 Using a potato masher
I like to use a handheld wire masher for mashing potatoes, because it gives you maximum control over your potato consistency and it's more difficult to overmix your potatoes.
As you mash your potatoes, they release starch. Too much mashing and stirring can cause that gluey texture, so try not to mash them too much.
If you'd like to use an electric mixer instead, use a low speed and keep a close eye on the potato texture.
How to prevent lumpy potatoes
Lumpy potatoes happen when your potatoes are undercooked. Here are a few ways to prevent lumpy mashed potatoes, and what to do if you do have lumpy potatoes.
Start your potatoes in cold water. This ensures that they cook evenly throughout. Placing potatoes in boiling water will cook the outside long before the inside is cooked through.
Cut your potatoes into about the same sizes, ensuring they cook evenly.
If you do have lumpy potatoes, don't keep mashing and mashing - this makes your potatoes gluey/gummy. Instead, try pressing your potatoes through a potato ricer or a fine mesh sieve to remove some of the lumps.
Add mix-ins like bacon, green onions, or chives to help mask the lumps.
Recommended
📖 Recipe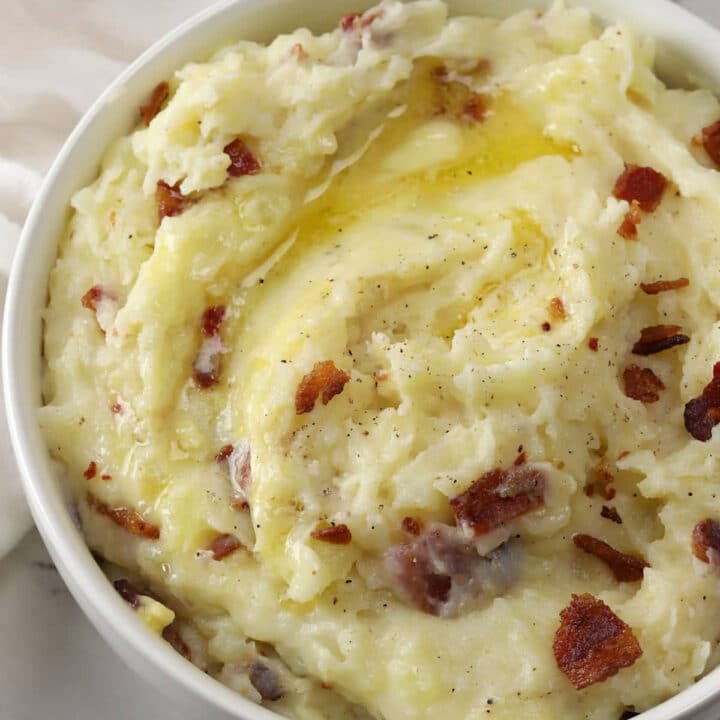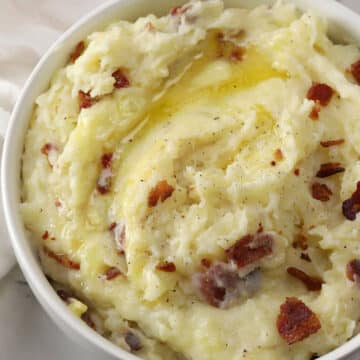 Print Recipe
Bacon Garlic Mashed Potatoes
These mashed potatoes are an indulgent comfort food side dish, with plenty of crunchy bacon and flavorful garlic butter.
Ingredients
2

pounds

yukon gold potatoes

¼

cup

unsalted butter

2

cloves

garlic

,

minced

½

cup

milk

4

slices

bacon

,

cooked and chopped

¼

teaspoon

pepper

¼

teaspoon

salt

,

optional
Instructions
Peel and quarter potatoes (make sure your potatoes are all about the same size). Place potatoes in a large pot and cover with water and a dash of salt. Over medium-high heat, bring to a boil. Reduce to medium heat and simmer for 15-20 minutes, or until potatoes fall apart easily when pierced with a fork. Drain into a colander.

Return empty pan to stove and over medium heat, add butter. Once melted, add garlic and saute for 1-2 minutes, or until garlic begins to brown. Remove from heat. Add milk to pan and allow it to warm up for a moment.

Add potatoes back to pan. Using a potato masher or an electric mixer, slowly blend potatoes and butter mixture together until incorporated and no lumps remain (be sure not to overmix, this causes potatoes to become gummy). Add more milk as needed to reach desired consistency.

Stir in chopped bacon and pepper. Taste potatoes and optionally add salt to taste.
Notes
Yukon gold potatoes are an excellent potato for mashing. Russet potatoes will also work, but can easily be overworked and become gluey. If using russet potatoes, try not to mash and stir them too much, to avoid a gummy texture.
For a richer, creamier texture, substitute milk with heavy cream instead.
Leftover potatoes will keep for 3 to 5 days in a tightly sealed container in the refrigerator and reheat well.
Nutrition Estimate
Serving:
0.5
pound
|
Calories:
338
kcal
|
Carbohydrates:
30
g
|
Protein:
10
g
|
Fat:
21
g
|
Saturated Fat:
10
g
|
Cholesterol:
46
mg
|
Sodium:
183
mg
|
Potassium:
1024
mg
|
Fiber:
6
g
|
Sugar:
2
g
|
Vitamin A:
410
IU
|
Vitamin C:
26.3
mg
|
Calcium:
111
mg
|
Iron:
7.4
mg