Make a Halloween charcuterie board for your next Halloween party! This appetizer tray is filled with plenty of meats and cheeses, seasonal produce, and fun seasonal candies.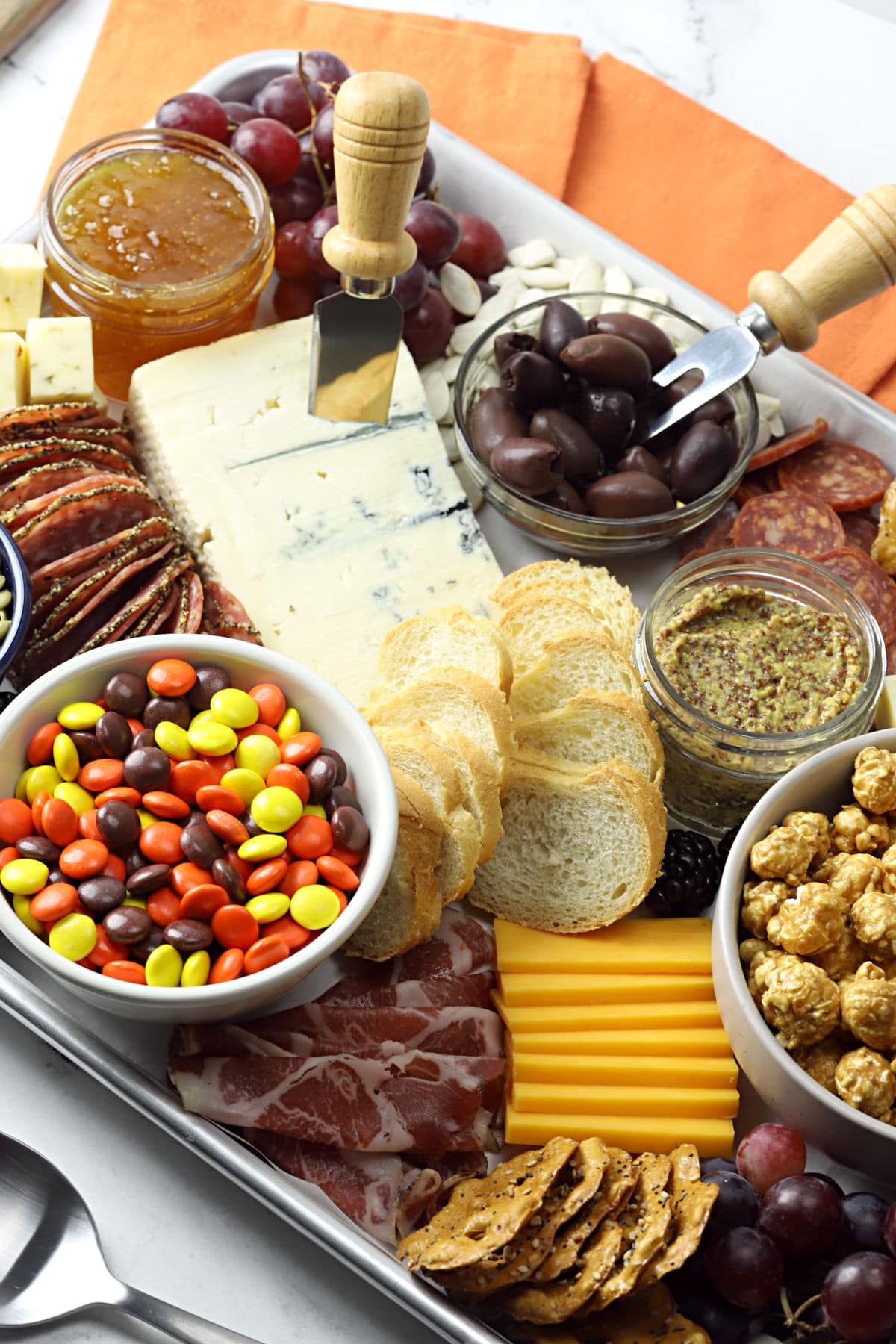 A charcuterie board is a crowd pleasing appetizer that's easy to assemble! Made with a variety of meats, cheeses, pumpkin seeds, candies, and spreads, there's a little something for everyone.
Never made a charcuterie board before? No worries! Make your board as simple or complex as you want. I'll take you step by step through the basics needed to make a nice charcuterie board. Plus, a few easy ways to customize your board for Halloween.
Charcuterie boards can be made for as few as two or twenty people - the sky's the limit! Serve this charcuterie board at your next Halloween party, or as an adult's snack tray while the kids are out trick-or-treating.
What is a charcuterie board?
Charcuterie (pronounced "shahr-ku-tuh-ree") is a term that refers to the preparation of cured and cooked meats.
A charcuterie board is frequently made up of several cold, cooked meats and cheeses. Optional additions include sweet or savory spreads, fresh fruits and vegetables, crackers, nuts, and more.
Making your own charcuterie board can be focused on flavor pairings or simply your favorite meat and cheese selections. They are a fun appetizer and easy to customize with seasonal produce and extras for the holidays.
Meats and cheeses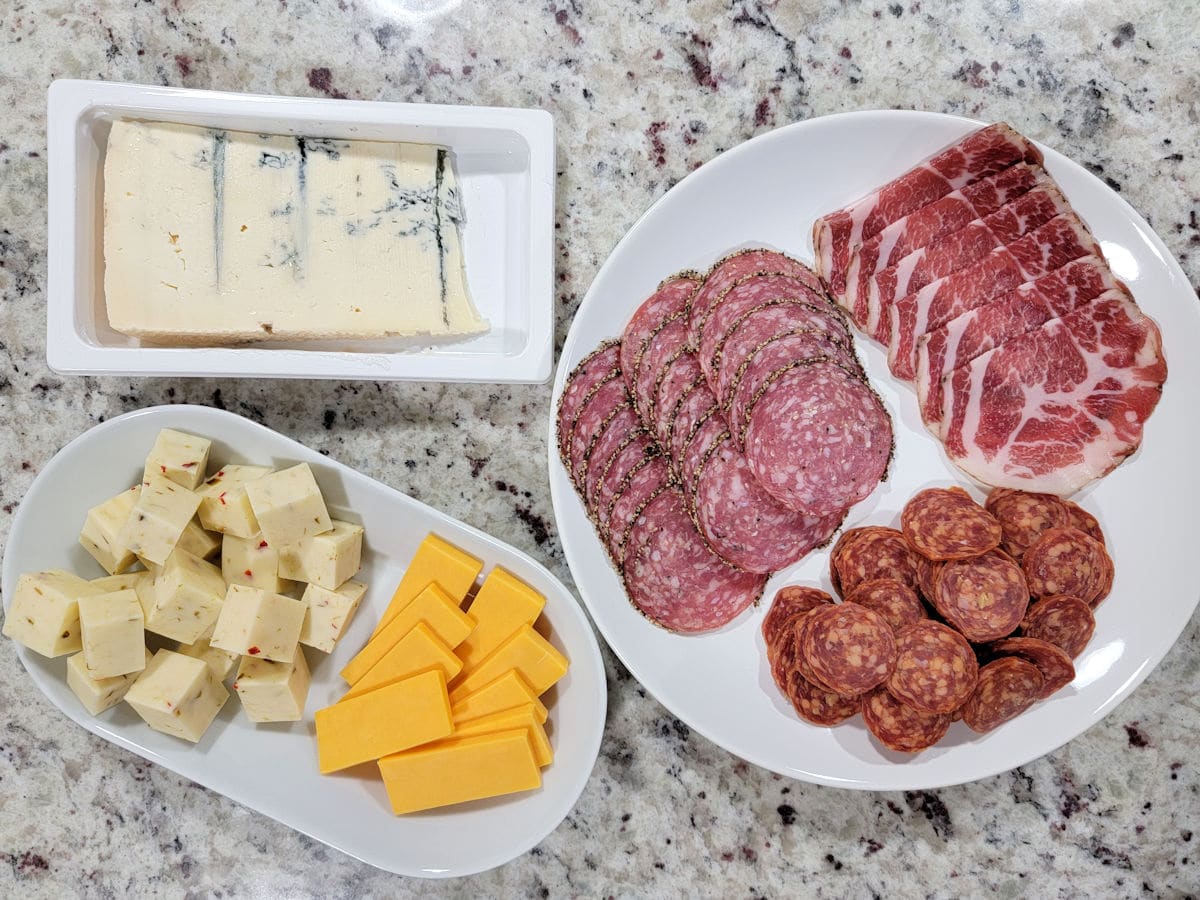 Choose three meats and three cheeses for your charcuterie board. Odd numbers look nice together when assembled on your board, and give just enough variety for your guests.
Any cured meats work well on a charcuterie board - pictured above is pepperoni, pepper-crusted salami, and cappocollo. If you can find a variety pack of meats at your local grocery deli, they're often cheaper than purchasing each meat separately.
When choosing your cheeses, try to use a combination of soft and hard cheeses with a variety of mild and strong flavors. I chose gorgonzola, pepper jack, and sharp cheddar (pictured above). Hard cheeses should be sliced beforehand, and soft cheeses should include a knife or spoon so guests can serve themselves.
Crackers and bread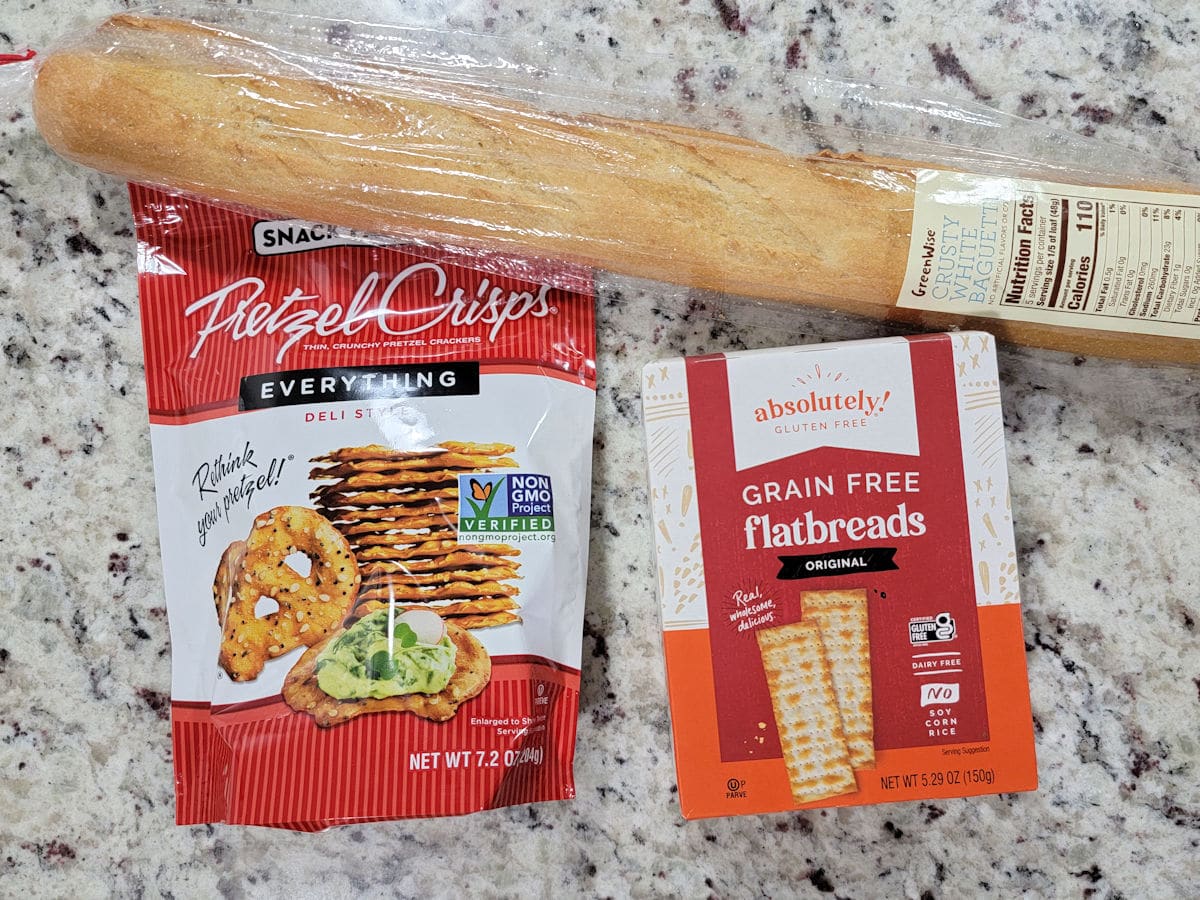 Add at least two types of crackers or bread to your charcuterie board. I like to use a thinly sliced baguette (toasted or untoasted, your choice) and a gluten-free cracker.
For my Halloween board, I decided to add pretzel crisps. They look just like skulls - perfect for our Halloween theme!
Fresh fruit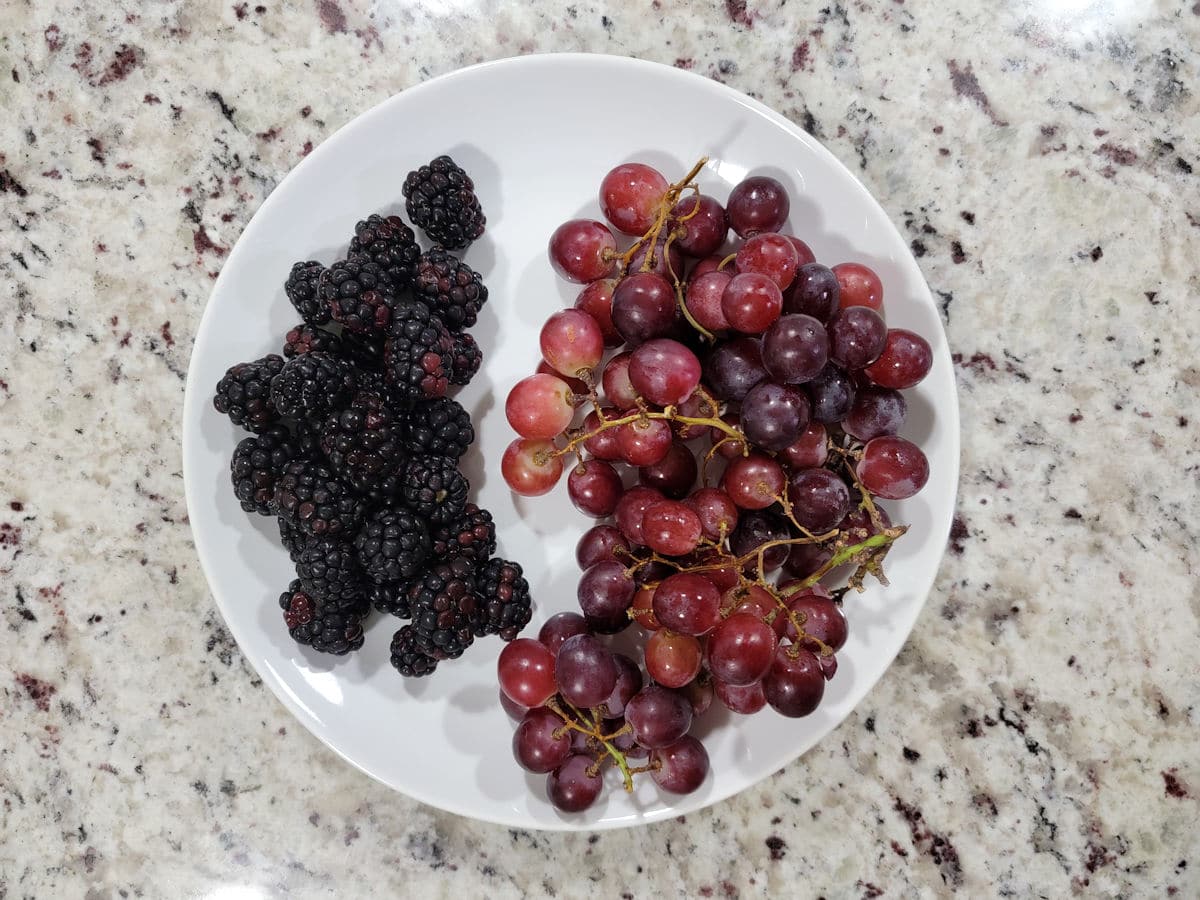 Fresh fruit cuts through the heaviness of the meats and cheeses, making them a great addition to your charcuterie board.
Try to add seasonal fruits or veggies that fit the theme of your board. Blackberries and red or black grapes are a great choice - they add a dark, gloomy look to your spooky Halloween board.
Want to add a pop of orange? Try adding tangerine slices or baby carrots to your board.
Spreads and seasonal extras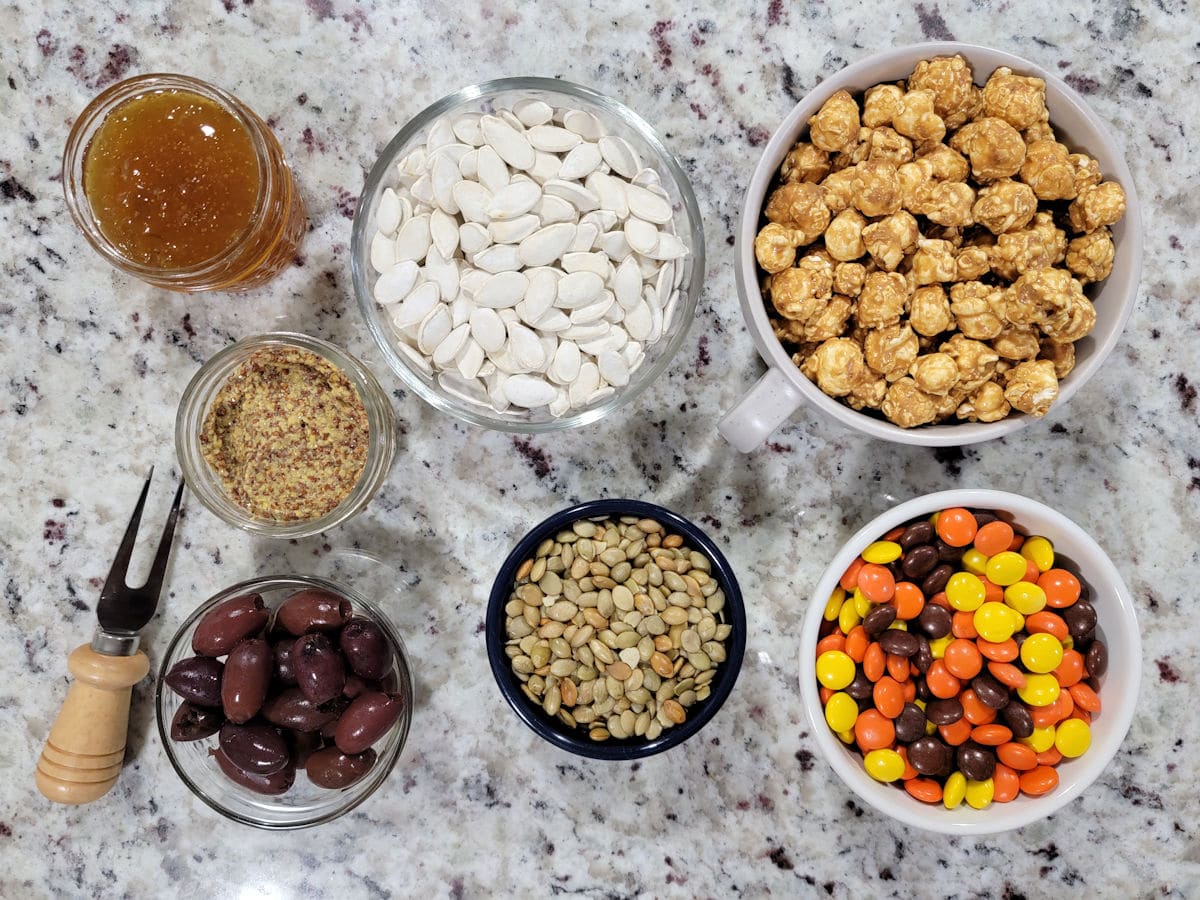 At least one jam or spread should be added to your charcuterie board. I like adding one savory and one sweet spread, like stone-ground mustard and fig jam. Honey is another great choice.
I recommend adding one salty item to your board, like olives or pickles. Nuts and seeds are another great addition. I used roasted pumpkin seeds and roasted pepitas (pumpkin seeds without the hull). Candied pumpkin seeds would also work well.
Halloween is all about the candy, so feel free to get creative here. Reese's pieces or Halloween colored M&M candies are easy to find and add a pop of seasonal color. Other ideas include caramel corn, candy corn, candy pumpkins, sour gummy worms, or chocolate covered pretzels.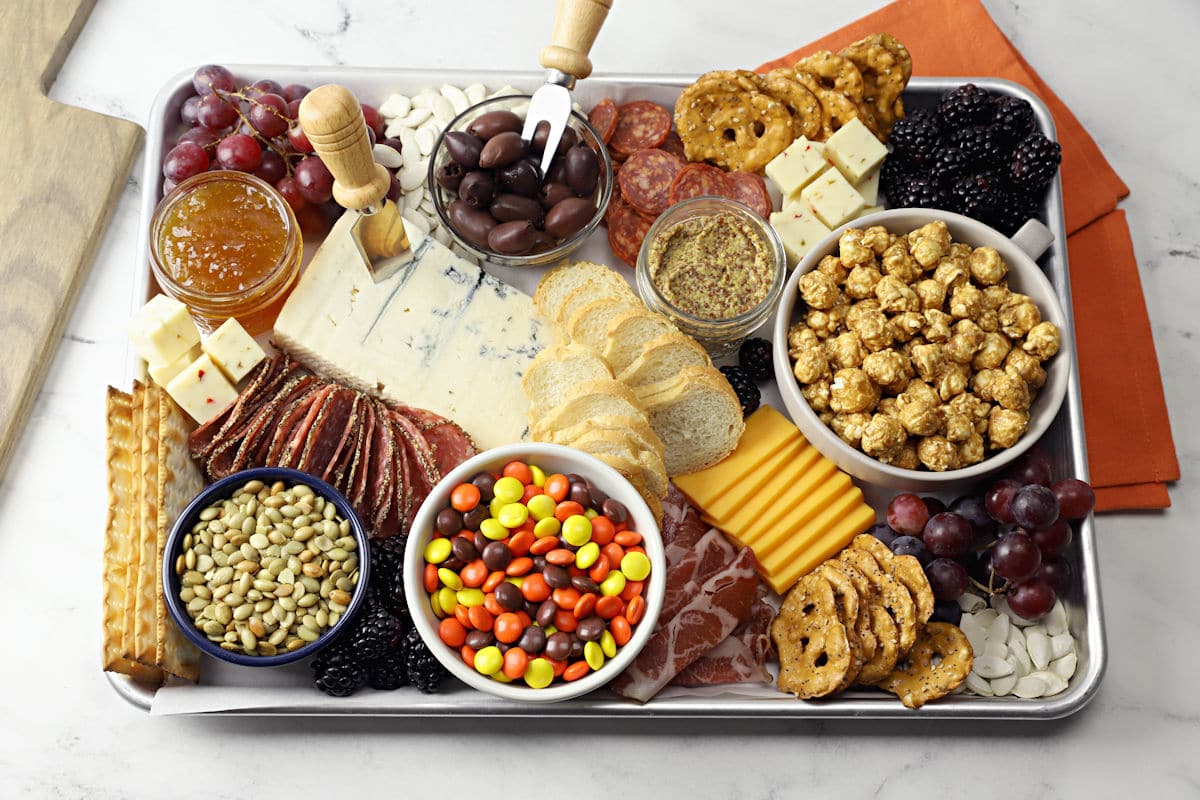 Items needed for a charcuterie board
You'll need a board to assemble your meats and cheeses on. If you don't plan on entertaining often, don't bother buying an expensive charcuterie board. Instead, use a clean wooden cutting board or half sheet pan (like pictured) covered in a sheet of parchment or butcher paper. A sheet pan with a small lip around the edge helps hold your items in place.
You'll also need a few small cups, bowls, or short mason jars for jams and messier items (like pickles and small candies). I like to use a variety of shapes, sizes, and colors - it adds character to your board!
Lastly, you'll need a few serving spoons and knives. If you don't have a set of cheese knives, any small spoons and knives you have on hand will work just fine. No one is looking at the utensils anyway - all eyes are on the food!
Recommended
📖 Recipe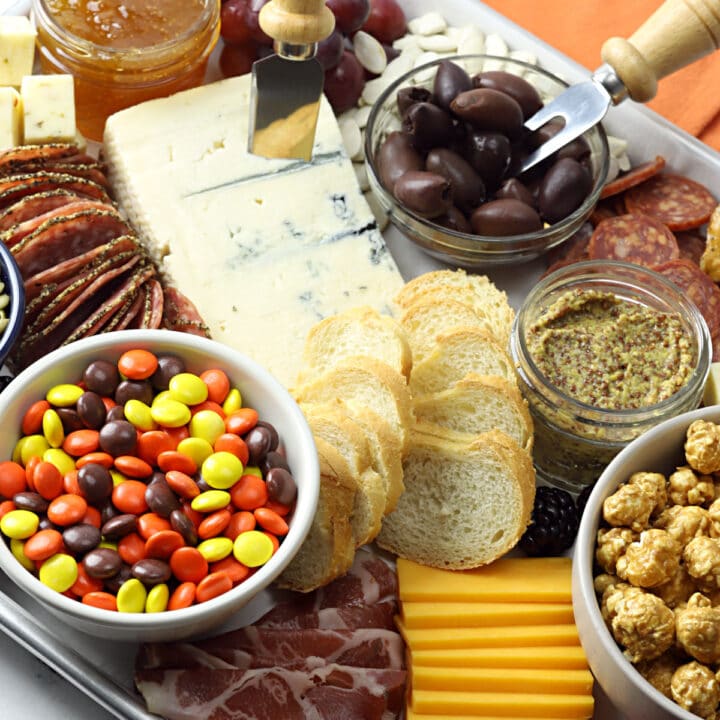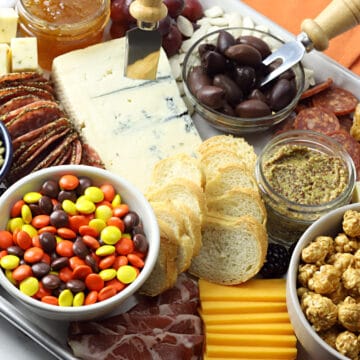 Print Recipe
Halloween Charcuterie Board
Make a Halloween charcuterie board for your next Halloween party! This appetizer tray is filled with plenty of meats and cheeses, seasonal produce, and fun seasonal candies.
Servings:
12
or more people
Ingredients
Meats and cheeses
12

ounces

cured meats

,

thin sliced sausage, pepperoni, capicola, prosciutto, ham, etc.

20

ounces

cheese

,

a variety of hard and soft cheeses work best
Crackers and bread
8

ounces

crackers

1

thin baguette
Spreads and seasonal extras
4

ounces

fig jam

,

or honey

4

ounces

coarse ground mustard

8

ounces

black olives

,

or pickles

6

ounces

caramel corn

6

ounces

reese's pieces candies

8

ounces

roasted pumpkin seeds
Fresh produce
16

ounces

seedless red grapes

12

ounces

blackberries
Instructions
Line a half baking sheet or large wooden cutting board with parchment paper.

Add meats and cheeses to board. Slice hard cheeses beforehand, and include a serving knife with soft cheeses. Fold thin sliced meats into halves or quarters for added visual appeal.

Thinly slice your baguette, lightly toast the slices, and add along with your crackers to the board.

Add jars of jam and mustard to the board. Pour small round candies, caramel corn, and pickles/olives into serving dishes and add to board. Use pumpkin seeds to fill in spaces around the board.

Cut grape vines into small portions, making it easy for guests to pick up one small bunch at a time. Use produce to fill in any gaps and small spaces you find around the board.

These ingredients are suggestions - add your favorites and customize your own board to suit your tastes. Enjoy!
Notes
Not all of the items listed will fit onto your board at once. Extra produce/crackers/nuts/cheeses that don't fit can be set aside to refill as needed.
I used a half sheet pan for my board (as shown in the photos), which is 13 inches by 18 inches. Any large wooden cutting board or sheet pan you have on hand will work well. Or, divide your items between two smaller pans/boards.
Nutrition Estimate
Calories:
621
kcal
|
Carbohydrates:
51
g
|
Protein:
22
g
|
Fat:
38
g
|
Saturated Fat:
14
g
|
Polyunsaturated Fat:
7
g
|
Monounsaturated Fat:
13
g
|
Trans Fat:
1
g
|
Cholesterol:
50
mg
|
Sodium:
1167
mg
|
Potassium:
465
mg
|
Fiber:
6
g
|
Sugar:
28
g
|
Vitamin A:
453
IU
|
Vitamin C:
9
mg
|
Calcium:
286
mg
|
Iron:
4
mg