Grilled strawberry shortcake kebabs are a fun and simple dessert recipe to make this summer. Fresh strawberries and pound cake are skewered and lightly grilled until warm and toasted. Served with homemade vanilla whipped cream.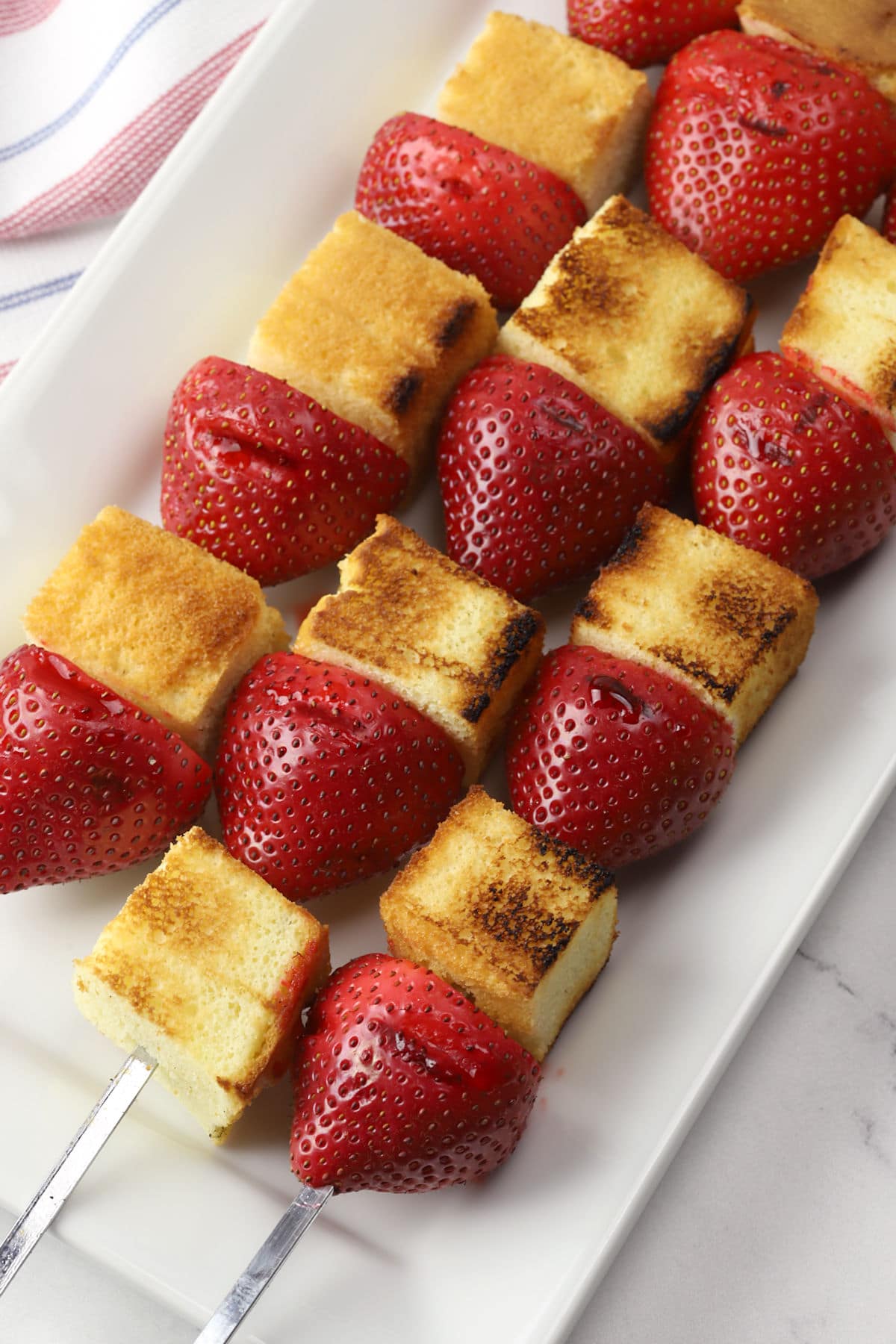 Looking for a fun grilled dessert recipe? If you've already tried my grilled apple s'mores, you may need to try these grilled strawberry shortcake kebabs next. They are easy to assemble and made with just five ingredients!
So, how do we make strawberry shortcake kebabs? Fresh strawberries and cubed pound cake are threaded onto skewers. Then, they're lightly grilled over indirect heat. The pound cake turns out lightly toasted and charred around the edges, and the strawberries soften and cook slightly, bringing out their natural sweetness.
Top everything off with a dollop of homemade whipped cream - I promise it's easier than you think and tastes way better than store bought! You only need three ingredients to make a quick batch of homemade vanilla whipped cream.
Serve grilled strawberry shortcake kebabs at your next backyard barbecue, alongside grilled lemon pepper chicken and grilled broccolini.
Ingredients and substitutions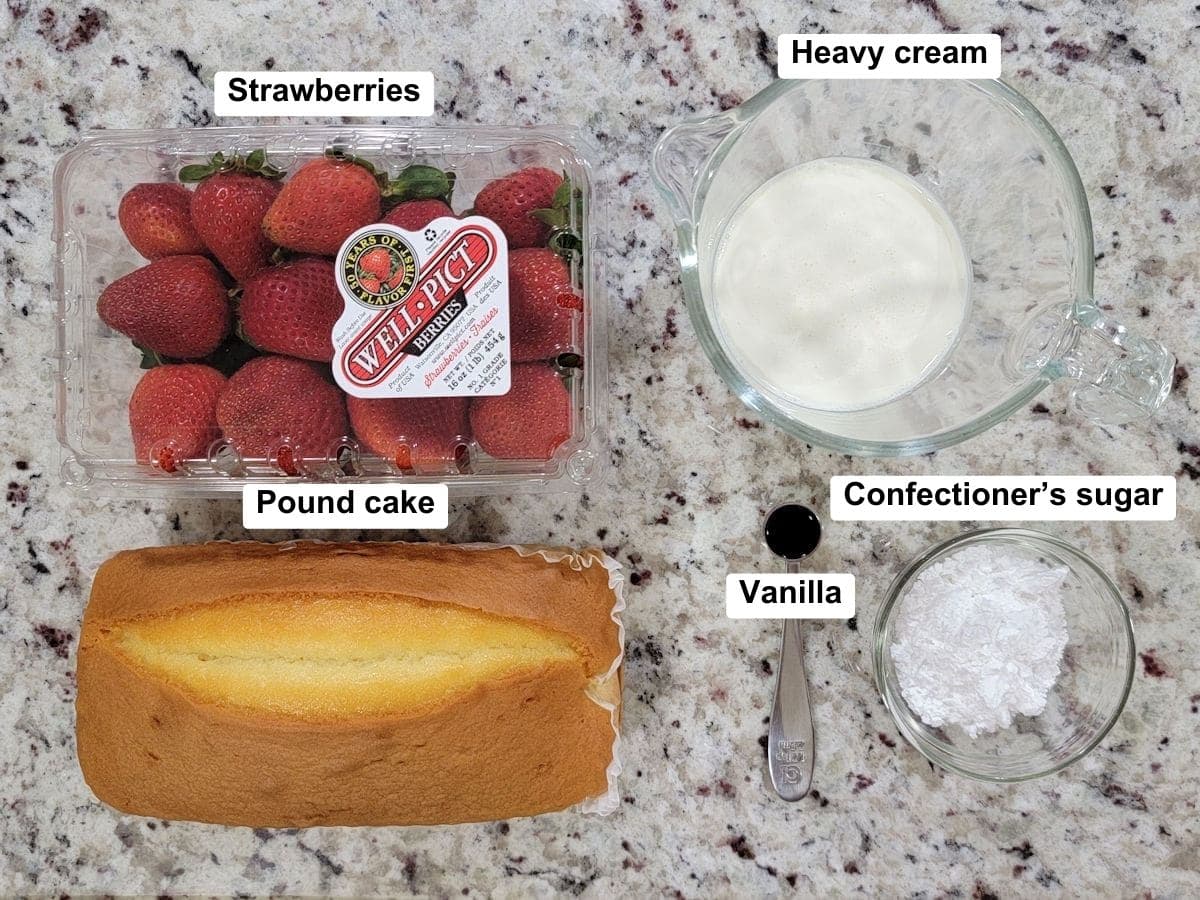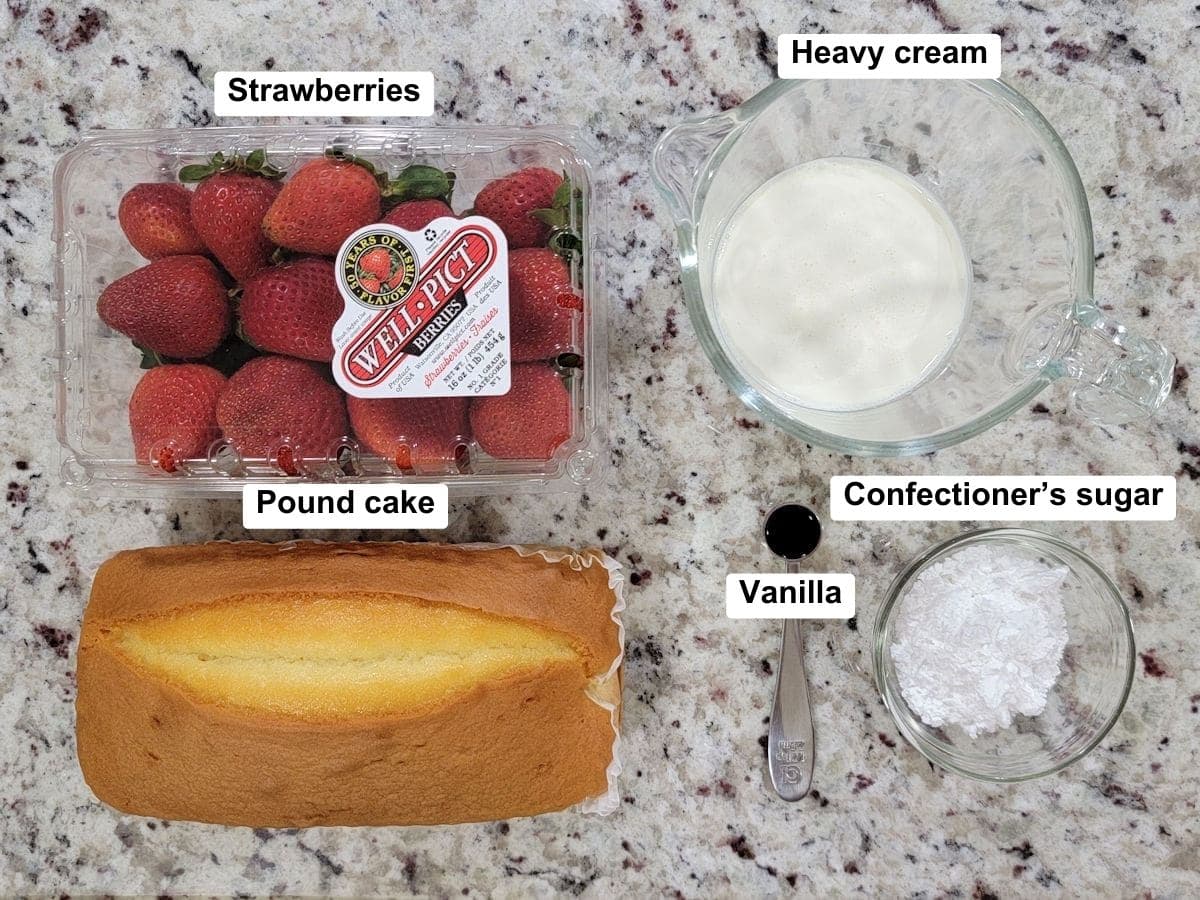 Strawberries - You'll need one pound of medium to large sized strawberries for this recipe. Very small strawberries cannot be skewered easily, so keep this in mind when shopping for your fruits. Strawberries can be substituted with your favorite fresh fruit, like pineapple, apple, watermelon, or peaches.
Pound cake - I used one 12 ounce loaf of butter pound cake from a local bakery. Entenmann's pound cakes would also work well, if your grocery store stocks this brand. If you have homemade pound cake on hand, or would prefer to bake your own, feel free. Any sturdy, dense cake works well in this recipe. Delicate, crumbly cakes do not hold up well to skewering and grilling.
Heavy cream - Heavy cream is a must when making homemade whipped cream. Heavy cream works because it contains 36% milkfat and will hold its shape when whipped. Light cream, half & half, or whole milk will not contain enough fat to whip into whipped cream.
Confectioner's sugar - Just enough sugar is added to lightly sweeten your whipped cream. Confectioner's sugar incorporates easily into the heavy cream, whereas granulated sugar can add a grainy texture.
Vanilla extract - This can be omitted if desired, and will not affect the outcome of your whipped cream. Or, substitute vanilla extract with another extract, like maple or lemon.
Making whipped cream
For a more detailed look into the process of making whipped cream, check out my post: Homemade whipped cream. Here are a few of my favorite tips:
Very cold heavy cream is a must - the colder the better! The colder the cream, the more easily it will whip up.
Use a large bowl - your cream will double in size and may splash a little while mixing.
Use a stand or hand mixer for best results. Heavy cream can be whipped by hand with a whisk, but may take longer and you'll need a bit of arm strength to do so.
Mix your whipped cream on medium speed, not high speed. It's less messy and not as easy to over-mix your whipped cream.
Look for medium peaks, not stiff peaks. Once your cream begins to hold its shape in the bowl, turn your mixer off and lift the whisk out. If the tip of the whipped cream mostly holds it shape but eventually droops slightly - this is what you're looking for.
Your cream will quickly go from medium peaks to stiff peaks and then over-mix and separate in just a moment - keep a close eye on your whipped cream. Do not walk away while it is mixing!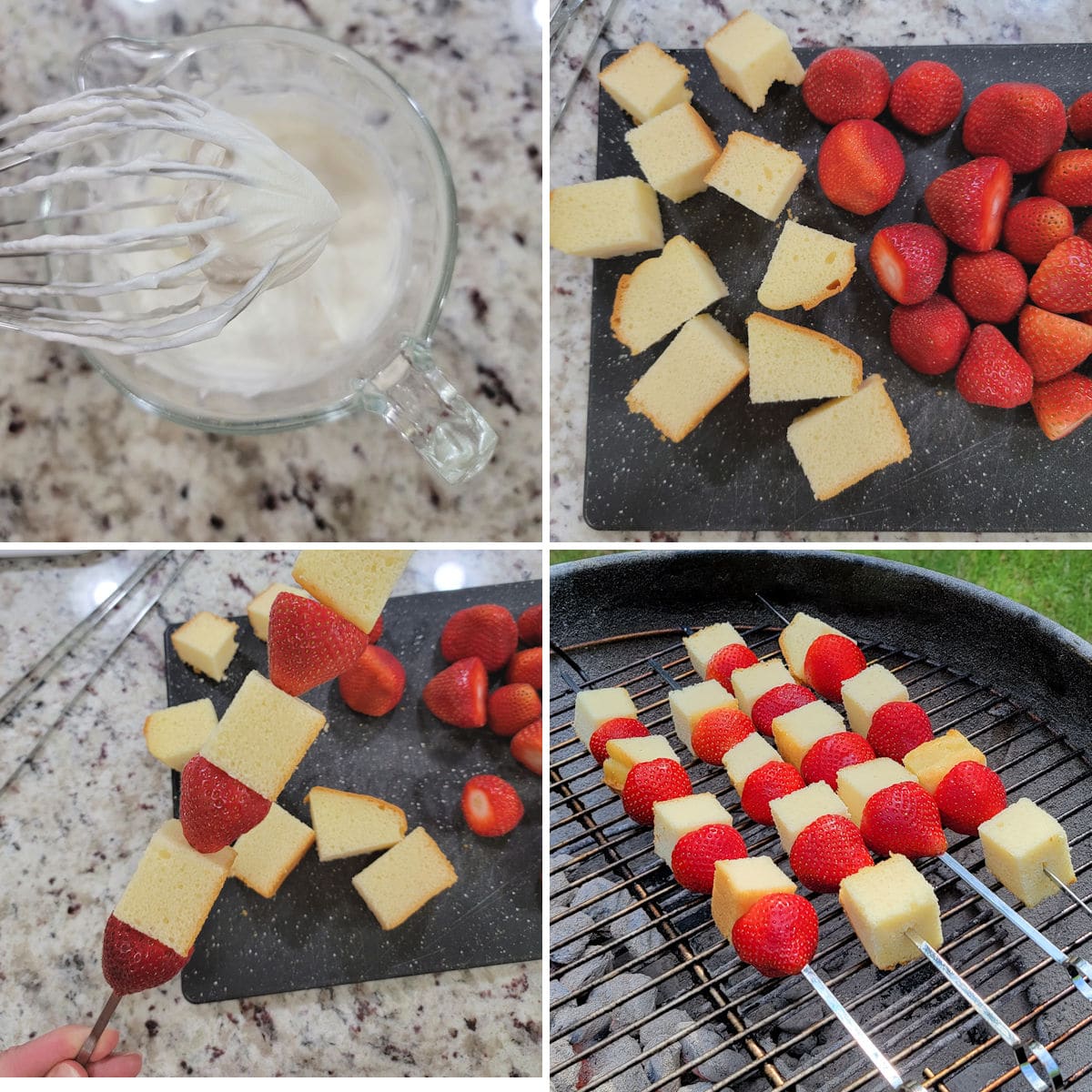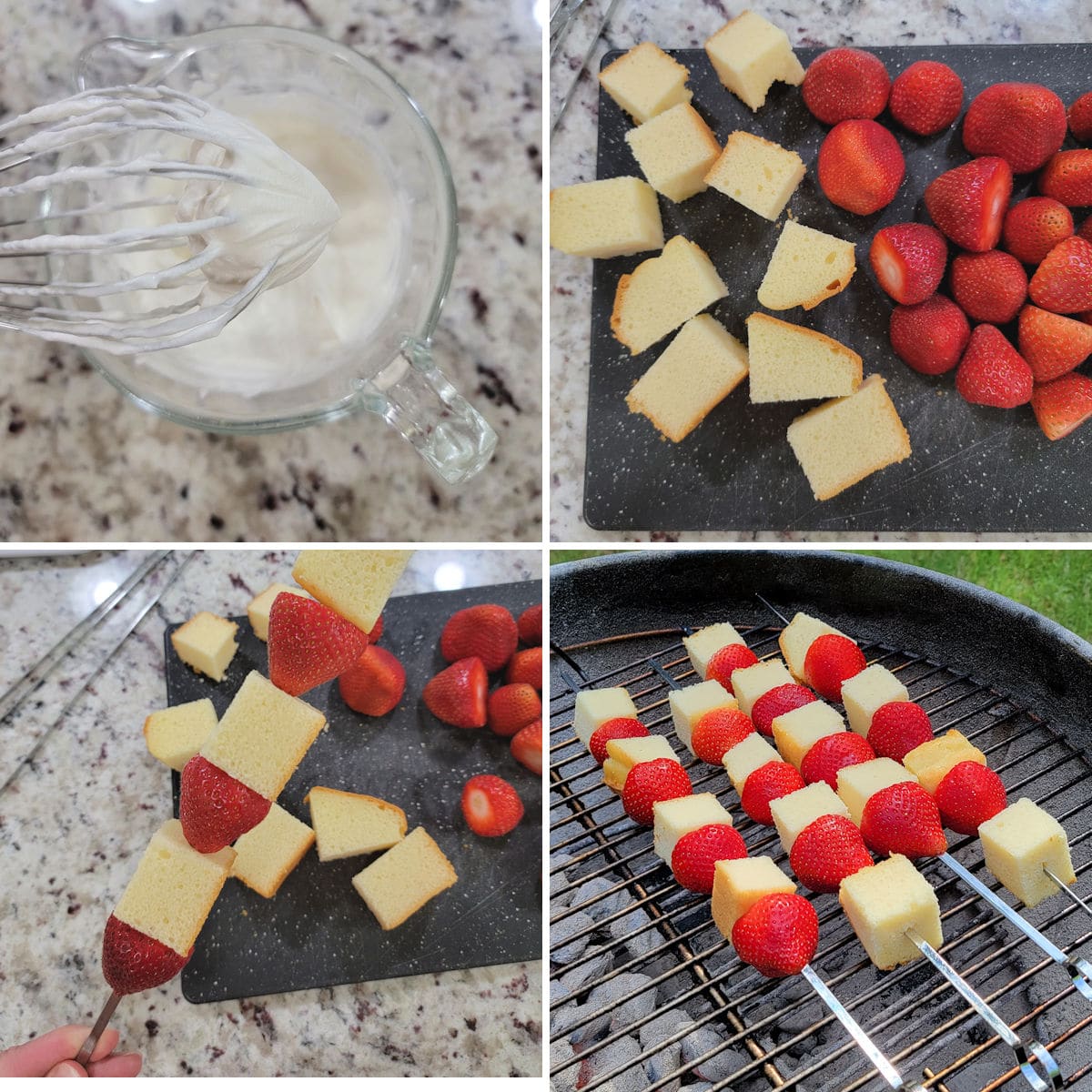 Shortcake kebab tips
Slice your cake into cubes the same width as your strawberries. This help the skewers lay flat on the grill grates.
Grill your kebabs over indirect heat only. Sugary cake will go from toasted to burnt in seconds when placed directly over hot coals.
Once the kebabs are placed on the grill, don't walk away. They only need about 1 to 2 minutes per side to get nice and toasty. Your kebabs don't need to be cooked, they're only sitting on the grill long enough to get toasty and a little charred around the edges.
To set up a charcoal grill for indirect heat, pile your hot coals into one half of the grill, leaving the other half empty. Grill your shortcake kebabs on the empty half of the grill. If needed, spread your coals out once the kebabs are done (they can be grilled before the main course).
To set up a gas grill for indirect heat, preheat your grill normally, then turn off the burners directly below where you plan to cook your shortcake kebabs.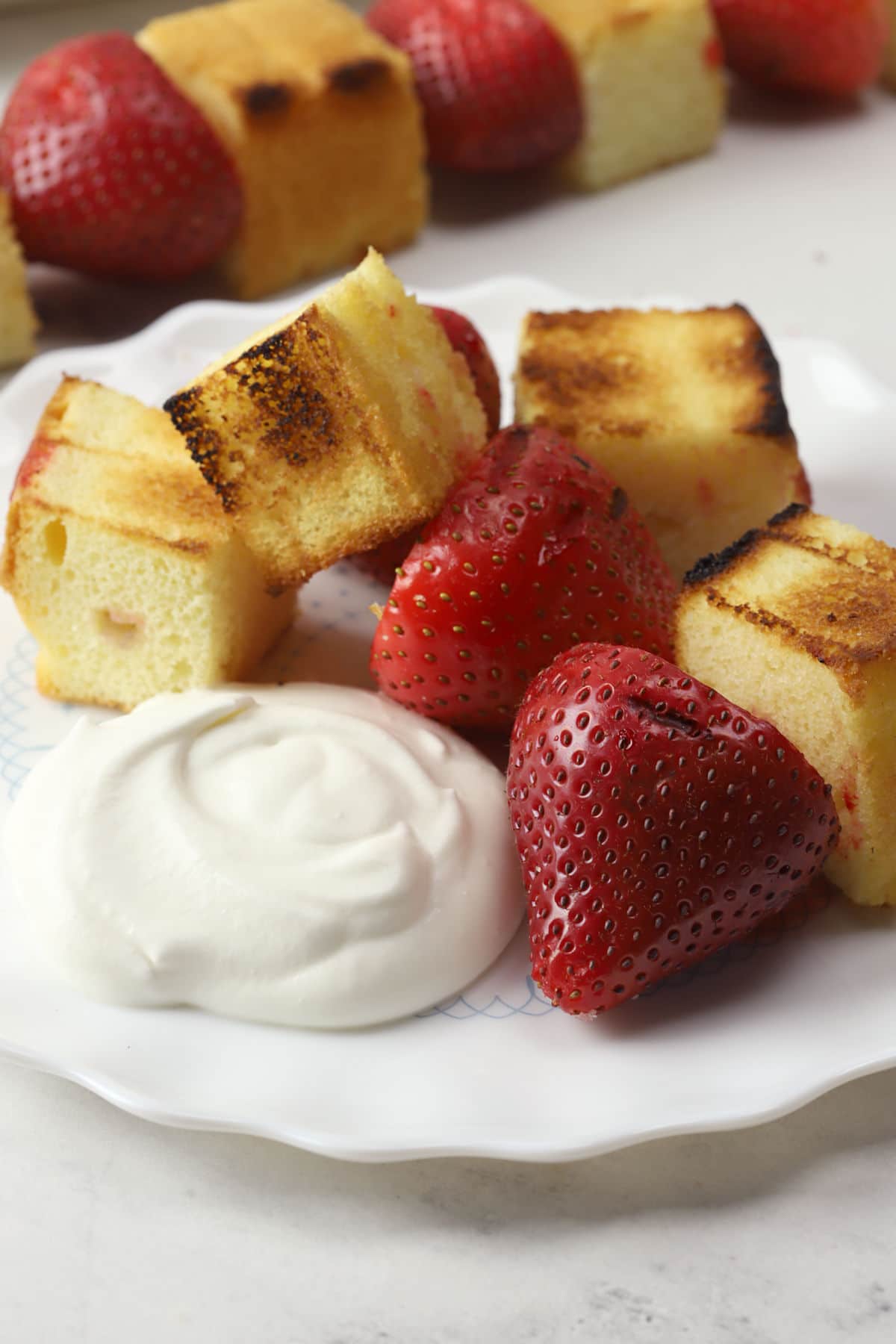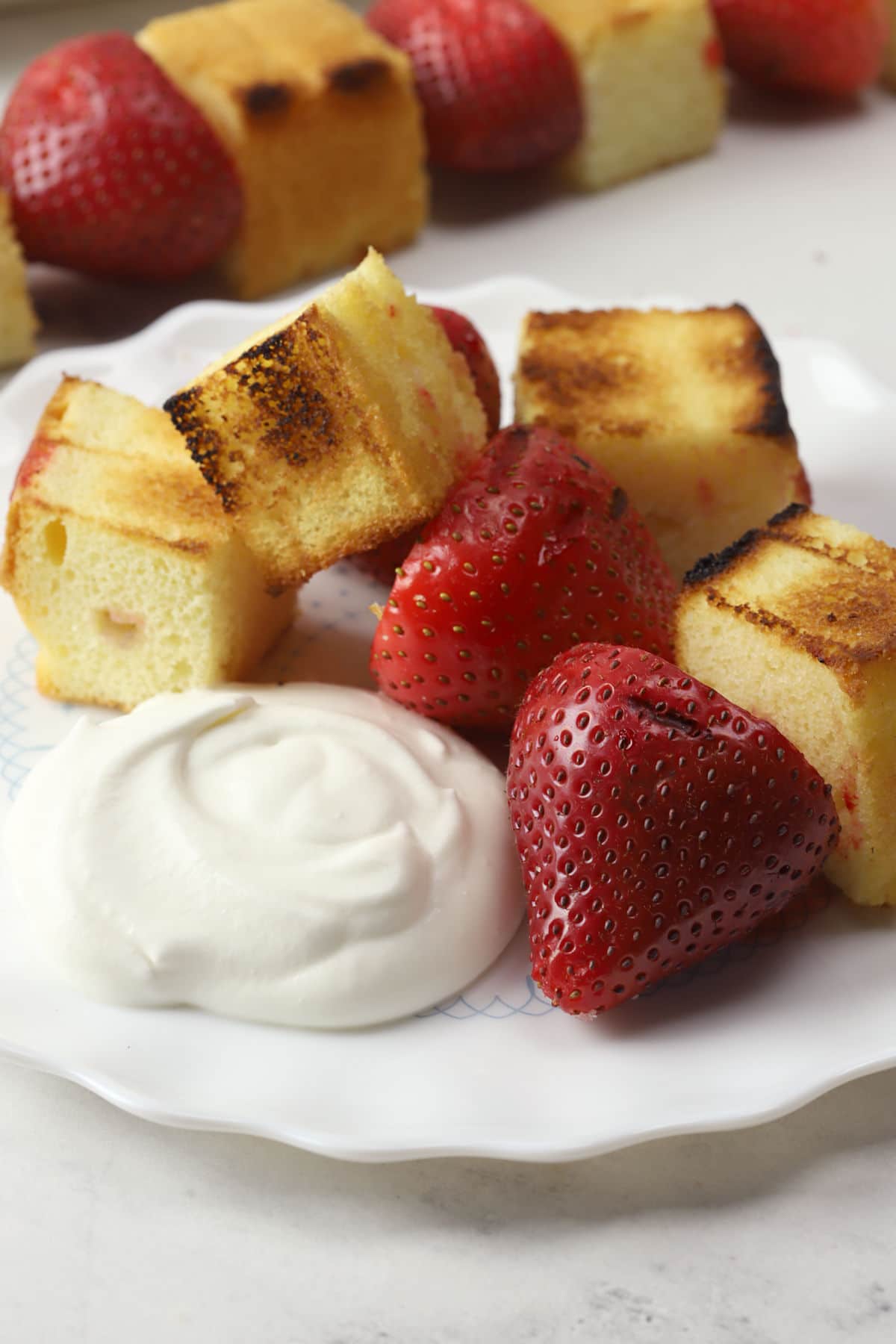 Skewers for grilling
Wood or bamboo skewers - Inexpensive and easy to find at your local grocer. Plus, they're disposable, which is perfect for camping. You may have a bit of trouble with your cake and strawberries rotating on a round wooden skewer.
Flat metal skewers - Sturdy, lightweight, and reusable. Also prevents your food from rotating as you flip your skewers. I highly recommend using flat skewers for this recipe, as your cake and strawberries will easily rotate around on round skewers.
Two-prong skewers - If your strawberries are on the larger side, sturdy, two-prong skewers can work. They add extra stability for flipping delicate ingredients, like cake.
Avoid skewers with plastic pieces (not grill-safe), curved skewers (can't cook every side evenly), or very thin skewers (prone to bending).
Recommended
📖 Recipe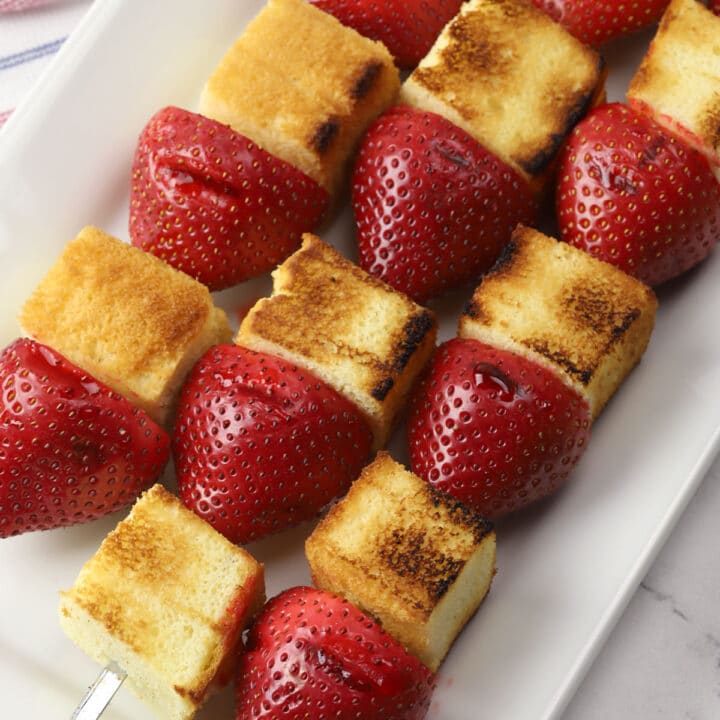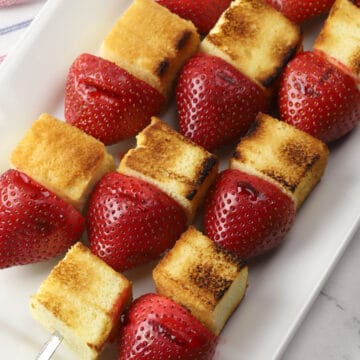 Print Recipe
Grilled Strawberry Shortcake Kebabs
Grilled strawberry shortcake kebabs are a fun and simple dessert recipe to make this summer. Fresh strawberries and pound cake are skewered and lightly grilled until warm and toasted. Served with homemade vanilla whipped cream.
Ingredients
12

ounce

pound cake

16

ounces

strawberries

1

cup

heavy cream

2

tablespoons

confectioner's sugar

½

teaspoon

vanilla extract
Instructions
Whipped cream
In a large bowl, add heavy cream, confectioner's sugar, and vanilla extract. Whip for 2-3 minutes on medium speed until medium peaks form. Once you begin to see ripples in the cream from your mixer and it appears to be holding its shape, stop the mixer and pull the whisk out of the bowl. If the tip of the whipped cream mostly holds its shape and eventually droops slightly, your whipped cream is ready. Take care not to over-mix or your whipped cream will separate.

Store in refrigerator until ready to serve.
Strawberry shortcake kebabs
Preheat grill to medium-high heat, about 375 to 400 degrees Fahrenheit. If needed, clean grill grates.

Slice pound cake into cubes, similar in size to your strawberries. Rinse strawberries, pat dry, and remove stems and leaves. Carefully thread cake cubes and strawberries onto skewers.

Wipe grill grates lightly with oil, then place skewers perpendicular across the grill grate. Watching carefully (do not walk away), cook until cake is lightly browned on all sides. This should only take about 1 to 2 minutes per side, but will depend entirely on the heat of the grill.

Remove from heat, carefully remove from skewers, and serve with a dollop of prepared whipped cream.
Notes
Heavy cream or heavy whipping cream is a must. Other dairy products like half & half, light cream, or whole milk do not contain enough milkfat to whip.
Prepared whipped cream will keep for 24 hours in a covered container in the refrigerator. Over time whipped cream will begin to weep and lose its shape - it is best enjoyed within 24 hours.
Make ahead - prepare your whipped cream as written, cover, and store in the refrigerator. Assemble skewers and store in the refrigerator until ready to grill. Skewers are best grilled the same day.
Leftover grilled strawberries will keep for 3 to 4 days in a tightly sealed container in the refrigerator.
Nutrition Estimate
Serving:
1
skewer
|
Calories:
335
kcal
|
Carbohydrates:
44
g
|
Protein:
5
g
|
Fat:
16
g
|
Saturated Fat:
10
g
|
Polyunsaturated Fat:
1
g
|
Monounsaturated Fat:
4
g
|
Cholesterol:
103
mg
|
Sodium:
365
mg
|
Potassium:
210
mg
|
Fiber:
2
g
|
Sugar:
28
g
|
Vitamin A:
679
IU
|
Vitamin C:
45
mg
|
Calcium:
78
mg
|
Iron:
2
mg