Make a batch of easy homemade alfredo sauce in as little as ten minutes! This from-scratch sauce is rich, creamy, and the perfect addition to a plate of your favorite pasta.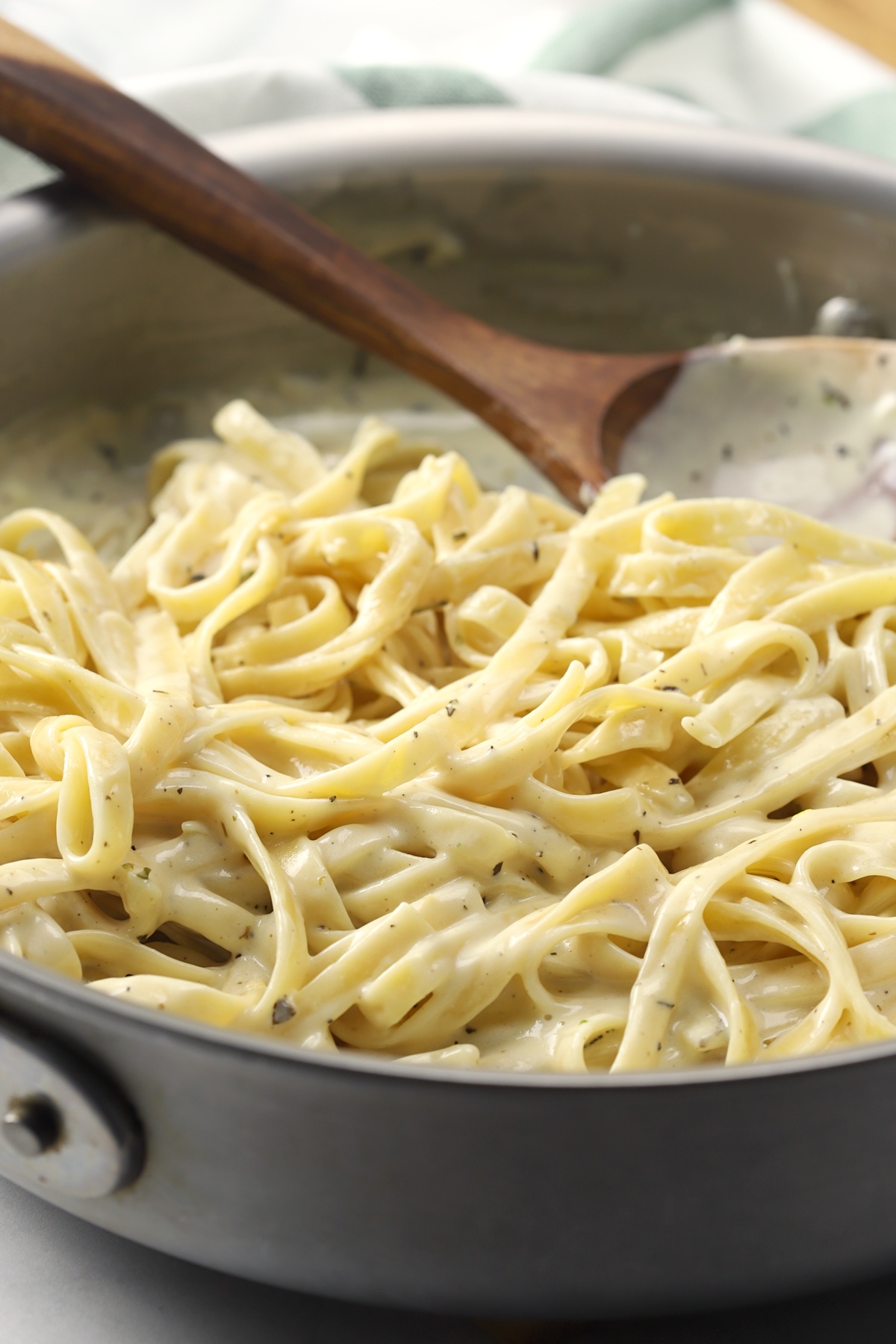 Are you an alfredo sauce lover? If so, you'll love how easily this homemade alfredo sauce comes together. All you need is one pan, a few simple ingredients, and about ten minutes!
This alfredo sauce turns out rich, creamy, cheesy, and filled with flavor. While not a traditional alfredo sauce, this American version will rival your favorite restaurant's alfredo!
Toss some cooked pasta in your homemade alfredo sauce for a quick meal. Or, use as a dipping sauce for breadsticks. Need alfredo sauce for a recipe? This sauce can be used to replace the store bought stuff.
Ingredients and substitutions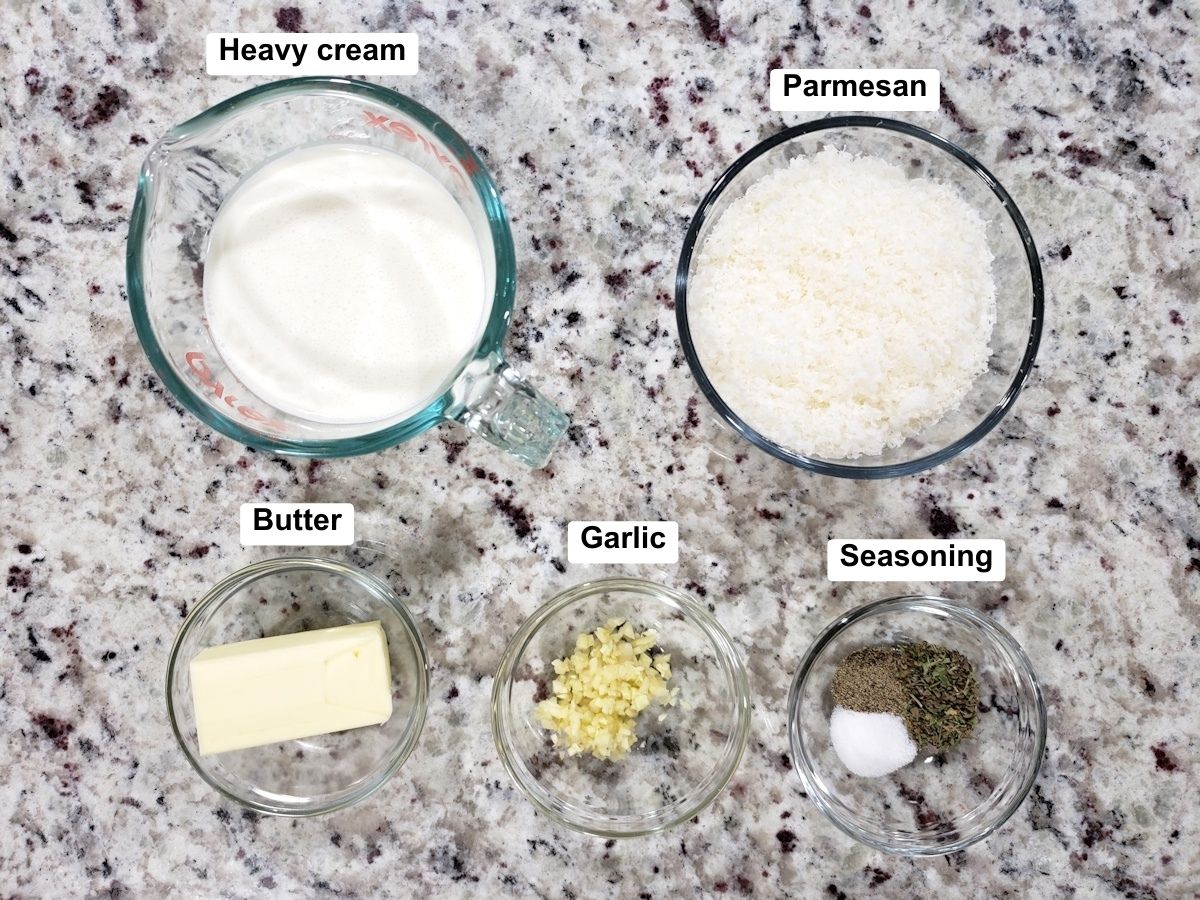 Since this recipe requires so few ingredients, I don't have many substitutions to offer.
Heavy cream is a must - it gives your sauce a rich, thick, and smooth texture without the need for thickening agents like flour or cornstarch.
Parmesan cheese is another must, and it needs to be freshly grated. This part is so important that I dedicated an entire section to cheese grating below!
If you don't have garlic cloves on hand, they can be substituted with garlic powder (added with your other seasonings). However, fresh garlic adds exceptional flavor to your sauce that you won't get from garlic powder.
Italian seasoning can be store bought or homemade seasoning. If you don't have Italian seasoning, substitute with equal parts of any dried Italian herbs you have on hand, like oregano, basil, sage, marjoram, rosemary, or thyme.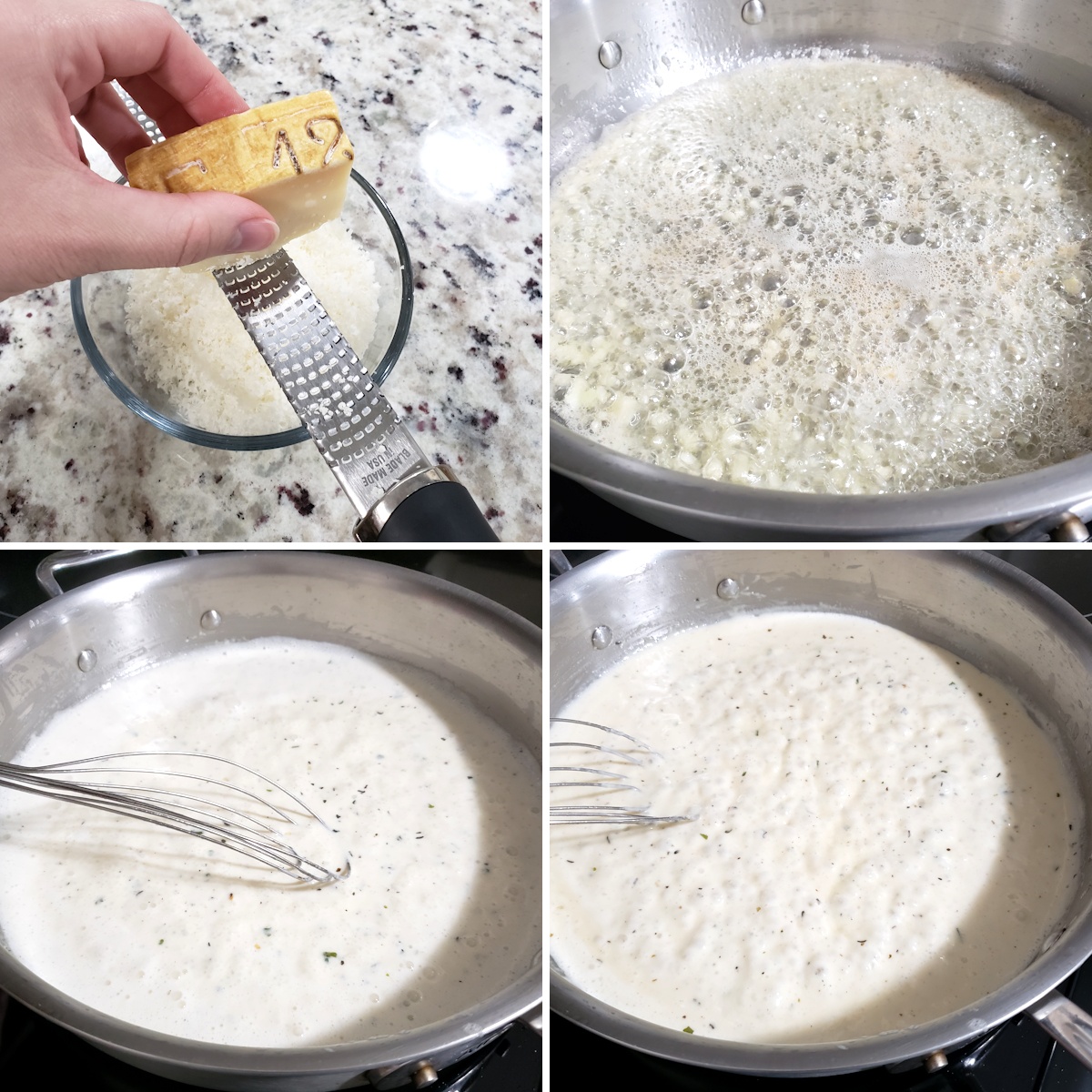 Freshly grated cheese
Freshly grated parmesan cheese is a must for a creamy and smooth alfredo sauce. You may be asking - why?
Pre-shredded cheeses (or green canisters of cheese) are coated in anti-clumping powders. When melted, these powders will make your sauce grainy.
To prevent a grainy or clumpy sauce, grate your cheese yourself. It only takes a minute, but makes a major difference in the texture of your sauce.
Parmesan cheese can be grated with a variety of kitchen cools, like a microplane (what I'm using in the photo above), a box grater, or a handheld grater. If you're feeling fancy, invest in a rotary cheese grater!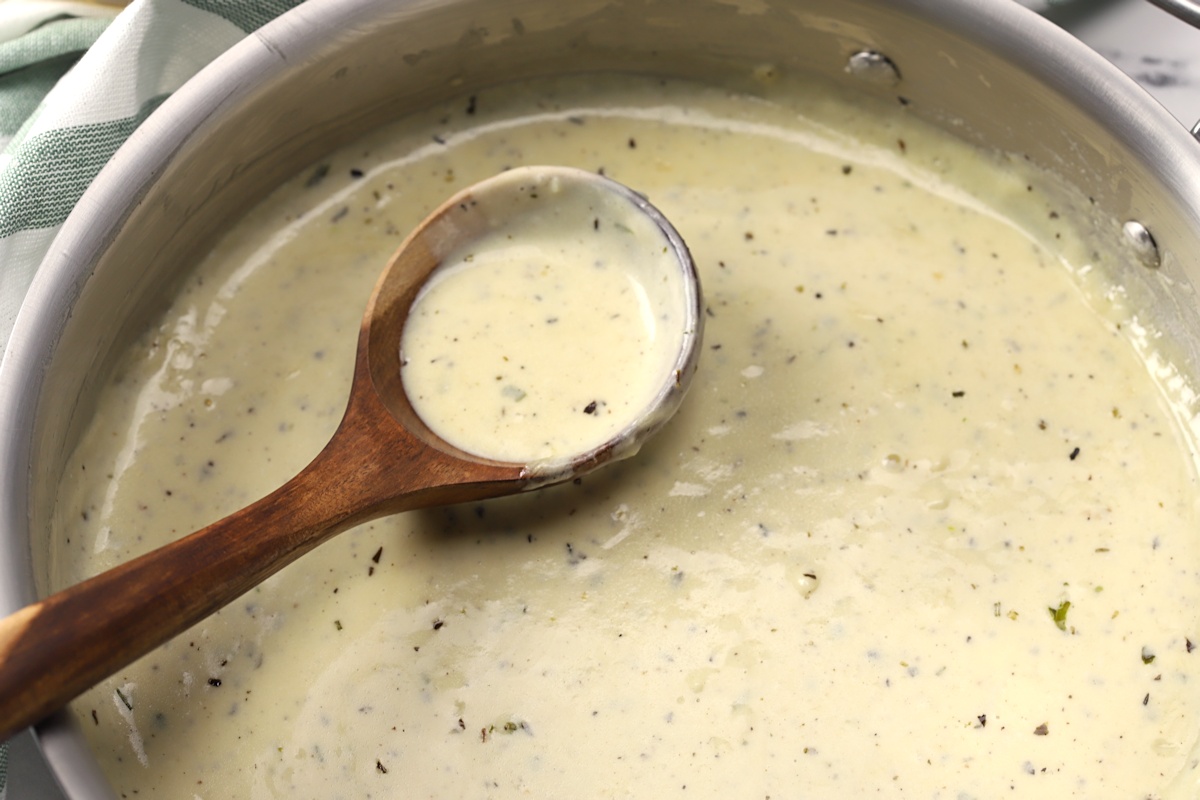 Authentic vs. American alfredo sauce
If you know anything about Italian cooking, you may have already realized that what we're cooking today is not authentic fettuccine alfredo.
Alfredo sauce made with heavy cream, like our recipe today, is a modernized American version of the classic. This is the type of sauce you're likely to find at chain Italian-style restaurants in the United States. While delicious, it is not the same as an Italian alfredo.
A classic Italian alfredo sauce is made with freshly cooked pasta (and some pasta water), parmesan cheese, and butter. That's it! As the parmesan cheese melts, it emulsifies the pasta liquids and butter to create a creamy sauce.
The classic dish may also go by the name fettuccine al burro, or "fettuccine with butter".
Check out wikipedia for more information: Wikipedia - Fettuccine Alfredo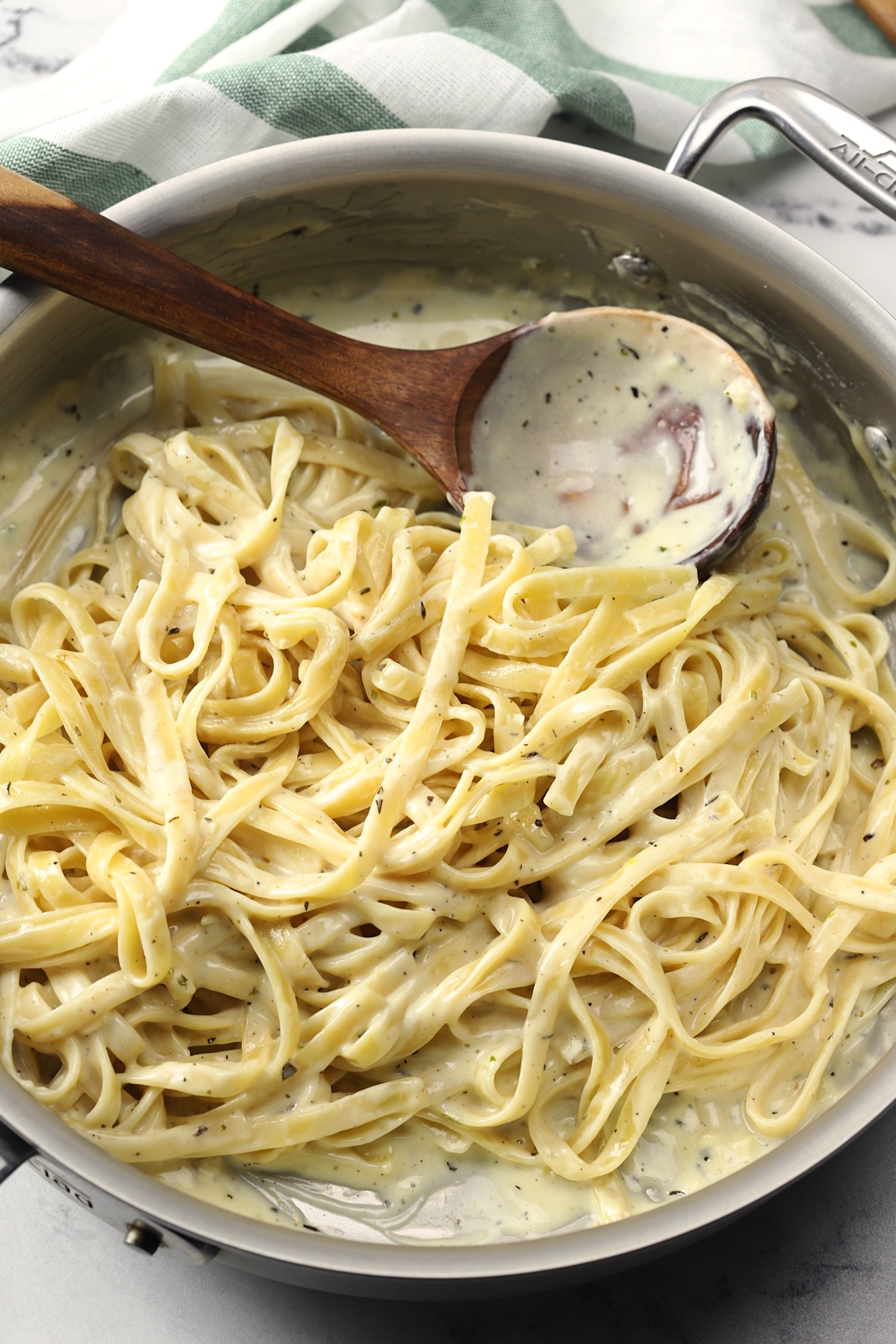 Ways to use alfredo sauce
So you've made homemade alfredo sauce and now you're addicted, right? Here are a few of my favorite ways to use alfredo sauce, aside from coating your favorite pasta:
Use as a dipping sauce for breadsticks
Pour over sautéed chicken and steamed veggies
Alfredo lasagna
White pizza
Make a lower calorie alfredo with spaghetti squash
Leftover alfredo sauce
I hate to be the bearer of bad news, but alfredo sauce is not a great leftover. Cream based sauces do not freeze well, and alfredo sauce in particular does not reheat well.
Why does this happen? In short, the emulsion breaks. The emulsion is formed between the liquids and the fats during the cooking process, and breaks when reheated in a microwave or stove top.
This leaves you with a separated sauce - one part is gloppy/cheesy and the other part is pure butter. Not very appetizing!
The great part about homemade alfredo sauce is that it only takes 10 minutes to make. Plus, you can make as little or as much as you need for a single sitting.
To adjust the servings in this recipe, hover over the serving size and use the bar to adjust how many servings you'd like to prepare.
📖 Recipe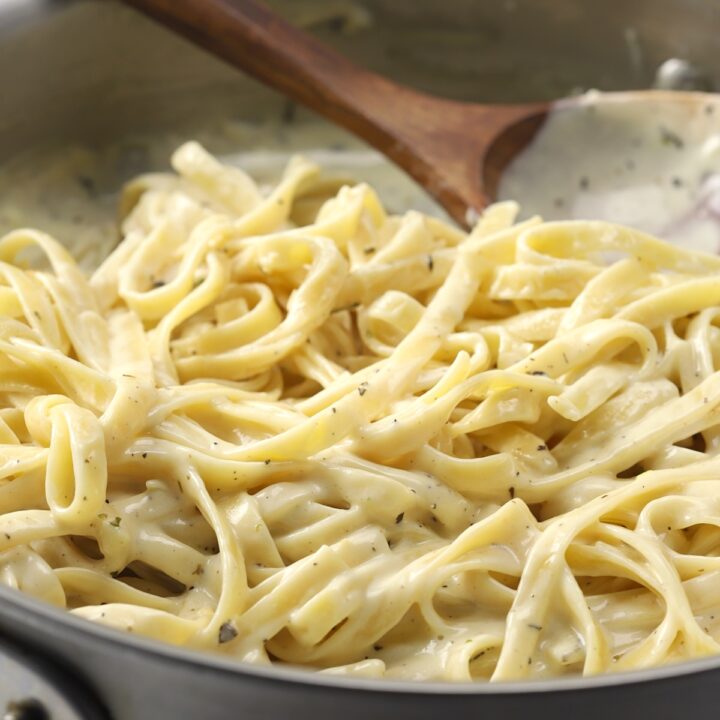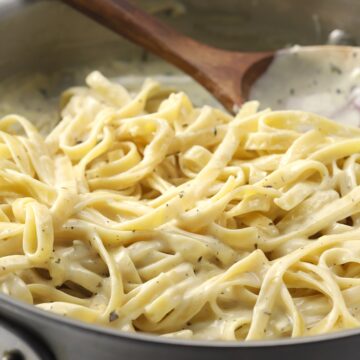 Print Recipe
Easy Homemade Alfredo Sauce
Make a batch of easy homemade alfredo sauce in as little as ten minutes! This from-scratch sauce is rich, creamy, and the perfect addition to plate of your favorite pasta.
Ingredients
¼

cup

unsalted butter

2

cloves

garlic

,

minced

1

cup

heavy cream

½

teaspoon

Italian seasoning

¼

teaspoon

salt

,

or more to taste

¼

teaspoon

pepper

1 ½

cups

freshly grated parmesan cheese
Instructions
In a sauté pan over medium heat, add butter. Once melted and bubbling, add minced garlic and cook for 1 minute. Add heavy cream, Italian seasoning, salt, and pepper. Stir and cook for 2-3 minutes, or until sauce has thickened slightly.

Add parmesan cheese and stir until melted. Remove from heat and serve immediately.

*If serving with pasta, reserve ½ cup of the pasta water before draining your cooked pasta. Then, stir the reserved water into your sauce when adding the pasta to make your sauce extra creamy and silky.
Notes
Recipe makes enough sauce to coat 8 ounces of pasta (uncooked weight).
Alfredo sauce does not reheat well - sauce will separate (the emulsion breaks) when reheated in the microwave or on the stove top. I recommend only making enough sauce for one sitting.
Substituting heavy cream with half & half or milk will make your sauce very thin and less creamy - I do not recommend using any dairy other than heavy cream for this recipe.
Pre-shredded cheeses contain anti-clumping powders that when melted, will make your sauce grainy. I do not recommend using pre-shredded cheese.
Nutrition Estimate
Calories:
457
kcal
|
Carbohydrates:
4
g
|
Protein:
15
g
|
Fat:
43
g
|
Saturated Fat:
27
g
|
Cholesterol:
138
mg
|
Sodium:
771
mg
|
Potassium:
79
mg
|
Fiber:
1
g
|
Sugar:
1
g
|
Vitamin A:
1522
IU
|
Vitamin C:
1
mg
|
Calcium:
493
mg
|
Iron:
1
mg
More recipes