White Chocolate Macadamia Nut Cookies are the perfect combination of salty and sweet in cookie form. These chewy cookies are filled with smooth white chocolate chips and salty macadamia nuts.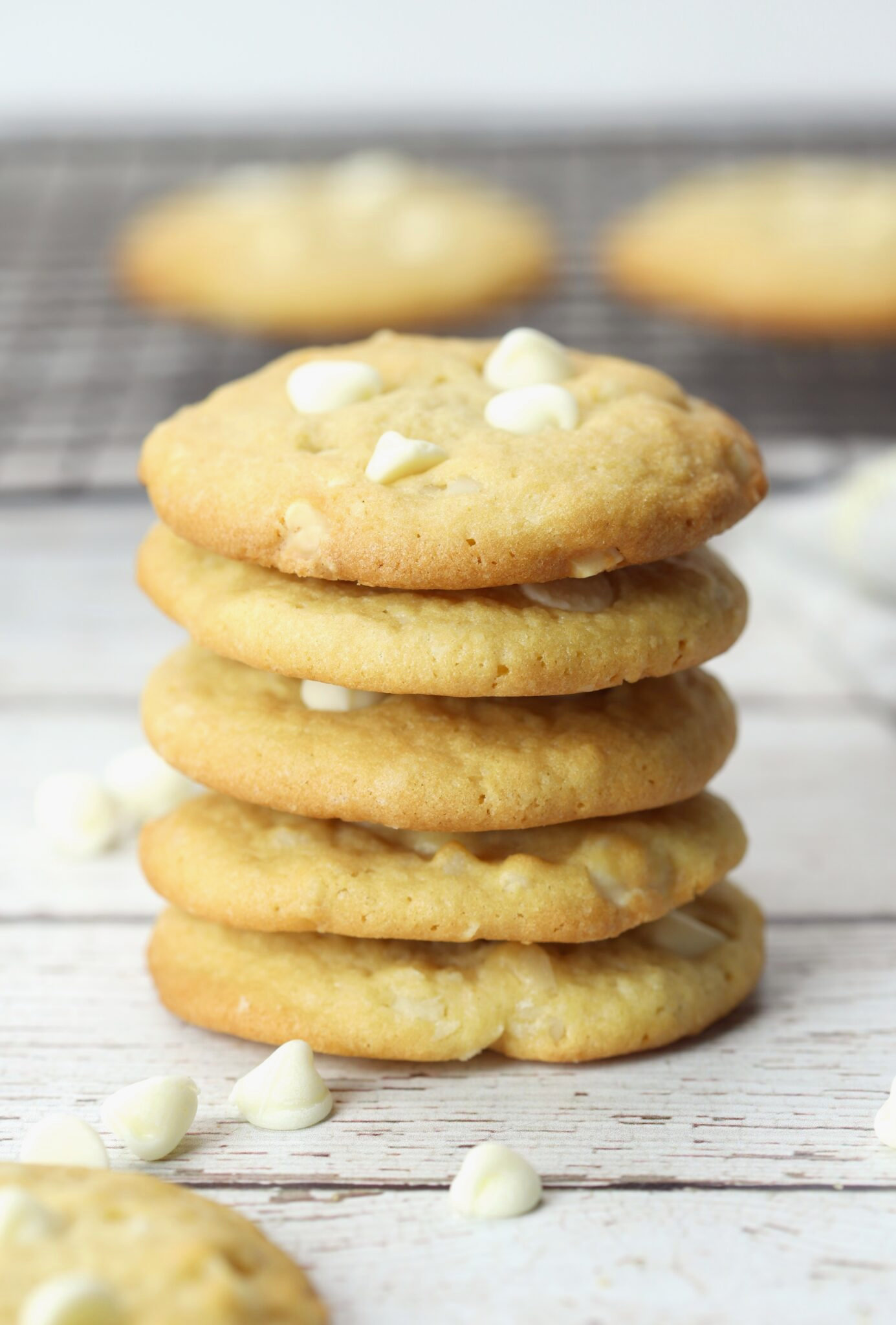 You're going to love my recipe for White Chocolate Macadamia Nut Cookies. These cookies are soft, chewy, and filled with salty and sweet flavor.
Best of all, this uses my favorite cookie dough base. I use this cookie dough when I want a soft and chewy cookie. I also use this cookie dough base for my Ultimate Chocolate Chip Cookies, which makes (in my opinion) the best chocolate chip cookie.
Roasting Macadamia Nuts
I suggest using roasted macadamia nut pieces for best flavor in your cookies. Roasting brings out extra depth of flavor in the nuts, which in turn makes your cookies taste even better.
As far as macadamia nuts go, I love these Mauna Loa Dry Roasted Macadamia Nuts. They used to sell chopped and roasted macadamia nuts that were ready for baking – however I can no longer find them in store. They still sell dry roasted macadamia nuts, which would be excellent for this recipe.
If you have raw macadamia nuts, they will work just fine. If you'd like to toast them for some extra depth of flavor, it only takes a few minutes.
Preheat your oven to 250 degrees. Place your macadamia nuts on a lined baking sheet in a single layer. Bake for 10-15 minutes, stirring once halfway through. Watch carefully to prevent burning. Allow to cool before adding nuts to your dough.
How to Make White Chocolate Macadamia Nut Cookies
First, gather your ingredients.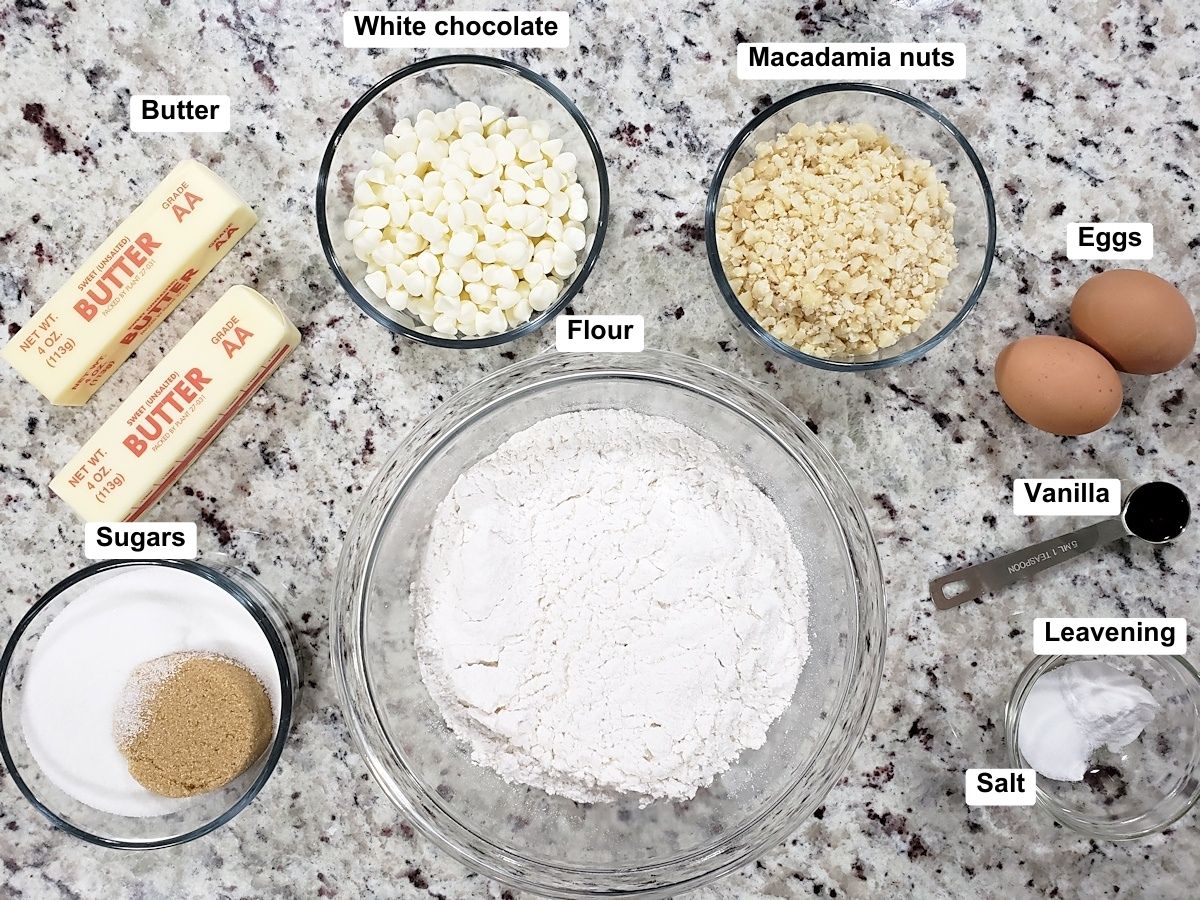 For this recipe, you'll need unsalted butter, white chocolate chips, macadamia nut pieces, eggs, granulated and brown sugars, flour, vanilla extract, salt, and baking soda.
Your butter and eggs should be at room temperature, so that they will easily incorporate into your dough. Forgot to set them out ahead of time?
To get eggs to room temperature fast, place them in a bowl of warm water. After ten minutes, you'll have room temperature eggs.
Slice your butter into thin pieces and set out on the counter. This will help speed up the time it takes to warm up to room temperature.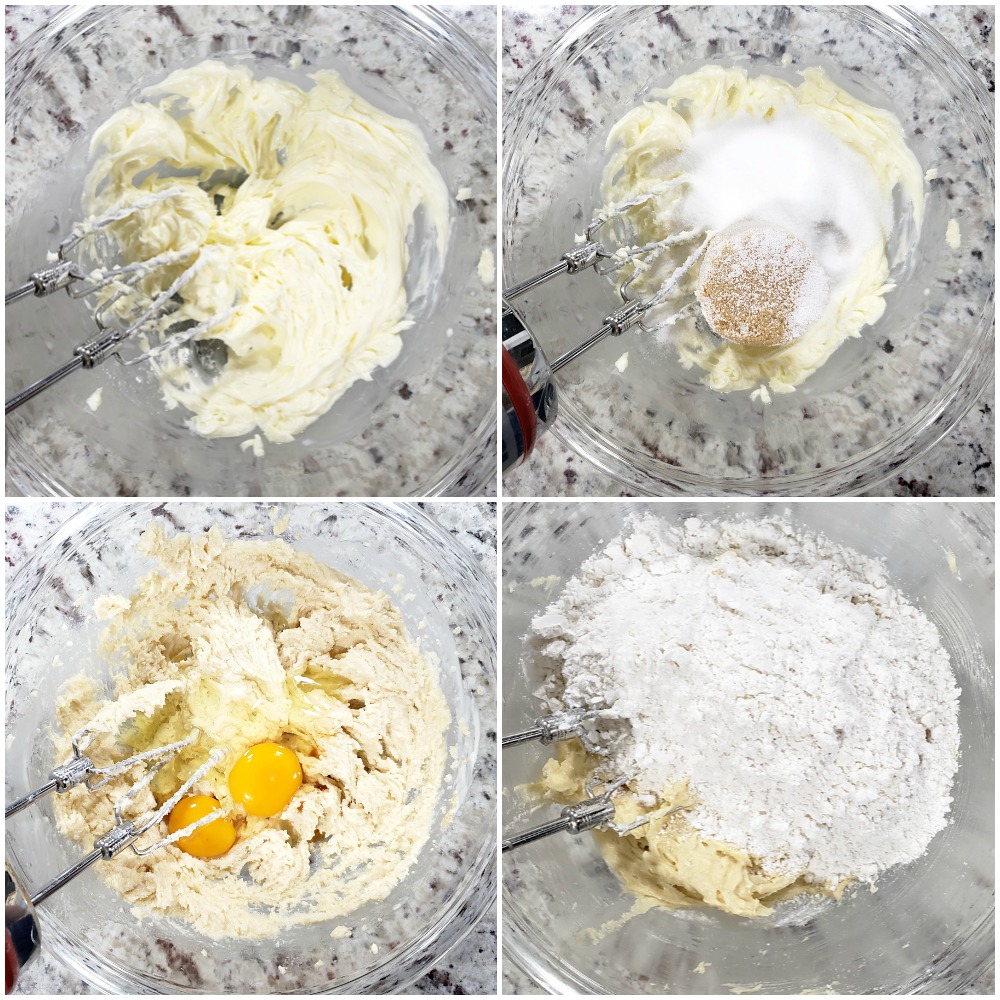 In a separate bowl, combine your dry ingredients and whisk or sift to remove clumps. Set aside.
Add your butter to a large bowl and mix until creamy. Add your sugar and mix until it looks fluffy (about 30 seconds to 1 minute).Then, add your eggs and vanilla extract.
Once well combined, add your dry ingredients, half at a time, and mix until just combined. Over-mixing your dry ingredients once they've been added to the wet ingredients can cause your cookies to be tough.
Cover and refrigerate your cookie dough until chilled. I recommend at least one hour, up to 24 hours.
Remove your dough from the refrigerator, and preheat your oven to 350 degrees.
I like to make my cookies perfectly portioned and round with an OXO Medium Cookie Scoop. This helps keep your hands clean from rolling dough into balls, and speeds up the process considerably!
Sometimes, I like to add a few extra chocolate chips to the top of my cookie dough before baking. This makes them look prettier out of the oven. Just a little baker's secret for you!
White chocolate macadamia nut cookies, fresh out of the oven. Allow your cookies to cool for 3-4 minutes before removing to a cooling rack.
How to Keep Homemade Cookies Soft
So you've made a batch of cookies, but how do you keep them soft for days? I've got a few tips to help keep your cookies soft for a week or more (if they last that long!).
First, store your cookies in a tightly sealed container. If your cookies are loosely covered with plastic or foil on a plate, they will become stale quickly.
Generally, cookies will stay fresh for 2-3 days in a sealed container, assuming you're opening it a few times a day. They may keep a day or two longer if the container stays sealed. For example, if you're shipping them in the mail.
I have one method I always use when storing and shipping cookies that has never failed me. Add a slice of fresh bread to your cookie container. The cookies will draw moisture from the slice of bread, keeping them fresh. I've also heard of people having success using an apple slice (but I haven't tried this).
The next day, your bread will feel noticeably stale – that means it's working! I replace the bread daily with a fresh slice. Whenever I ship cookies to others, I recommend that they replace the bread inside with a fresh piece once it has arrived to them.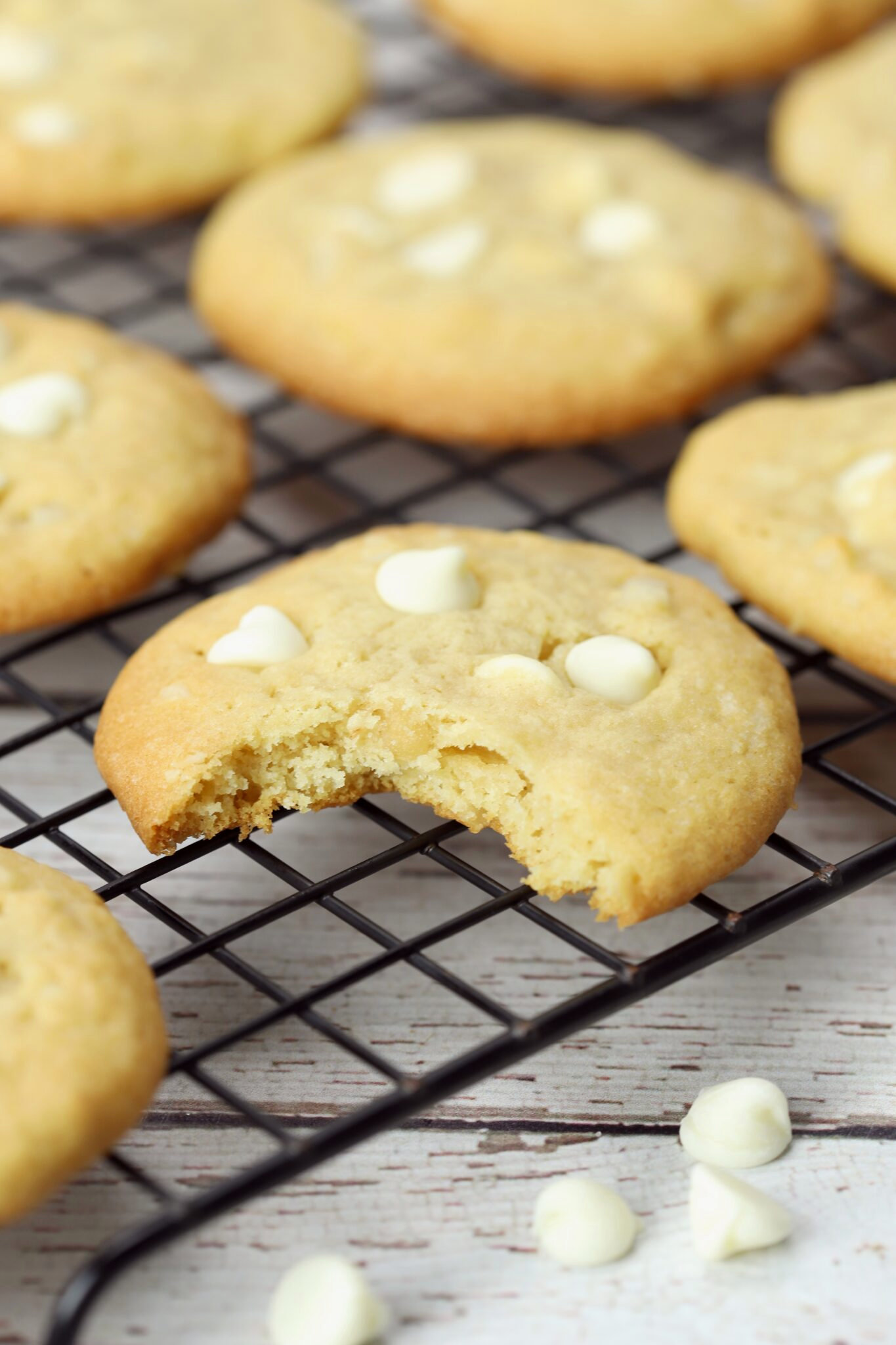 Did you know that you can freeze cookies? Cookie dough also freezes well – I've had dough last up to six months in the freezer. I recommend checking your dough or cookies after three months, then continuing at your own risk after that.
If you plan on freezing cookies or cookie dough, I recommend storing the in an airtight, freezer safe container, or a freezer safe bag. Remove as much air as possible.
Frozen cookie dough can be baked straight from the freezer – simply add 1-2 minutes on to your baking time.
Print Recipe
White Chocolate Macadamia Nut Cookies
These White Chocolate Macadamia Nut Cookies are salty, sweet, and a crowd favorite. One of my most requested cookies, they're filled with white chocolate chips and salty, toasted macadamia nuts.
Ingredients
1

cup

unsalted butter

room temperature

3/4

cup

granulated sugar

1/2

cup

brown sugar

2

large

eggs

1

teaspoon

vanilla extract

2 3/4

cups

all purpose flour

3/4

teaspoon

salt

3/4

teaspoon

baking soda

1

cup

macadamia nuts

chopped

1

cup

white chocolate chips
Instructions
In a large bowl, cream together butter and sugars. Add eggs and vanilla extract. Beat for a full 3 minutes, mixture will look fluffy.

In a separate bowl, whisk (or sift) together the flour, salt, and baking soda.

Gradually stir dry ingredients into butter mixture until just combined.

Add white chocolate chips and macadamia nuts and stir until just combined.

Cover bowl or wrap dough in wax paper. Chill for at least 1 hour (up to 24 hours) in the refrigerator. Refrigerating will help the flavors meld and also create a firmer dough to roll into balls.

Preheat oven to 350 degrees.

Remove dough from refrigerator and allow to sit at room temperature for 10 minutes. Scoop dough using a 1.5 tablespoon scoop or shape by hand into 1.5 inch balls.

Place cookie dough balls 2 inches apart onto a parchment lined baking sheet. Bake for 10-12 minutes, or until lightly browned around edges. Allow to cool for 5 minutes before removing to a wire rack to cool completely.
Notes
Your cookies will keep for 5-7 days in a sealed container. To help keep cookies fresh, you can place a slice of bread in the container with the cookies. Replace the bread slice as needed.
You can keep raw cookie dough in the refrigerator for 3 days. Cookie dough balls (and baked cookies) freeze well, up to 3 months in a sealed plastic container or freezer bag. Allow frozen balls to thaw for up to 10 minutes on the baking sheet before baking, or add 1-2 minutes to the baking time.
Nutrition
Serving:
0
g
|
Calories:
166
kcal
|
Carbohydrates:
18
g
|
Protein:
2
g
|
Fat:
10
g
|
Saturated Fat:
5
g
|
Cholesterol:
26
mg
|
Sodium:
82
mg
|
Potassium:
48
mg
|
Fiber:
1
g
|
Sugar:
10
g
|
Vitamin A:
175
IU
|
Vitamin C:
0.1
mg
|
Calcium:
20
mg
|
Iron:
0.7
mg