Today I'm sharing with you 14 cast iron skillet bread recipes. Whether on the stove top or in the oven, you'll find a variety of delicious homemade bread recipes for your next meal.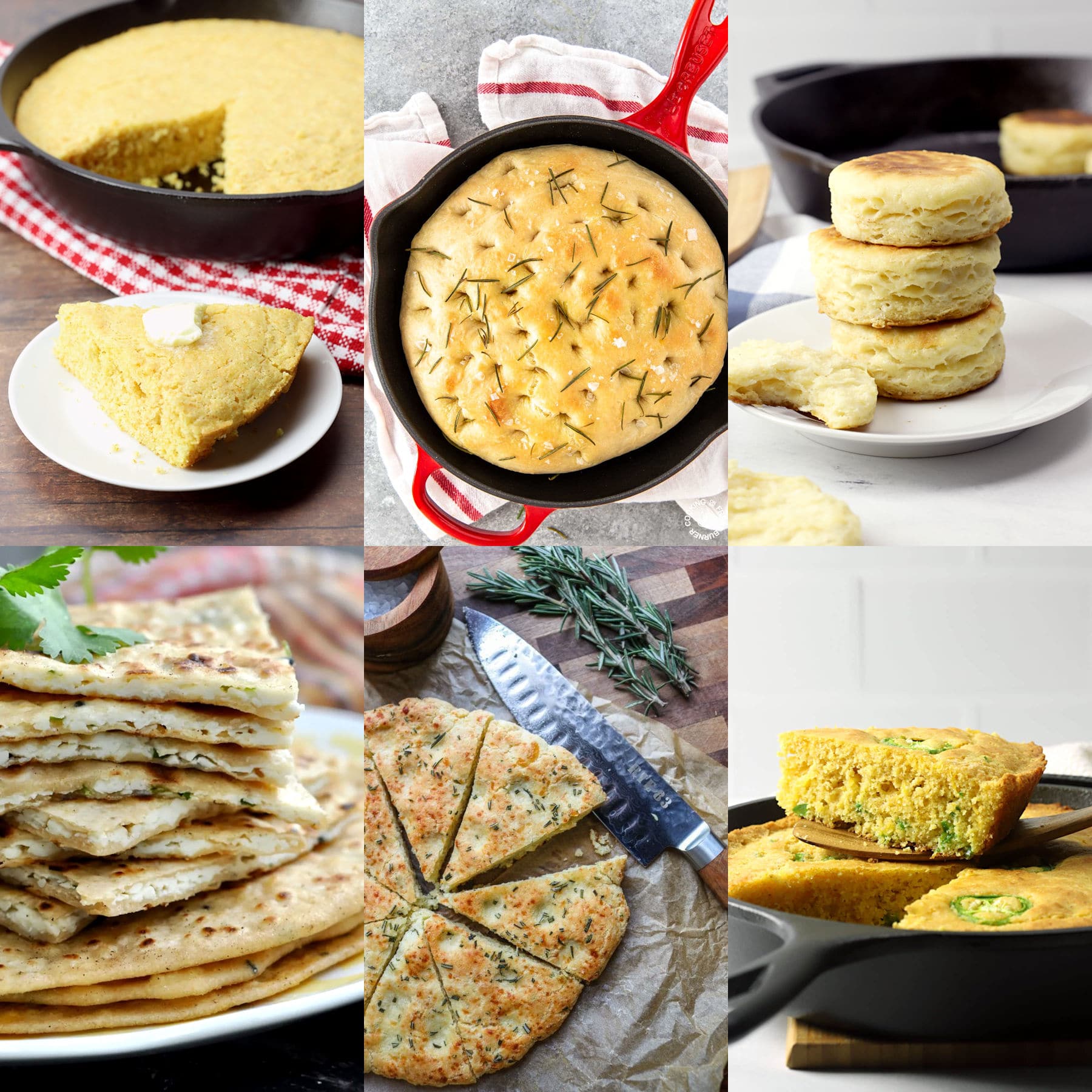 If you haven't baked bread in a cast iron skillet before, you must give it a try. Baking in cast iron gives your bread a beautiful, crunchy, golden crust. Plus, bread releases seamlessly from a well-seasoned cast iron pan, making cleanup a breeze.
Cast iron also makes for a beautiful presentation for your homemade bread. Transfer your skillet directly from the oven to the table for serving.
If you don't yet own a cast iron pan, I highly recommend buying one ASAP! They get better and better as they age. A well-seasoned, properly maintained cast iron skillet will last a lifetime.
What kind of cast iron skillet do I need?
I love Lodge cast iron skillets. They're inexpensive, made in the USA, and easy to find locally and on Amazon. Their most popular sizes are the 10-inch and 12-inch skillets (both of which are great for baking bread), though their sizes range from from 3.5 inches to 15 inches.
Check out Lodge's article for more information: What Size Cast Iron Skillet Do I Need?
A 10-inch skillet is a common starter size for cast iron. It's perfect for feeding 2 to 4 family members and can fit a few small steaks or up to four chicken thighs. This smaller size skillet is easy to maneuver in and out of the oven.
A 12-inch skillet is great for cooking family meals and a few large steaks at a time. Keep in mind that a larger skillet is significantly heavier, especially when filled with food, making it harder to move on and off the stove top.
Cast iron skillet bread recipes
Looking for a quick bread or a yeast bread? You'll find a few of each on this list of cast iron skillet bread recipes.