Homemade gingerbread loaf is soft, moist, and perfectly spiced with your favorite holiday flavors. Pair with your morning coffee, enjoy as dessert, or give as a gift.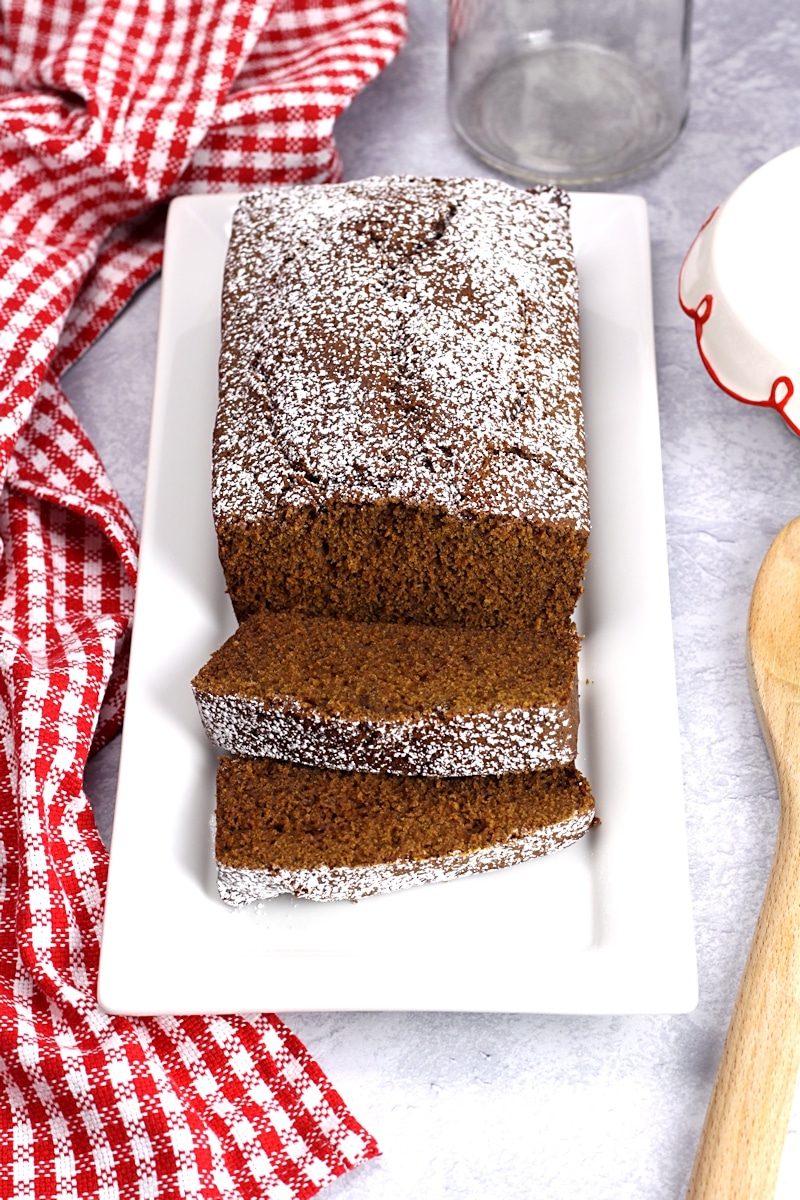 It's that time of year again. Pull out the cinnamon, find the cloves, and buy a fresh jar of molasses. That's right - it's gingerbread season.
You'll love this homemade gingerbread loaf because it's quick and easy to prepare. It also fills your home with fragrant holiday spices. Who can resist the warm and cozy scent of cinnamon, ginger, cloves, and molasses?
Gingerbread makes the perfect snack, morning breakfast, or dessert for fall and winter. Make a gingerbread loaf on Thanksgiving morning, Christmas eve, or for holiday movie night at home.
Prefer muffins? Try my gingerbread muffins recipe! They make a quick and easy seasonal snack.
Ingredients and substitutions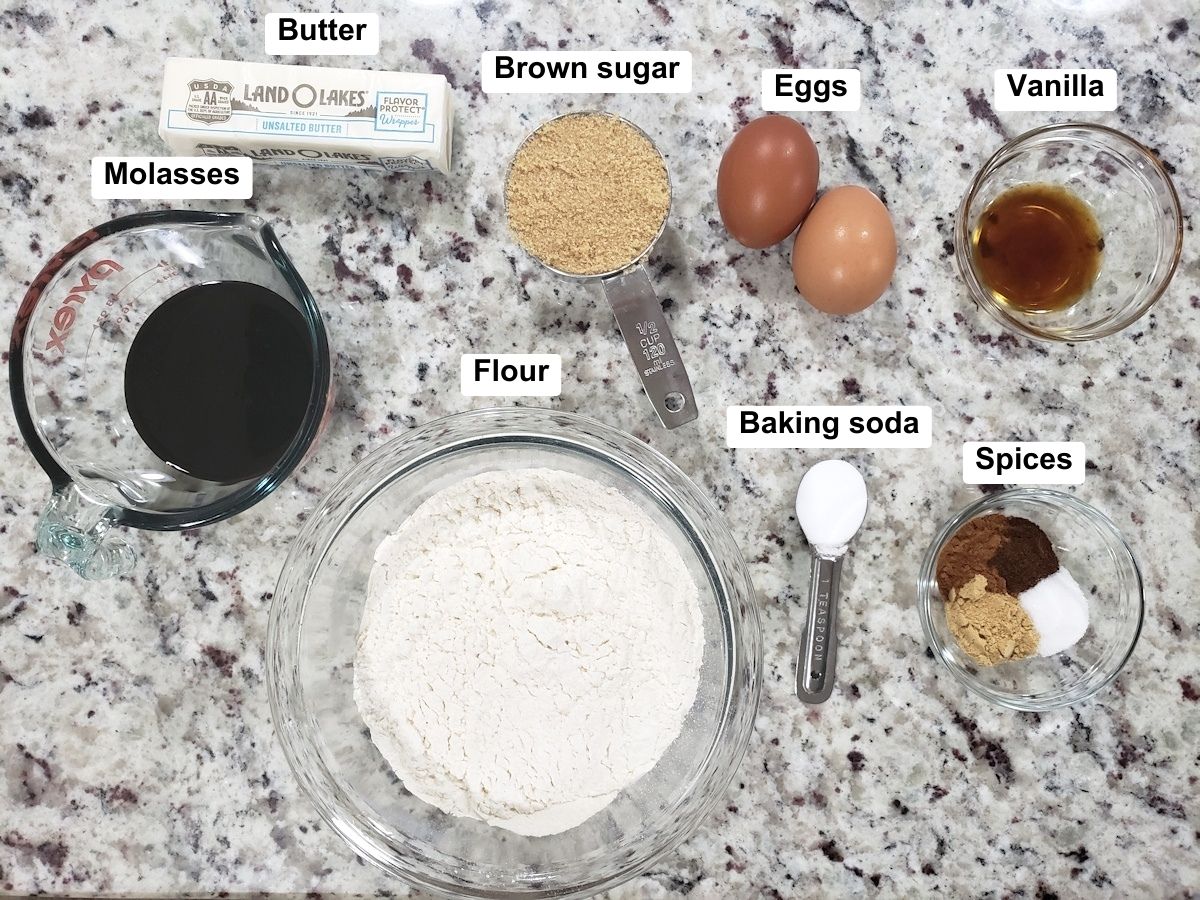 Unsalted butter - Make sure your butter is room temperature so that it easily incorporates with the rest of your ingredients. Unsalted butter and salt can be substituted with salted butter.
Brown sugar - Light or dark brown sugar will work in this recipe.
Large eggs - Allow eggs to come to room temperature before adding to your batter. To bring eggs to room temperature quickly, fill a bowl with hot tap water, add your eggs, and allow to set for 10 minutes. Remove your eggs from the water and dry off before cracking.
Molasses - I recommend Grandma's Original Molasses (a common brand found in grocery stores). Molasses is a must when baking gingerbread and gives it a distinctive flavor. Light or dark molasses will work in this recipe - dark molasses adds a stronger flavor.
All-purpose flour - I do not recommend substituting AP flour with any other types of flour. AP flour has the perfect amount of structure needed for a quick bread recipe.
Baking soda - Cannot be substituted with baking powder. They react differently in recipes and you'll need baking soda for this particular recipe.
Spices/Extracts - You'll need vanilla extract, ginger, cinnamon, cloves, and salt. All of these ingredients work together to give your bread a well rounded flavor.
Tips and tricks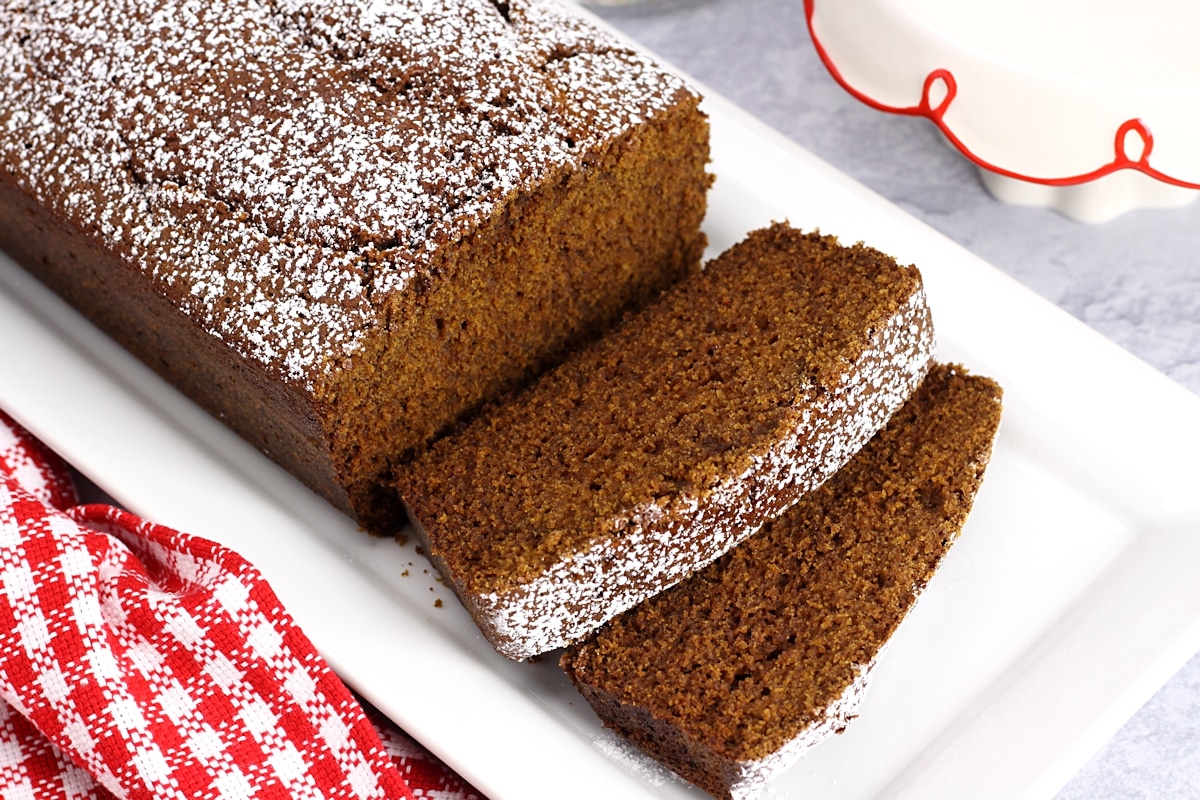 Properly measured flour - One key to successful baking is properly measuring your ingredients, including the flour. I recommend weighing your flour with a kitchen scale or using the spoon and level method. Gently spoon flour into a measuring cup, then level the top off with a knife. When scooping flour directly from the container with your measuring cup, you're compacting the flour into the measuring cup. This adds up to 25% extra flour to your recipe. This makes your bread dry and bland.
Use a thermometer - Use a thermometer inside your oven to make sure your oven is set to the proper temperature for any given recipe. Here's what I use: Rubbermaid Instant Read Oven Thermometer
To prevent dry bread - If your bread is dry straight from the oven, it's caused by overbaking or substituting ingredients. When baked just the right amount of time, your bread loaf will turn out soft, moist, and tender. Keep a close eye on your bread and don't rely on time alone. Some ovens can run hotter or colder than the next oven, so the time that worked for me may not work for you.
Test for doneness - Stick a toothpick in the center of your loaf. If the toothpick comes out dry or with crumbs, your bread is done. If your toothpick comes out with wet batter, give your bread another 5 minutes and check again. For best results, use an instant-read thermometer. Quick bread is done when it reaches 200 degrees Fahrenheit in the center.
Allow bread to cool before slicing - Dry bread can also be caused by slicing while still hot. Slicing into piping hot bread releases steam and causes it to dry out quickly. Allow your bread to cool most of the way before slicing and enjoying.
Frequently asked questions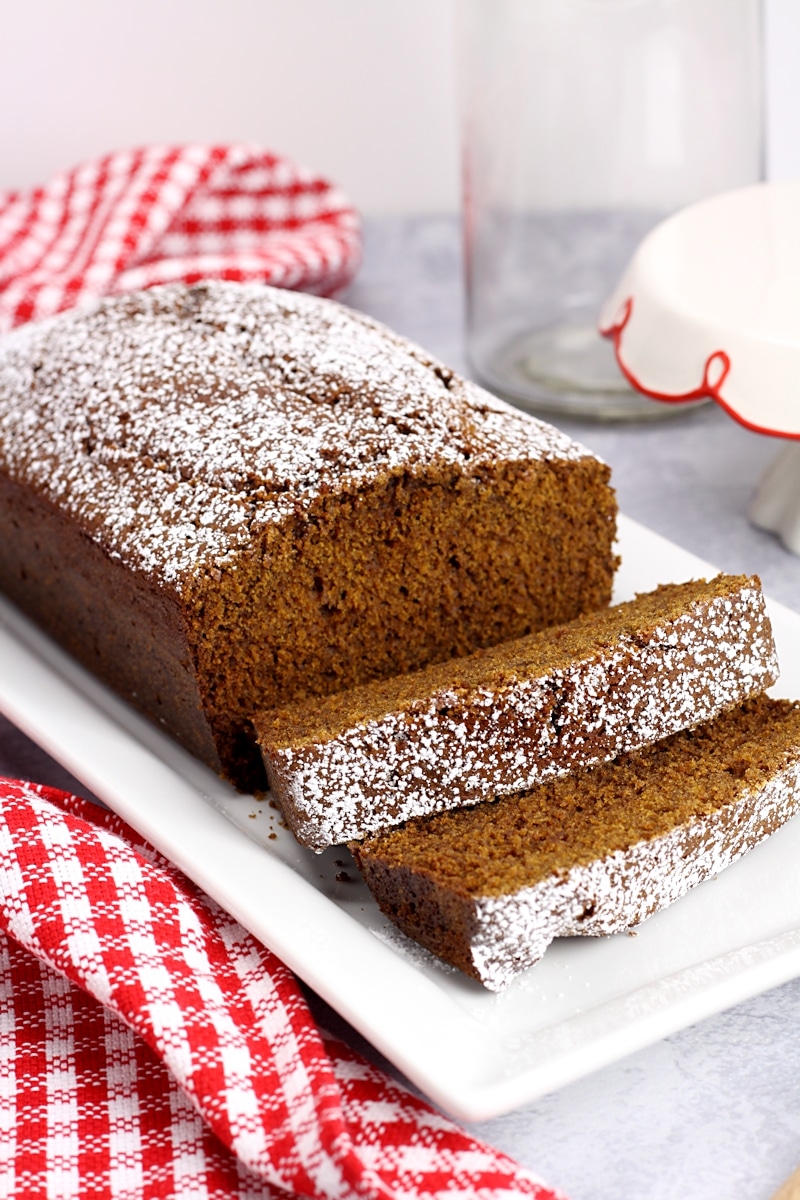 Why did my gingerbread turn out dry? I followed the recipe exactly.
Baked goods can turn out dry for several reasons. Here are the most common possibilities:
- Measuring too much flour by packing it into the measuring cup.
- Reducing/omitting/substituting the wet ingredients, including butter, sugar, molasses, and eggs.
- Overbaking.
- Oven temperature is too high (which causes overbaking).
- Not baking on the center rack (which causes overbaking on either the top or bottom of the loaf).
Can I make muffins with this recipe?
Yes! Check out my gingerbread muffins recipe, which uses the same ingredients.
How long does homemade gingerbread last?
Homemade bread will stay moist for about 3 days before it needs to be eaten, frozen, or discarded.
Can gingerbread be frozen?
Yes, whole loaves or slices can be frozen for up to three months in a tightly sealed freezer-safe container. To thaw, sit on the countertop to bring to room temperature for 1 to 3 hours.
Recommended
📖 Recipe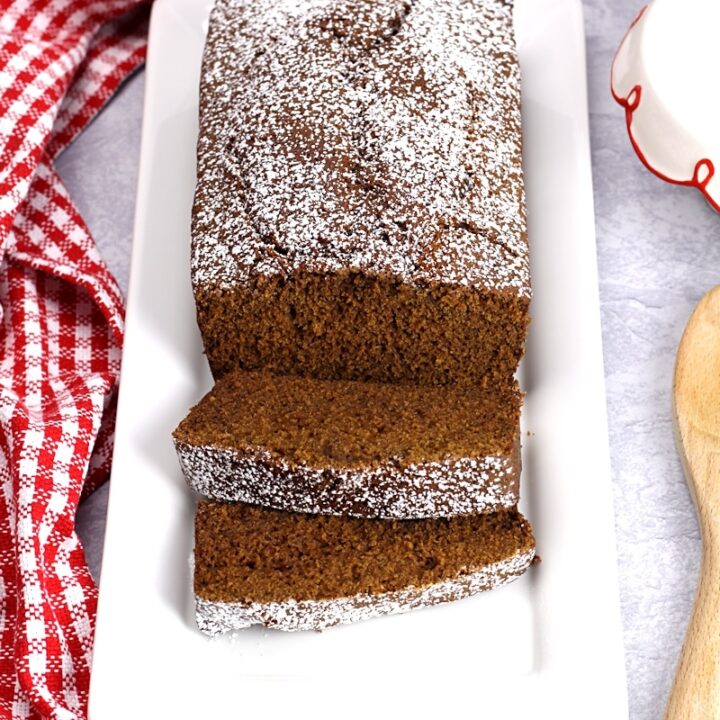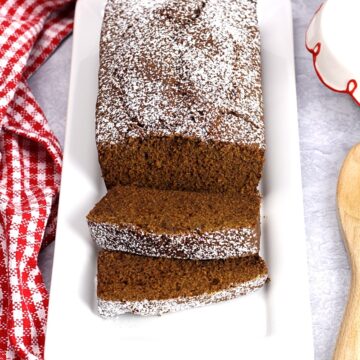 Print Recipe
Gingerbread Loaf
Homemade gingerbread loaf is soft, moist, and perfectly spiced with your favorite holiday flavors. Pair with your morning coffee, enjoy as dessert, or give as a gift.
Ingredients
½

cup

(

113

g

)

unsalted butter

,

room temperature

½

cup

(

106

g

)

brown sugar

2

large

eggs

,

room temperature

1

teaspoon

vanilla extract

½

cup

(

170

g

)

molasses

½

cup

(

113

g

)

hot water

2

cups

(

240

g

)

all-purpose flour

1

teaspoon

baking soda

2

teaspoons

ground ginger

2

teaspoons

ground cinnamon

½

teaspoon

ground cloves

½

teaspoon

salt
Instructions
Preheat oven to 350 degrees Fahrenheit. Line a 9x5 loaf pan with parchment paper (or grease and flour the bottom and sides) and set aside.

In a large bowl, add butter and sugar. With a hand mixer (or stand mixer) on medium speed, mix until fully combined. Add eggs and vanilla, mixing until creamed and fluffy, about a minute. Scrape down the sides of your bowl.

In a separate small bowl, add molasses and hot water. Stir until combined.

In a third bowl, whisk (or sift) together the dry ingredients: flour, baking soda, ginger, cinnamon, cloves, and salt.

To your butter mixture, add half of your dry ingredients, stirring until mostly incorporated. Then, add half of your molasses mixture, stirring until incorporated. Repeat once more, adding your remaining dry ingredients and molasses mixture. Stir until just combined (make sure not to over-mix, this can cause your bread to turn out tough and dense).

Pour batter into loaf pan. Tent loaf pan loosely with foil (remove foil halfway through baking. This ensures that the top of your bread doesn't burn). Bake for about 50-60 minutes, or until a toothpick inserted into the center comes out clean/with crumbs, not wet batter.

Transfer loaf pan to a cooling rack and allow to cool completely before removing from pan and slicing.

Optionally, dust with confectioner's sugar or serve with a dollop of whipped cream.
Notes
Gingerbread will keep for up to 3 days in a tightly sealed container at room temperature.
Gingerbread freezes well and can be kept in the freezer for 3 months. Cover with aluminum foil and place in a freezer bag for optimal results.
To prevent dry bread: If your oven runs hot, begin checking your bread for doneness a few minutes early. Once your bread is done baking, allow it to cool completely before slicing. Slicing into hot bread allows steam and moisture to escape.
Properly measured flour ensures your bread doesn't turn out dense or dry. Use the spoon and level method, or use the listed gram measurements with a kitchen scale.
Nutrition Estimate
Serving:
1
slice
|
Calories:
283
kcal
|
Carbohydrates:
43
g
|
Protein:
4
g
|
Fat:
11
g
|
Saturated Fat:
6
g
|
Cholesterol:
67
mg
|
Sodium:
254
mg
|
Potassium:
309
mg
|
Fiber:
1
g
|
Sugar:
23
g
|
Vitamin A:
345
IU
|
Calcium:
60
mg
|
Iron:
2.3
mg