Make a batch of these healthy Freezer Breakfast Burritos for a quick and easy on-the-go breakfast. Whole wheat tortillas are filled with chicken, sausage, eggs, vegetables and cheese, then frozen until ready to eat.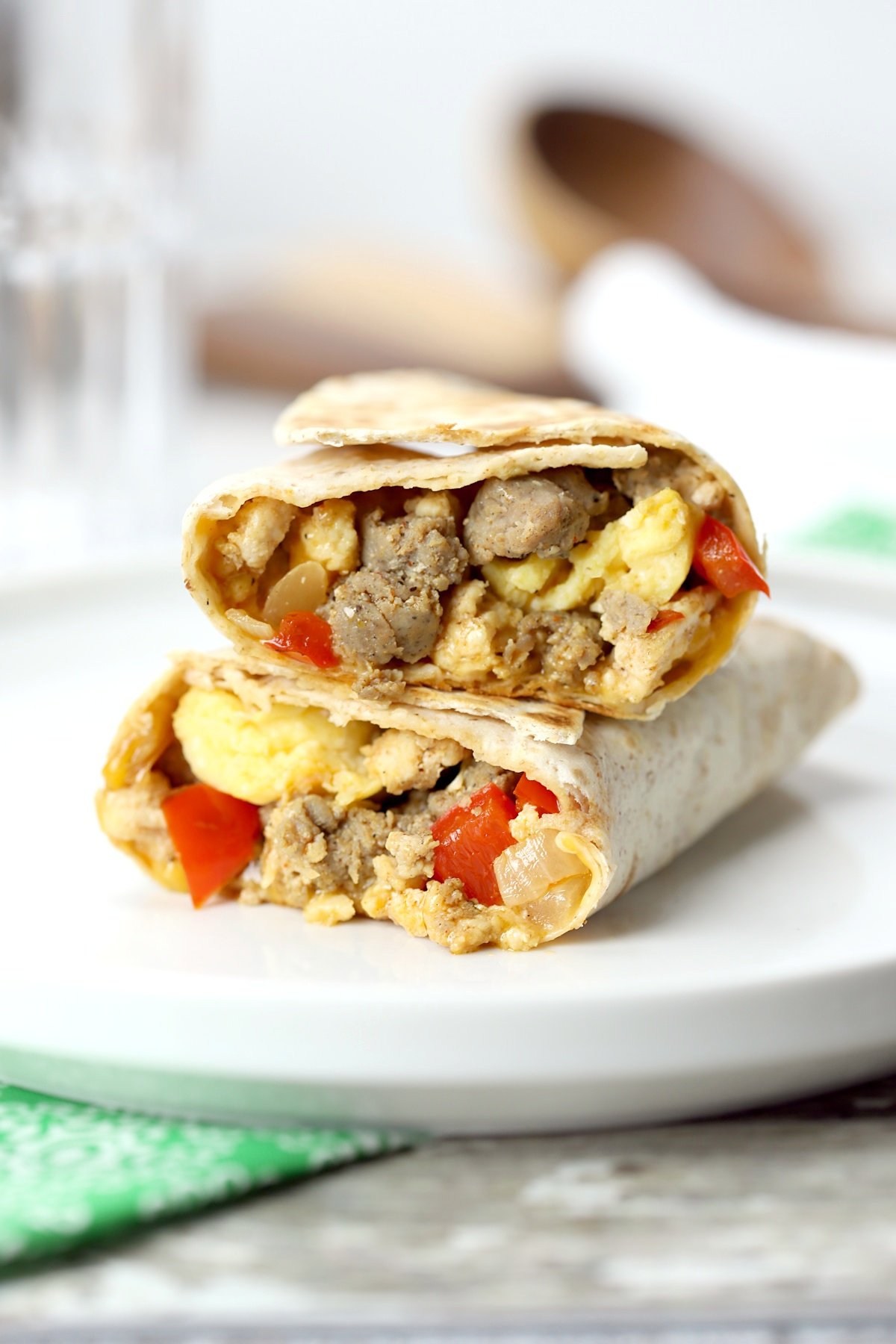 Freezer breakfast burritos are my secret to easy, hassle free mornings. They are filling enough to keep you going all morning, and are made with protein-packed, flavorful ingredients.
You can make an entire batch of 12 freezer burritos in less than an hour, and they will keep for up to 3 months in the freezer. There's nothing better than having a hot and filling breakfast without all the extra work.
These breakfast burritos are filled with healthy ingredients like ground turkey sausage, ground chicken, onions, bell pepper, and eggs. Plus, you can easily customize your freezer burritos with your favorite ingredients, like ground sausage, beef, or beans.
When I'm not making breakfast burritos for my morning meals, I also enjoy this Hash Brown Breakfast Casserole. It freezes and reheats beautifully! Simply thaw in the refrigerator overnight, then warm up in the morning.
If there is a particular ingredient you aren't a fan of, you can easily substitute with something else. To make these higher in protein, I used ground chicken and turkey sausage.
If you don't like either of these, feel free to substitute with equal amounts of your favorite protein. You can also use cubed chicken breasts, pork sausage, bacon, or even ground beef.
How to Make Freezer Breakfast Burritos
For my breakfast burritos, I used the brands below. I use a whole wheat, low-carb 8″ tortilla, but I suggest using your favorite brand and type. Any 8-10″ tortilla will work.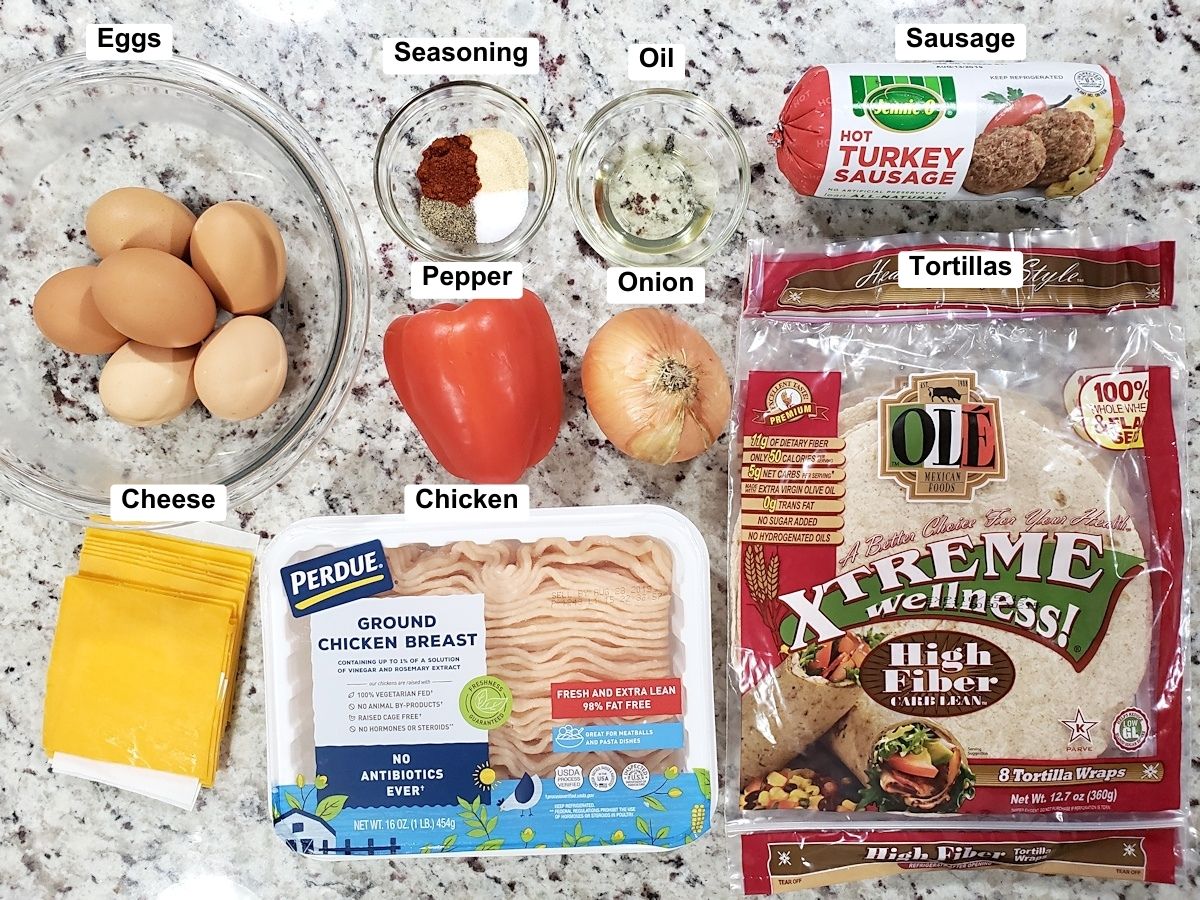 Gather your ingredients. You'll need eggs, salt, pepper, paprika, garlic powder, olive oil, turkey sausage, bell pepper, onion, cheese, ground chicken, and tortillas.
First, you'll cook your vegetables. Add half of your olive oil to a pan over medium heat. Saute until onions turn translucent and vegetables are lightly browned. Remove from the pan, then add your ground turkey and chicken, cooking until browned.
Last, add your remaining olive oil to a nonstick skillet and scramble your eggs. Now, it's time to assemble your burritos.
Next, line up all of your ingredients – your cooked vegetables, meat, eggs, cheese slices, and tortillas. I wrap my burritos in a sheet of wax paper, then in foil, to keep them protected in the freezer.
If you plan to reheat your burritos in the oven – skip the wax paper step. This way, you can place your foil wrapped burrito directly in the oven without having to unwrap and remove the wax paper.
You can assemble your burritos one at a time, or lay out all twelve tortillas on the counter (if you have the space) and evenly distribute your filling onto each tortilla.
If you're worried about evenly filling each burrito, this may be a good idea. If you're low on space, split each ingredient in half and assemble six burritos at a time.
First, add a slice of cheese to the center of your tortilla.
Then, begin adding your ingredients. Add a spoonful of your sauteed vegetables to the top of the cheese slice.
Then, add your meat and scrambled eggs on top. Next, tightly wrap up each burrito in your wax paper and foil (or just foil if you don't have wax paper available).
While these freezer burritos are not technically "burrito" sized (burritos usually use a 10 inch or larger tortilla), these instructions on how to wrap a burrito may help.
I have made this recipe many times and always come up with 12 breakfast burritos, using 8″ tortillas. If you're using a smaller size tortilla, you will probably make a few extra burritos. And if you are using a larger tortilla, you will end up with less burritos.
Storing Freezer Breakfast Burritos
Now that you have your burritos wrapped, it's time to store them. Your burritos will likely be okay wrapped as is and stored in the freezer, but I like to be extra cautious.
Once I've wrapped my burritos in foil, I then place them in a large, gallon sized freezer bag. I can usually fit 11 burritos in a gallon sized bag, with one burrito going in the refrigerator for tomorrow's breakfast.
How to Reheat a Breakfast Burrito
I prefer to thaw my burritos in the refrigerator the night before. Then, in a nonstick skillet over medium heat, warm for 3-4 minutes per side. The tortilla gets nice and toasty on the outside, and warm on the inside.
If you're in a hurry, you can pull your burrito straight from the freezer, wrap in a damp paper towel, and microwave for 1-2 minutes, or until your burrito is thawed and warmed through.
If there's ever an option, I highly recommend not microwaving your burrito. This method tends to overheat and dry out the edges while you're trying to thaw the middle.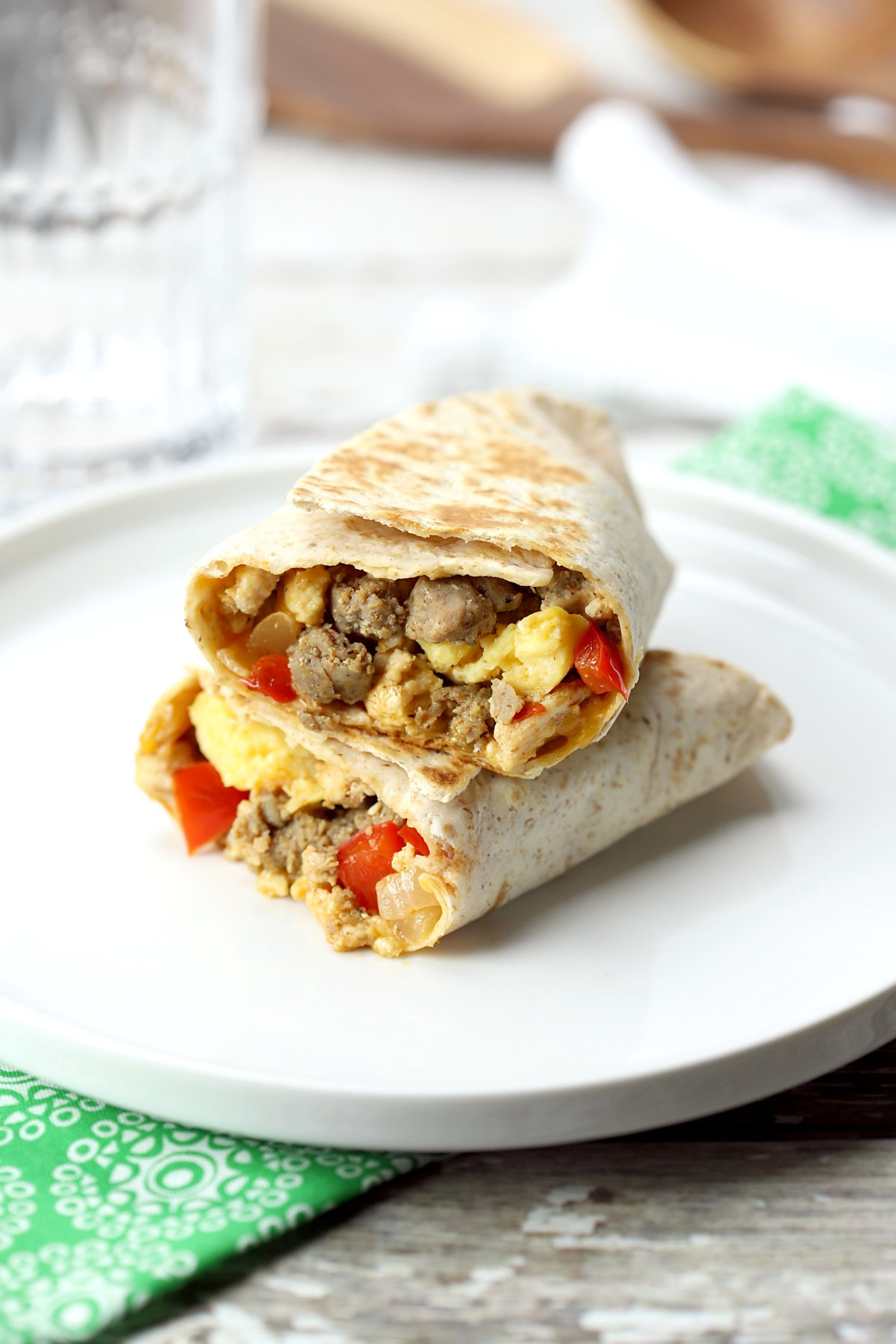 You can also reheat your breakfast burrito in the oven (or a toaster oven) for 10-15 minutes at 350 degrees. The time will depend on whether your burrito is thawed (ten minutes) or frozen (fifteen minutes).
Since every appliance is different, I recommend that you watch your first burrito carefully until you figure out the best cooking time for you.
Like I said earlier, if you plan to reheat your burritos in the oven, I would recommend wrapping your burritos in foil only, so they can be tossed directly in the oven.
Wax paper will help insulate your burritos and keep them fresh, but is not intended for heating or placing in the oven.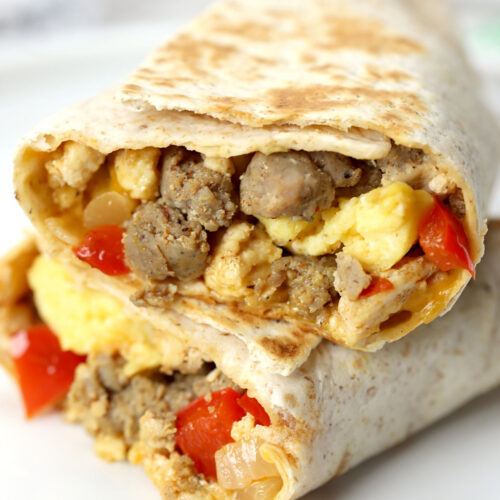 Print Recipe
High Protein Freezer Breakfast Burritos
Make a batch of High Protein Freezer Breakfast Burritos for a quick and easy on-the-go breakfast. Whole wheat tortillas are filled with chicken, sausage, eggs, vegetables and cheese, then frozen until ready to eat.

Ingredients
2

tablespoons

olive oil

divided

1

medium

onion

sliced

1

bell pepper

sliced

16

ounces

ground chicken

16

ounces

ground hot breakfast sausage

1/2

teaspoon

salt

1/2

teaspoon

pepper

1/2

teaspoon

paprika

1/2

teaspoon

garlic powder

6

large

eggs

12

slices of cheddar cheese

12

8"

tortillas
Instructions
In a sauté pan over medium heat, add 1 tablespoon olive oil. Once hot, add sliced onion and bell pepper. Cook, stirring occasionally, until veggies are lightly browned and onions turn translucent - about 3 to 4 minutes. Remove from pan and set aside.

Add ground chicken and sausage to skillet. Season with salt, pepper, paprika, and garlic powder. Cook for 3-4 minutes before stirring, to get a nice brown crust on the bottom side. Stir and continue cooking for 3-4 minutes, or until meat is cooked through.

In a bowl, whisk eggs together until combined. In a fresh nonstick pan over medium heat, add 1 tablespoon of olive oil. Pour in eggs. As eggs begin to set on the bottom, pull the eggs across the pan with a spatula. This will form egg curds in the pan. Continue pulling and folding the eggs until no liquid remains. Remove from heat and set aside to cool.

Lay out 12 tortillas on top of 12 squares of foil. Lay one slice of cheese in the middle of each tortilla. Then, evenly distribute vegetables, meat, and eggs between the tortillas. Tightly wrap each burrito, and wrap in foil.

Store burritos in a gallon size freezer bag until ready to thaw and reheat.
Reheating Instructions
Stovetop - Thaw burrito in refrigerator the night before. Over medium heat, add a drop of olive oil to pan. Once heated, add burrito and cook for 3-4 minutes on each side, or until browned and crispy.

Microwave - Thawed or frozen, wrap burrito in a damp paper towel and microwave for 1-2 minutes, or until heated through.

Toaster oven/oven - Preheat to 350 degrees and bake for about 10 minutes for a thawed burrito, or 15 minutes for a frozen burrito. Check and add more time as needed to warm through.



Nutrition
Serving:
0
g
|
Calories:
328
kcal
|
Carbohydrates:
8
g
|
Protein:
24
g
|
Fat:
21
g
|
Saturated Fat:
4
g
|
Cholesterol:
132
mg
|
Sodium:
385
mg
|
Potassium:
167
mg
|
Fiber:
11
g
|
Sugar:
0
g
|
Vitamin A:
535
IU
|
Vitamin C:
13.6
mg
|
Calcium:
23
mg
|
Iron:
1
mg