Baked teriyaki salmon is a quick and easy weeknight dinner that's both nutritious and flavorful. Salmon fillets are coated in a homemade teriyaki sauce and baked in the oven until perfectly flaky and tender.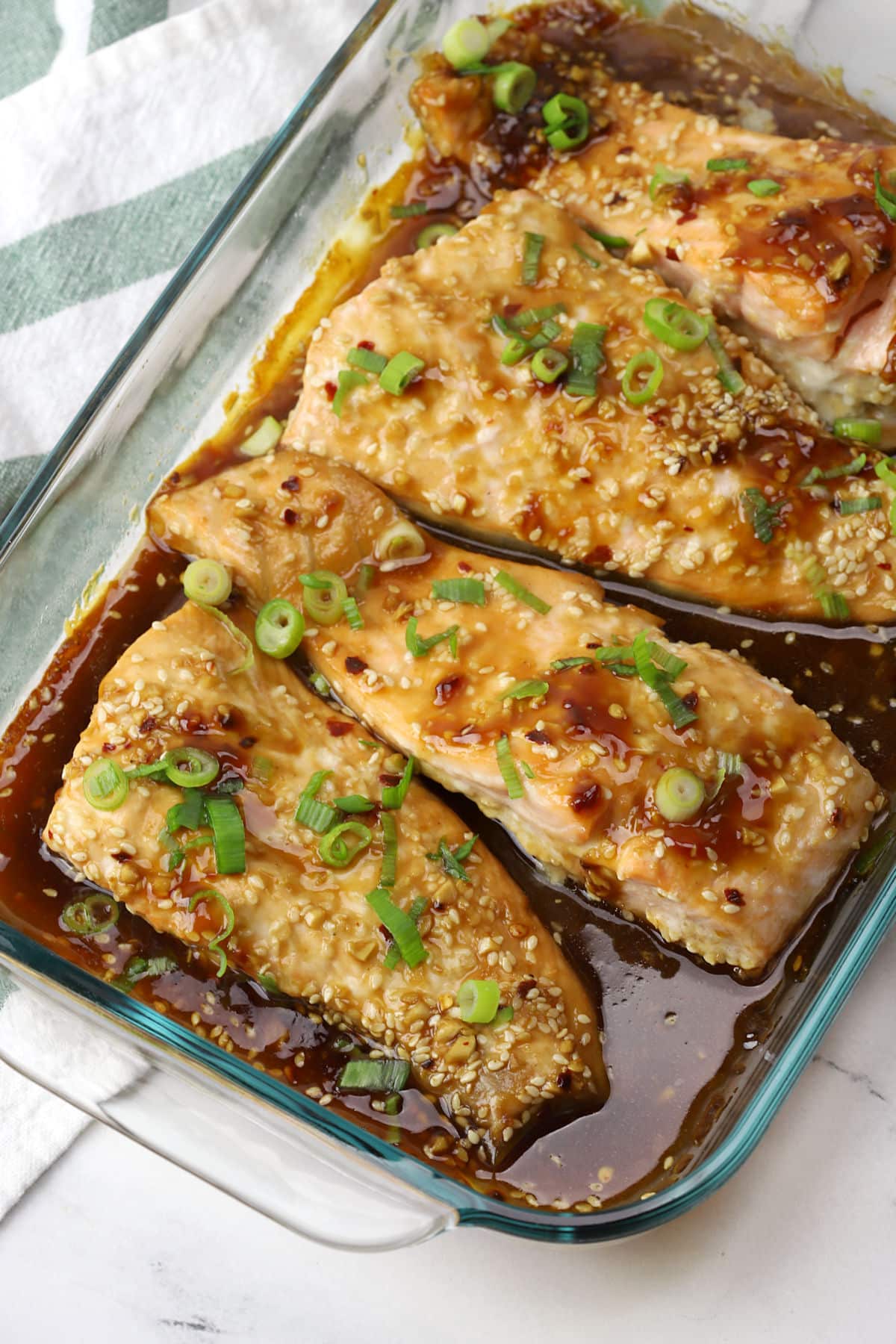 Salmon is easy to prepare, nutritious, and makes a fuss-free weeknight meal. You'll love this baked teriyaki salmon because it takes just minutes of prep and the teriyaki sauce thickens on its own in the oven.
The delicious homemade teriyaki sauce is filled with flavor! It's easy to whisk up with a few pantry staples. A bit of brown sugar balances the soy sauce and garlic - savory, not too sweet, and a tiny hint of warmth from the red pepper flakes.
Serve baked teriyaki salmon with your favorite cooked rice and steamed veggies, or a side salad. If serving with plain rice and veggies, the sauce can easily be doubled to add flavor to your entire plate!
Ingredients and substitutions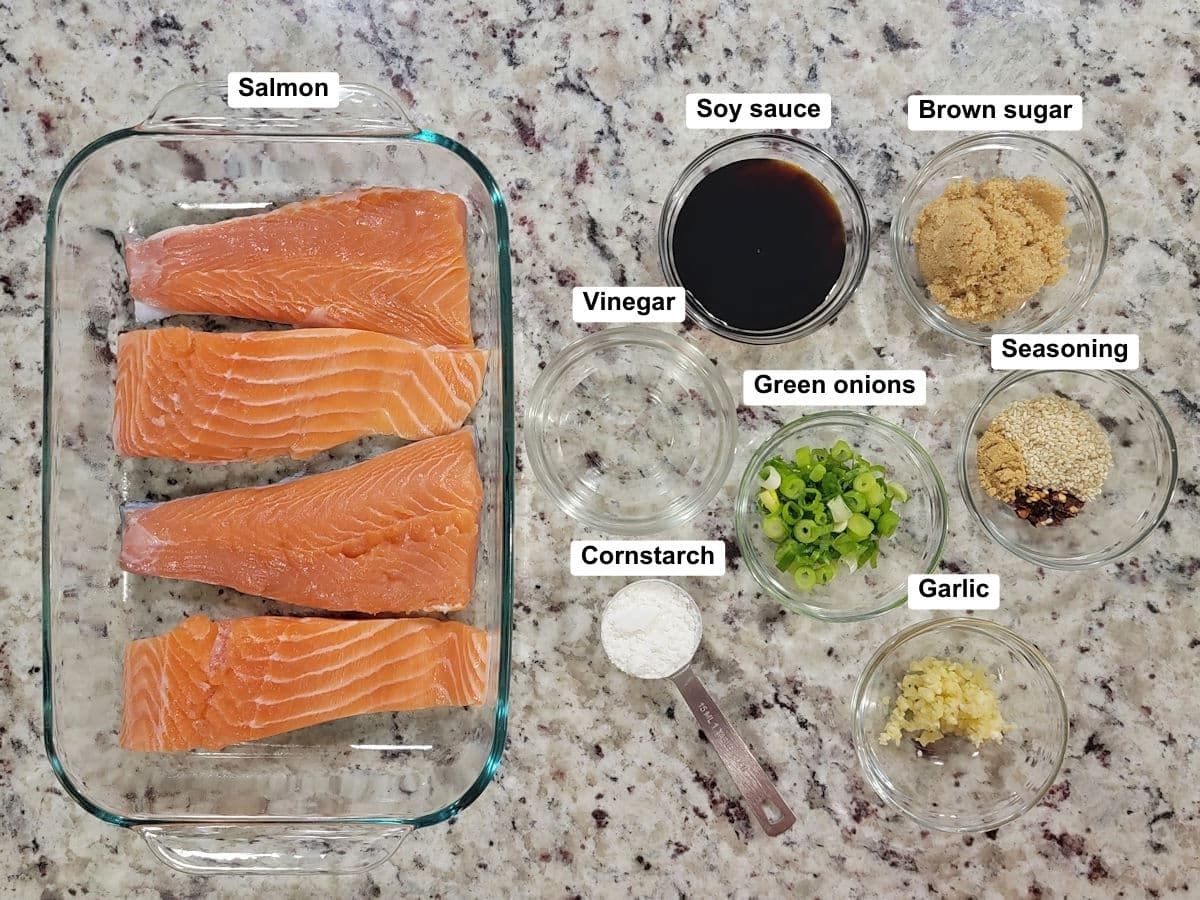 Salmon fillets - You'll need one pound of salmon for this recipe. Slice before baking to easily serve four portions straight from the baking dish. Salmon can be skin-on or the skin can be removed, your choice.
Soy sauce - I recommend low sodium soy sauce to prevent your dish from getting too salty.
White vinegar - Can be substituted with rice vinegar if you keep it on hand. Will add a slightly sweeter quality to your teriyaki sauce.
Brown sugar - Adds that signature sweetness and glossiness to your teriyaki sauce once cooked.
Cornstarch - Thickens your sauce while it bakes in the oven. If omitted, your sauce will turn out very thin.
Sesame seeds - Add a light nutty flavor to your salmon. Can be omitted if desired.
Garlic - Fresh minced garlic adds the best flavor to your salmon. I do not recommend using jarred garlic, which often has a harsh flavor.
Ground ginger - ½ teaspoon of ground ginger can be substituted with 1 tablespoon of fresh grated ginger. Fresh ginger will add a more pungent, sweeter, and more complex flavor to your salmon.
Red pepper flakes - Adds a hint of heat and warmth.
Green onion - Adds a nice dash of color and freshness to your finished dish.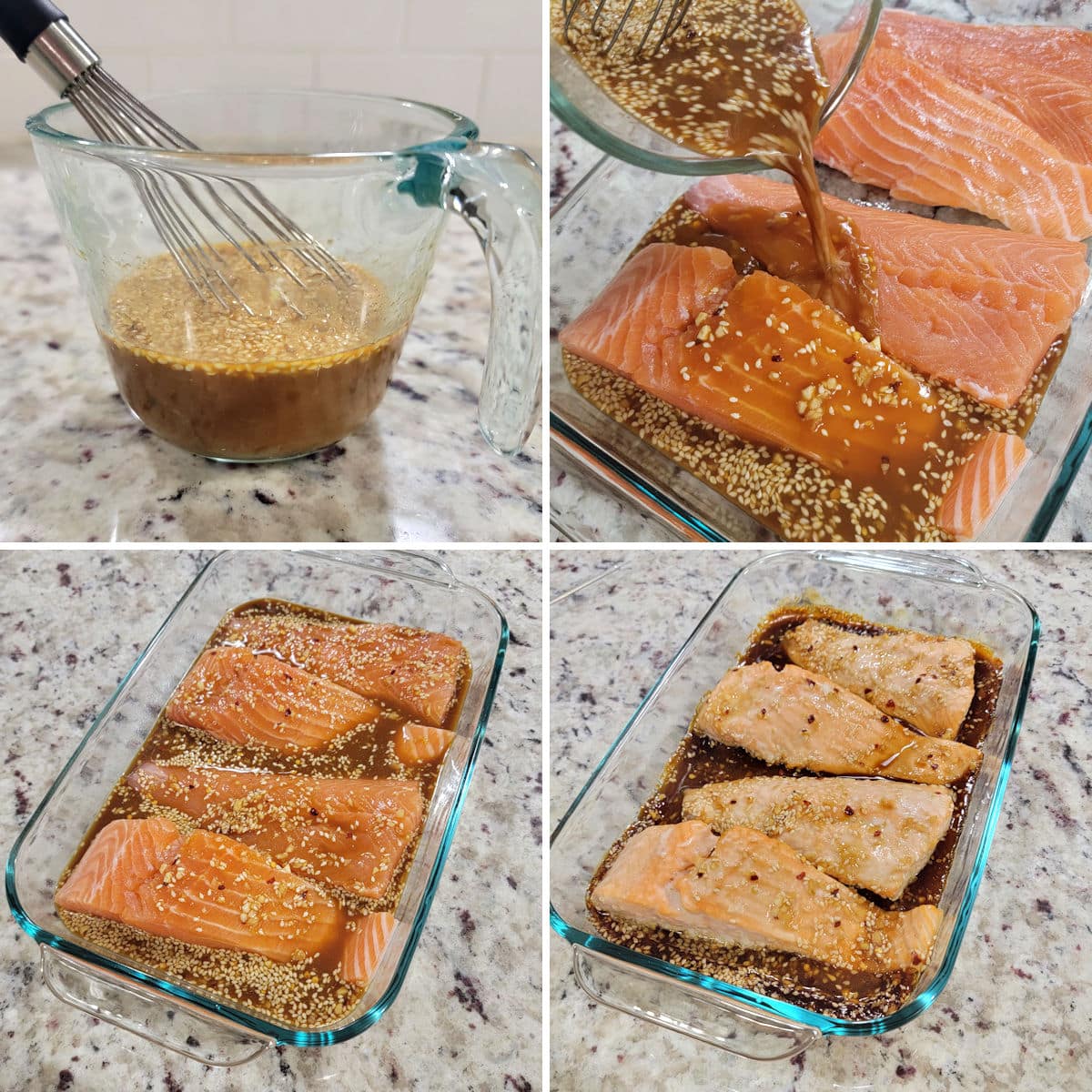 Tips for baking teriyaki salmon
Make sure your oven is fully preheated.
Use a baking dish that allows your fillets to sit side by side without overlapping, but not so large that your sauce spreads into a super thin layer (your sauce is likely to burn this way). A nice compact baking dish works best, one that allows the salmon to sit in a thick layer of sauce as it cooks. We used a 7x11 glass baking dish (Amazon).
Bake your dish uncovered. This adds color to your salmon as it bakes, and helps steam escape, which helps your sauce thicken.
How to tell when salmon is cooked through? Use an instant-read thermometer inserted into the center of the thickest fillet. The USDA recommends cooking salmon to 145 degrees Fahrenheit, but many prefer the perfectly flaky texture of salmon cooked to 125 degrees Fahrenheit. Want to read more on this? Country Living: Here's the Best Temperature to Cook Salmon Without Ruining It
If you don't have a thermometer, test your salmon by pressing into the center of a fillet with a fork. If it wants to flake apart easily, it's done. If it's still very firm, it likely needs a few more minutes.
Spoon more sauce on top of each fillet as it comes out of the oven. The thickened sauce will cling more readily to the top of your salmon.
Garnish just before serving. Green onion wilts quickly in the oven, so it's best to add after your salmon is done baking.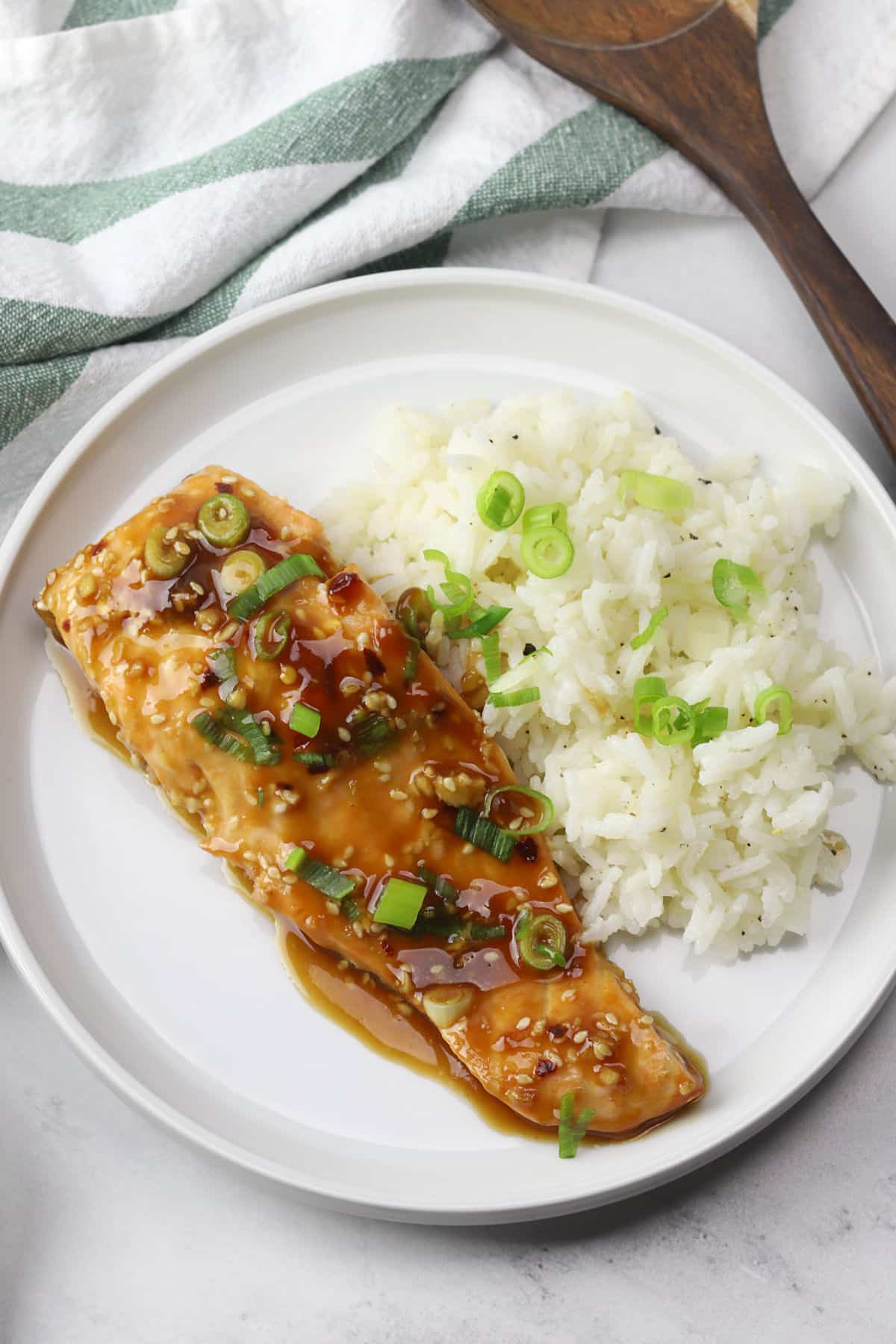 What to serve with salmon
Teriyaki salmon can be served with a side salad for a light meal, or rice and steamed veggies for a filling dinner.
If you'd like to prepare extra sauce for something like rice or noodles, double all of the the sauce ingredients and baked as directed below. Make sure your baking dish can accommodate extra sauce without spilling over in the oven.
Making extra sauce
Teriyaki sauce can also be prepared on the stovetop. Add all of your sauce ingredients to a saucepan over medium heat. Whisk until incorporated. Bring to a simmer and cook for 3 to 4 minutes, or until thickened to your liking.
Serve over steamed rice, veggies, and noodles alongside your salmon.
More recipes
📖 Recipe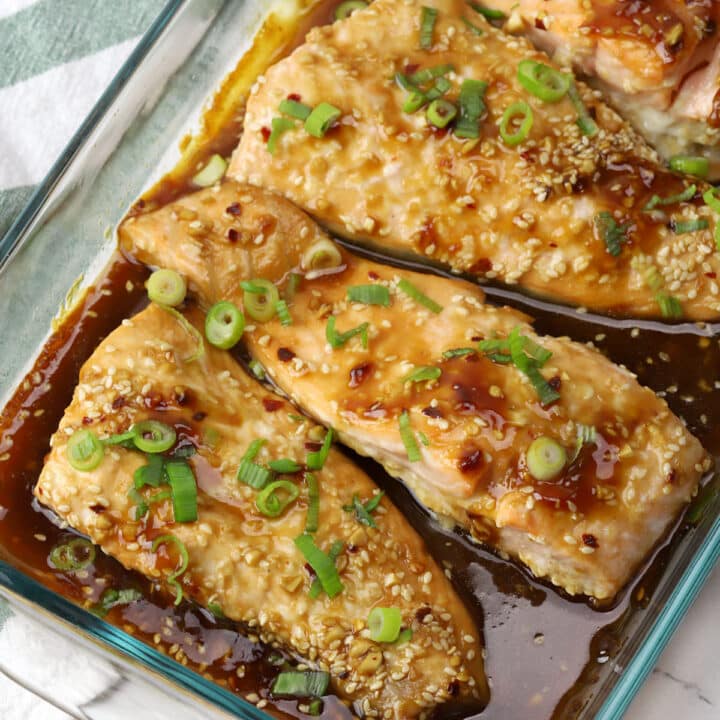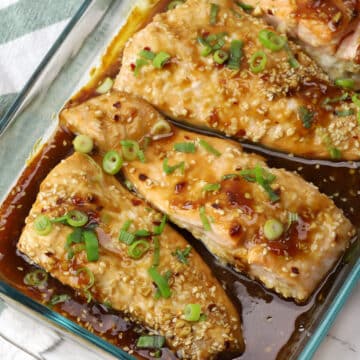 Print Recipe
Baked Teriyaki Salmon
Baked teriyaki salmon is a quick and easy weeknight dinner that's both nutritious and flavorful. Salmon fillets are coated in a homemade teriyaki sauce and baked in the oven until perfectly flaky and tender.
Ingredients
1

pound

salmon fillets

¼

cup

low sodium soy sauce

2

tablespoons

water

1

tablespoon

white vinegar

2

tablespoons

brown sugar

1

tablespoon

cornstarch

2

teaspoons

sesame seeds

2

cloves

garlic

,

minced

½

teaspoon

ground ginger

¼

teaspoon

red pepper flakes

1

green onion

,

diced
Instructions
Preheat oven to 400 degrees Fahrenheit. Lightly grease a wide, 2-quart baking dish (7x11 in size or similar) and set aside.

If needed, slice salmon into four even fillets, check for pin bones, then place side-by-side in prepared baking dish.

In a bowl, add soy sauce, water, vinegar, brown sugar, cornstarch, sesame seeds, garlic, ginger, and red pepper flakes. Whisk until incorporated. Pour sauce over salmon fillets.

Bake salmon, uncovered, for 12-15 minutes, or until salmon flakes easily in the center (times may vary based on thickness of salmon).

Garnish with diced green onion and serve.
Notes
Leftovers will keep in the refrigerator for 3-4 days in a tightly sealed container.
Sauce portion of the recipe can easily be doubled if serving with plain white rice, noodles, or steamed veggies.
Nutrition Estimate
Serving:
1
fillet
|
Calories:
211
kcal
|
Carbohydrates:
10
g
|
Protein:
24
g
|
Fat:
8
g
|
Saturated Fat:
1
g
|
Polyunsaturated Fat:
3
g
|
Monounsaturated Fat:
3
g
|
Cholesterol:
62
mg
|
Sodium:
629
mg
|
Potassium:
645
mg
|
Fiber:
0.4
g
|
Sugar:
6
g
|
Vitamin A:
113
IU
|
Vitamin C:
1
mg
|
Calcium:
39
mg
|
Iron:
1
mg