Cheesy Grits are a creamy and comforting side dish - perfect for breakfast, brunch, and even dinner. These creamy grits are filled with melted cheddar cheese and butter, and are ready in less than 30 minutes.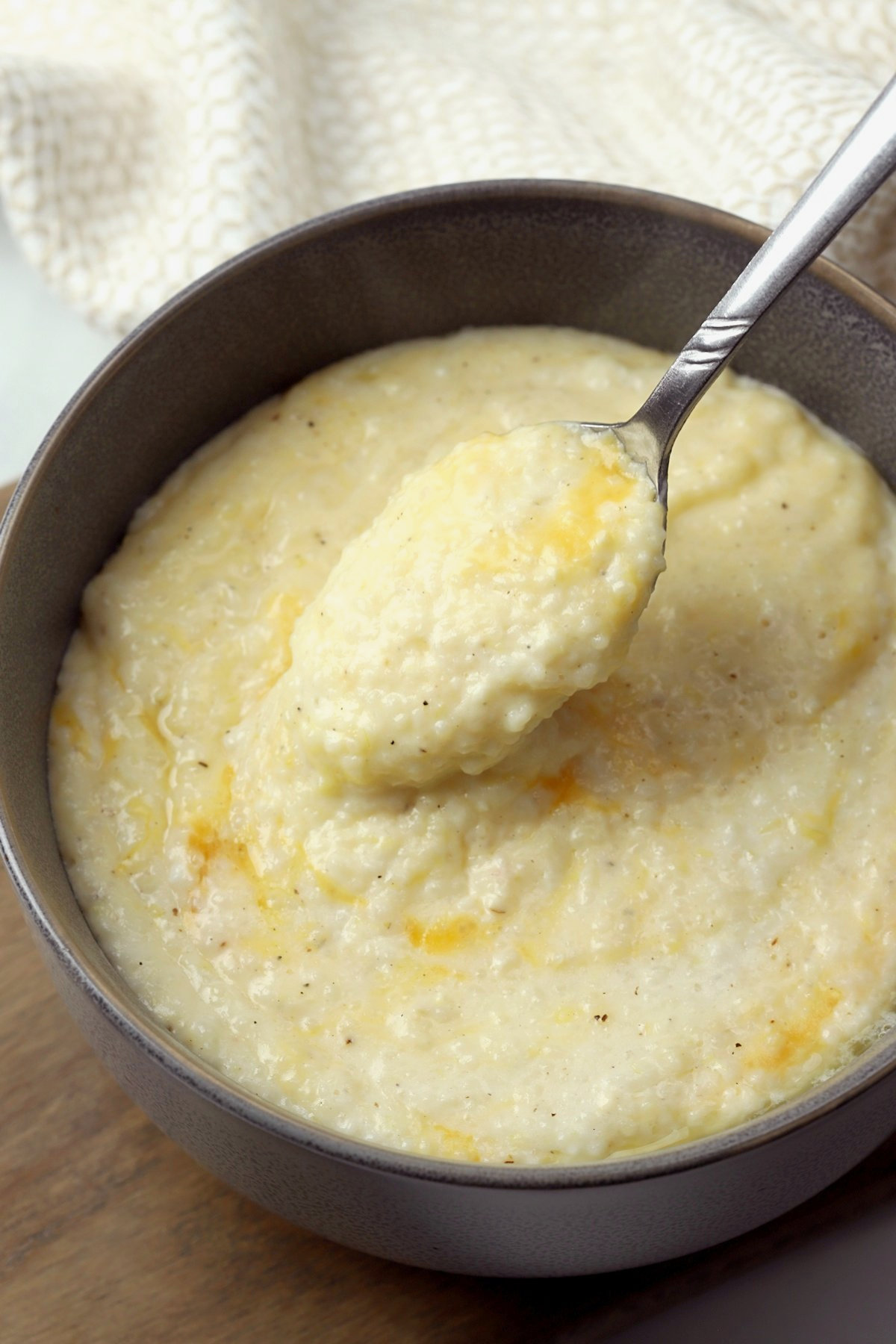 If you're a fan of grits, you will love my recipe for cheesy grits. Not only are grits incredibly easy to make from scratch, this version is simple and filled with flavor!
While I enjoy grits for breakfast and brunch, they also make a fantastic side dish for dinner. I've also included my savory dinner version in the recipe card below.
Grits are a great breakfast food to eat on their own or with more toppings crumbled on top. Try your breakfast grits with crumbled sausage and scrambled eggs in my grits breakfast bowl recipe!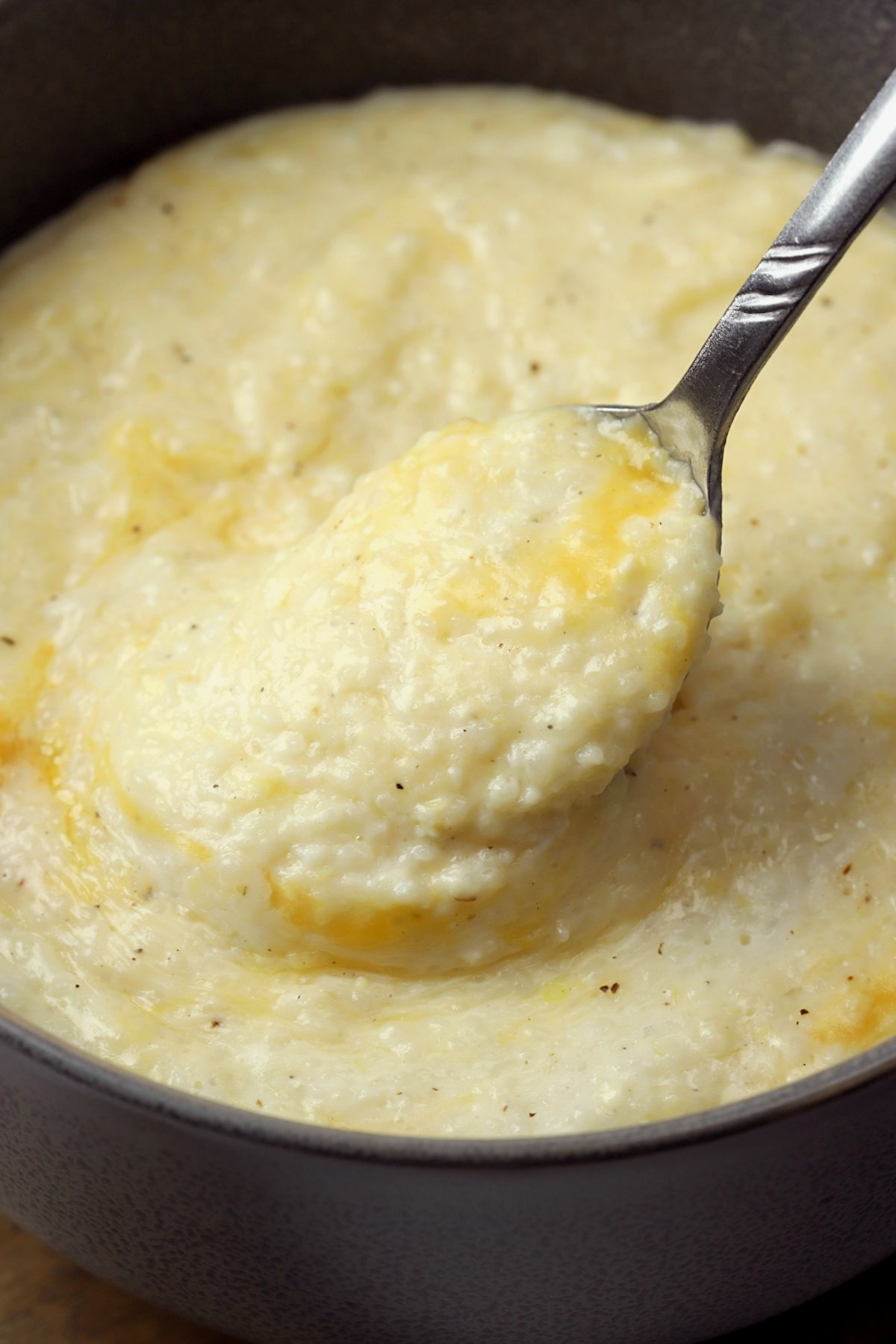 What Are Grits?
Grits are made of ground corn. But how are grits different than cornmeal? And what is polenta? All of these are ground corn products, but they are all different.
Cornmeal is finely ground corn. It is finer than grits or polenta, but coarser than flour. It is most often used to make things like cornbread.
Grits are made with a specific type of corn - dent corn (Wikipedia). The corn is treated with lime to remove the hull. Corn with the hull removed is called hominy.
Then, the hominy is dried and coarsely ground. Now, we have grits.
So... what is polenta, and how is it different than grits? Polenta is made with a different type of corn, flint corn (Wikipedia). Flint corn is put through the same process as dent corn. The main difference is that flint corn is a harder corn, which creates a coarser texture when ground.
Polenta and grits go through the same manufacturing process, and are cooked similarly. All in all, they are very similar dishes, but originate from different parts of the world, and made with different types of corn.
Ingredients and substitutions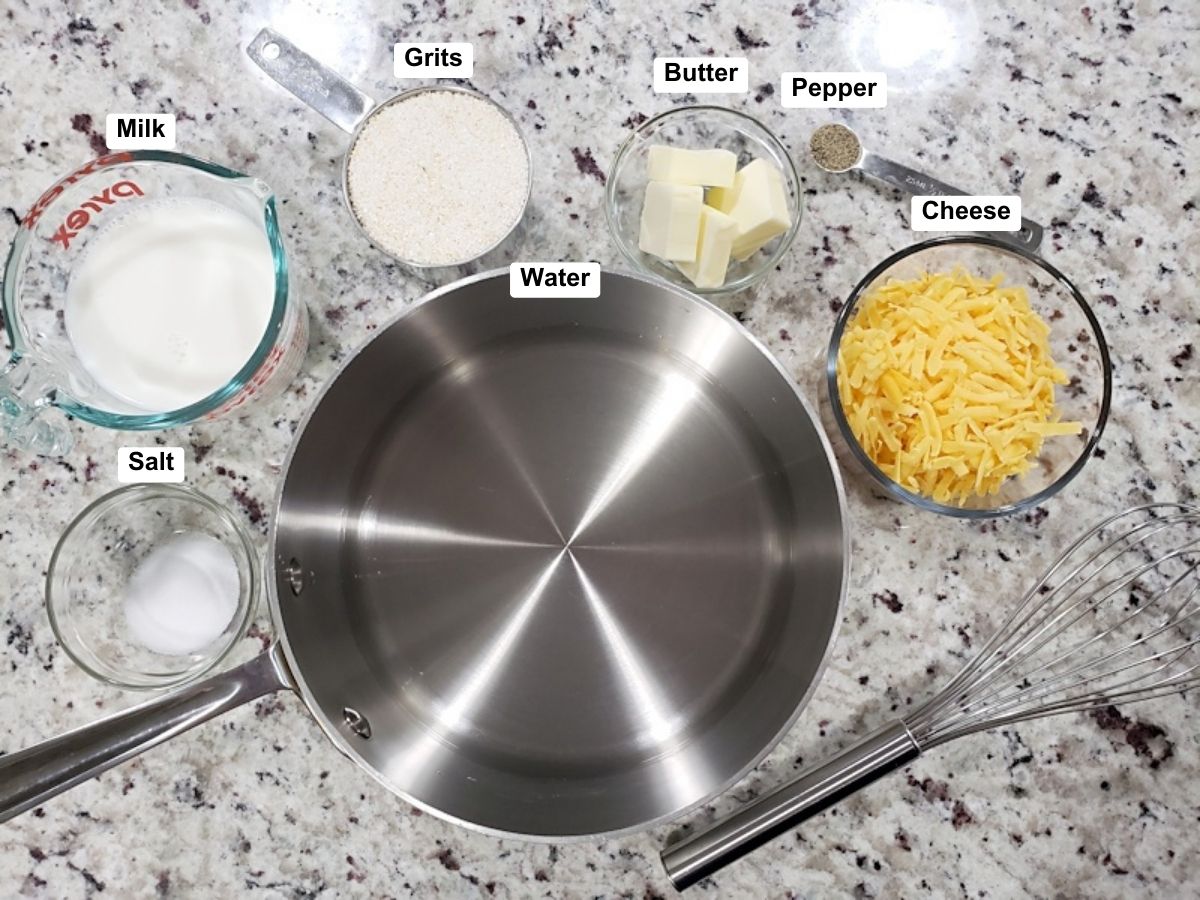 I recommend using freshly shredded cheese from a block. Pre-shredded cheese is often dusted in a powder to prevent clumping, which can make your dish grainy when melted.
For this recipe, you'll want to use stone ground grits. If you've never purchased grits before, you can usually find them near the oats or cereal in your local grocery store.
Similar to shopping for oats or rice, you will find two kinds of grits at the grocery store: stone ground grits and instant grits. For this recipe, I'm using traditional, stone ground grits.
Grits tips and tricks
Here are a few tips if you're new to cooking grits.
Grits need to be cooked low and slow to get that silky, creamy texture. Don't be tempted to turn up the heat! This will cause your grits to stick to the bottom of the pan and burn - they won't cook faster.
When pouring your grits into the pot, whisk constantly to prevent clumps.
Whisk frequently while your grits are cooking to prevent them from sticking to the bottom of the pan or forming lumps.
Do your grits look dry? Add a splash of water and turn the heat down slightly.
Grits are done when they no longer have a grainy texture. Do a taste test - feel a rough, grainy texture? They're not done yet. Cooked grits will be soft and creamy.
Do not substitute the milk with water. Milk helps give your grits an extra creamy and rich texture.
Garlic cheese grits
Garlic is a bit harsh for breakfast, but tastes delicious in a bowl of dinner grits. Add 1-2 cloves of minced garlic when adding your grits to the milk mixture.
In addition, replace the water with chicken broth, and cut the salt in half (due to the extra salt in the broth). Chicken broth adds an extra depth of flavor that's fantastic for a dinner meal.
📖 Recipe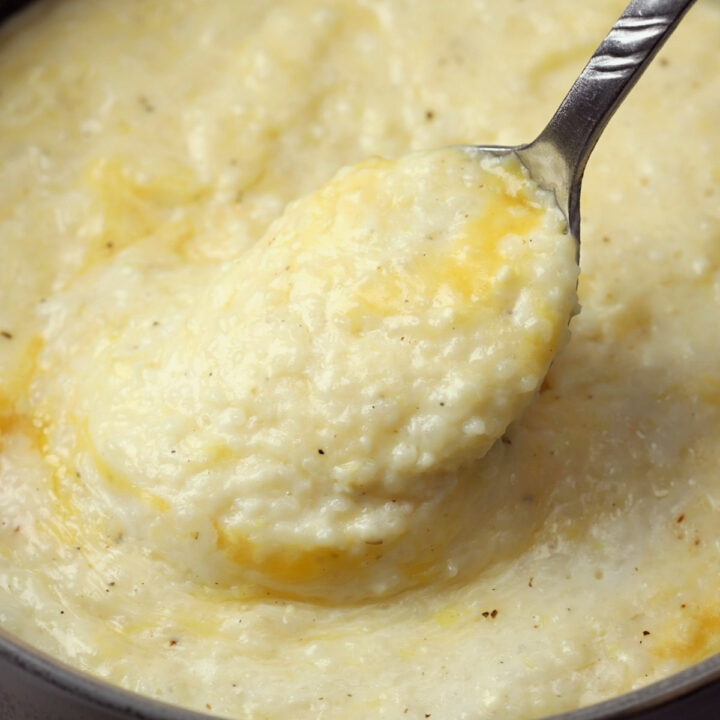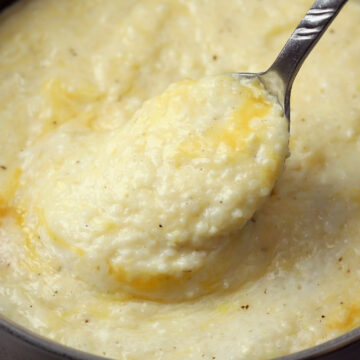 Print Recipe
Cheesy Grits
Cheesy Grits are a creamy and comforting side dish, perfect for breakfast, brunch, and even dinner. These creamy grits are filled with melty cheddar cheese and butter, and are ready in less than 30 minutes.
Ingredients
2

cups

milk

2

cups

water

1 ½

teaspoons

salt

1

cup

stone ground grits

,

not instant

½

teaspoon

pepper

4

tablespoons

unsalted butter

4

ounces

sharp cheddar cheese

,

shredded
Instructions
In a saucepan over medium heat, add milk, water, and salt. Bring to a boil, then slowly whisk in the grits.

Reduce heat to medium-low and cook for 20 minutes, whisking frequently. If grits begin to stick to pan, reduce heat and add a splash of water. Grits should be creamy and thick, with no rough texture remaining when they're done cooking.

Remove from heat and add pepper, butter, and shredded cheese. Stir until melted, then serve immediately.
Notes
For my savory dinner version, add 1-2 cloves of minced garlic in just after you add your grits into the pan.
The water can also be substituted with chicken broth for a more savory flavor. Don't forget to cut your salt in half if using broth, due to the added salt content.
For breakfast, top with bacon, eggs, or sausage.
For dinner, top with shrimp, pulled pork, grilled chicken, pot roast, or andouille sausage.
Nutrition Estimate
Calories:
410
kcal
|
Carbohydrates:
37
g
|
Protein:
15
g
|
Fat:
22
g
|
Saturated Fat:
14
g
|
Cholesterol:
66
mg
|
Sodium:
1108
mg
|
Potassium:
258
mg
|
Fiber:
1
g
|
Sugar:
7
g
|
Vitamin A:
949
IU
|
Calcium:
359
mg
|
Iron:
1
mg
More recipes